Super Wheel review
Super Wheel by Play'N Go game developer is strictly speaking not a slot at all. The game looks like an homage to one of the most basic land-based casino games called "Big Wheel" mostly popular with casino newbies and not super-experienced casino visitors with lower betting budgets. The new online version called Super Wheel looks sharp and fresh and can be a great idea to try out if you just feel like playing something refreshingly simple and slightly different. When you load the game screen, it seems like a strange mix between a Roulette and a Fortune Wheel, but let's see how to play it exactly and where.
Super Wheel game rules
Once you click start for the game to begin, you will see the wheel on the wall and a table with 7 betting positions for you to choose from. The idea is for the player to choose one of the seven betting areas that all have different payouts trying to predict the winning number and spin the wheel after that, hoping to win.
On the wheel, there are 52 segments in total so when the wheel spins it creates quite a bit of suspense while you're waiting for it to stop and the arrow indicate your wins or losses.
Position 1 pays 1 to 1
Position 2 pays 3 to 1
Position 3 pays 5 to 1
Position 4 pays 11 to 1
Position 5 pays 23 to 1
The two bonus position with the clover and the horseshoe both pay 47 to 1
Where to play Super Wheel game and get a casino bonus
We are expecting a lot of great UK casinos to add this game to their portfolios in no time. If you look at the links below you will find the most generous online casinos on the market that can not only let you try your luck at Super Wheel by Play'N Go but also get a casino welcome bonus up to £1,500 and more than 400 free spins on different slot games as well. Click away and enjoy your freebies!
Super Wheel game winning potential
You can play the Super Wheel game by Play'N Go starting from a minimum bet of £1 and up to the maximum bet of £100.
This is a classic medium volatility game that suits not very risky players, but it is important to remember that as with most games of pure luck and very basic rules the return to player percentage will be quite low compared to let's say most slot games. Here the RTP is 92.31% so try it first without spending too much money.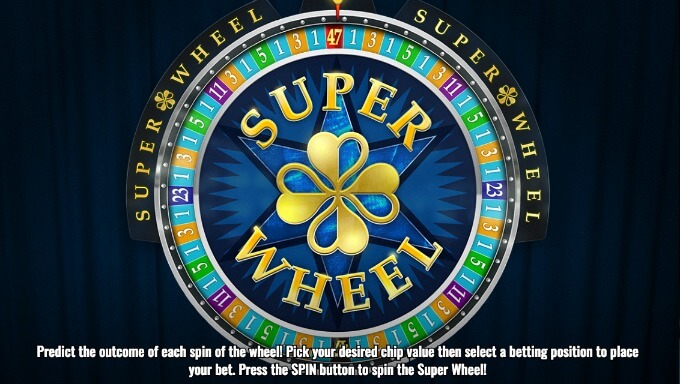 Super Wheel game – our conclusion
This game will probably not make you a millionaire, but if you want a change from the slots or all those classic casino games that you've played time and time again, it might be just what the doctor ordered. Try different betting strategies and who knows, the luck might be on your side and you win that 47 to 1 bet.