Best Mobile Casino Sites for UK Players
You want to play at an online casino, but want to do so using your smartphone or tablet. Which casino is the best, you might ask? Well, here's the answer to your question – the CasinoHawks list of the 6 best mobile casinos around!
| # | Mobile Casino | Welcome Offer |
| --- | --- | --- |
| 1. | 21 Casino | 121% Welcome Bonus up to £100! |
| 2. | 888 Casino | 88 Free Spins + 100% Welcome Bonus up to £100 |
| 3. | Barz | 100% Welcome Bonus up to £300 + 50 Bonus Spins |
| 4. | Bet UK | Up to £100 Welcome Bonus + 10 Free Spins |
| 5. | Betfred | Stake £10, Get up to 200 Free Spins |
| 6. | Betway | 100% Welcome Bonus up to £50 |
1. 21 Casino – Slots, Live Table Titles and More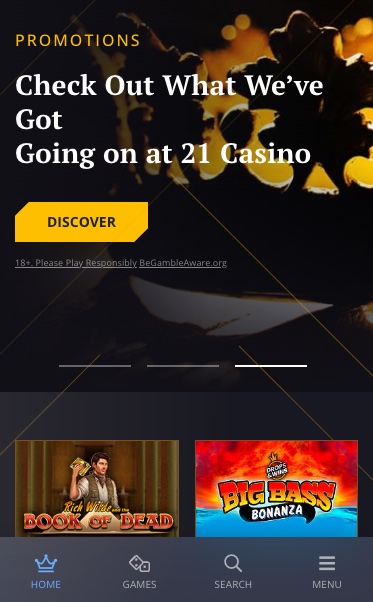 21 Casino has been around since 2015, and has only continued to grow in both popularity and acclaim over the years. A slick mobile-friendly website and app make it easy to play at this casino on the go!
2. 888 Casino – Over 1,000 Slots, with 100 Exclusives!
888 Casino not only has a welcome offer that includes no less than 88 free spins, but also over 1,000 different games to play – with 10% being exclusive to this casino. You can play all of these games on your mobile device, either on the site or app.
3. Barz – Slots and Live Games and More on the Go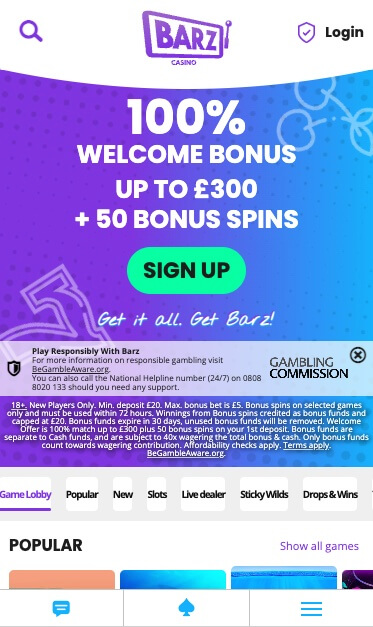 The Barz site is easy to use, be it on desktop or mobile devices, and the casino also offers an app for mobile gameplay. Its selection of slots is excellent, and there are also plenty of live casino games and jackpot titles to check out as well.
4. Bet UK – Not Just Sports Betting
Bet UK is best known for sports betting, but punters shouldn't ignore its casino section! The games play perfectly on mobile, either on the nicely optimised site or app available for both iOS and Android devices.
5. Betfred – More than 600 Titles!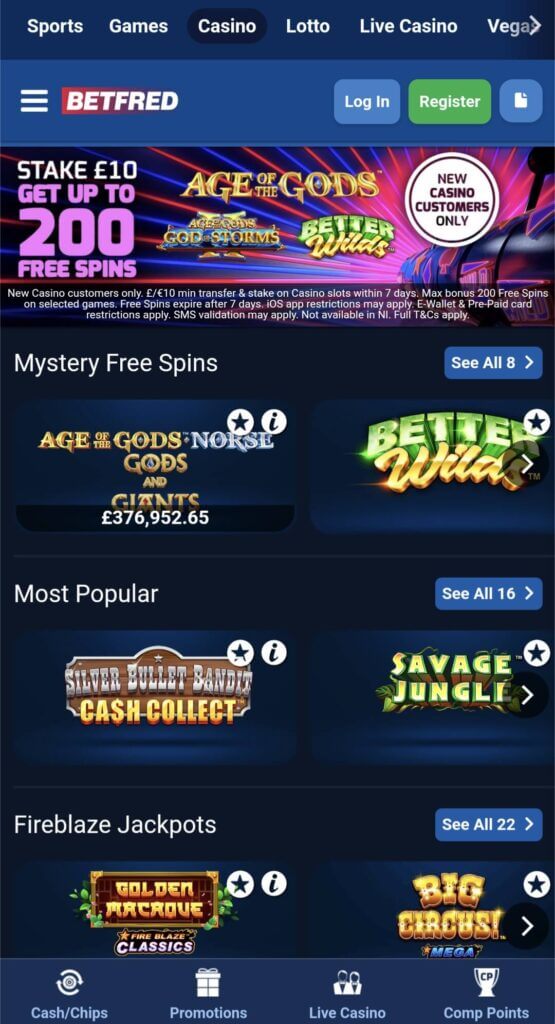 Check out over 600 games on Betfred, be it on the mobile site or the app! These include plenty of slots, as well as live casino games, bingo, poker and lotto, among lots more.
6. Betway – Over 400 Games!
Get a welcome bonus of up to £50 when joining Betway, as well as a choice of over 400 different games. There is a full range of slots available, as well as live casino games and classics such as poker, blackjack and roulette.
Mobile Games Thanks to HTML5
HTML5 is the technology that makes it possible for games to run on devices ranging from desktop PCs to laptops, tablets and smartphones, no matter their operating system. In addition, HTML5 apps update automatically, meaning you don't need to manually update your favourite casino titles!
Why Play at a Mobile Casino?
Want to enjoy your favourite casino games with the freedom of mobile play? Then mobile casinos are the casinos for you! Some of the finest and freshest UK casino sites are focused firmly on players with mobile devices, ensuring their sites provide a spotless experience on any device's mobile browser. There's no need to download anything with these casinos, and you can access your account and bonus funds wherever and whenever you are!
| | Safety | Anytime | Anywhere | Bonuses | PayByPhone |
| --- | --- | --- | --- | --- | --- |
| Mobile | ✔ | ✔ | ✔ | ✔ | ✔ |
| Desktop | ✔ | ✔ | ✖ | ✔ | ✖ |
Playing on Mobile is as Safe as Playing on a Desktop
There are plenty of options in the UK mobile casino space – but, of course, you should still be concerned with safety and security as you play. In our experience, the best mobile casinos are as safe as any casino played on a PC or Mac desktop. Why? Because all legal UK mobile casinos follow the same set of rules we will list below:
Regulations and Legislations Apply for Mobile Casinos as well
Any operator that wants to be active in the UK must follow the strict regulations set by the authorised gambling authorities such as the UK Gambling Commission (UKGC). Operators need to obtain a license in order to operate in the country, and this applies to mobile casinos as well as any regular online casino.
Legality and Licenses When it Comes to Mobile Casino
The UKGC is considered the toughest in the world when it comes to safety, security, and fairness. It's not easy to get a UKGC license, so you can be sure any casino that has one is completely safe to play. Other licensing authorities, such as the Malta Gaming Authority (MGA), are similarly strict.

How Do Safety of Funds and Fair Play Work in Mobile Casinos?
If a mobile casino has a UKGC license then its software is secured by SSL encryption. In addition, all payment processors it deals with are legit while every game is tested and certified as fair. A licensed mobile casino should also handle and store all player funds in a responsible way using reputable payment processors such as Visa and PayPal. In addition, all player funds are stored in segregated bank accounts, preventing the company from using them for its own business interests.
Is Personal Data Protected in Mobile Casinos?
All data must be processed and stored securely at a licensed mobile casino, including your personal data. SSL encryption protects the player at the point of entry, while all personal information must be stored in accordance with the General Data Protection Regulation (GDPR).
Mobile Casino Bonuses and Offers
It's rare that an online casino operator would exclude mobile users from picking up bonuses – on the contrary, some casinos might have mobile-specific bonuses!
Free Spins No Deposit Mobile Casino
UK punters can take advantage of the same great welcome offers on their mobile devices. As such, if you visit a new casino's site using your smartphone you should be able to find the same offers as those seen when visiting using a desktop PC. For instance, both desktop and mobile versions of the Betfred site will show you the Free Spins Accumulator, a weekly promotion that awards you with 1 free spin on a number of select slots for every £10 staked between Monday and Sunday. As such, so long you meet the general entry requirements it doesn't matter whether you are using a desktop computer, a laptop, a smartphone or a tablet!
You Can Play Anytime & Anywhere with Special Features
Playing on the go is great, which is why every mobile casino allows you to spin slots or play a round of Blackjack from anywhere, at any time. However, there's more to mobile devices than the ability to play whenever and wherever you are. There are other features to keep in mind, such as:
Face ID or Touch ID Logins
A neat feature of many of the latest mobile casino apps is the possibility to log into your casino account using your face or fingerprint. This makes it quicker and easier to get in and start playing your favourite games than having to manually enter a password! This option was first available on iOS devices via FaceID and TouchID, but nowadays even Android device offer the same biometric capabilities.
Mobile live streams are increasingly popular in all parts of the gaming world, including the casino sector. Today, you can play all manner of live mobile casino games via your smartphone or tablet. From live mobile blackjack to mobile live Dream Catcher, you can link up with real dealers using HD streams on your device of choice!
We all know push notifications by this point. These are pop-up messages on your device that are can be received even when you are not logged into a specific app. This way you'll never miss an update, game release, or promotion when using a mobile phone casino.
Some casino mobile apps allow for "shake and swipe to play." This neat feature is exactly what it sounds like – you can shake your device or swipe across the screen to set the reels of a mobile slot in motion, making for a more tactile experience.
Other Pros of Going Mobile!
In addition to the above features, free mobile casino apps make the housekeeping side of gaming a lot slicker and quicker. In addition, today you can create an account and make payments just as easily via your mobile as you could via your computer.
Easier Registration
There are ways to speed up the registration process when you join a mobile casino. Since your device can link accounts, it's possible to sign-up using other platforms. Another way new mobile casino apps streamline the sign-up process is SMS messages. To help you secure and validate your account, operators will often send you a link or code. When you use your computer, the message is either sent to your email or phone. Either way, you have to move away from the registration page. This isn't required in the case of online mobile casino apps, since the message is sent to your phone and you can simply extract the data from the SMS without leaving the sign-up page. Again, this saves time and effort.

Faster and Easier Transactions
Another benefit UK mobile casino operators offer is faster deposits. As well as standard payment options like Visa and MasterCard, there are mobile-specific options. These are designed for mobile users and allow you to use apps or, more interestingly, make deposits using your phone bill. That's ideal if you want to do everything on the move.
Here are some of the top Pay By Mobile Casino methods, at least in our opinion:
The Most Popular Way of Gambling Onine
According to UK Gambling Commission, in 60% of UK gamblers in 2021 played using their mobile phones. This follows Ofcom data that shows that British hours spend 3 hours of the day checking the internet on their phones.
Which Games Can You Play on Mobile and Where to Find Them?
Mobile gaming is big business, not just in the casino sector. In fact, more people play games or bet via their mobile now than on any other device. As such, developers are now angling their products towards this medium. In practice, that means old games are being optimised for mobile devices and new ones are being designed with mobiles as the first thought.
UK Mobile Slots
Mobile casino slots are great because they incorporate some of the coolest features like shake and swipe bets. To play, all you have to do is find a mobile casino, make a deposit, and select a game. From there, set your stake and either tap the bet button, swipe across the reels or, for some games, shake your phone.
Some of the best mobile slot games are:
Keep in mind that the list goes on, and on, as practically all new online slots are being developed using HTML5 in order to work perfectly on both mobile and desktop devices.
Mobile Live Dealer Games
Live casino games have become extremely popular in recent years. As technology has evolved, it's now possible to show HD live streams via all modern smartphones and tablets. That means you can connect with real dealers and play a range of games at the best mobile casino sites:
Live Roulette, including European, American, French, and novel variants such as Lightning Roulette.
Live Blackjack, including Atlantic City, Vegas, and novel variants such as Blackjack Switch.
Live Casino Poker, including Caribbean Stud Poker and Ultimate Hold'em.
Live Craps and other dice games such as Sic Bo.
Live game shows, including Dream Catcher, Deal or No Deal, and Monopoly Live.
Slots: The Most Played of Them All!
Slots are probably the most popular casino game to play on mobile. According to a publication by the Gambling Commission, since 2015, the proportion of respondents playing fruit or slot machine games has increased significantly, from 52% to 64%. Source.
Four Tips on How to Play Mobile Casino Games
How do you get the most from gaming on the go? First off, you need to have a solid foundation. That means finding the right mobile casino site or app. From there, you need to select the right games, manage your money, and have an overall strategy in place. Need more tips? We have you covered right here:
1. Read our game reviews to help you choose wisely
You're looking for a casino mobile app but don't know where to start? Well, we can help! Our casino reviews will help you decide where to play and what games to play.
2. Check your bankroll frequently
Always check your bankroll. It's easy to play mobile casino games because they're so accessible. This means you need to be strict about bankroll management. Remember: don't bet more than you can afford, and don't bet for longer than you would normally.
3. Check how much time and attention games require
Playing casino games on the bus or somewhere else other than your home is great. However, there can be a variety of distractions in a public setting that can cause you to lose more than you should. Just because you can play at any time, it doesn't mean you should. Always give a game the attention it deserves.
4. Play for Enjoyment
Stick to what you enjoy. That's a concept that applies to any casino gaming scenario. If you're not having fun, stop. Just because an "expert" says that blackjack is better than roulette, that doesn't mean you should play it. Mobile casinos are designed to be entertaining. Therefore, only play something you enjoy, and be responsible.
Don't Worry About Interrupted Games
If you get a call or an SMS and get interrupted during a game, you will not lose your score. Most casinos are making sure to keep the records on their servers.
Mobile Casino Apps vs. Mobile Casino Sites
Should you use mobile casino apps or mobile casino sites? Here are some facts to help you decide:
| | Mobile Casino Apps | Mobile Casino Websites |
| --- | --- | --- |
| Optimised for mobile | Mobile casino Apps are 100% optimised for mobile | Not all online casino games are well optimised for mobile |
| Instant play | You need to download the App | You can play right away |
| Wide Selection of Games | There are certain casino games that aren't available on apps. | There are a lot of games you can play on your mobile browser. |
| Added Security | Mobile casino apps have added features such as Face/Touch ID login. | Mobile sites are extremely secure but only feature standard passwords. |
| Availability across devices | Apps are only available for iOS and Android devices. | Mobile casino sites are typically available across all devices, including Windows Mobile. |
Energy-Efficient Gaming
Whether you visit your casino of choice using the a mobile site or an app, smartphones are arguably the most energy-efficient way to gamble out there. In fact, modern phone batteries can even be powered using a solar charger, making your device environmentally friendly as well!
Mobile Casinos You Should Avoid
UK casino laws are very strict. The Gambling Commission will take action against any operator that breaks even the smallest rule. After numerous warnings, an operator can have its licence revoked. We can't list all the blacklisted mobile casinos you should avoid. However, the list below shows some of the names that have been struck off by the Gambling Commission:
Ace Live Casino – Questionable business practices
Casino Tropez – Payment issues
Londons Casino – Payment issues
Royal Ace – Payment issues
Slots Alley – Questionable business practices
Vegas 24 – Questionable business practices
Game on the Go with Mobile Casino UK Apps
As you can see, the UK mobile casino scene is packed with apps, games, and fancy features. From things that keep you safe to products that are entertaining at any time, the industry is buzzing. That's great news for you. As a customer, you've got the ability to play in a way that suits you!.
The trick to finding the right mobile casino is research. This guide should be used as a starting point. It outlines all the things you need to know before you delve deeper into what the industry has to offer. Once you're comfortable with what mobile casino UK gaming is all about, make sure you read our reviews. See what's out there, compare and make your pick based on facts.
When you're ready to roll, remember that fun is always the aim of the game. Never spend more than you can afford and always play something you enjoy. Anything that comes after is a bonus. If you can keep all of this in mind, you'll be well on your way to getting the most from mobile online casino gaming.
Frequently asked questions
Most online casinos will offer you a welcome bonus even if you join from your mobile. All you need to do is create an account with the casino and make the minimum deposit required for the bonus. Usually, you will be able to use your bonus on both mobile and desktop. Some online casinos may also award special bonuses for mobile users only.
Some casinos do not have a dedicated mobile app. However, you can still visit the casino via your mobile browser, sign in and play as you would on desktop. Most online casinos have a mobile-optimized site that is very easy to navigate on smaller screens.
The LeoVegas mobile casino app for iOS is an award-winning app that's not to be missed. Other great mobile casino apps include the Rizk Casino mobile, Party Casino mobile, and Coral Casino mobile. You'll frequently find a new mobile casino going live for UK players, so check back often for the latest updates.
Yes, no deposit casino bonus is available on mobile apps at top mobile casino UK.