List of Casino Game Shows
Cash or Crash
Craps Live
Crazy Time
Deal Or No Deal Live
Dream Catcher
Gonzo's Treasure Hunt
Lightning Roulette
Monopoly Live
Sweet Bonanza Candyland
Are Casino Game Shows legal in the UK?
Much like all other forms of real-money gambling in the UK, casino-based game shows are fully regulated and monitored by the UK Gambling Commission.
As such, any licensed UK casino offering real money live game shows will be operating within the bounds of the law, meaning that the game shows on offer are fully legal to play in the UK, as long as you are over the age of 18.
Are Online Game Shows safe?
Online game shows such as live Deal or No Deal or Monopoly LIVE adhere to strict fairness standards in order to ensure that customers are facing fair odds of success.
Casino game shows often involve the spin of a wheel or the opening of a box, with the player's success hinging entirely on chance. As such, the casino site and game developers must adhere to certain standards in order to guarantee fairness.
For one, most games will use a random number generator (RNG) to ensure that the results of each game show round are truly random and cannot be manipulated.
In addition, all reputable UK casinos offering game shows will also have their game software audited and rated by a trusted third-party security agency.
There are several such agencies operating in the UK, with some of the most prominent ones that you should keep an eye out for being:
Live Game Shows – the new live casino sensation
If you are wondering what live casino game shows are, we have got you covered. As you probably guessed, they are casino versions of real-world game shows that you can play online.
However, they are more than just mere flash games. Rather, they are live games with real hosts, dealers, and other players.
As the player, you can connect to a game show live studio via a live-stream video uplink.
As a contestant, you then play the game show much in the same way that you would in a real-world TV studio, by making your guesses and placing your bets. Simply click on the next move you would like to make and the glamorous studio hosts will comply.
Live casino game shows have become immensely popular in recent years for a number of reasons.
For one, you can enjoy the excitement and glamour of being on a TV game show without ever leaving your living room. In addition, you can play for huge prizes in a truly social setting, with more creative ways to win than you would find on bog-standard slot games.
Where to Play the Best Live Casino Game Shows in the UK
Locating a safe online casino to play Live Game Shows is not an impossible feat.
The below online gambling platforms are amongst the best online casinos in the UK and feature the most popular Live Casino Game Shows, such as Deal or No Deal Live, Dream Catcher, Monopoly Live and more!
Furthermore, they are always amongst the first to include any newly released Live Casino Game Show, enabling their customers to try them out.
Most Popular Casino Live Game Shows
Live Casino Game Shows are a recent phenomenon and it started when Evolution Gaming released the first-ever Live Game Show called Dream Catcher.
Anyone familiar with the name Evolution can tell you that this provider is a force of nature when it comes to innovation and is the Live Casino industry leader.
After the success of Dream Catcher, this provider did not waste any time and released Game Show after Live Game Show, some of which were either inspired by board games like their Monopoly Live or real TV shows like Deal or No Deal.
Below we are going to introduce you to the most popular Live Game Shows, all of which are by Evolution Gaming.
Dream Catcher Live Game Show
The first of the Live Game Shows to be launched, Dream Catcher takes on the shape of a vertical money wheel or as popular culture would call it: wheel of fortune.
It was designed to appeal to slot players, with rules that are simple and require no strategy at all. Under Evolution's careful tutelage, the fabled wheel of fortune was placed in a sensational studio, where multiple cameras set up all over the place, capture in HD the live host as he spins the wheel and leads the game.
Players who succeeded in guessing the winning number are paid according to the paytable of the game. But the wheel does not feature just numbers but comes with two segments with x2 and x7 multipliers, which can lead to some excitement for those who placed a bet on either one, as these might be the key to the maximum winning potential of £500,000.

Deal or No Deal Live
Our UK players will surely remember Deal or No Deal, the popular TV show that was aired in Britain for a number of years. Maybe some of you even wished to participate and even tried to apply but was never shortlisted.
With Evolution Gaming's adaptation of the popular show, you can now become the protagonist of the game. Of course, to fully make the transition to a Live Game Show, some changes were made to the original gameplay, however, the major elements of the show are still there.
Deal or No Deal Live is faster-paced than the original show and consists of a number of rounds that will see the players making some important decisions.
The banker is awaiting your response, will you accept his offer? With Deal or No Deal Live, you have to choose from 16 mystery boxes and guess how much money is hiding in them, with the goal of outfoxing the banker and walking away with tens of thousands of pounds.
Monopoly Live
Who hasn't played Monopoly at least once? An all-time favourite all over the world, Monopoly is at the heart of Evolution's Monopoly Live.
Born of a partnership between Evolution and Hasbro, the manufacturer of the game, it is exclusively an Evolution Live Casino Game Show.
Monopoly Live is a masterpiece of innovation and technology and was in fact awarded the Game of the Year prize for both 2019 and 2020 by EGR and Gaming Intelligence.
The Live version of the game involves a vertical wheel of fortune, not so different than the one used for Dream Catcher. Colourfully marked with numbers and segments, each player must place a bet on the number or segment they believe the wheel will stop at.
Should the bet have been placed on the winning number, the player gets the established payout and the round ends there. However, there's also the possibility of accessing thrilling bonus games, which naturally pay out the biggest prizes!
Lightning Roulette
Lightning Roulette is the popular table game as you've never played it before. All the customary features are all there: the wheel, the betting table, but the elaborate studio hides a few secrets of its own ready to pop out as the Roulette wheel comes to a standstill.
The game uses some advanced RNG technology in combination with the classic version of the game. It all starts the usual way, with the players placing the customary bets.
But as the ball lands in a pocket and the wheel stops spinning, some special effects come into play. 5 panels at the back of the studio are hit by artificial lightning bolts to reveal stand-alone numbers.
If your straight-up bet is featured on one of the panels there might be a surprise prize, as the lightning bolts trigger not just the number but a juicy multiplier too.
Mega Ball
Launched in the first half of 2020, this new Live Casino game fuses together lottery and bingo. The spectacular studio features a ball-drawing machine with 51 numbered balls.
The bingo aspect of the game can be viewed in the player interface where a number of bingo-style cards cram around the screen. In true lottery style, 20 balls are drawn quickly, which the advanced game software reflects by crossing out the numbers on the players' card.
With the final draw, the Mega Ball becomes active, causing the studio to undergo an impressive transformation. A multiplier ranging from x5-x100 is applied to any completed lines on the players' cards.
The game might appear simple to some players used to more elaborate games, however, that potential win of x1,000,000 makes Mega Ball one of those games that should be tried out at least once.
Live Casino Game Shows: Did you know?
The development team behind Dream Catcher Live, Evolution Gaming, had a precision-engineered, custom-built wheel made especially for this game! The same wheel mechanic is used for its more recent Monopoly Live and Crazy Time game shows.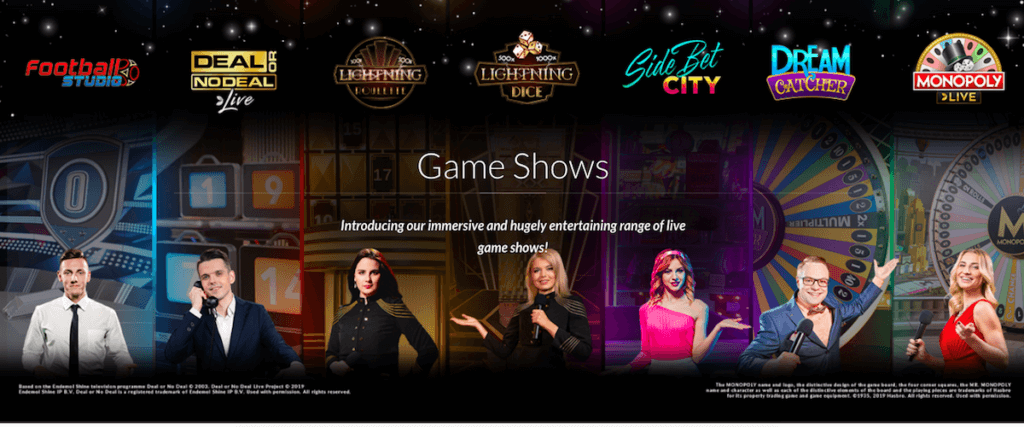 How Live Casino Game Shows work
Live casino game shows are the latest development in an emerging trend towards live-stream gaming.
However, it differs from more "classic" live casino games such as live blackjack and poker in a number of ways.
For one, live casino game shows use high-quality, realistic television studios, often with a canned audience soundtrack, while live casino lounges are filmed in a casino room.
Meanwhile, live game shows have a "presenter", rather than a dealer, as well as different forms of interactivity for the user. While live game shows are based on casino games, they tend to have a huge number of additional features that are based heavily on some of the UK's most popular game shows, as well as all-new mechanics such as bonus rounds and multipliers.
The studio is furnished with the necessary equipment, which depending on the game might vary from Roulette wheels, wheel of fortune, panels or ball-drawing machines.
Traditional table games require some sort of strategy while Live Game Shows are games based on chance and players have to use their intuition to play.
Another major difference is the use of an RNG computer in Live Casino Game Shows. This computer is not that different from the one used to power online slots or virtual table game.
Not all Live Game Shows come with an RNG computer, but its use is restricted to those games that require unpredictable results.
Each game's RNG computer is programmed with the odds of that particular game, which is decided by the provider before development commences.
Participating players can sit comfortably at home or anywhere else in the world. Through the modern interface, contestants can place electronic bets through their casino account and take any necessary action remotely through the same interface.
Everything that takes place in the studio is streamed live, creating the perfect atmosphere for players to become immersed in the game.
Types of Game Shows
As this popular genre of real money entertainment continues to grow to new heights, there are new types of shows you can participate in every day. For example:
Casino Game Shows: these are live game shows that are based on classic casino games such as roulette, with a TV-style twist (e.g Lightning Roulette).
Classic TV Game Shows: these are live real money game shows that are based almost entirely on classic game shows such as Deal or No Deal or Wheel of Fortune.
Fusion Game Shows: these are live game shows that take elements of classic game shows and combine them with other games such as Monopoly Live.
Casino Game Shows based on traditional casino games
Game shows based on casino games are those that take classic games that we all know like roulette or craps and add a few exciting twists to transform them into gripping game shows. Examples include:
Lightning Roulette: the host spins and giant roulette wheel, with the results leading you to hidden bonuses, lightning rounds, and unexpected twists!
Lightning Dice: based on craps, here the contestants must throw the dice into the Lightning Tower and hope for the best.
Super Sic Bo: based on the classic Chinese dice game, this version sees you play alongside the host, who presses the button to get the dice rolling for you, with multipliers and bonuses along the way.
Live Casino Game Shows: Did You Know?
Live casino provider Playtech has introduced the concept of Live Slots, which combine slot games with a live game show experience.

This is an industry-first cross-vertical concept that started with Buffalo Blitz, whereby the players play the same slot game together and the action is managed by a presenter.
Casino Game Shows based on popular TV shows
These are the online casino game shows based on real-world classic game shows, such as Deal or No Deal.
Other Game Shows
These are often live game shows that are based on a classic game that we know and love, such as Monopoly Live, which fuse classic games with RNG-based gaming.
Other types of game shows include different wheel of fortune-style games, such as Pragmatic Play's latest Mega Wheel.
Live Casino Game Shows: Did You Know?
In February 2020, Monopoly Live landed on a record win multiplier of x6400 the bet. This led to 478 players getting paid a total of €4,063,417 between them (the equivalent of £3,401,019)!
How to take part in a Live Casino Game Show?
If you don't fancy applying for an actual TV game show and waiting potentially years for your chance to play for prizes, you should consider trying live casino game shows.
All you need to do is create an account at a registered online casino to begin playing instantly. Some popular titles, such as Monopoly Live, have a minimum wager of just 20p, meaning that anyone can enter the studio and experience the thrill of being on a real game show.
Get registered with the casino
To register with a UK online casino and begin playing your favourite game show, all you need to do is:
Choose your preferred UK online casino
Click "register" or "sign-up"
Enter your personal information such as your email address and country of residence
Verify your ID information
Claim your UK casino welcome bonus
Select your top live game shows
Make a wager and start playing!
Get qualified to play
Playing your favourite game shows online for real money does not require any effort. As long as you have a valid UK online casino account – which you can create as long as you can prove you are resident in the UK and over the age of 18 – you are good to go.
Typically, you will have to wager your own money on each round of the game show, but wagering amounts can be as low as just a few pence.
Playing Game Shows on Mobile
One thing that makes Live Casino Game Shows so easy to play is their electronic accessibility.
Evolution Gaming had the foresight to develop all its Live Game Shows to be accessible from any kind of device be it desktop, mobile or tablet.
The HD streaming allows the experience to be as authentic even when viewed from a smaller screen. Furthermore, the interface is modified in a way to allow better use when navigated through a touch screen.
Conclusion
Live Game Shows are innovative and entertaining games of chance that can take your gaming experience to the next level. We are still at an early age when it comes to game shows, and there are no limits to what providers can come up with in the next months or years, especially thanks to new technological advancements.
If you don't mind the chance element, then casino game shows can provide an excellent alternative to other virtual casino games, especially if you value the live interaction involved.
Frequently asked questions
Live game shows are games of chance inspired by TV game shows, which can be played at an online casino. These games are streamed in real-time to the players' screens, and are run by a professional host, who interacts with the participants online and takes their bets.
No, all live game shows require a minimum bet on a certain outcome. Usually, the minimum bet required per round is as little as £0.10 or £0.20.
The best game shows are those run by Evolution Gaming. Luckily, there are plenty of online casinos in the UK which have partnered up with Evolution and which host these game shows in their Live Casino. All you need to do is sign up for an account with any one of these casinos and check out the game shows on offer.
Yes, some casinos allow you to use your live casino bonus on game shows. Two such operators are LeoVegas and Party Casino.