Casino site slots have become the most popular form of gambling, and they have in recent years advanced from simple slot machines with physical reels to highly complex modern slot machines with microchips.
If you love casino gambling, you should understand the terms Random Number Generator, Return To Player percentage, and Hit Rate, as these all determine how fair your gameplay experience will be, as well as your winning potential.
On this page, we'll attempt to explain each of the above-mentioned terms and what they entail in detail.
What Is RNG?
RNG is an acronym that stands for Random Number Generator. All slots available at offline casinos and casino sites now use RNG technology to generate several billions of numbers per second.
This function ensures that each game's outcome is left completely up to chance, eliminating the possibility of rigged games.
Be it a slot or any other casino game like Roulette, the Random Number Generator creates numbers that determine the position of the reels of a slot or where the ball lands on the wheel of a Roulette game.
When a UK player bets on a slot and hits the spin button, the numbers the RNG generates at that time are sent to the reels.
RNG offers incredible benefits that would not be possible with a traditional reel mechanism. These benefits include jackpots and bonus games among others.
Though the concept of RNG is random, it's also developed to work within certain limits. Most game manufacturers develop their games with various predictable return rates, and UK players who use learned strategies can take advantage of this.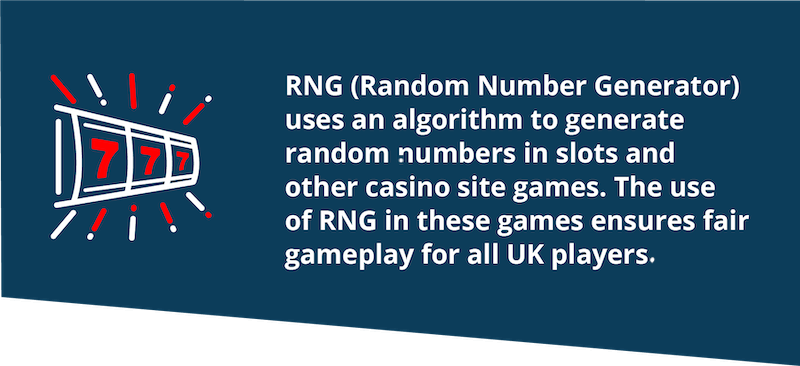 How does RNG function?
RNG continues to generate numbers even when you're not playing, as that is its main role. As mentioned, the result of casino site games is determined by the number generated by the RNG software immediately when you hit the spin button.
Nevertheless, the Random Number Generator uses an algorithm to generate these numbers, making each game accurate and fair.
Why Do Casino Games Use RNG?
All casino games, both online and offline, use RNG to ensure randomness and fairness. This provides the element of chance in casino games.
In the past, casino games used physical reels to decide which symbols appear on the payline to create winning combinations. A Random Number Generator generates random numbers in modern slots (offline and online) to create winning combinations of different characters.
Aside from that, casino games developers design their games with RNG so that players can be sure that the outcomes of the games are fair.
Casino games from popular software developers like Microgaming, NetEnt, and Playtech, are regulated and checked by auditors before being released on casino sites. Popular games that use a Random Number Generator to determine their outcome include slots, Roulette, Blackjack, Lottery, Keno, Bingo, and more.
Is RNG Fair?
Most reliable casino sites use Random Number Generator to ensure that the outcome of the casino games is unbiased. Generally, RNG software is fair because the numbers it generates are random. However, some casinos could still alter their games. Therefore, we recommend that you only play at a trustworthy UK casino site.
But how do you identify casinos that do not tamper with the RNG algorithms? Well, this is simple. You should play at UK casino sites that undergo regular checks from independent audit firms.
Independent auditing firms are a way that casino sites and game developers can prove to players from the UK that their RNG is fair. These firms conduct regular tests on the Random Number Generator software used by casinos to confirm the following: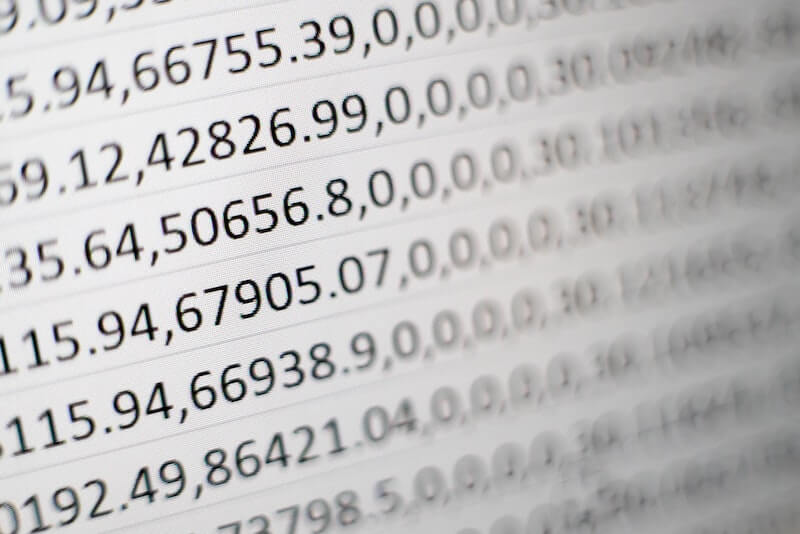 The RNG is completely random
The RNG does not have unusual patterns
The Random Number Generator is consistent with the expected rate of return
There are several independent auditing firms in the iGaming industry. The most famous casino site auditors include:
eCOGRA: eCOGRA stands for eCommerce and Online Gaming Regulation and Assurance. It's a well-known UK company that tests Random Number Generators, helps resolve disputes, verifies gaming software, fixes RTP in games, and more.
iTechLabs: This is an Australia-based company that is responsible for verifying and regulating games for online casinos. They also provide quality assurance for casino software.
GLI (Game Laboratories International: This is an auditing company with its headquarters in the United States. They control the casino operation, ensure adequate security, and test gaming software.
Technical Systems Testing: This is a subsidiary of GLI (Game Laboratories International). The auditing company is popular for its consulting and gaming testing services.
RSM International: This company engages in all primary areas of accounting, auditing, tax consultation, outsourcing, and more.
BMM Testlabs: A popular auditor in the iGaming scene, responsible for checking games, testing software, fixing RTPs, analysing RNG, and more.
PricewaterhouseCoopers: This is also a top auditing firm in the igaming industry. The company offers analysing, consulting, auditing, taxing, insurance, and legal services to various sectors, including gambling.
VeriSign: This is another leading auditing firm for RNG and the iGaming industry. The company is based in North America but has UK, Australia, China, India, and Switzerland offices.
Strict jurisdictions like the UK Gambling Commission and the Malta Gaming Authority only allow the release of casino games when their RNG has been certified by any of these independent auditing firms.
If the games pass their tests, they then verify the game as fair and safe, and the software developer can launch the game to the public.
What Is Hit Rate?
Hit rate, also known as hit frequency, is a number that determines how often a player will get a winning combination when playing casino games.
The higher the Hit Rate, the more likely the game is to generate winning combinations. However, this is more theoretical than practical.
With this, you should keep in mind that a slot having a high hit frequency does not mean you're guaranteed big wins if you play it.
The Hit Rate is measured in percentage, ranging between 30% and 50% on average. A common probability is that every four spins will reward you with a win.
Mathematically, a player's chance of hitting the jackpot while playing a slot is 1 in every 27 000 spins. Though the Random Number Generator often generates winning combinations, the probability that a player will hit the play button when the jackpot hits is extremely slim.
What Is RTP?
In the gambling industry, RTP stands for Return to Player; this is also calculated in percentage. RTP is the percentage that determines the average amount of money returned on a player's bet over several gaming sessions.
Additionally, it indicates a players' odds of winning when playing slot machines or any form of casino games using a calculated house advantage.
In theory, a slot with an RTP of 99% is supposed to return 99 for every 100 wagered in the long run. However, this is not always the case when wagering with real money.
The Return to Player is not determined by one game session but millions of spins. With this, players should keep in mind that the game will not produce winning combinations every single time.

Another way to win, despite the RTP, is to focus on the slot's volatility and hit rate. Most casino site slots with a high RTP offer additional features like scatters, wilds, bonus games, multipliers, free spins, and more.
However, players should not overlook the casino house advantage, calculated by deducting the RTP percentage from 100.
The House Edge is the percentage that returns to the casino. So if a slot game comes with 96% RTP, it means the house edge is 4%.
Understanding the RTP and Hit Rate helps players choose the best slot to play. Slots with high Hit Rates offer generous wins, while those with low Hit Rates aren't likely to provide massive amounts with the fixed return rate.
On the other hand, a slot machine with a low Hit Rate will not pay out frequently. But, when a player strikes a win, the win amount can be huge.
Choosing the best online slots to play depends on what you are on the lookout for. If you enjoy frequent wins, you should choose slot machines with a high Hit Rate. Nevertheless, if you are a high bankroll player looking for massive wins, slots with a low Hit Rate are the perfect option.
Conclusion
When choosing which casino games to play, looking at the RNG and RTP of these games, in particular, is a good way to determine exactly what games are best for you.
The Random Number Generator controls all modern casino site games, from table games to slot machines and many more, and ensures that the outcomes of these games are completely random.
A good tip is to only play at casino sites verified and audited by third parties organisations like eCOGRA, PricewaterhouseCoopers, and Technical Systems Testing to avoid rigged games.
Another thing to consider when choosing a casino site game is the Return to Player percentage. Remember that the higher the RTP, the more chances of winning the slot can offer.
Now that you're equipped with knowledge about some of the most important terms used on casino sites, you should be ready to play at any UK casino site. Have a look at our Casino Site Catalogue to get started.
Frequently asked questions
While the Random Number Generator was designed to be random, some rogue casinos can alter its function. As a result, we recommend players wager at a licensed casino. Licensed casinos undergo regular checks from independent auditors to confirm the randomness of their RNG software.
Neither. Random Number Generator software does not depend on the money wagered because it's unaware of the size of your wager. The RNG software only generates numbers randomly, which appears on the slot's reels to form a winning combination of various symbols.
No. Randomness and equality are not the same. Some symbols can appear on the reels more often than others. But this does not mean the outcomes are not random.
RNG stands for random number generator. RNG in games is used to ensure all outcomes are randomized and fair to all players.