Compare and Find the Casino that Suits You
Let's face it – there are too many UK casino sites, and you have too little time to check them all. So, wouldn't it be great if there was a way through which to find the best online casino that's right for you without having to sift through all manner of reviews and promotions?
Such worries are a thing of the past, as that's where the Casino Hawks Casino Comparison Tool comes into play!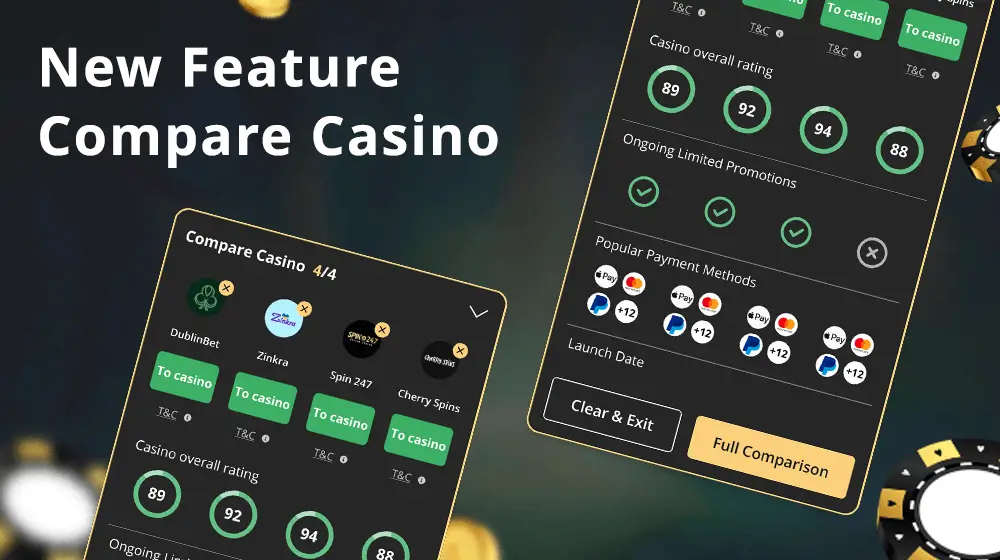 Filter, Analyse and Set Top UK Casinos Side by Side!
As the name suggests, the Casino Comparison Tool allows you to compare casinos based on various important criteria. What do these involve? Glad you've asked, as that's what we're going to take a closer look at right now:
Casino Overall Rating – This is the Casino Hawks rating based on the casino's popularity, usability, customer service, and fairness of its terms and conditions.
Launch Date – This lets you know how long the casino has been offering its services.
Welcome Bonus – One of the main reasons to join a new online casino is the Welcome Bonus. What does this involve?
Wagering Requirements Bonus – Most online casino bonuses have a wagering requirement you must fulfil before you can withdraw your winnings. How much is this?
Welcome Free Spins – This one is for the fans of the online slots, as it is indeed a welcome bonus that includes free spins on select slots.
Wagering Requirement free spins – What is the wagering requirement of the free (or rather, bonus) spins a casino offers?
Ongoing Promotions – Casino sites have regular promotions encouraging customers to keep playing.
Licence – This is arguably the most essential element for a casino. In the case of the UK, the gambling licence must be issued by the UK Gambling Commission (UKGC).
Minimum Deposit – What is the smallest amount of money you can deposit in your account?
Minimum Withdrawal – Just like the above point, only in this case it refers to the minimum amount the casino allows you to withdraw from your account.
Payment options – Self-explanatory, this one. It refers to the various payment methods customers can use to make both their deposits and withdrawals. 
Local language – In the case of the UK, a casino should be available in English.
Pros + Cons – Finally, our Casino Comparison Tool highlights the pros and cons we point out in our casino reviews.
How to Use the Casino Comparison Tool?
You might be wondering how to use the Casino Comparison Tool. So follow this step-by-step guide, and it should be as easy as pie!
Click the "Compare" button
The "Compare" button is found on all the casino cards found on Casino Hawks. Click this to activate the Casino Comparison Tool, which will pop up at the bottom of your screen.
Search and Add Casinos
The Casino Comparison Tool allows you to select and compare up to 4 online casinos. To add these casinos, click the "+" button and open top the drop-down menu. You can select from popular casinos or search for a specific site here.
Compare and Analyse
Once you've selected your casinos, the next step is to click "Compare". This provides you with a brief overview, with your casinos presented side-by-side. If you want a more in-depth comparison, click the "Full Comparison" tab on the bottom right-hand side of the screen.
And on Mobile?
If you're worrying that the Casino Comparison Tool won't work while you're browsing Casino Hawks on your mobile device, don't – the tool is designed to work seamlessly on your smartphone or tablet!
Compare, Contrast and Find Your Perfect Online Casino
Now that you know how to use the Casino Comparison Tool, you're all set to find a site that's truly right for you! You can customise the tool to fit your preferences, ensuring you make the best decisions. And if you want more in-depth analysis, you can always visit our extensive selection of online casino reviews written by the expert Casino Hawks team. Good luck, and happy casino comparisons!
Frequently asked questions
You can launch the tool by clicking the "Comparison" visible on the casino cards found on each Casino Hawks page.
Currently, the Casino Hawks Casino Comparison Tool allows you to compare up to 4 different casinos, so long these are listed on our site.
You can use our tool to compare casinos according to various criteria. These include the overall ranking, welcome bonus, bonus wagering requirements, ongoing promotions, and available payment methods, among others.
The Casino Hawks team is constantly looking for new casinos to review, so if a particular site is not listed do feel free to reach out and let us know. You can also use the Casino Comparison Tool to find casinos we recommend that offer similar features!
Author
Casino Analyst
While a relative newcomer to the online gaming space, Marco counts on over a decade of experience as a technology journalist in order to bring readers the best and latest from the world of casino.