When it comes to most slot games, there's one thing we all look forward to: and that is the bonus round! Whether it's a free spins round or a different kind of bonus game, this is typically where the biggest wins or jackpots are to be had.
However, there is a bit of bad news for all British players – since 2019, the UK Gambling Commission (UKGC) has declared it illegal for players players with a UK account to play slots with a bonus buy feature. This is due to reasons related to responsible gambling. As a result, providers have to offer the same games without this feature to UK players.
That said, some providers have come up with alternative ways to helping you access the bonus round or get your hands on various feature upgrades, as we will discuss below in this article.

Our Favourite Bonus Buy Slots
While Bonus Buy slots are not available in the UK, but that doesn't mean you cannot have a great time with the alternatives! Our list has games that offer features such as ante bets, which allow you to boost your chances of triggering the free spins by increasing the size of your bet. So join us as we check out these slots, and happy spinning!
1. Reel Rush (NetEnt)
NetEnt's Reel Rush is a delightful 90s throwback complete with expanding reels that have the number of paylines increase from an initial 36 to a maximum of 3,125. You expand the reels by forming winning combinations, which not only add to the available symbols but also grant you a free respin. Get 5 consecutive wins in a row, and you will get 8 free spins on the full 5-reel, 5-row, 3,125-payline slot!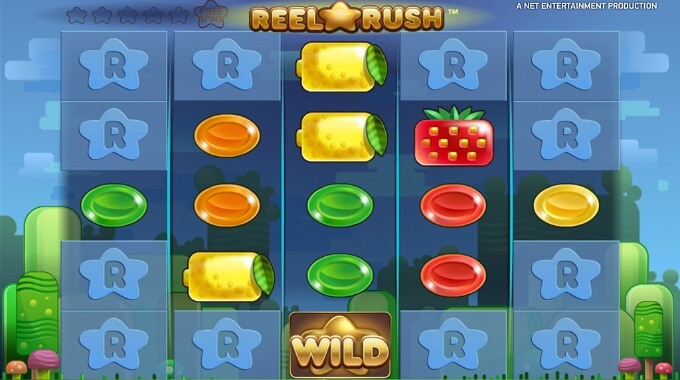 | | |
| --- | --- |
| RTP | 97% |
| Volatility | Medium-High |
| Provider | NetEnt |
| Release Date | December 2019 |
Play Reel Rush at the #1 casino aimed at female players, Pink Casino. Join using our link for 50 free spins!
2. Great Rhino Megaways (Pragmatic Play)
Plenty of Megaways slots feature either a buy free spins or ante bet feature, and Great Rhino Megaways is one of the best out there! It features exceptional graphics and fun gameplay, plus a max win worth no less than 20,000x the bet. The ante bet option increases your bet by 25% (or an extra 25p for every £1), and will increase the number of scatters on the reels to double your chances of triggering the bonus round.
| | |
| --- | --- |
| RTP | 96.58% |
| Volatility | High |
| Bonus Buy Cost | 100x stake |
| Ante Bet Cost | 25% on top of total stake |
| Provider | Pragmatic Play |
| Release Date | April 2020 |
You can play Great Rhino Megaways at PokerStars.
3. Sweet Bonanza (Pragmatic Play)
The candy-themed Sweet Bonanza might not have many features, but it does have a win potential of 21,175x the bet! It also includes an Ante Bet option that increases the number of scatters on the reels to double your chances of triggering the free spins in return for increasing your bet by 25%. The free spins round adds special multiplier symbols that can be anything from 2x to 100x!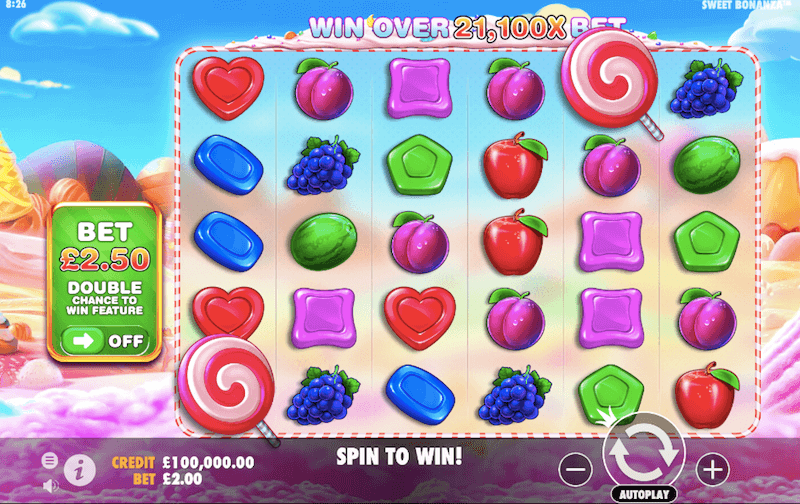 | | |
| --- | --- |
| RTP | 96.51% |
| Volatility | High |
| Provider | Pragmatic Play |
| Release Date | 25th June 2019 |
You can enjoy Sweet Bonanza Slot at Pink Casino.
4. The Hand of Midas (Pragmatic Play)
Do you have the Golden Touch? If not, then check out The Hand of Midas, the Pragmatic Play slot based on this enduring tale. British players may not be able to access the feature buy option, but they can take advantage of the Ante Bet. Increase your bet by 25% for double the chance of triggering the free spins! This bonus round adds sticky wilds and win multipliers for suitably impressive win potential.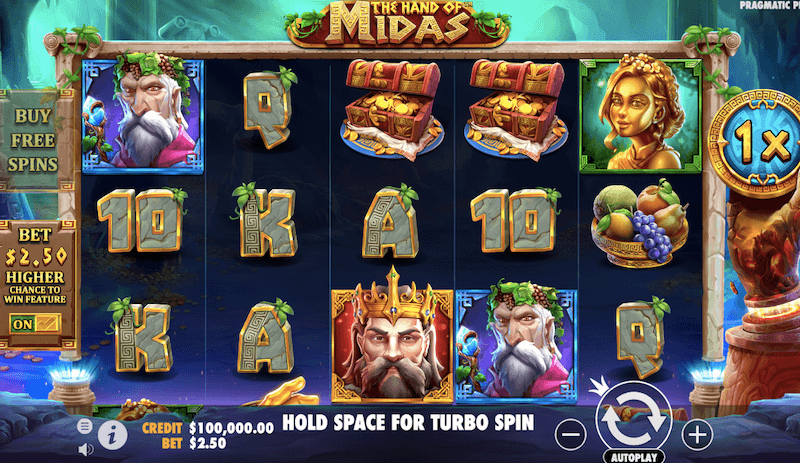 | | |
| --- | --- |
| RTP | 96.54% |
| Volatility | High |
| Ante Bet Cost | 25% on top of total stake |
| Provider | Pragmatic Play |
| Release Date | February 2021 |
You can play The Hand of Midas Slot and other Pragmatic Play slots at PokerStars.
5. Madame Destiny Megaways (Pragmatic Play)
The Megaways-powered update of the original Madame Destiny is set on a big grid with up to 200,704 paylines, and comes complete with an Ante Bet options. This way, while you cannot directly pay to trigger the free spins you can still increase your bet by 25% to double the potential of triggering the bonus feature. This beautiful-looking game also offers a maximum win of up to 5,000x the bet, as well as all the bells and whistles the ever-popular Megaways engine provides.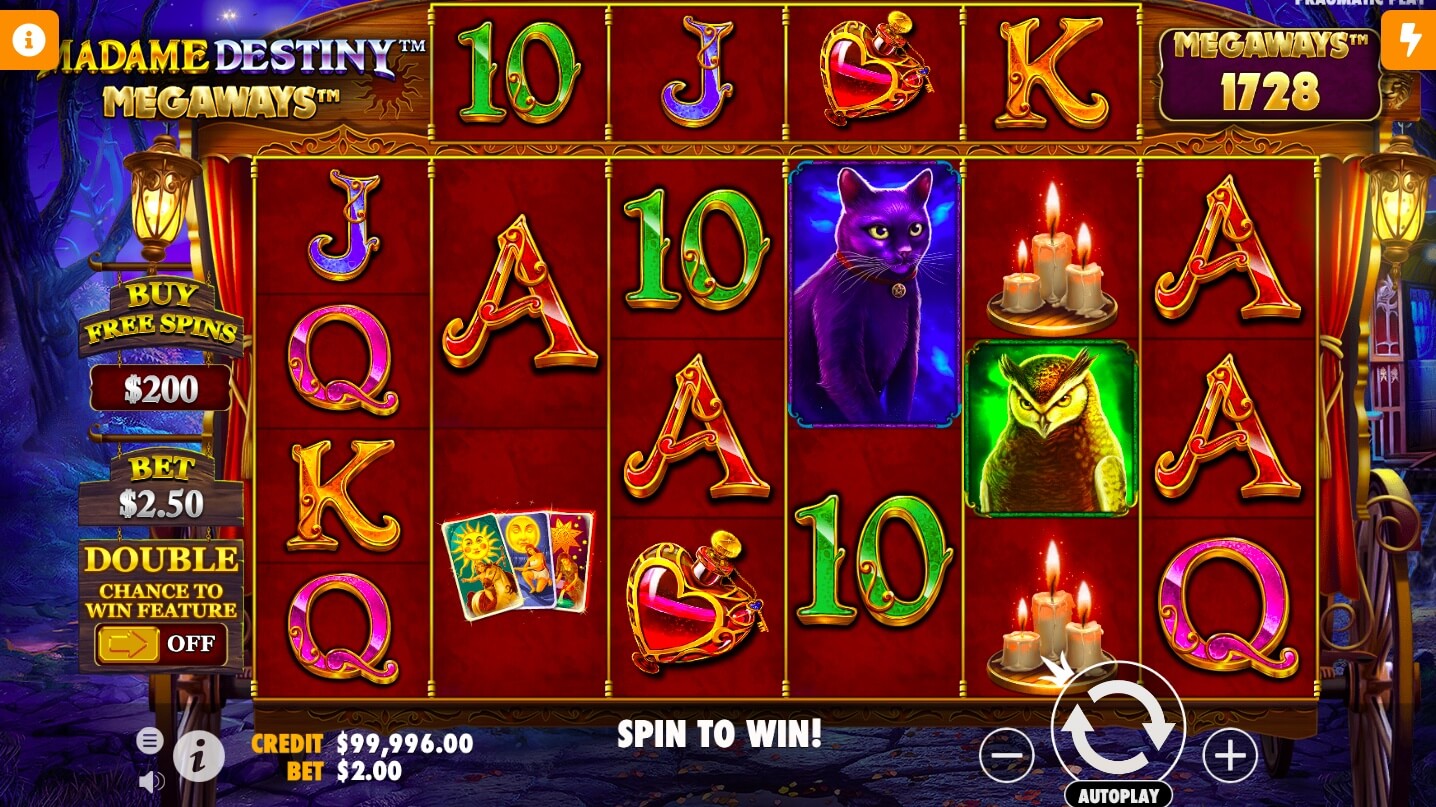 | | |
| --- | --- |
| RTP | 96.5% |
| Volatility | High |
| Ante Bet Cost | 25% on top of total stake |
| Provider | Pragmatic Play |
| Release Date | January 2021 |
Visit Madame Destiny Megaways at LeoVegas and get a complete Welcome Package if you're a first timer at this casino!
6. Rainbow Riches (Barcrest)
Last but not least is this cheerful entry in the Irish-themed genre of slots. Barcrest's Rainbow Riches should be a familiar name to British punters, who have surely seen this land-based slot machine in any number of pubs across the country. This online version offers colourful gameplay complete with a fun Wishing Well feature that can be triggered by landing 3 or more Wishing Well scatters anywhere on the 5 reels.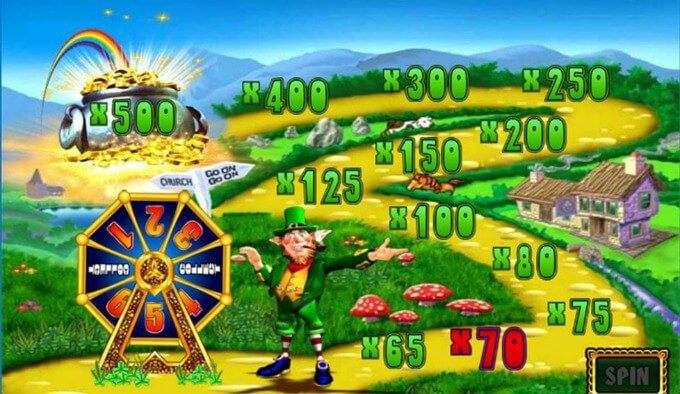 | | |
| --- | --- |
| RTP | 95% |
| Volatility | Medium |
| Provider | Barcrest |
| Release Date | January 2009 |
You can play Rainbow Riches and other Barcrest slots at LeoVegas!
What Exactly is a Slot with a Bonus Buy Feature?
The Bonus Buy feature is exactly what it sounds like – the option to pay in order to go directly to the slot's bonus feature, instead of randomly triggering it by playing the game. This feature first came about in 2017, when Big Time Gaming launched ihe slot White Rabbit Megaways. The idea is that you will pay a certain price in the hope of winning more through the combination of features you can enjoy during the bonus round.
UK players cannot take advantage of a Bonus Buy feature, but some providers offer an Ante-bet or Big Bet feature in their games. This allows players to increase their bet (usually by around 25%) for an increased chance to trigger the bonus round. Other games also allow one to gamble the bonus round for a chance to get more free spins or to pay for an upgrade of the feature once it's triggered. In these cases the bonus round is not 100% guaranteed, and as such these are legal for UK players.
How Does the Bonus Buy Feature Work?
While playing the game as normally intended, you generally can trigger the bonus round by landing 3 or more scatter symbols on the reels. The bonus buy option has you skip this process by paying a premium to trigger the special round on the next spin. This can be handy, since the bonus round tends to offer the best payouts.
How Much Does it Cost to Buy a Slot Bonus Round?
The cost for the bonus buy fee differs from between games, but can range from 50x the bet to as high as 270x your stake, if not more. For example, NetEnt's Serengeti Kings has a costly bonus buy feature of 358x the stake, but this will trigger the bonus feature with a maximum of 5 scatters. However players can go for cheaper options that trigger the bonus round with 3 or 4 scatters.
Buying a bonus round – Pros and Cons
Pros
The bonus buy option helps you skp the boring base game spins where nothing much happens. Instead, it takes you straight to the action, where you have a better chance of winning a potentially big win.
The feature is particularly attractive in the case of slots where the bonus round is especially hard to trigger. One can argue that with such slots it's cheaper to go for the bonus buy instead of trying to trigger the round the traditional way.
Cons
Paying for the bonus round is expensive, and you risk running out of funds or, worse, grossly overspending, if you avail yourself of this feature constanty.
Buying into the bonus round does not necessarily mean you are going to win big. In the end of the day, just like a normal bonus round, you can either win big or end the feature with just a small payout that does not exceed the price of the bonus buy-in.
Tips on how to use the bonus buy round
Before buying the bonus round, it's wise to do your research.
1. Check the bonus frequency
It may not be worthwhile buying the bonus round if the bonus frequency of a slot is good. In this case, it's worth playing a few base game spins and triggering it in the traditional way.
The best way to check the bonus frequency of a slot game is by using Slot Tracker. This tool will let you know how often the bonus game is triggered on any particular slot.
2. Analyse how rewarding the bonus round is
It's wise playing a slot game in demo mode to get an idea of how potentially rewarding the free spins or bonus round can be.
This will help you decide whether it's worth buying the bonus in the hope of getting a big win, or whether you're likely to make a loss if you do so.
3. Know when to quit using the feature
The bonus buy feature may tempt players to use it more often than they should.
If you find that you have made a loss from this feature a couple of times, it's wise not to keep using it.
Having a budget that you'd like to use up on the feature, or a loss limit on it, will help you manage your bankroll better.
Complete list of games with a bonus buy-in option
Below we have provided you with a list of online slots that (outside of the UK) feature the bonus buy option.
As a British player, you can still enjoy any of the below games, however, you will have to go old school and wait for the scatter to trigger the bonus round!
Valletta Megaways
Yak Yeti and Roll
Faerie Spells
Chillipop
Book of Gods
Viking Voyage
Machina Megaways
Dr. Electro
Legacy of Ra Megaways
Mermaids Galore
Medallion Megaways
Gods of Olympus Megaways
Punk Rocker xWays
Fishin Frenzy Megaways
Rainbow Riches Megaways
Temple Treasure Megaways
Acorn Pixie
Kingmaker Megaways
Genie Jackpots Megaways
The Golden Owl of Athena
Carnival Forever
Fruitbat Crazy
Are Bonus Buy Slots Legal in the UK?
Unfortunately, in 2019 the Gambling Commission has decided to make the bonus buy feature illegal for players with a UK account. For this reason, providers have continued to offer the same games without this feature to UK players. However, some providers have come up with an alternative way of helping you access the bonus round or get various feature upgrades, which we'll discuss down below.
What are Feature Buy Slots?
Instead of allowing you to buy in to the bonus, some slot games allow you to pay for an extra feature or for an increased chance of triggering a feature. This type of feature buy slots do not guarantee that you'll get into a bonus, but may help you do so (for example, by adding an extra scatter to the reels).
In some games, this option is known as an Ante-bet feature or a Big Bet feature. For a higher stake, UK players still get an increased chance of triggering the bonus round. Other games also allow you to gamble the bonus round for a chance to get more free spins, or to buy an upgrade once you trigger the bonus round!

As long as the bonus round is not 100% guaranteed, these features are still legal for UK players, and there are several slots that offer them. Here are some examples of feature buy slots:
Monopoly Big Event
Hot Fiesta Slot
Himalayas Roof Of The World
Super Star Turns 2
Pearl Of The Caribbean
Which one is better: Bonus buy or Feature Buy?
There is one advantage to a bonus buy option: it guarantees you entry into the bonus round. However, the bonus buy tends to be much more expensive when compared to a single feature buy. Not to mention that UK players cannot benefit from it at the moment. For example, it would typically cost you 100x your stake to buy into the bonus directly in a Pragmatic Play slot that incorporates this option. However, if you use the ante bet feature in the same slot, this will only cost you 25% more on top of your bet.
The feature buy can be a gamble (and in fact, in some slots it is called a 'gamble feature' for this very reason). However, if you use it sparsely things can get less expensive than if you were to use the full bonus buy.
Great alternatives to Bonus Buy Slots
If you love bonus buy slots but you can't play them in the UK, then you still have some other great options. In addition to the feature buy slots we looked at above, you might also look at some slots with great bonus features.
1. Slots with different bonus game options
Some slot games allow you to choose your desired level of volatility once you trigger the free spins round. One such example is NetEnt's Dead or Alive 2, which comes with 3 different free spins modes to choose from. The High Noon Saloon spins come with a 15x multiplier and the potential of winning 100,000x your stake, but it's also the most volatile round of the 3!
2. Slots with easy-to-trigger bonus games
Look for slots whose bonus game isn't too hard to trigger. A look at the bonus hit frequency on slot reviews or tools like Slot Tracker can provide such an indication, as can playing the game in demo mode.
One of our top recommendations is NetEnt's original Blood Suckers. We tend to trigger the pick and click bonus game quite often as we play it (and always end up winning decent cash prizes!) The game is also well known for its high RTP of 98%!
3. Slots with multi-level bonuses
Some slot games come with lengthier bonus rounds that allow you to progress through different levels for a chance to win bigger and bigger prizes. In Hugo 2, for example, players will first access the free spins round. From this round, they can also trigger the Skull Cavern bonus feature. If they manage to progress through this round without losing all of Hugo's live, they can progress to the Treasure Chamber and win big! Avalon II is another example of a game with a fascinating multi-level bonus which also has a story to it. On your quest for the holy grail, you can unlock a succession of features. These includes more free spins, pick and click bonuses and a wheel of fortune at the very end!
4. Slots with highly rewarding bonus rounds
Not all bonus rounds were created equal. Some are simply not worth the wait. The idea is to look for those slots whose bonus rounds can be very rewarding, either due to a jackpot, or due to a combination of features that increase your chances of landing a big win.
Nowadays, there are plenty of bonus games that incorporate additional features like extra wilds and progressive multipliers. These include Play N Go's Viking Runecraft (which comes with a 15x multiplier) and IGT's Cleopatra Slot, where all your wins from the free spins round are tripled!
The providers behind the best Bonus Buy Slots
Some game developers have started to add the bonus buy feature to most of their slots and down below we have made a short list of providers who are releasing bonus buy slots.
Blueprint Gaming
Blueprint Gaming is the provider behind the fun-filled Fishin Frenzy and a host of other megaways slots. The company is based in the UK, and its slot games are well-known to be quite feature-packed! Some of the best bonus buy slots by Blueprint Gaming include Temple of Treasure Megaways™ and Ted Megaways™.
NetEnt
NetEnt hardly need an introduction. They are behind some of the most famous online slots, like Starburst, Gonzo's Quest and Twin Spin. More recently, NetEnt has started to incorporate the bonus buy option into some of its slot games… but there aren't many of these as yet! Popular NetEnt games with this feature include Dead or Alive 2 and Serengeti Kings.
Relax Gaming
Not only is Relax Gaming a B2B provider that supplies some of the biggest online casinos out there, but it also has its own portfolio of games, most of them slots.Relax is the provider behind the Money Train series of slots. The original Money Train allows you to buy your way into the Money Cart Bonus for a premium of 80 times your stake. Other bonus buy slots by Relax Gaming include Ramses Revenge, Multiplier Odyssey and Iron Bank.
Pragmatic Play
Pragmatic Play are on fire right now! This provider is releasing bonus buy slots every month, and most of them also come with an ante-bet feature that UK players can avail themselves of! Slots by Pragmatic Play have a good reputation for their high volatility and mix of features. Popular bonus buy slots by this provider include The Dog House Megaways, Sweet Bonanza and Madame Destiny Megaways.
Big Time Gaming
Big Time Gaming is both the inventor of the bonus buy option and the creator of megaways slots! Its bonus buy feature is trademarked as Feature Drop™ and made quite a hit with the release of White Rabbit. Nowadays, UK players cannot benefit from the feature drop in slots by Big Time Gaming, but this doesn't make the collection of games any less attractive: Slots like Extra Chilli Megaways and Monopoly Megaways have become hugely popular!
NextGen Gaming
NextGen Gaming is a studio with a history that dates back to 1999, and which has released hundreds of slot games.The provider has its small share of bonus buy slots. The most popular include 300 Shield Extreme, whose "Buy Pass" Feature, compared to other bonus buy slots on the market, costs less (60x your stake). Other bonus buy slots by NextGen Gaming include Medusa Megaways and Pillars of Asgard.
No bonus buy feature but still plenty of fun!
As mentioned throughout this article, the bonus buy feature remains illegal in the UK. However, this does not mean that any of the above slots are boring! After all, all of these slats come with a full set of features and bonus rounds that will have you on the edge of your seat.
What's more, there are slots out there that let you gamble for an increased chance of triggering the bonus round. This is something that you can take advantage of – if you are willing to take the risk, of course. Always make sure you weigh the pros and cons, and calculate the potential returns. This way, you'll be able to use these features only when it best suits you.
Frequently asked questions
Bonus Buy slots are games that let you trigger the free spins or bonus round by paying a specific amount, as set by the game. The idea behind bonus buy slots is that players will be able to risk paying a sum for a chance of landing a bigger win during the bonus round.
Unfortunately, if you reside in the UK then bonus buy slots are illegal to play. This is due to the current gambling regulations as set by the UK Gambling Commission, which do not allow game providers to add the bonus buy feature to their titles.
Bonus Buy slots might be attractive to the high rollers, but in most cases the amount you win from the bonus round will not exceed the sum paid to access it. In our opinion, it is better to pay for a few more regular spins in the hope of triggering the bonus round for free!
Numerous UK casinos offer a chance to play slots with a bonus without need to make a deposit. Check out our no deposit casino bonuses page to learn more.