Dead Canary review
Nolimit City takes us underground with action set on reels with an explosive difference! Keep on digging and read our review below.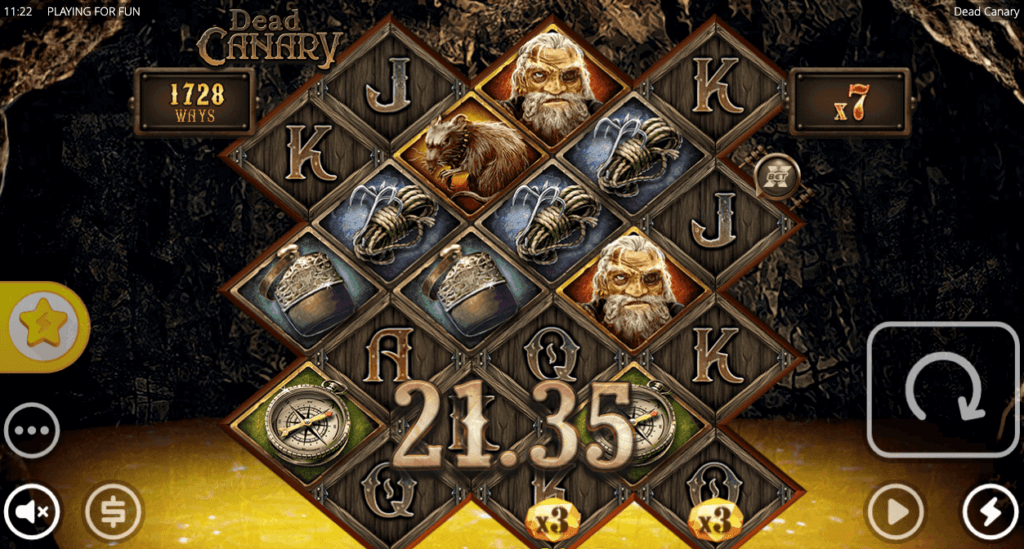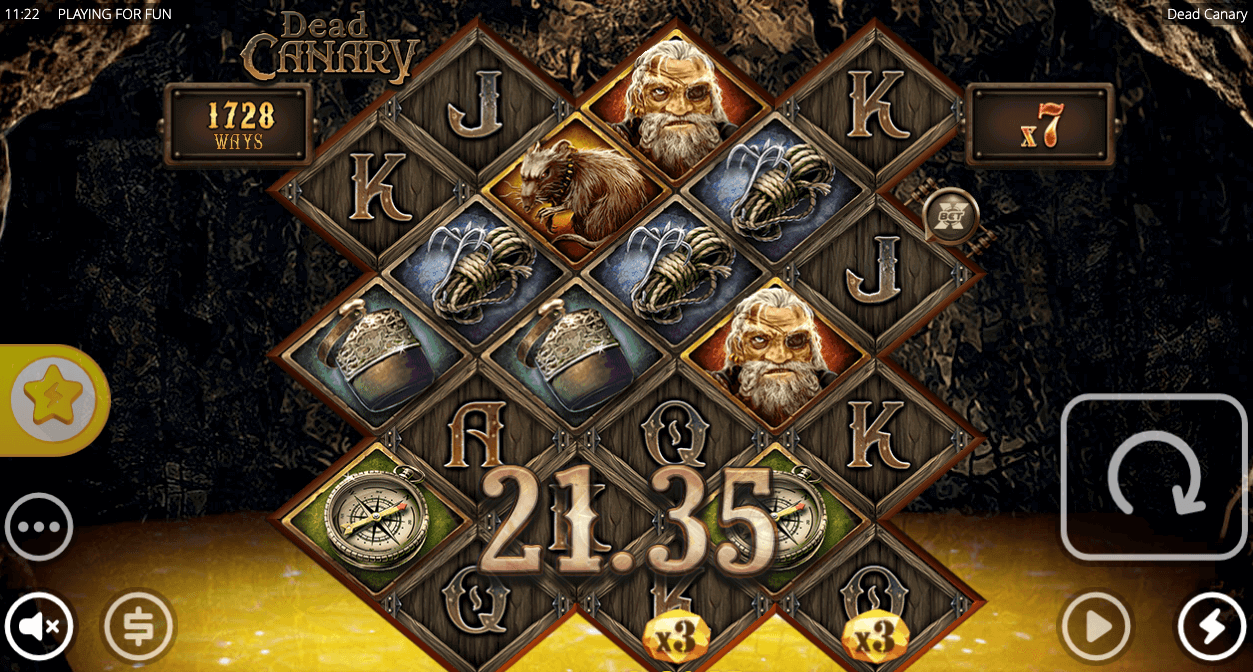 A follow-up of sorts to Nolimit City's previous mining-themed slots – namely Fire in the Hole xBomb and Misery Mining – Dead Canary brings a twist to the proceedings, and we don't mean the dead birds! The unusual grid setup consists of 6 reels in a 3-3-2-2-1 setup, but this can grow up to up 3-4-3-3-4 by blowing up locked positions. How do you do this? Glad you asked!
What you'll find in this Dead Canary Review
Our process follows a series of steps to ensure we provide our readers with the best reviews possible. These are the points we analysed as we tested out Dead Canary:
The slot symbols: What do the slot's symbols consist of, and how much do they pay?
Minimum and maximum bet, autoplay option: What are the minimum and maximum amounts you can bet? Is there an autoplay option?
The payout rate: What is the slot's RTP (Return to Player)?
Volatility: Are you going to get small but frequent wins or big wins at a more infrequent rate?
Hit frequency: How often can you get a winning combination?
Jackpot and/or maximum win: Does the slot have a jackpot? What is the biggest win you can get?
Wilds, scatters, and respins: Which symbols act as wilds and scatters, and what is their function?
Bonus game: What is the game's bonus round, and what does it look like?
Bonus-buy option: Can you pay to trigger the bonus feature?
Graphics & Sound: What does the game look and sound like?
Play Dead Canary with the best bonus
There are plenty of UK online casinos that offer the best campaigns and bonuses – so make sure to check out our offers and promotions section to find the best place to play Dead Canary. 
Dead Canary Symbols & Payouts
Dead Canary features a dark and gritty aesthetic that is reflected in the choice of symbols found on the reels. Fans of Nolimit City slots will surely recognise the dwarf character, who's the protagonist of the developer's previous games in the mining genre.
The Symbols


Paylines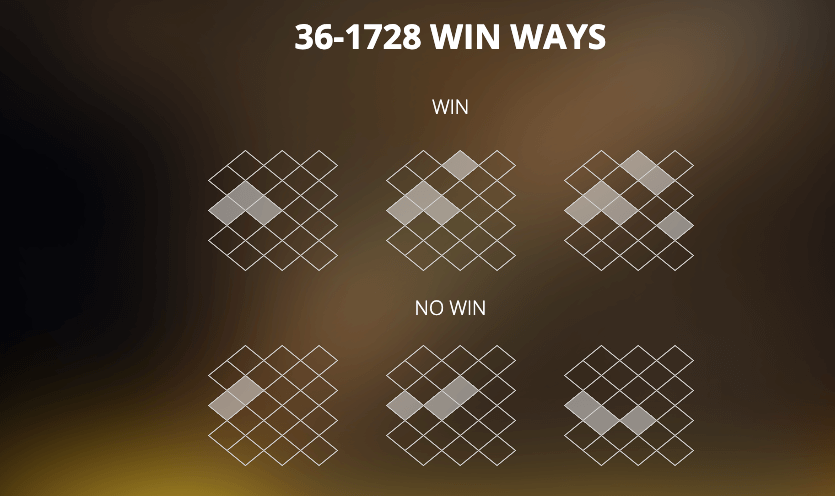 Dead Canary has a different take on the paylines found in typical slots. You form a winning combination by landing at least 3 matching symbols on 3 consecutive reels, starting from the first reel. The symbols making a winning combination are then removed from the reels before a cascade drops new symbols in their place. In addition, forming a winning combination opens a blocked row, increasing the number of available paylines. This way the number of winning combinations starts at 36 and can reach a maximum of 1,728.
Minimum/maximum bet and autoplay option
The bets in Dead Canary start from just £0.20, with the maximum amount clocking at £40.00. Pressing the arrow button found underneath the spin button brings the autoplay options, with a choice of 10, 25, 50, 100, 250, and 1,000 spins to be played automatically with your choice of betting limits.
Dead Canary RTP
According to Nolimit City the RTP of Dead Canary clocks at 94.12%. This increases slightly to 94.31% during the Canary Free Spins, while the Golden Scanner Canary Free Spins see it reach 94.15%. The RTP for the Lucky Draw feature buy is at 94.17%.
Volatility
Dead Canary is an extremely volatile slot, meaning wins and features can be rare but when they do hit they can be potentially big.
Jackpot and/or max win
Dead Canary lacks a jackpot feature, but the maximum win can reach up to 65,000x the bet, Should your win exceed this maximum payout amount you will get what Nolimit City calls "Happy Wife, Happy Life", where the game round ends and the 65,000x payout is awarded.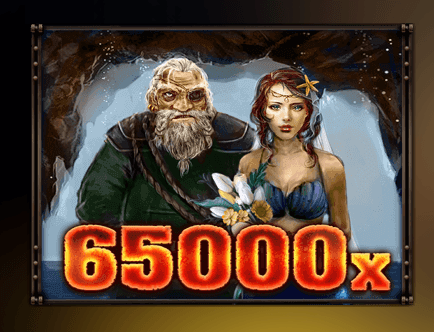 Big Wins in Dead Canary are Hard Work!
Nolimit City itself describes Dead Canary as a slot with extreme volatility, and from our experience that is definitely the case! However, while the wins are indeed infrequent, once they do happen the results can be spectacular as wilds explode and symbols collapse into cascades, bringing what is hopefully a treat for both the pockets and the senses.
Game Features
Nolimit City is all about bringing exciting bonus features, and Dead Canary is no exception in this regard. Let's go through these one-by-one.
Wilds
If 3, 4, or 5 matching symbols land in diagonally aligned positions they do not form a winning combination. Instead, they will form a dynamite wild, with 3 symbols awarding you with 1 wild, 4 symbols 2 wilds, and 5 symbols 3 wilds. These dynamite wilds can substitute for all paying symbols before exploding, increasing the win multiplier for the spin by +1 and removing symbols except for any xBomb wild multipliers. If a wild blows up a canary scatter then the scatter will appear in a random position on the next collapse.
xBomb Wild Multipliers
Like the dynamite wilds, xBomb Wilds can substitute for all symbols except canary scatters. These explode in a cross pattern, removing any adjacent symbols except for scatters and other xBombs. This explosion also increases the win multiplier by +1 for the spin, and all xBombs will explode before the next collapse.
Canary Free Spins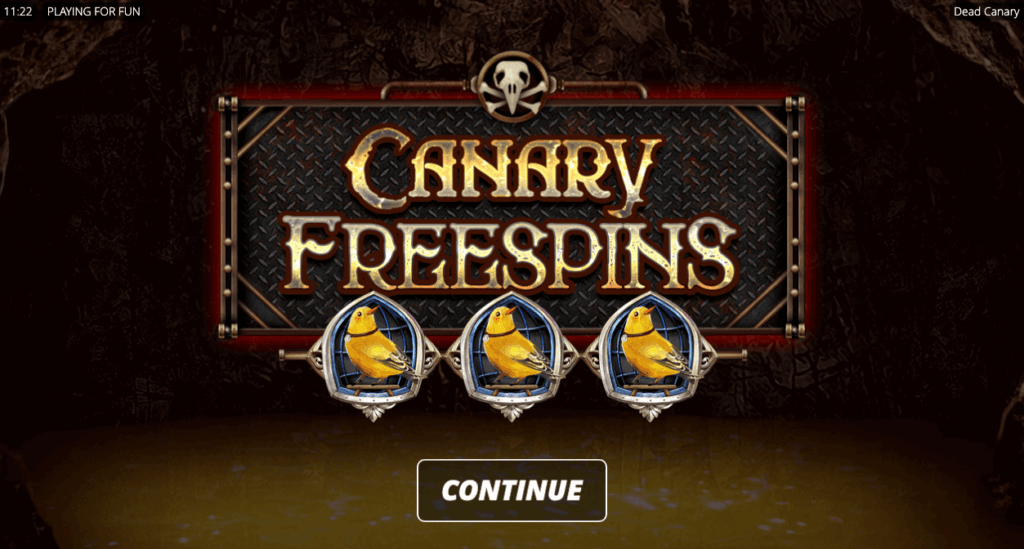 Canary scatters can land anywhere on the reels, but any scatters landed behind a barrier will not count until it is unblocked. There are 2 types of scatters, gold and silver cage, and landing 3 of these will trigger the Canary Free Spins. This round opens the entire play area to a 4-3-4-3-4-3-4 grid. You will also notice the 4 locked vaults, one in each corner. These can be unlocked with xBomb explosions. The triggering canary scatters remain on the reels during the free spins, and will collect the values of symbols of any symbols that land in adjacent positions to them. Scatters also have 3 hit points, and their values will only be collected once the bird dies. How do the birds die, you might ask? Through xBombs and gas! The free spins use special symbols, which we will detail here:
Coins – add their value to the scatter when collected.
Multipliers – double or triple a scatter's value when collected.
Bomb – explodes in an x-shape to either remove 1 hit point from a scatter or unlock a vault. Bombs reset the number of free spins to 3.
Upgrade – upgrades silver scatters to gold, increasing its number of hit points by +1.
Gas – removes 1 hit point to any adjacent scatters.
Dwarf – becomes a persistent collector symbol when picked up by a scatter. The dwarf then collects the values of all scatters until it dies, following which it is replaced by a canary scatter.
Rat – adds +1 hit point to the collecting scatter, then shares its value with all scatters on the reels on each spin until it dies. When dead the rat will be replaced by a scatter.
The free spins continue until you run out of spins, which is when all unlocked vault values are added up to any awarded canary values and the total win is paid out.
Bonus Buy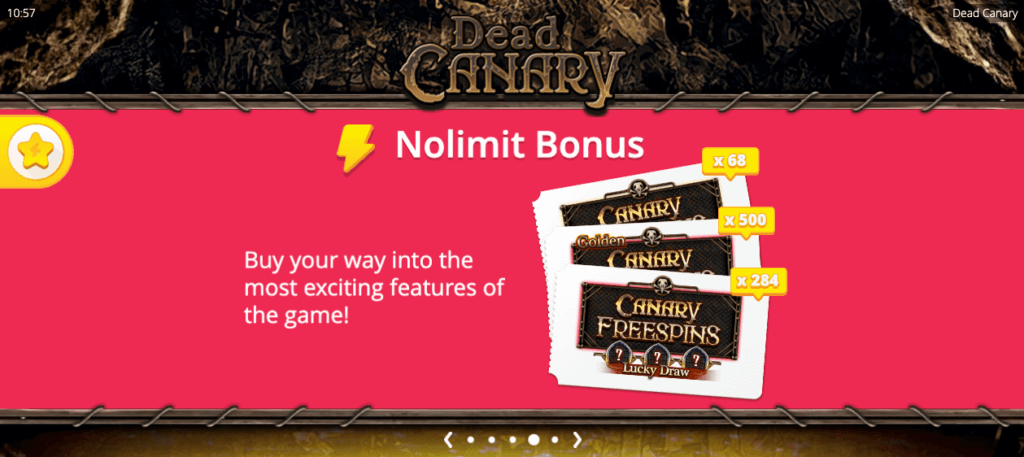 Where available you can buy a round of free spins through the Nolimit Bonus feature. 68x the bet gets you a regular round of Canary Free Spins, while 500x the bet gets you Golden Canary Free Spins. You can also pay 284x the bet for a lucky draw option. In addition, you can boost your chances of triggering the free spins through the xBet feature. This increases your bet by 40% in return for a guaranteed scatter and an unlocked first barrier.
Dead Canary Graphics & Sound
| | |
| --- | --- |
| Graphics | 2D |
| Optimised for Mobile | 👍 |
| Music | Dramatic and atmospheric |
| Special features | Bomb Wilds, xBomb symbols, Canary Free Spins |
Dead Canary is a Gritty Underground Adventure
As previously mentioned, Dead Canary's painterly aesthetic should prove familiar to anyone who has played Nolimit City's previous Fire in the Hole xBomb and Misery Mining. The visuals build on the dark world seen in those two games, and add a little bit more to the dwarf miner's tale. Why is he still digging, one wonders? Get an impressive win and you might just get a clue behind his motivation – turns out he's looking for a mermaid wife!
Solutions if you have some issues with the game
If the game is interrupted during play, you can replay the game round after restarting the session.
If the replay function does not work you should contact your online casino's support team.
In case of a malfunction of the gaming hardware/software, all affected game bets and payouts are rendered void and all affected bets are refunded.
Conclusion
We had a great time with Dead Canary, which is perhaps a bit surprising considering this is a game set in a dark and spooky mine! Nolimit City once again shows its mastery of bonus features, as the game's unusual reel setup brings locked positions, explosive wilds, and a different take on the free spins feature. So keep an eye out on those canaries – their song (and eventual death!) might bring about a great win or two!
Other slots to play if you like Dead Canary
If you enjoyed Dead Canary you'll probably have a great time with the following games:
Author
Casino Analyst
While a relative newcomer to the online gaming space, Marco counts on over a decade of experience as a technology journalist in order to bring readers the best and latest from the world of casino.