Top 10 best payout slots in 2023
Slot machines are a tonne of fun. But if you could increase your winnings while playing, wouldn't that be fun?
At CasinoHawks, finding the best-paying online slots is all about following your nose.
So, you want to know how we do it. The hit frequency and return to player percentage of each slot machine are discussed in detail.
This post will serve as your go-to resource for learning about the best slot machines and where to play them. Now is the moment to try your luck at the reels and maybe win a tidy sum.
1. South Park Reel Chaos 1300000x
South Park Reel Chaos, the second in NetEnt's line of slots based on the South Park cartoon, has a jackpot worth 1,000x the bet, an Epic Bonus Spins round, four unique features, and a high RTP of 96.8%. It's an inclusive slot machine with games for all tastes.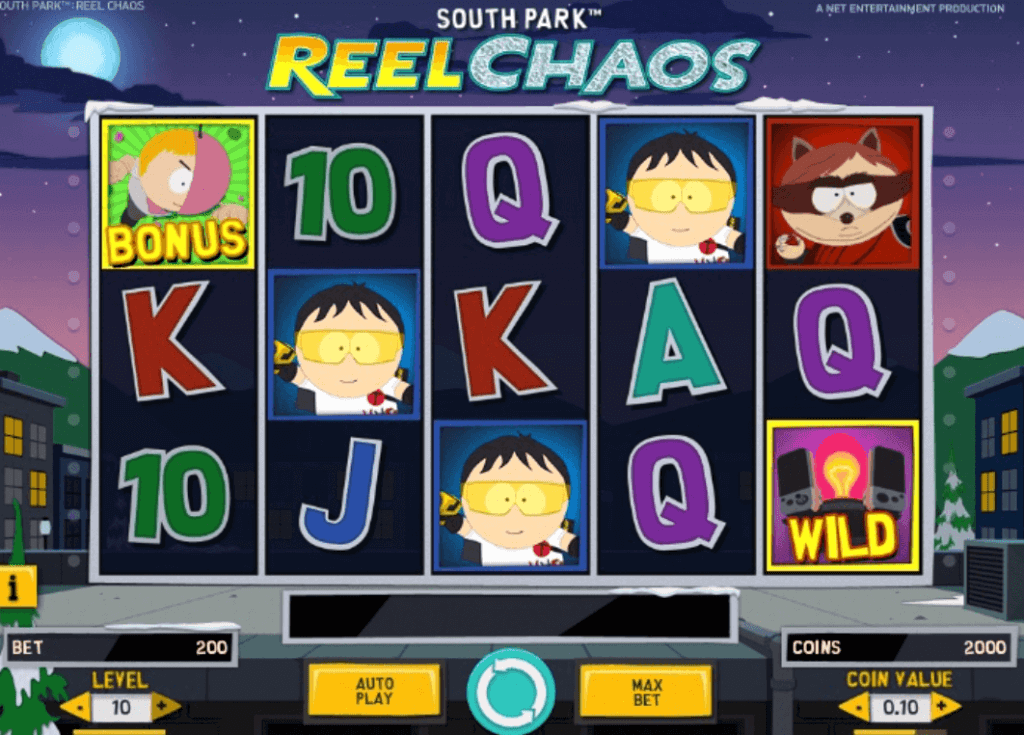 2. Scarface – 1200000x
Scarface is a slot machine based on a popular movie from 1983; players are encouraged to go all out. Cash, chainsaws, pistols, and drug-filled luggage are just some of the symbols you'll recognise on this game's 5 reels and 3 rows.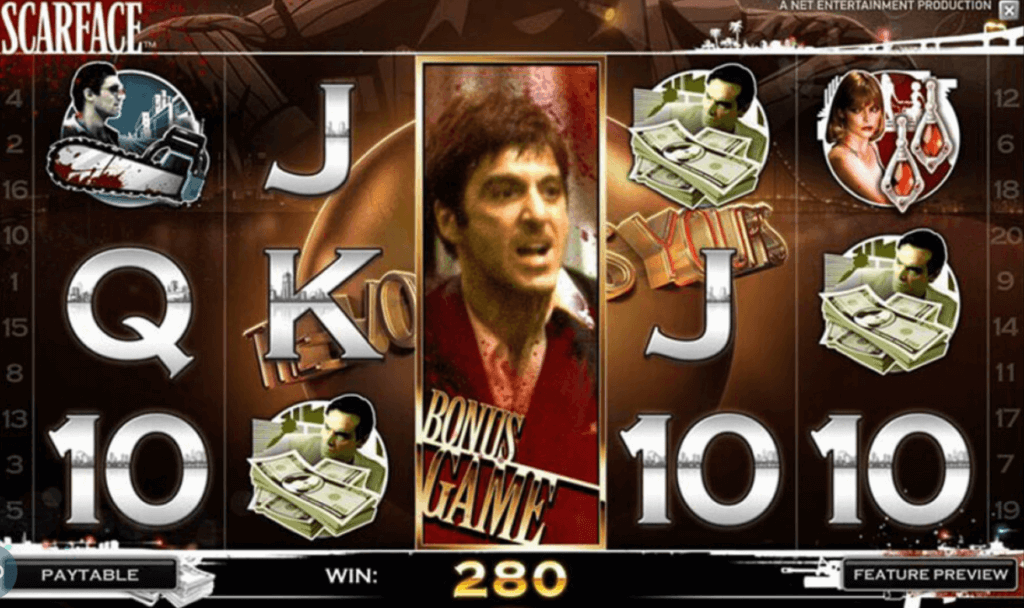 If you're lucky enough to get Tony Montana's stacked wild symbol on reel 3, you'll be able to play the Say Hello to My Little Friend bonus game, in which you kill mobster targets to win money.
3. Cosmic Fortune – 735000x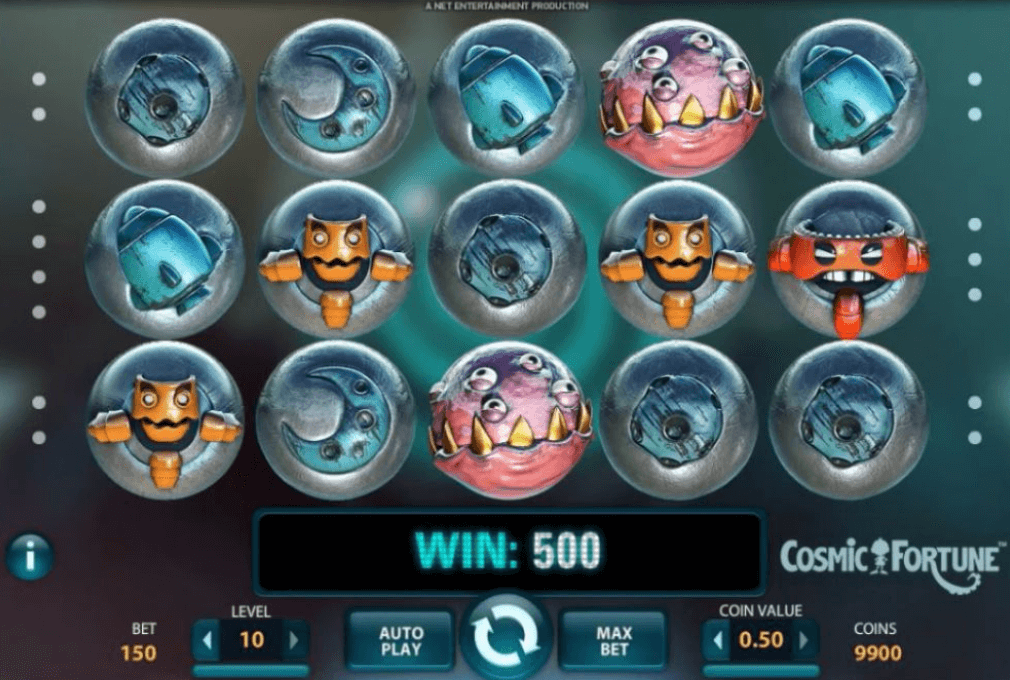 NetEnt's Cosmic Fortune slot machine, which debuted in 2014, continues to draw in players. Given its five progressive jackpots, aesthetically pleasing outer space backdrop, and Avalanche feature in which winning symbols are removed from the reels to make way for fresh ones to fall in their place, it's easy to see why.
4. Planet of the Apes – 600000x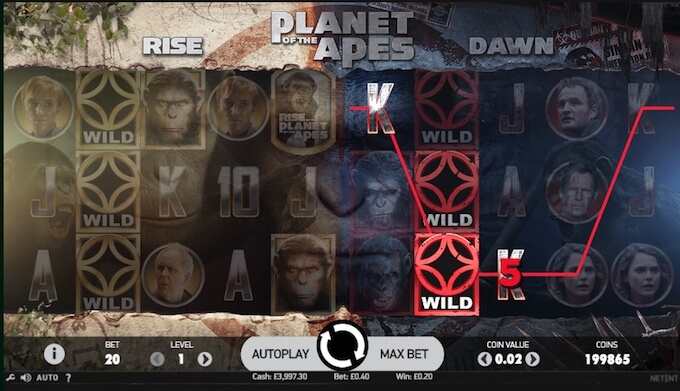 NetEnt's Planet of the Apes slot is an Earth-based adaptation of the Dawn and Rise of the Planet of the Apes films. Due to the fact that the game is based on two films, it uses two separate sets of reels, each of which has 5 reels, 3 rows, and 20 paylines. The return to player percentage is 96.3%, so get ready to lose your mind.
5. Magician's Secrets – 500000x
Magician's Secrets is a big 6-reel, 4-row slot that takes us to a world of magic and wonder, not to mention big win potential.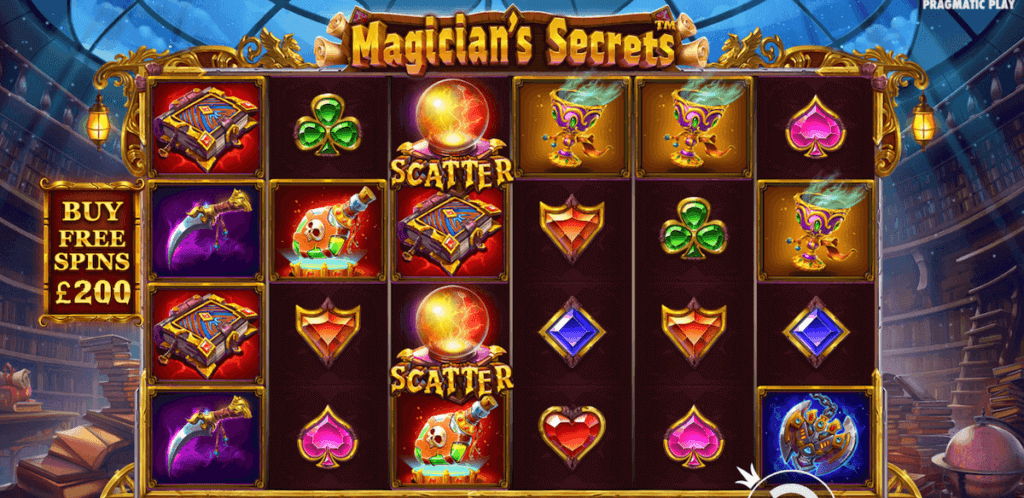 The maximum number of possible paylines is 4,096 and there are two different types of bonus spins that can be triggered by getting three or more scatter symbols. What's more appealing to you, 8 free spins with sticky wilds or 10 free spins with expanding wilds?
6. Relic Raiders – 400000x
Relic Raiders is a slot game by NetEnt that mashes up elements from the Indiana Jones and Tomb Raider franchises, taking players on a thrilling adventure. Get three bonus symbols on an active payline, and you'll enter the bonus round where you'll have to break open urns in search of antiquities.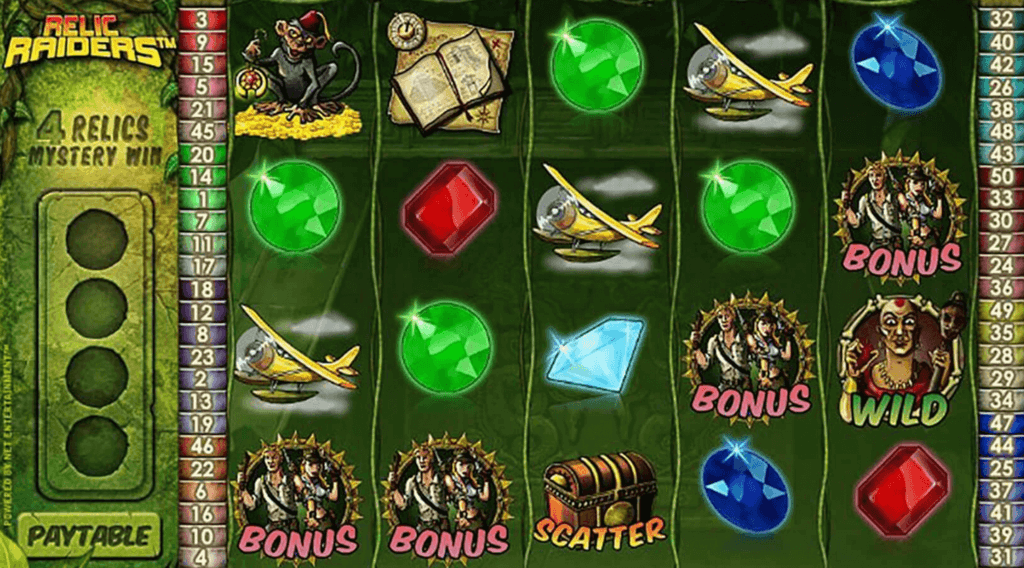 These can hold some of the game's biggest prizes, but look out – a spider will end the round if found.
7. Gonzo's Quest – 375000x
The original, and still one of the best, Gonzo's Quest offers big win potential thanks to a solid 96% RTP.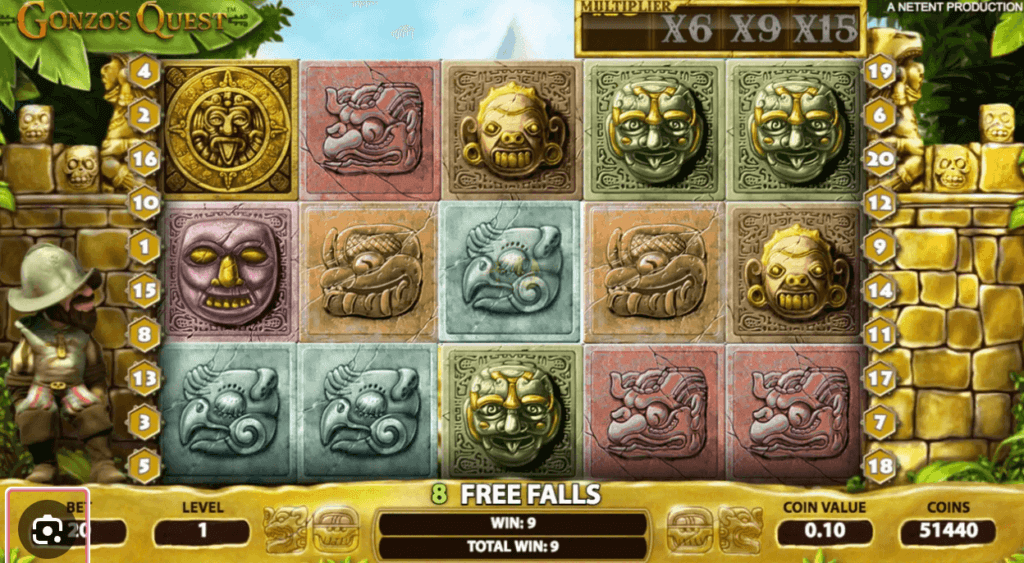 The Avalanche function keeps things interesting by erasing the symbols from any of the game's 20 paylines before replacing them with brand new ones.
To claim the large payouts that could be yours, mastering this mechanism is essential.
8. Tombstone R.I.P. – 300000x
Tombstone R.I.P. is a realistic Western-themed slot machine developed by the industry leaders at Nolimit City. The highly volatile gameplay and 108 paylines made possible by the unconventional reel structure give the game a lot of winning possibilities.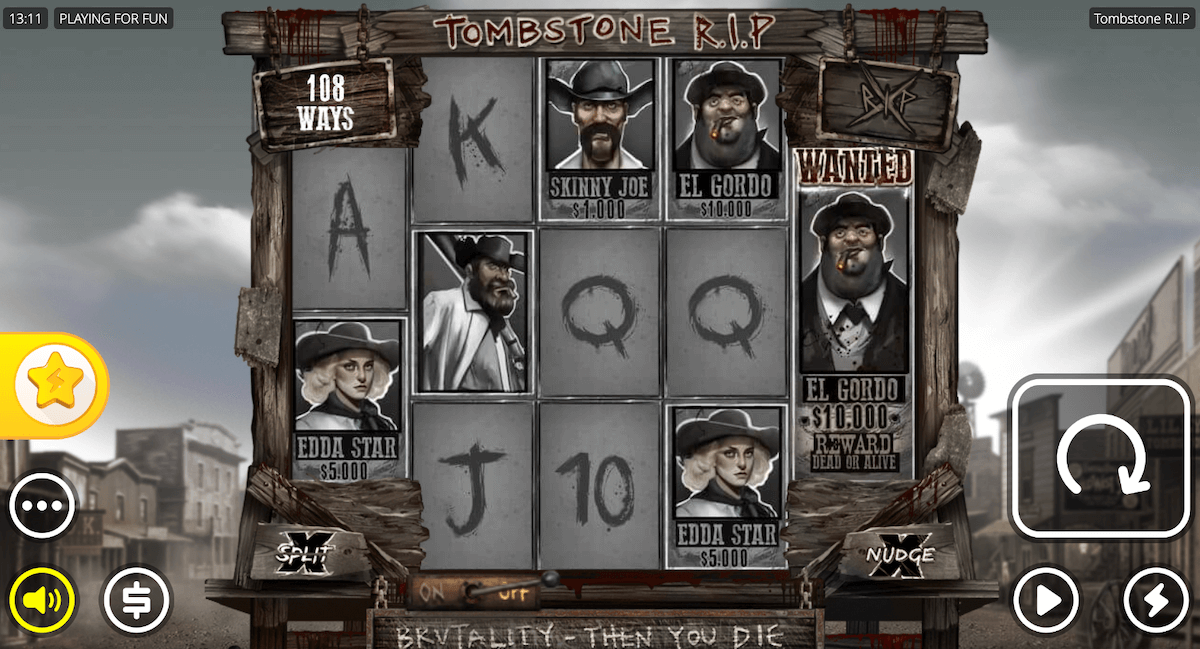 Example: Reels 2, 3, and 4 all feature xNudge Wilds. These stacked wilds can expand to cover an entire reel upon landing, and their multiplier grows by one for every nudge up to a maximum of three times the wager.
9. Muse Wild Inspiration – 295000x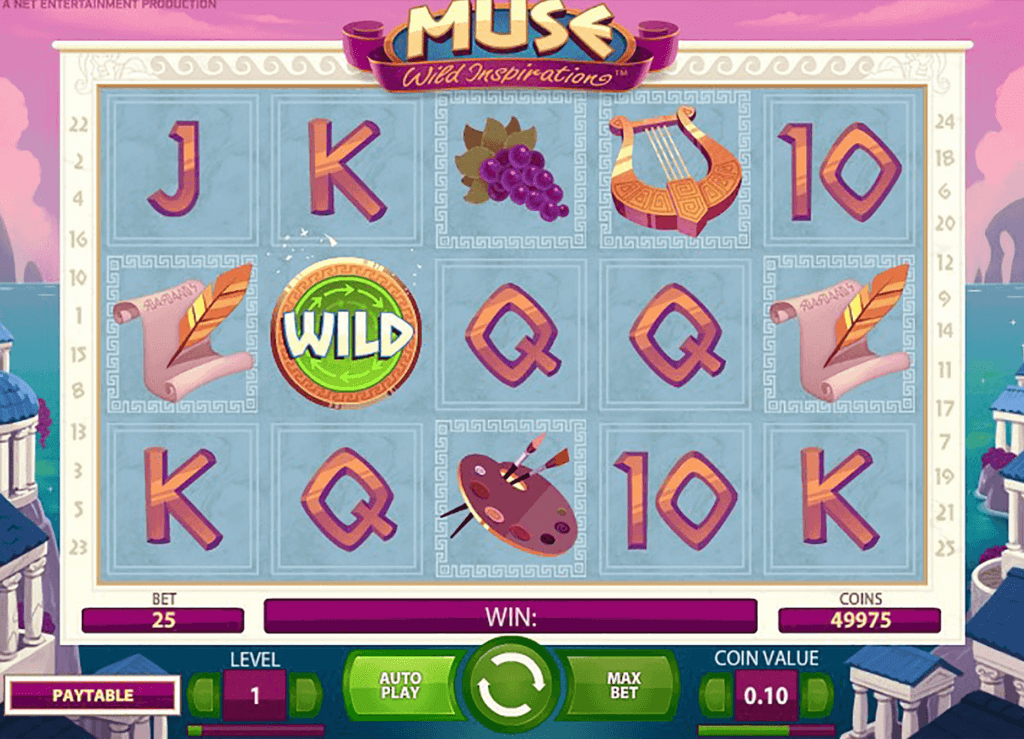 With Muse Wild Inspiration, NetEnt delves into the world of Greek mythology. This slot machine has 5 reels and 3 rows, and its 3 muses are in charge of several extra features that revolve on wild symbols.
The three types of wilds are the expanding wild, the sticky wild, and the x2 multiplier wild. So, which will it be?
10. Wild Joker Stacks – 288200x
Wild Joker Stacks is a game developed by Boomerang Studios that appears to be a traditional fruit machine but is actually much more than that. The return to player percentage is guaranteed to be at least 97.8%, and the 259 playable paylines and medium to high volatility should have players on the edge of their seats.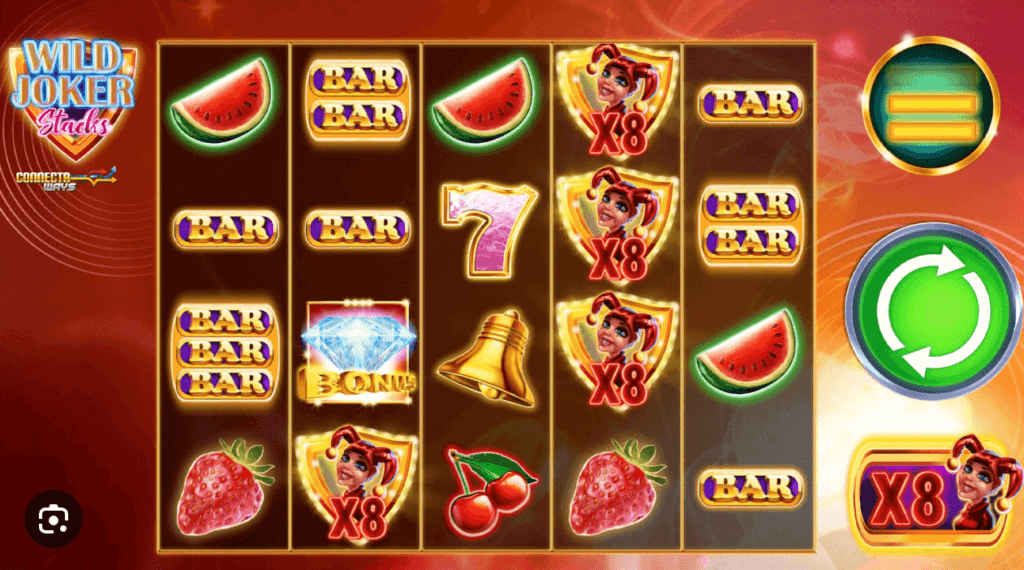 You can choose how many rows you want to play on, allowing you to set the style of gameplay you prefer!
---
What makes slots the best payout slots?
You'd think the solution to this puzzle would be simple, but in reality, it's a real brainteaser! You can win more than you think at a slot machine.
There are several different elements at play here. If you're curious about the mechanism behind the huge payouts, I suggest you read on! The key ingredient is just over 'ere.

A high RTP
The return to player, or RTP for you lovely folks, is the hypothetical amount of money that will be returned to you after playing the game for an extremely large number of times.
This figure often hovers around 94%. But keep in mind that you shouldn't play slots with a low return to player percentage.
Over 96% RTP is standard for the highest paying slot machines. That implies you may expect to receive at least £96 for every £100 you invest.
However, keep in mind that slot machines are a game of luck. In the blink of an eye, you may win the jackpot or lose it all.
A good hit frequency
The hit frequency of a slot machine is the average number of times a player will be rewarded for spinning the reels.
You might find this info in reviews, which will give you a good indication of what to expect. Keep in mind that machines that pay out frequently tend to pay less than the amount you wager.
This is done to counteract the increased victory frequency and keep things feeling fair.
Different volatility = Different rewards
The goal is to maximise volatility, also known as variance. The frequency and size of a slot machine's payouts are what really matter. Plus, did you know what? That hit frequency we were discussing is directly related to this.
Like the patient tortoise, low-volatility slot machines reward you with consistent, albeit modest, payouts. In contrast, high-volatility slot machines are like the elusive hare in that they pay out more rarely but for higher sums when they do.
Let's move on to the bonus situations. Finding high volatility slots is like looking for a needle in a haystack, but when you do find one, hang on to your hats!
Because the prizes in the bonus rounds might be huge. Slot machine gambling is one continuous roller coaster, so buckle up, folks!
Good-sized max payouts
When playing slot machines, everyone's main objective is to win a nice payoff. The trouble is, though, not all slots are made the same.
Some slot machines may include symbols that pay less than you've earned, yet they may nonetheless claim regular payouts.
That's why it's so important to pick a slot machine with symbols that provide you a good return on your bets. Finding the sweet spot between how often and how much you wager will determine whether you leave the game with a grin on your face and some cash in your pocket.
---
Latest slots that payout the best
Because of this, service providers are consistently on the lookout to meet the demands of players. That's why new, high-paying slot machines keep getting made.
But hang on, for the popularity of Megaways slots adds an added element of excitement. These wicked boys crank up the reels with their potentially life-changing payouts. So, without further ado, let's check out some brand new slot machines that really pack a wallop in the payout department! Have fun spinning for prizes!
---
Best payout slot providers
We've gone over the specifics of how to pick the best slots with the highest payouts, but there's one more factor you shouldn't overlook: the software developer.
These astute businesses are the unseen architects of some of today's most exciting and lucrative slot machines.
They're the sorcerers behind the scenes, spinning the reels of fortune. So, without further ado, let's highlight the top-tier vendors we believe are responsible for some of the industry's most lucrative slot machines. Be prepared to bow down to these gaming geniuses.
1. Pragmatic Play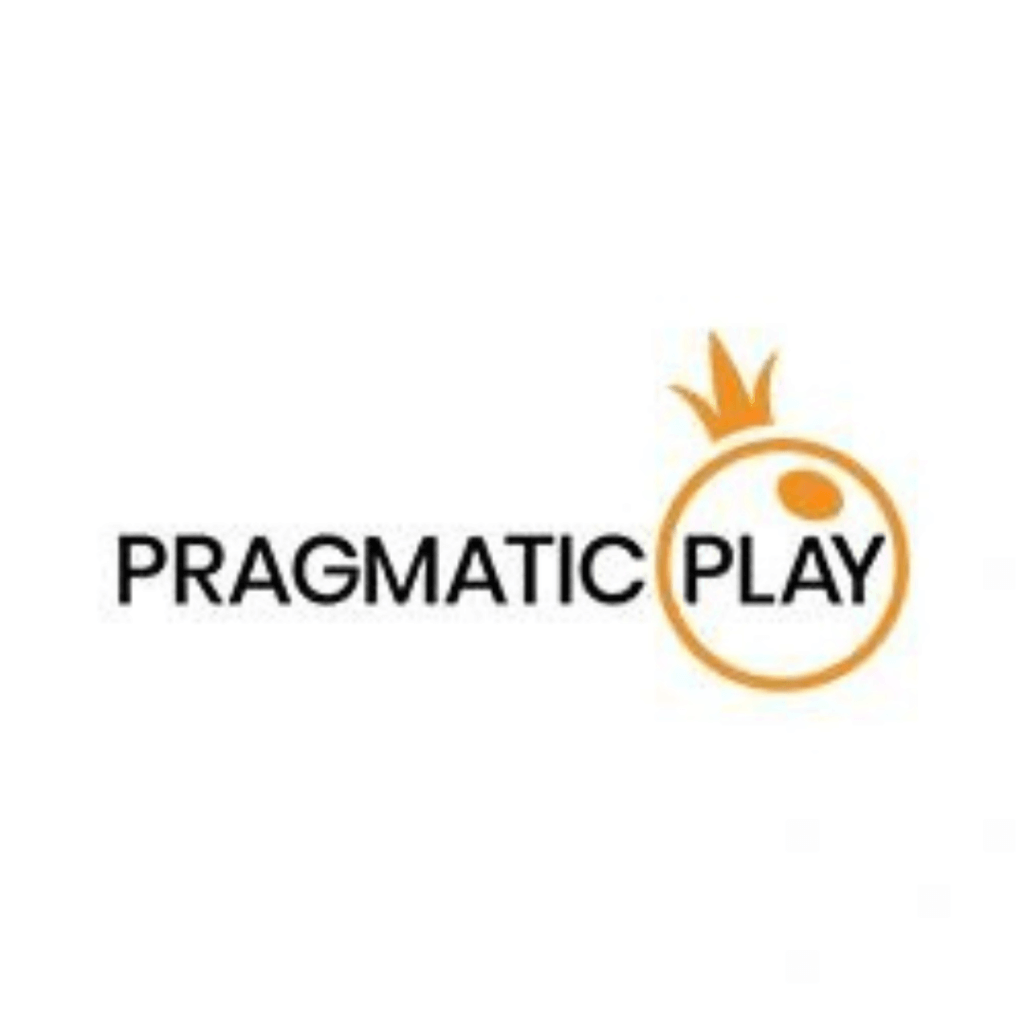 Pragmatic Play is well-known for producing visually appealing and financially rewarding slot machines. Its games are visually striking and packed with unique features like cascading or respinning reels.
You've probably played Wolf Gold, one of Pragmatic Play's most well-known slot machines, since it appears in so many casino promotions.
2. Microgaming
Microgaming, a behemoth in the online gambling industry, boasts more than 800 titles. Bingo games are just one of many gambling options provided by this firm. Still, considering we're interested in highest paying machines, IGT's classics Mega Moolah and Immortal Romance come highly recommended.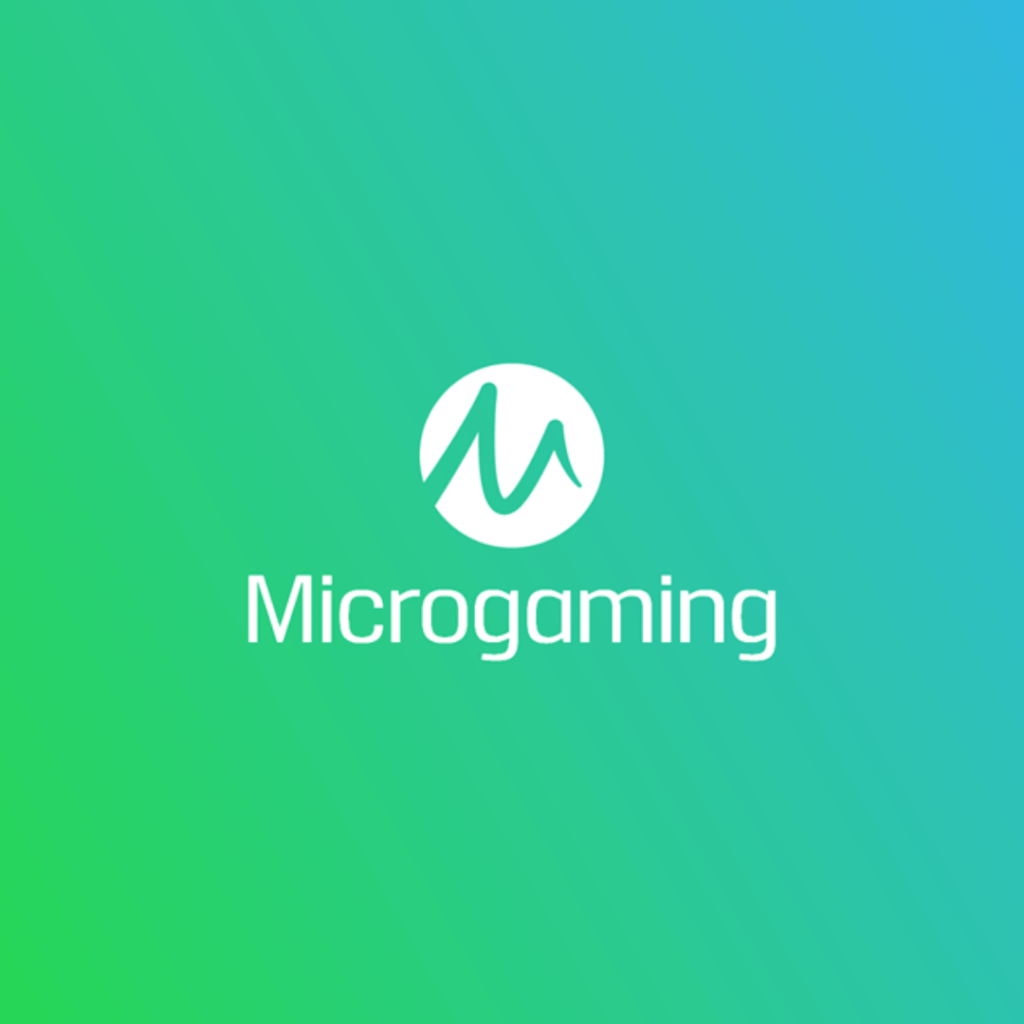 3. Big-Time Gaming
Australia's Big Time Gaming is behind Megaways, the popular mechanic that took the slot world by storm a few years back.
You will still find plenty of Megaways-powered slots on the release schedule, as players worldwide love the engine's high volatility and big win potential. Give Big Time Gaming's Chocolates and Wild Flower a go if you want to know what its titles are all about!
---
Tips for playing best payout slots in the UK
Now that we've covered every variable that can affect a slot machine's payouts, you might be wondering how to choose a machine that will actually increase your bankroll.
Below is a helpful checklist to ensure that nothing is forgotten. In no time at all, you'll be able to zero in on a game that offers the highest payouts.
With these excellent suggestions in mind, you can begin your quest for slot machine wealth with confidence. Okay, how about we just get started?
1. Choose a slot with an RTP over 96%
This ensures the slot is programmed to pay back a decent amount. Preferably the game's RTP would clock at over 97%!
2. Choose a game with a free spins round
As soon as the bonus rounds begin, you'll be laughing.
Here's the deal: you can spin the reels as much as you like without spending a dime, and you have a very good chance of winning. However, the best paying machines up the ante.
During the bonus spins, they throw in some extra wilds, sticky wilds, or cheeky multipliers. It improves your chances, especially in the bonus game. Turn on the free spins, and see your bankroll grow.
3. Progressive jackpot slots have higher top prizes but might payout less frequently
A progressive jackpot may look large, but it actually has lower odds of being won than a smaller jackpot. Let's say you want to keep your bankroll stable with a series of smaller wins. In that case, you should seek out games with low to medium volatility, or progressive slots with payouts that are at least as good as the jackpot.
Best payout jackpot slots
Mega Moolah by Microgaming
Tiki Wonders by NetEnt
Joker Millions by Yggdrasil
4. Be cautious of video slots featuring flashy, captivating videos
Slot machines are deceptive in more ways than one. Video slots with dazzling graphics and sound may be enticing, but they aren't necessarily the most lucrative games.
Sometimes the best payouts can be found in the oldest, most conventional games. It is recommended that you read some slot game reviews before you set sail on your slot adventure.
You're in luck, because Casino Hawks has you covered with some reliable, up-to-date, and easily accessible reviews.
Before you make your final decision, take a look around and learn from the experiences of other gamblers. It's all about getting the facts before you commit.
5. Look for information about hit rate and bonus frequency
Finally, investigate how often a slot machine pays out a bonus and how often it hits. While some games may have this information readily available in a "Info" menu, others may require some digging. There are also apps like Slot Tracker that provide comprehensive information on a single slot machine.
Watch our video to learn how to increase your odds while playing slots!
Where to play the best payout slots
Now that you know which slot machines offer the highest payouts, you need to find the best casinos at which to play them.
This section is dedicated to just that piece of good news, so read on! Some of the highest paying slot machines, in our opinion, can be found at the following casinos:
Pink Casino
Dubbed the #1 online casino for lady gamers in the UK since 2014, Pink Casino caters to all types of players, including, of course, those looking for high payout slots. It has a vast game selection and great bonuses for all to enjoy!
PokerStars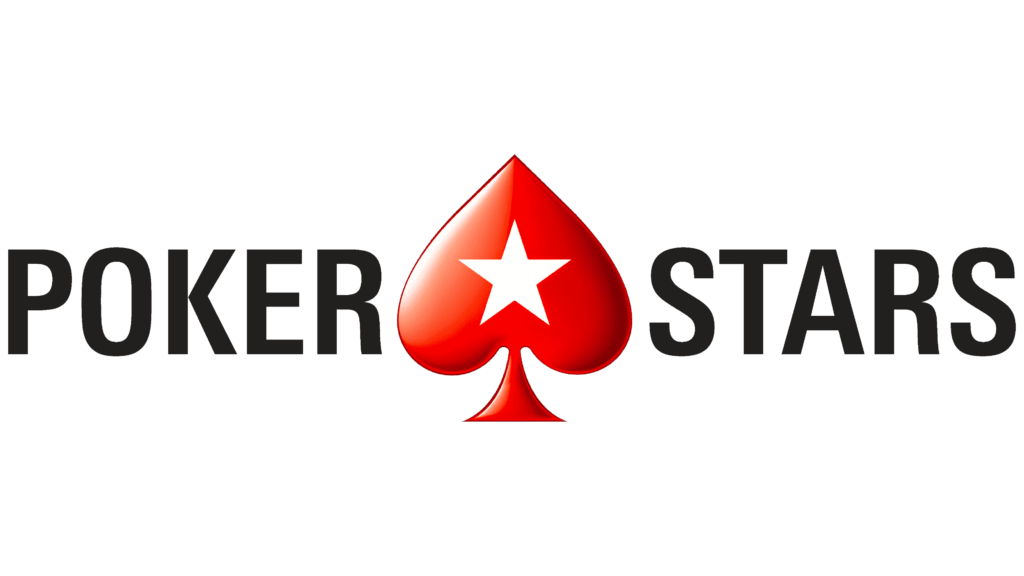 While best known for poker, PokerStars has an excellent casino with slots. Speaking of slots, the PokerStars Casino welcome offer will give you 100 free spins on select slots.
Videoslots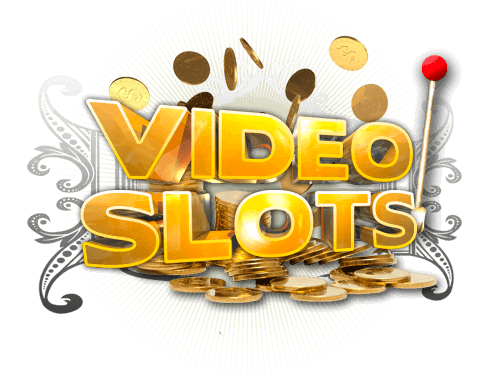 Videoslots Casino is one of the biggest names in slots both in the UK and the rest of the world. It boasts one of the largest game collections in the world, with anything from slots to table games, live casino offerings and even lotteries!
---
Find the best paying slots and win more with our guides!
This guide has shown that there is a lot to think about when picking a slot machine, but there is also no magic formula for picking the best game.
Slots are a game of chance, but the amount of risk and the aesthetic preferences of the player can influence the outcome.
If you still need more information after reading our guides, we have plenty of other articles, such as those about the most lucrative casinos in the United Kingdom and the most exciting new slot machines. Spinning is fun, so have a good time!
Frequently asked questions
As more games are launched every week, the list of the top payout slots is constantly changing. Read our complete guide for the most potentially lucrative slots currently available in UK online casinos right here!
There are several factors to consider when looking for the best payout online slot. These include volatility, unique features, multipliers, and, of course, the payout itself.
To find the richest UK games around, explore our guide on highest paying casino sites.
Check our complete guide for more details on the best paying casino sites.
Return to player (RTP) rates show the percentage of wagers a slot machine is programmed to pay back over time. A slot machine with an RTP of 95% will return 95% of wagers over time. This is an average value; individual sessions can vary greatly.
Slots are based on luck and use random number generators, so there's no surefire way to win. However, you may manage your bankroll well, choose slots with better RTP percentages, and play within your means. Remember that slots are for fun, not money.