Jackpot 6000 review
Three reels, five paylines, and a thrilling supermeter mode offer both simplicity and a great win potential in Jackpot 6000. This NetEnt slot was released back in 2014, and is one of the highest RTP games out there, as well as featuring one of the best hit frequencies.
How I tested Jackpot 6000
To test any slot properly, you have to play it, of course. We're sure to play the game long enough to trigger any bonus rounds or features there might be to give you the best description.
We look at the gameplay and mechanics and then compare that to other notable slots.
While graphics aren't everything, an excellent looking game tends to be more enjoyable.
The sound is another important factor. Proper background music or sound effects can add to the immersion and enjoyment of the slot.
In the end, everything is analysed as a whole to see how the game stacks up against other titles.
Jackpot 6000 Symbols & Payouts
Jackpot 6000 is a classic slot featuring the traditional fruit and joker symbols that we've grown to love. In this section, we'll take a look at these and the payouts linked to them.
The Symbols
There are six main symbols in this game, the joker, a star, bell, grapes, lemon, and cherries. Landing three of any of these symbols on a payline will result in a win. Check out the paytable below to see how much each symbol can payout.
The joker is by far the highest paying symbol. It as a wild during the base game, but will reward you with a mystery win in supermeter mode, if you get 2 or more. Meanwhile, the lemon and cherries are the two lower-paying symbols. Interestingly, if you look closely, you will see the paytable on the slot machine itself.
Paytable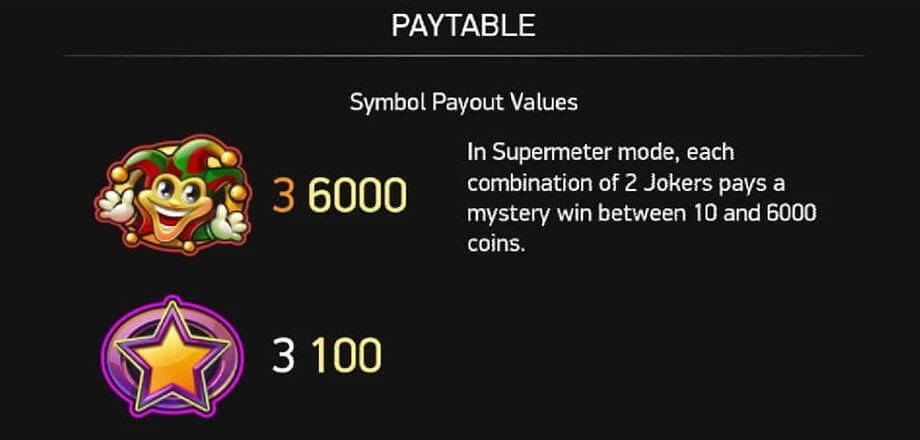 Joker 6000 min/max bet, Autoplay Option?
The betting range for Jackpot 6000 is only the lower end, making it perfect for more novice and casual players. The minimum bet is £0.1, and the highest bet is £2. There's no autoplay option here.
Joker 6000 RTP
Jackpot 6000 comes with a very high RTP of up to 98.9%. RTP stands for return to player. This basically means how much of his or her wagers the player is expected to win back over the course of the game. This is one value you definitely want to be as high as possible. For comparison, an RTP of 96% is considered to be about average today.
To benefit from the high RTP in Joker 6000, you need to bet all 10 coins. With fewer coins, the percentage will drop to between 73% and 78%, which is quite dismal!
Volatility
This is a medium volatility slot. As a result, players can look forward to some more consistent wins.
Hit Frequency
Hit frequency is generally tied to volatility. It means how often you can expect to land a win. With medium volatility, players can expect smaller yet more frequent wins when compared to higher volatility titles.
Jackpot and/or Maximum Win
To land the local jackpot in Jackpot 6000, players need to get three jokers to line up on a pay line. With that, you can win 6,000x your initial bet.
Jackpot 6000 has a low betting range and medium variance
The game looks like it was tailor-made for more casual players that are looking to just have fun. A low betting range is perfect for new players who don't want to risk losing too much. However, that doesn't mean you can't win big: Jackpot 6000 has a maximum potential win of 6000x.
Game Features
Since NetEnt has gone for a classic slot theme here, don't expect to find the usual features you might have in an online slot. That means there are no wilds, scatters, multipliers or respins.
We'll go over some other unique features of the game, such as the supermeter mode, as well as the betting and collect options.
Essentially, after each win, the player has three choices: 1) he can enter the supermeter mode by pressing spin 2) he can simply collect the winnings earned, or 3) he can bet these winnings on heads or tails for a bigger prize.
Supermeter Mode
During this mode, you'll see that the supermeter at the top fill up. If you get two or three jokers during this time, you'll get a mystery prize (whereas during the main game, the joker functions just like a wild). When the meter runs out, it reverts back to the base game again. Note that entering the supermeter round means gambling your winnings for a chance of winning a greater prize.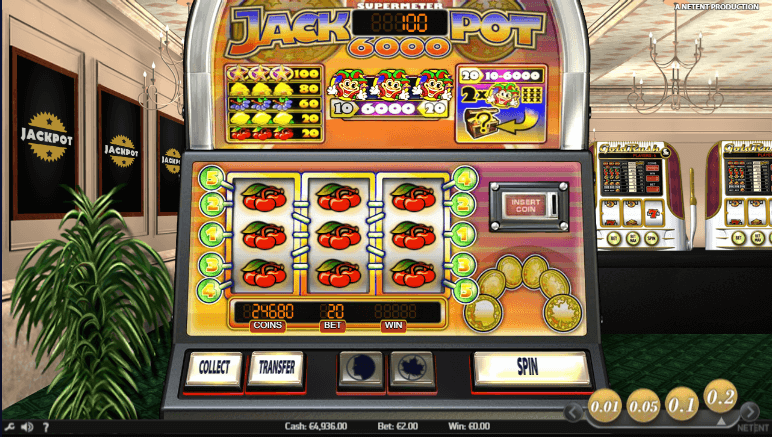 Collect
After a win, you can collect your earnings and add them to your balance without entering any bonus rounds.
Head or Tails
Rather than entering supermeter mode or collect, players can wager their winnings on a heads or tails bonus game. By winning here, you can double your earnings.
Jackpot 6000 doesn't have the usual bonus features but still delivers some unique mechanics
NetEnt never fails to deliver an interesting experience. While you won't find scatters, wilds or re-spins, NetEnt still integrates other features into the game. The supermeter mode and heads/tails features are both exciting ways to win even more, and will appeal to risk-takers.
Jackpot 6000 Graphics & Sound
| | |
| --- | --- |
| Graphics | 2D |
| Optimized for Mobile | 👍 |
| Music | Sound Effects |
| Special features | Flashing Lights, Other Effects |
Jackpot 6000 was released back in 2014, so we have to take that into account when assessing the graphics. Overall, it's not a bad-looking game. You'll find yourself in a room with other slots also visible in the distance. Essentially it looks like being in a real casino and playing an old-fashioned slot. There are some other minor features, like the flashing lights on the jackpot and other places when you win, that contribute to its authenticity.
There's no background music that plays during the game. Instead, you'll hear various sound effects when you spin the reels and also as you hit the wins.
The game plays quite well on mobile. Contrasting to the desktop version, on mobile, you'll see the reels up close. In some ways, it actually looks better than the main version of the game. For example, since you can see the symbols more closely, they also have more detail to them. If you enjoy playing Jackpot 6000 on your computer, you might enjoy it even more on your phone.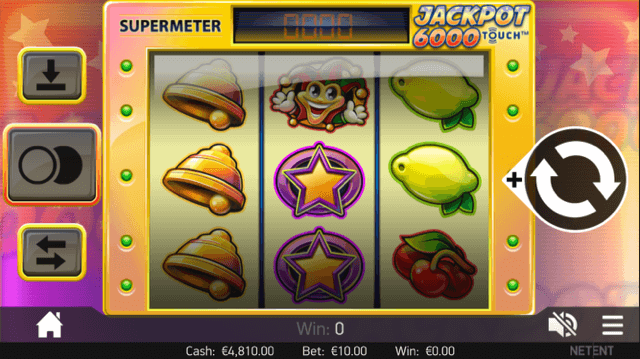 Jackpot 6000 offers an exciting experience in 2D
While it's not the best looking game out there, Jackpot 6000 holds up pretty well, being seven years old. The slot machine itself and the environment are all well designed. We appreciate the interesting little touches, such as the "insert coin" slot directly on the machine. While some additional music would have been a great feature, the sound effects are all very fitting.
Solutions if you Have Some Issues With a Game
Before signing up at any casino, it's a good idea to try out the games for free and make sure everything is supported by your browser. This way you're less likely to have any unexpected problems down the road.
Should a game freeze or fail to load, refreshing the page is always a good idea. If you have been inactive for a while, games will need to be reloaded.
Most casinos have a policy of refunding bets should a game crash while playing, so don't worry too much. Otherwise, if game issues persist, you may need to contact the casino directly.
Verdict
NetEnt delivers another hit with Jackpot 6000. It's hard to imagine a simple game could be so popular in this day and age, but it is. If you want a break from all the other slots out there, Jackpot 6000 gives you a nice way to relax and have some classic casino fun.
The high RTP and overall great design have contributed greatly to its popularity. We recommend just about everyone give this one a try. With that, Jackpot 6000 gets a great score of 90/100.
Other Slots to Play if you Like Jackpot 6000 Slot
If you enjoyed Jackpot 6000 and are now looking for similar slots to play, we have great news for you. The obvious one to recommend would be Mega Joker, also by NetEnt. It's similar to Jackpot 6000 in that it's a classic slot and has many of the same symbols and mechanics. One thing you'll notice, however, is the slot machine is much bigger and features more prominently on the screen.
There are numerous other classic slots that you might enjoy. These include Gold Rush, Lucky 8 Line, Pirates Gold and Super Nudge 6000.
FAQ
Where Can I Play Jackpot 6000?
Jackpot 6000 can be played at various online casinos and slot websites. Many free versions of the game also exist.
What is Jackpot 6000's RTP?
The RTP ranges between 95% and 98.9%, one of the highest of any slot game. However, you need to bet 10 coins in order to benefit from this RTP rate.
What's the Maximum Win in Jackpot 6000?
Getting three joker symbols will award you the maximum win of 6,000x your wager.
Can I Play Jackpot 6000 on Mobile?
Yes, the game is fully optimised for mobile. Some people might find the mobile version to be even better looking.