Mega Joker review
NetEnt's Mega Joker is as classic as an online slot machine can get – with just 3 rows and 5 fixed paylines, this high volatility game will appeal to players who love the feel of classic slots.
How I Tested Mega Joker Slot
Each game on CasinoHawks is reviewed fairly and impartially. Below we'll briefly go over some of the main factors we analyze for each slot game.
The first features considered are things like RTP, volatility and the number of paylines. We look at how RTP compares to other slot games and whether it's a good value.
The gameplay and core mechanics are what make each slot unique. We consider how innovative these are and whether it makes the slot exciting to play.
The graphics and sound can't be overlooked either. While it's not the most essential feature, any game will be more fun to play if it looks and sounds better.
Lastly, it's important for us to play the game long enough to trigger the main bonus features/round of the game. This way, we can deliver you a first-hand experience of how the slot works.
Mega Joker Symbols & Payouts
Mega Joker features the classic slot machine symbols, such as the bell, 7s and fruit symbols, which can land across its 3 reels and form winning combination across just 5 paylines.
In this section, you and check out the payouts for each of these.
The Symbols
The main symbols you'll find here are the joker, treasure chest, bell, watermelon, lemon and cherries. Then there's also "mega" versions of each symbol which offer higher payouts.
The paytable in the game changes depending on whether you're playing the base game or the supermeter mode, so in reality there are two paytables.
Paytable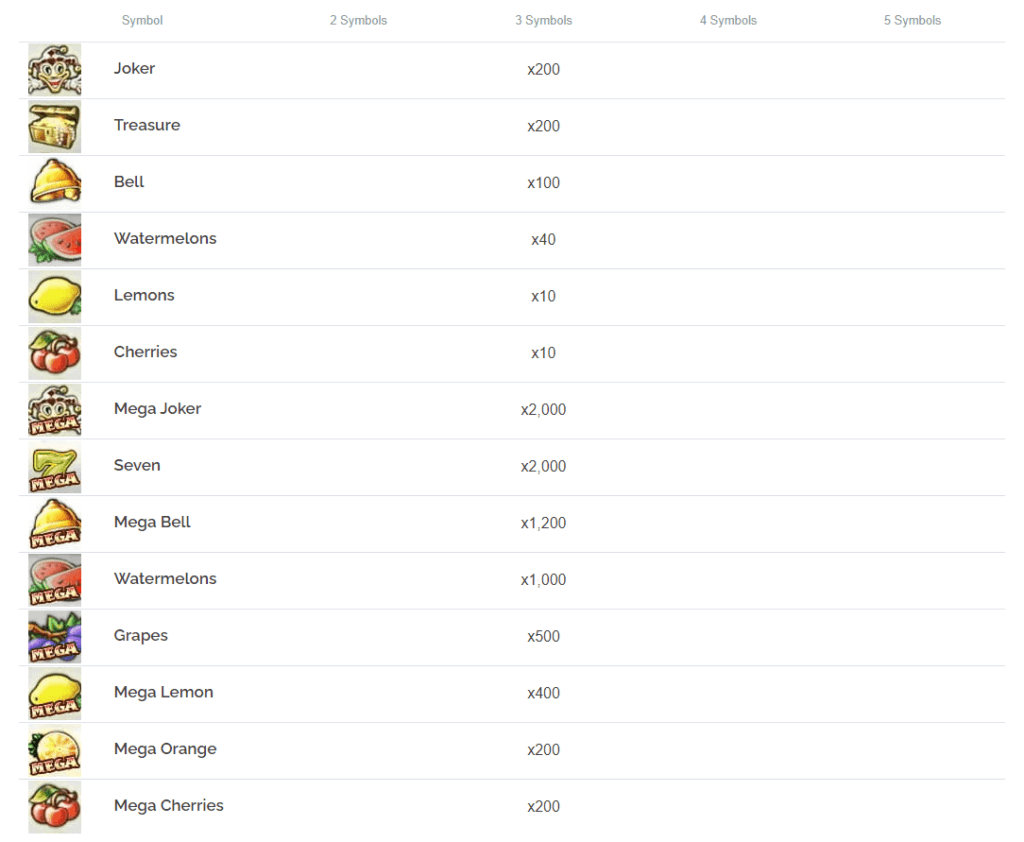 Mega Joker min/max bet, Autoplay Option?
In Mega Joker, you can select from different coin values of 10p, 20p, 50p or £1. This range activates just one of the 5 paylines. In order to be in with a chance of triggering the supermeter mode, you need to bet 10x the coin value, so in reality, you can bet a minimum of £1 and a maximum of £10 per spin to have all paylines active.
There's no autoplay option in this game, which means you will have to start each spin yourself.
Mega Joker RTP
The RTP of Mega Joker can go up to an astounding 99%, which places it among the highest RTP slots out there.
However, you do have to keep in mind that this RTP is only applicable if you play with 10-coin bets. If you reduce your bets to just 1 coin per spin, the RTP drops to a dismal 76.9%
Volatility
Mega Joker is a high volatility game, which makes it very unpredictable. Players can expect to get some potentially big wins as anything can happen.
Hit Frequency
With a higher volatility, hit frequency can be more difficult to predict. Hit frequency refers to how often you can expect to win in a game.
Jackpot and/or Maximum Win
The maximum win possible in Mega Joker is 2,000x your initial wager.
Mega Joker Comes With a High RTP and High Volatility
One of the best aspects of Mega Joker is undoubtedly the high RTP. At the same time, the high volatility can make this a bit of an unpredictable game. The maximum win of 2,000x is also somewhat lower than what many other slots offer today.
Game Features
In this section, we'll go over some of the main features of Mega Joker that help to set it apart from other slots.
Mega Joker Supermeter
The main feature of Mega Joker centers around the Supermeter. If you've played its cousin Jackpot 6000, then you'll be familiar with it already. Whenever you win, you can choose to collect your winnings or play in Supermeter mode.
When playing Supermeter mode, it's the upper reels that will be spinning instead of the ones on the bottom of the machine. If you get the joker in Supermeter mode, you'll win an extra mystery prize of between 100 and 2000 coins. Besides this, there aren't any other major bonus features as it is an older game.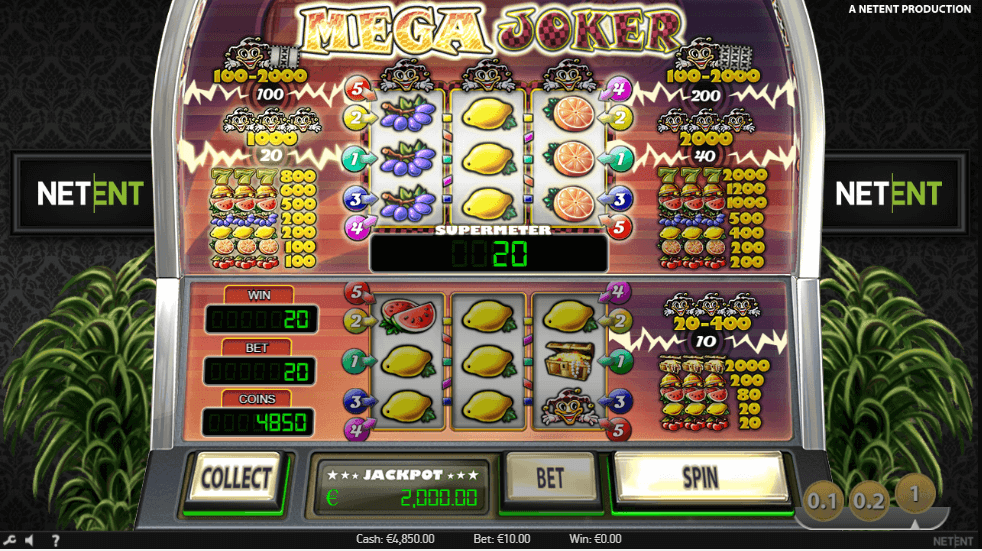 Mega Joker Jackpot
One other exciting thing about Mega Joker slot is that it comes with a local jackpot, which is randomly triggered. 3% of player bets contribute to this jackpot, and you can view its value at the bottom of the game.
However, you need to be playing outside of the Supermeter mode and at maximum bet in order to stand a chance of triggering this jackpot.
Wilds, Re-spins, Multipliers
Unfortunately, Mega Joker doesn't have any wilds, free spins or multipliers. This game is largely meant to emulate the classic three-reel slots, so it lacks these features.
Mega Joker has one Main Bonus Feature
In Mega Joker, the Supermeter mode is the only real bonus feature players will find. There's an absence of everything else we've come to expect in modern slots, such as wilds, scatters or re-spins.
Mega Joker Graphics & Sound
FACTS:
| | |
| --- | --- |
| Graphics | 2D |
| Optimized for Mobile | 👍 |
| Music | Sound effects |
The game is set in what appears to be a room in a casino, and you see the entire slot machine on the screen.
In terms of the sound, you'll only hear side effects as you spin the reels. There's no background music or other sound to speak of. So again, it's very basic here.
You can play Mega Joker on your mobile, however, it is not optimized for mobile, so the gameplay will be slightly compromised.
Visually, Mega Joker is Starting to Show its Age
Graphically the game doesn't compare favourably to other modern slots. While it's not a bad-looking game, it doesn't impress anymore. Some may even find it to be cluttered, and the reels on the top and bottom could be confusing at first.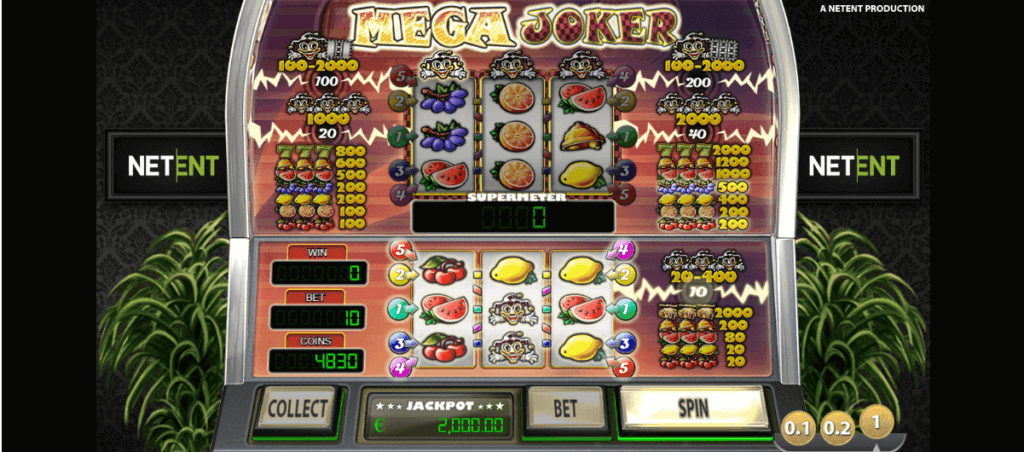 Solutions if you Have Some Issues with a Game
To ensure games will run smoothly, check that your browser and all other plugins are up to date. The chances of any game crashing or running into issues will be far less.
If a game has trouble loading or the game is running slowly, you can refresh the page. Also, verify your internet connection is working properly. In the event a game stops working suddenly, the casino will refund any winnings that you generated up till that point.
Verdict
While Mega Joker was a favourite for many years at this point, its age is starting to show. Besides the Supermeter function and its local jackpot, there's an absence of the other features we've come to expect. Graphically, the game isn't as inspiring as it once was. For players more used to the modern slots, they may find Mega Joker to be a "boring" game. However, there are still plenty of players who enjoy what Mega Joker offers, and the super high RTP has certainly contributed to its lasting appeal.
Other Slots to Play if you Like Mega Joker Slot
If you enjoyed playing the Mega Joker slot, you'd almost certainly find the same excitement with its cousin Jackpot 6000. The two games are very similar and even share many of the same symbols. You'll also find the same Supermeter function in that one. In some ways, we actually enjoyed Jackpot 6000 more than Mega Joker. The layout was less cluttered, and the game felt more fun to play. Be sure to also check out our review.
FAQ:
Where Can I Play Mega Joker?
Mega Joker can be found at numerous online casinos in the UK. We also listed a few casinos and their bonuses earlier in the review.
What's the Most I Can Win?
Mega Joker offers a maximum win of 2,000x your bet.
Is the RTP of Mega Joker Good?
Yes, Mega Joker's RTP of 99% is exceptional, but it only applies when you bet all 10 coins.
Can I Play for Mega Joker Free?
Yes, many casinos will also let you play the game for fun. There's no need to make any deposits to play the game.