Money Cart 2 review
Money Cart 2 is a pleasant surprise with its strong design aesthetic and enjoyable gameplay. While many slots try to aim for a similar gritty steampunk theme, few accomplish it as well as this slot. In this Money Cart 2 Review, we'll show you everything that this slot does right and where it leaves a bit to be desired.

Money Cart 2 Slot Overview
| | |
| --- | --- |
| Score | 90 |
| Argument | Money Cart 2 is a load of fun on good spins and a bit of a bore with those long waits in between. |
| Game Name: | Money Cart 2 |
| Provider: | Relax Gaming |
| Game Type: | Video Slot |
| Volatility: | High |
| RTP: | 98,00 |
| Features: | Re-Spin Bonus, Multipliers, Extra Reels |
| Paylines: | N/A |
| Reels: | 5 |
| Min Bet (all lines covered): | £0.10 |
| Max Bet: | £200 |
| Top Win: | 5,000x |
How We Tested Money Cart 2
We played Money Cart 2 for a good number of rounds to test all the features and gameplay elements and in order to be able to write an honest review based on personal experience.
In particular, we paid close attention to the graphics, the frequency and size of payouts, and also checked out the theoretical RTP and maximum win on offer in order to assess how rewarding it can get.
Where You Can Play Money Cart 2
Relax has the demo game on their website if you want to play for fun. However, if you're planning to play the real deal, we suggest playing it at one of our online casino reviews.
Most of them will offer newcomers a bonus to use on new slots. Here are a couple that we'd particularly suggest if you'd like to use your new player bonus to play Money Cart 2:
Mr Vegas Casino – get 100% up to £200 in bonuses + 11 wager-free spins!
Novibet Casino – claim a 100% bonus up to £150 as a new player!
Money Cart 2 Symbols & Payouts
Money Cart. 2plays out very differently from other video slots. The bonus game consists of just Bonus Symbols and blanks, and it's your aim to land 3 or more of these spiky metal bonus symbols in order to trigger the respin bonus, which is where all the action really takes place.
There are no payouts to be had from the base game, but luckily, it won't take long before you get into the respin round!
The Symbols
Once you trigger will add additional symbols to the game and make each Bonus Symbol worth between one and 10 coins.
The Golden Bonus Symbols have the same functions but have a value between 20 and 200 coins.
The Payer is a blue symbol with a woman aiming a revolver. It reveals a coin value and adds that value to the other visible symbols on all the reels for this round.
The Collector is an orange symbol with a mean-looking outlaw holding open a bag. It reveals a coin value and collects the visible values of all the reels, adding them to its own value.
The Collector/Payer is a combination of both. It reveals a coin value and adds the sum of every other visible value to its own, then adds that updated value to every other visible symbol.
The Sniper is a green symbol of a man with a rifle. It reveals a coin value and doubles the value of three to eight other bonus symbols.
The Necromancer is a red symbol of a man holding two power coils together. It reveals a coin value and reuses between two and seven of the previous four symbols again.
The Reset Plus is a blue symbol of a pocket watch. It reveals a coin value and increases the maximum value of re-spins by one.
The Persistent Payer is a symbol of a large six-barreled gun. It has the same function as the Payer symbol, but it repeats every following spin.
The Persistent Collector is a symbol of a giant magnet. It has the same function as the Collector symbol, but it repeats every following spin.
The Persistent Sniper is a symbol of a sniper rifle. It has the same function as the Sniper symbol, but it repeats every following spin.
Additional Reels
Every time you fill an entire reel with any symbols, an additional reel will open up for all further spins that round. This can happen two times in a single round, for a total of seven reels across the board.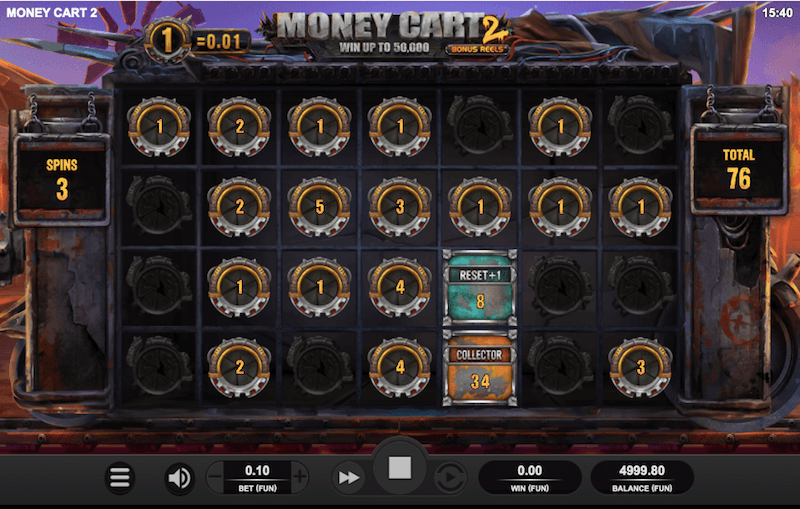 Minimum/Maximum Bet & Autoplay
The game gives you an extensive betting range. The bottom end of it you can wager just £0.10, while the highest possible bet is £200.
The game also has an autoplay function, which you can customize almost every aspect of. You can have it make various different valued bets and give it a win and loss limit that it will stop spinning at if reached.
Money Cart 2 RTP
The expected payout for this game is 98,00%, which is exceptional. Very few slots are released with such a high return to player these days!
Volatility & Hit Frequency
Unfortunately, to make up for its very reasonable payout rate, the game has an exceptionally high risk in how it plays. While it's not uncommon to have spins that keep racking up coins for minutes at a time, the number of spins between those winning chances are numerous.
You can go well over a dozen spins without even seeing a single symbol on the screen. While the wins are almost always exhilarating, it can be crushing to watch spin after spin go by without so much as a single ding sound effect to give you some hope.
Maximum Win
When you throw caution to the wind and give your maximum bet, you have a chance of winning up to 50,000 coins in a single spin (or 5,000x the original stake).
Money Cart 2's Wins Feel Amazing, but the Journey Getting There Is a Long One
Money Cart 2 is unique in that every spin isn't cluttered in meaningless symbols and random visual noise that will give you hope only to end the spin with no winnings. The board is entirely blank except for the symbols that you need for the re-spins to start. This is both one of Money Cart 2's greatest upsides and pitfalls.
The lack of pointless symbols makes each spin exciting. You know that every symbol you see means something. You feel that rush when a reel stops and has one or even two of them at the same time!

But then there are those stretches of nothing. Silence. Not a single symbol for several spins at a time. It begins to feel like mindless clicking once ten or even twenty spins go by without a single sound effect, except that catchy metallic grit music mocking you each round.
Game Features
Money Cart 2 has the typical multipliers that you would expect with most online slots, but it really shines in its unique symbols and its re-spin system.
Bonus Spins
The bonus spins are where all the action happens. This is where you will constantly be spinning the reels in hopes of landing another symbol to refresh your free spins back to their full count and earn the coin value on each symbol you get. These spins are where you will be getting all of your big wins.
With the right combination of modifiers from symbols like the Payer/Collector or the Persistent symbols, you can end up raking in hundreds of coins with each symbol in a single round. The hit frequency skyrockets in these bonus spins (we managed to nearly fill every reel a couple of times) and makes for intense fun as the action ramps up with each consecutive spin.
Graphics & Sound
| | |
| --- | --- |
| Graphics | 2D |
| Optimized for Mobile | 👍 |
| Music | Low-Intensity Western-Esque Style |
| Special features | Unique animations for events such as unlocking new columns. |
Money Cart 2's Aesthetic Feels Polished and Almost Perfect
Between the gritty low-tone music and the dusty yet pleasing visual style, Money Cart 2 nails the steampunk vibe that it seems to be aiming for. The style feels consistent and polished, and after a few hours of play, it's one of the few slots that you won't find yourself growing bored of its design or muting the sounds once they've become repetitive and annoying.
Nothing about Money Cart 2's aesthetic screams for your attention in an annoying manner. No matter how many spins you give it, you can't help but appreciate the work that went into the look and feel of this slot.
Verdict
Money Cart 2 is certainly above average. Its gameplay is very engaging. It has the occasional slow point here and there between wins, but its aesthetic is a diamond in the rough. It's rare to see a slot as confidently put together as this one.
In an ocean of games that feel derivative or uninspired from one another, finding Money Cart 2 has been a pleasant surprise.
Other slots to play if you enjoyed Money Cart 2
Money Cart 2's bonus game seems to be a replica of the bonus feature in Money Train 2. In fact, itseems that Relax have found a solution to making the bonus buy feature available for UK players, since this game is really only about the bonus, and the base game is there to give you easy access to it.
Money Train 2 is a great alternative if you still enjoy a base game, and if you'd like to enjoy very similar gameplay with the possibility of winning 50,000x your stake! That said, this game comes with a lower RTP.
FAQ
Can I play Money Cart 2 for free?
Yes! Just like us, you can visit Relax's website or several other sites that allow you to try the demo game for free, which shares all the same features of the real deal.
What Happens If I Get Two of the Same Bonus Modifier in a Single Spin?
If you get two of the same, they won't just cancel each other out. They will both multiply with one another just as described. If you get two Payers, they will count the value of the other Payer in their total.
Can I Trigger a Bonus With More Than Three Bonus Symbols?
Yes! Getting additional Bonus Symbols will not stop the re-spin bonus from triggering. However, it will not reward extra spins.