Top 10 progressive jackpot slots in the UK 
To make sure we're recommending the top progressive slots in the UK to you, we have taken the RTP percentages, as well as the potential payouts of each slot into account.
1. Mega Moolah
| | | | |
| --- | --- | --- | --- |
| RTP | 88.1 % | Min Bet | 0.5p |
| Volatility | Medium-Low | Max Bet | £125 |
| Max payout | 11250x | Biggest Jackpot won | £ 16,156,912.27 |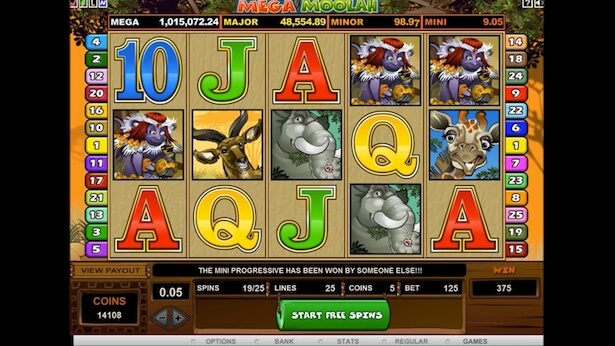 Mega Moolah by Microgaming is widely known for offering a win so big it ended up in the Guinness World Record book in 2015.
Since then, the slot has gone on to become one of the most rewarding slots to exist on the market, paying out millions of pounds to players ever so often.
The RTP in Mega Moolah isn't the highest out there, but the jackpot does increase the RTP value.
The slot also has some fantastic features to offer players, like free spins, a gamble feature, multiplier wilds and more, however, it's the 4 progressive jackpots, made up of Mini, Minor, Major, and greatest rewarder of them all, Mega, that will really pique your interest.
2. Tiki Wonders
| | | | |
| --- | --- | --- | --- |
| RTP | 93 % | Min Bet | 0.01p |
| Volatility | Medium-Low | Max Bet | £60 |
| Max payout | 1000x | Biggest Jackpot won | £750,000 |

Tiki Wonders has a 93 % RTP and boasts of two progressive jackpots, the Wonder Jackpot – which is the smaller of the two – and the Mega Wonder Jackpot where 3 % from every player is added to the growing jackpot.
Among features that contribute towards the chance to land massive wins are free spins, as well as a multiplier.

Brace yourself for some potentially massive wins on this one!
3. Joker Millions
| | | | |
| --- | --- | --- | --- |
| RTP | 94.3 % | Min Bet | 0.25p |
| Volatility | Medium-low | Max Bet | £25 |
| Max payout | 12500x | Biggest Jackpot won | £2,5 million |
Joker Millions is a well-loved classic by Yggdrasil and is filled to the brim with lots of wonderful surprises, including potential wins of several million pounds.
The biggest jackpot win recorded in Joker Millions to date is £2,5 million and was won in 2019.
Features like freeze and re-spins have been placed within the game to further maximise your gameplay experience and increase your potential of winning major payouts.
Look forward to a game session like no other.
4. Jackpot Giant
| | | | |
| --- | --- | --- | --- |
| RTP | 94.2 % | Min Bet | 0.50p |
| Volatility | Medium-low | Max Bet | £4 |
| Max payout | 50 000x | Biggest Jackpot won | £9,4 million |
Jackpot Giant is among our favourite jackpot slots as it boasts of an exciting bonus feature where you get to select a mystery prize, and an impressive max payout of 50 000x your bet.

Massive wins may take some time, but Jackpot Giant is definitely a generous slot. In fact, back in 2018, this exciting release by Playtech rewarded a lucky player with a win as big as £9,4 million. The biggest win recorded in the slot to date.
5. Arabian Nights
The slot Arabian Nights weaves the magic from tales such as Aladdin, Sinbad, and most especially A Thousand and One Nights into one slot with the potential to make any player a millionaire with the drop of a hat.
While the bonus round is active, you get the opportunity to win up to 500x your stake.

Who knows? Maybe you'll be just as lucky as the last winner of a big payout in Arabian Nights who won a whopping £1 million in 2016.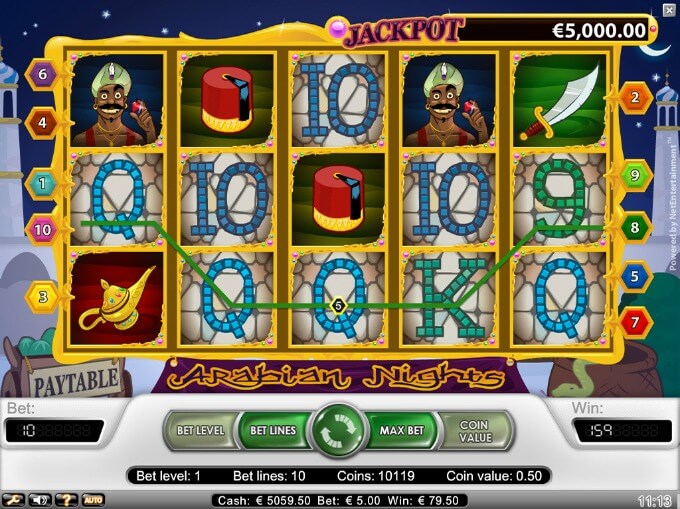 6. Age of the Gods
| | | | |
| --- | --- | --- | --- |
| RTP | 95 % | Min Bet | 0.01p |
| Volatility | Med-High | Max Bet | £25 |
| Max payout | 2000x | Biggest Jackpot won | £850,000 |
The Greek mythology-inspired slot Age of the Gods by Playtech has both fun and big wins in store for a couple of lucky players brave enough to take a chance on it.
Have fun with all the wonderful free game features and anticipate some wonderful wins all the same.
With 4 progressive jackpots to offer its players, a decent RTP of 95 %, and attractive features, Age of Gods comes head-to-head with some of its competitors.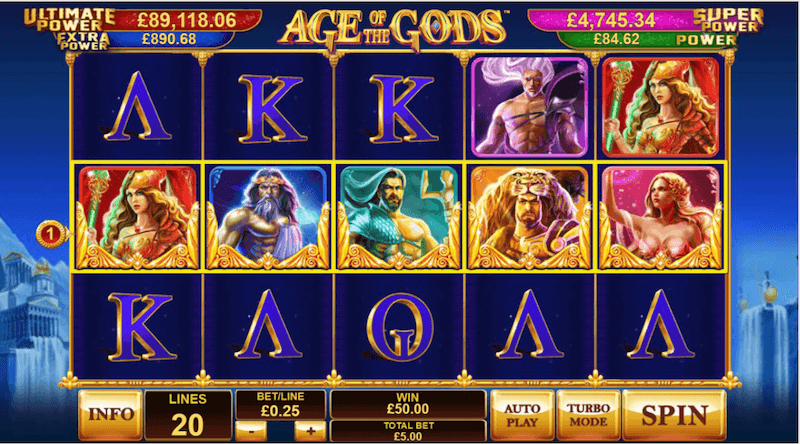 7. Jackpot Raiders
| | | | |
| --- | --- | --- | --- |
| RTP | 96 % | Min Bet | 0.20p |
| Volatility | Medium-High | Max Bet | £40 |
| Max payout | 4000x | Biggest Jackpot won | – |
Jackpot Raiders is a slot that will have you fawning over its total of 5 progressive jackpots.
Look forward to features like the Compass feature that grants you automatic access to 10 jackpot free spins, in addition to a bonus prize if you manage to land more than 3 scatters at once, a Pick & Click feature that presents you with a couple of random prizes, plus more.
As Jackpot Raiders is a fairly new release, having only been released last year (2020), there are still major wins to be won. However, you can expect to win anywhere between £105 and £100,000.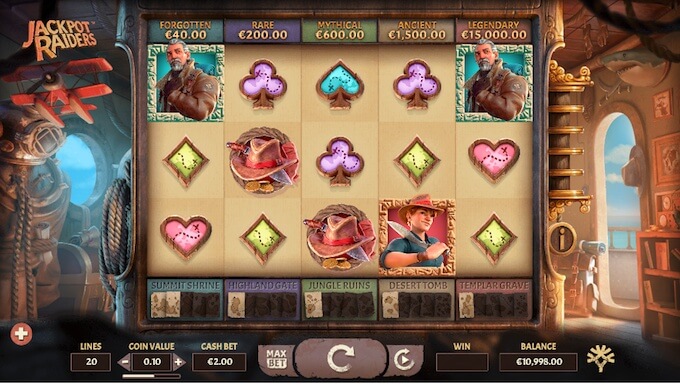 8. Divine Fortune
| | | | |
| --- | --- | --- | --- |
| RTP | 96,6 % | Min Bet | 0.20p |
| Volatility | Medium | Max Bet | £200 |
| Max payout | 600x | Biggest Jackpot won | £357,523 |
The progressive jackpot slot Divine Fortune has its name for a reason, as fortunes won on this slot truly are divine.
With a more than decent 96,6 % RTP, be prepared to be charmed by lots of entertainment and possible big wins.
The biggest jackpot wins in Divine Fortune to date is a staggering £357,523.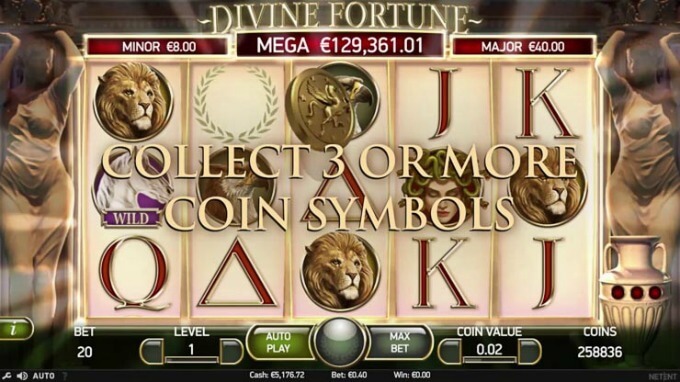 9. Mega Fortune
| | | | |
| --- | --- | --- | --- |
| RTP | 96,6 % | Min Bet | 0.2p |
| Volatility | Low | Max Bet | £50 |
| Max payout | 2162x | Biggest Jackpot won | £1,897,268 |
Mega Fortune has gained quite a bit of popularity since its release due to the amounts offered in its progressive jackpots, particularly the Mega Jackpot.
With an RTP higher than most other progressive jackpot slots, and a hit rate measured at 52,6%, you can look forward to being dazzled by large payouts. After all, the biggest win recorded in the game yet is approximately £1,897,268.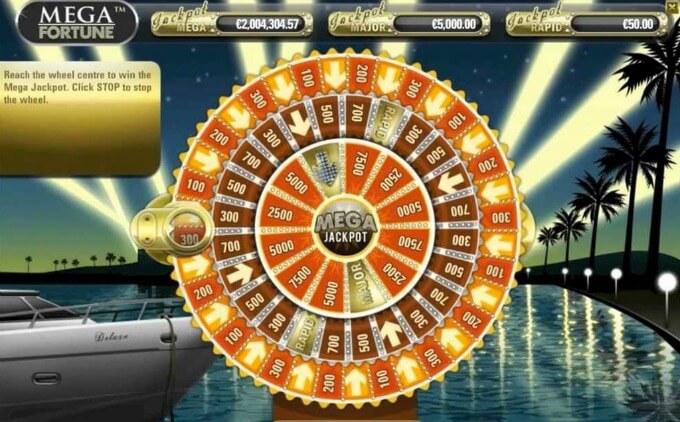 10. Hall of Gods
| | | | |
| --- | --- | --- | --- |
| RTP | 97 % | Min Bet | 0.20p |
| Volatility | Medium-Low | Max Bet | £50 |
| Max payout | 4314x | Biggest Jackpot won | £6,6 million |
This godly slot features three progressive jackpots, the Mini, Midi, and Mega whereby the Mega jackpot starts at a whopping £500,000.
The Mini and Midi jackpots in Hall of Gods are considered "local jackpots", as the amounts within each of them differ from online casino to online casino, whereas the Mega Jackpot remains the same on every platform.
The highest win recorded in the slot so far is an impressive £6,6 million.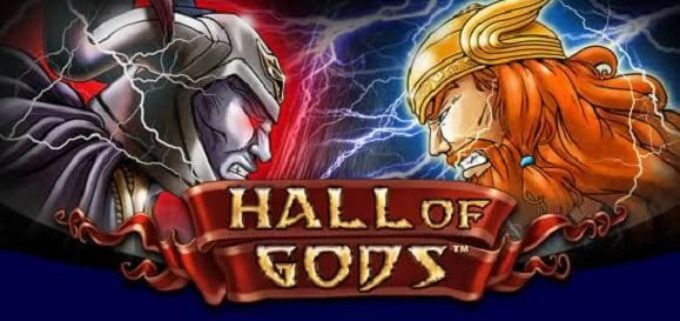 Latest online progressive slots 
If you are particularly fond of the Mega Moolah series, you'll be excited to try:
Every so often the well-known game provider Microgaming will release yet another progressive jackpot slot to add to its list of Mega Moolah slots, and Immortal Romance is one such slot.
The jackpot slot, released earlier this year (2021) incorporates some of the same themes found in previous Mega Moolah releases, including the chance to win up to 12000x your bet or to trigger the Mega Moolah jackpot.
To get a load of the newest and most promising progressive jackpot slot releases, you can always have a look through our new slots page. Maybe you'll find a new favourite?
---
What are progressive slots?

Progressive slots are much like regular slots, however, the quality that sets them apart from regular slots is the jackpots existing within.
These jackpots, often divided into different categories, are able to grow to exponential sizes and reward lucky players with astronomical wins, oftentimes in one single spin!
Standalone progressive jackpot
A standalone progressive jackpot is exactly what its name suggests. It's a jackpot that isn't linked to any other slots and isn't part of a wider network of slots.
Wide area progressive jackpot
Wide area progressive jackpots are most commonly linked to several online casinos and offer the largest jackpots.
Online progressive slots
Online progressive slots are jackpot slots such as the Mega Moolah series, where the slot can be played at any online casino, and where the jackpots offered can go up to millions of pounds.
Dream Drop feature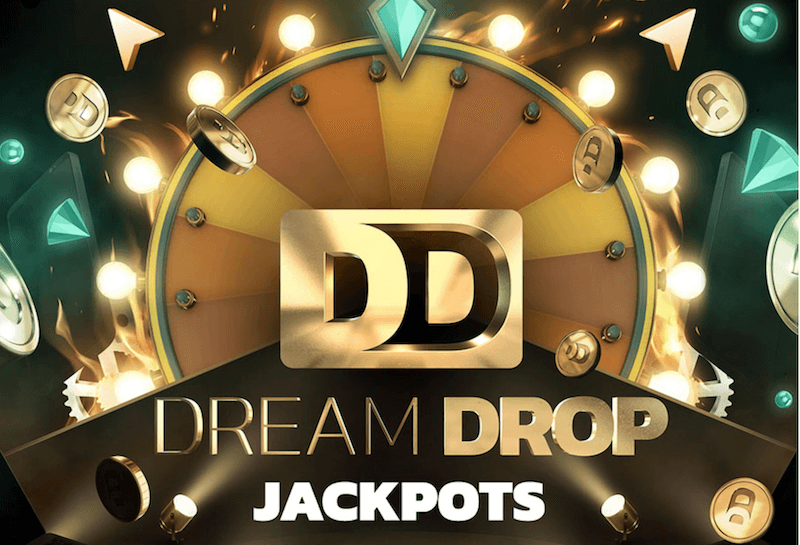 Relax Gaming's Dream Drop feature offers progressive jackpots that increase with £500,000 for each level reached, and there are some lucky winners who have already experienced major wins while playing some of the slots with this feature, like a €997,779.17 win on Snake Arena Dream Drop at Videoslots.
Lucky players can anticipate wins of up to a whopping £10,000,000 while playing slots with the Dream Drop feature.
---
How does an online progressive slot work?
Progressive jackpot slots are usually dependent on player bets, whereby a certain percentage of the bets made by players will be added to the jackpot and increasing its size and value.
As long as the jackpot remains unclaimed by a lucky winner, it will continue to grow, hence the amazing wins that are often reported about in jackpot slots like the slots in the Mega Moolah series, specifically.
This type of jackpot slot is often found on many online casino platforms, which means you can count on the jackpot in the slot being particularly high.
As soon as the jackpot is won by a lucky player, it will reset to its "seed amount" which is a fixed starting amount.
Are they safe?
Progressive jackpot slots are audited every now and again to ensure that they meet the safety criteria set by third-party auditors, such as is explained by the UK Gambling Commission.
The outcome in these slots is based completely on chance thanks to a Random Number Generator.
---
5 progressive jackpot tips
Each progressive jackpot slot out there has its own level of charm and uniqueness, and as tempting as it might be to dive headlong into the world of progressive jackpots, we would like to walk you through a few steps that are likely to ensure that you get the most out of your progressive slot experience.
1. Choose a jackpot slot where players aren't expected to stake ridiculous amounts of money.
Mega Moolah is an example of a slot where you still have a chance at winning the jackpot even with a small bet.
You may find yourself being as lucky as a player who landed a big jackpot win of over €18 million with a 75-cent bet back in 2015.
2. Try progressive jackpot slots with a high RTP value

By setting your eyes on a progressive jackpot slot with a high RTP, you are essentially much better off in terms of having a chance to achieve small wins on your quest to winning millions.
3. Always pay attention to value
The jackpot amount will help you determine what slot it's best to take your chances on. It's usually the ones with the most in them that are the best ones to go for.
The jackpot slots in the Mega Moolah series are a great place to start if you're on the fence about where to start.
4. Try slots where the rewards are regular
The chance of winning in jackpot slots is generally as slim as with regular lotteries, so the best bet is to go for a jackpot slot where the rewards are as frequent as they are generous, even though it might take a long time for the actual jackpot to be claimed by a lucky winner.
5. Never bet more than what you are comfortable with
As with any slot, jackpot slots can quickly become addicting, therefore our advice to you is to only bet amounts you are comfortable with.
The safest is of course to play a jackpot slot that allows for the lowest stakes possible.
The biggest wins ever on Jackpot Slots Online 
Ever been curious about what the biggest wins on online progressive slots are? Here's an overview of those humongous wins recorded in dollars:
Absoolotly Mad: Mega Moolah – $23.6 million
Mega Moolah – $23.5 million
Mega Fortune – $21 million
Mega Moolah – $17.2 million
Mega Moolah – $16.7 million
Mega Fortune – $13 million
Mega Moolah – $12 million
Mega Moolah – $9.5 million
Mega Moolah – $9.2 million
Mega Moolah – $8.8 million
Where to play online jackpot slots
There are plenty of reputable online casinos that have some of the most popular online slots jackpot games in their catalogues.
You can find a number of the best online casinos that offer a wide range of progressive jackpot slots right here in our very own catalogue of the best UK casino sites and start playing today.
---
Top providers of progressive jackpot slots
If ever you see Microgaming, Red Tiger Gaming, NetEnt, Playtech, Real Time Gaming or Yggdrasil Gaming on a site's list of slot providers, you should know you're in good hands.
NetEnt and Red Tiger have a remarkable reputation as stand-alone brands but with Evolution backing them, their potential is limitless.

Keep your eyes peeled, mate!
Frequently asked questions
There are a number of online casinos that offer progressive jackpot slots as free demos, so you should be able to try them out completely free of charge.
The minimum bet within jackpot slots differ from slot to slot, but these usually range between 10p to 50p.
There are plenty of good jackpot slots to try your luck in. However, we recommend you start with the Mega Moolah slot as it's one where you could win large payouts regardless of whether you've made a big or small bet.
Jackpot slots are available at nearly every top UK online casino. Check our bonus guide to find a wager-free spins bonus and more.