What Are the Best Online Blackjack Casinos in the UK?
This popular card game is offered in just about all of the best online casinos for British players.
LeoVegas, Unibet, Rizk casino, are among the sites where this card game can be played comfortably in a stylish setting.
However, there are plenty of other places where you can try to get a hand of 21. Look for the Casino or Table Games tab on any British casino that you visit, and you're bound to find multiple Blackjack online games.
Is Online Blackjack Legal in the UK?
Yes, you can relax and play blackjack online at a UK-licensed casino.
There are many casinos aimed at British gamblers that offer blackjack games.
Some casinos only focus on slots, but most of them have at least roulette and blackjack in a table games section.
If you're a huge fan of blackjack you might want to take a look around the sites that have many different versions on them and get spoiled for choice.
Are Online Blackjack Games Rigged?
No, you can be completely confident of getting a fair game of blackjack online.
Just choose a casino that has a British license and that has received good reviews from our experts.
The use of a random number generator in virtual games, regulated by testing agencies such as TST and eCOGRA, and professional dealers and safety cameras in live blackjack games means that you can always rest assured that games run fairly.
What is Online Blackjack?
Blackjack online plays out in exactly the same way as the classic Blackjack, and is a card game played between a player and the dealer. The objective in Blackjack is to get a combination of cards with a total value that is equal to or as close as possible to 21, without going over this number.
Whoever gets the closest value (the player or the dealer) wins the game, and if someone goes over 21, he goes bust and loses.
The card values in Blackjack are very easy to understand. Any cards with numbers from 2 to 10 have their face value. Jacks, Queens, and Kings all have a value of ten. Aces can be valued at 1 or 11 points depending on what is more beneficial to your combination.
Many people mistakenly tend to think that Blackjack is any number of cards that make up a total of 21, but in reality, there is a term called "natural 21" when 21 is a sum of the first 2 cards dealt to you. In order for this to happen, you will have to get a combination of an Ace and a 10-value card as your first two cards.
Why Play Online Blackjack?
This game has become so popular in recent years mainly due to its simplicity and fast action. Anyone can start playing instantly and enjoy a classic and straightforward card game.
In fact, most people are quick to understand Blackjack rules and are comfortable placing bets right away.
If you've enjoyed playing blackjack with friends and family in the past, going online lets you play the same game whenever it suits you.
| | Blackjack Online | Blackjack in a land-based casino |
| --- | --- | --- |
| Safety | ✔ | ✔ |
| Play anywhere | ✔ | ✖ |
| Bonus | ✔ | ✖ |
| Promotions | ✔ | ✖ |
| Multiple seats | ✔ | ✖ |
Play Blackjack from your home
Playing Blackjack online is naturally convenient.
No matter what time it is and how much spare time you have, it's easy to start playing for as long or as little as you want.
The arrival of mobile casinos for UK players means that you can now also play on the move.
Claim Blackjack Bonuses
Getting started with a reputable blackjack casino is easy, and it is even more rewarding when you take advantage of a welcome bonus!
Look for the top casino bonus offers that let you aim for 21 with a good amount of bonus funds after you sign up.
Play Online Blackjack for Real Money
Once you've claimed your blackjack bonus, you're ready to hit the tables!
You'll find all types of online blackjack variants where you can wager and win real money, including popular RNG virtual and live dealer favourites.
The top online casinos in the UK have tables that suit every type of blackjack player from beginners to high rollers.
Access to Live Blackjack Online Casino Promotions
The atmosphere and suspense of live dealer blackjack make it well worth trying.
You should also look out for live casino bonuses that help you to get going in the best possible way.
Some of the best blackjack casinos will also run regular promotions on Blackjack tables, such as reload bonuses, cashback or tournaments!
Play on Multiple Seats at the Same Time
If you like the thrills of blackjack, then playing with multiple hands makes it even more action-packed.
When you play blackjack online, just look for the casino's multihand games, where you'll try to beat the dealer on several hands at once.
Blackjack: Did you know?
Blackjack has the best odds out of other online casino games. The house edge can fall somewhere between .05% and 1% in a game with a single deck of cards.
Play Live Online Blackjack – a classic game gone virtual!
At online casinos these days, you can play Blackjack online either against the machine or against a real live dealer. RNG or Virtual Blackjack is a digital game which involves no human interaction.
In this case, the cards are 'dealt out' by a computer program, which works according to a Random Number Generator (RNG).
In Live Blackjack, the game rules remain the same, but the atmosphere is altered by the presence of a human dealer or the use of a virtual set-up.
Differences Between Live Dealer Online Blackjack and RNG (Virtual) Blackjack
Live dealer and RNG games are both exciting ways of trying this game.
In Live Blackjack, a real croupier will be streamed onto your screen from a sleek casino setting, giving you a chance to interact with him or her as you play.
RNG blackjack games are presented as virtual affairs, with a computer-generated table and cards that are randomly dealt.
In this case, it is the casino software that ensures total fairness and random results on every hand.
Which of these different approaches is the best way to play blackjack online? It really just comes down to your personal taste.
Virtual Online Blackjack Games
Many of the top games providers produce virtual blackjack games where the action is fast and exciting. These include Blackjack games by NetEnt and Blackjack Lucky Ladies by Felt.
These versions typically let you wager on various hands by sliding your chips onto the betting areas.
Each game provider has its own style, but many of the games take a similar approach, with a slick layout and easy controls.
Studio Live (Dealer) Online Blackjack Games
Live Blackjack takes place inside a physical casino studio, using real Blackjack cards, and is streamed to the player's screen in real time. Evolution, Playtech and Pragmatic Play produce many of the best live blackjack games for British players.
Once players place their bets, the dealer deals out the cards, and you can watch the action take place from multiple camera angles. This makes for a more genuine experience, giving you the feel that you're playing Blackjack at a brick and mortar casino!
A look at the online casino section of Leovegas Casino will reveal multiple variants of Live Blackjack online, such as Free Bet Blackjack and Blackjack VIP tables for high rollers.
The live dealer blackjack selection in British casinos has been growing in recent years, so you can expect more titles and variants to be added in the future.
How to Play Online Blackjack – Rules of Blackjack
Blackjack is played between a dealer and the players. All players play against the dealer and not against each other. The aim is to get a card total that doesn't go over 21, but that is still higher than the dealer's total.
Each card is worth its own value, except for the Ace, which can either count as '1' or '11'. The Queens, Jacks and Kings are all worth 10 each.
The game is played in these steps:
Each player places a bet.
Then the cards are dealt.
The dealer gives one card face up to each player and one card face up to himself.
Another card is then dealt face up to each player, but the dealer's second card is kept face down. Therefore, each player except the dealer receives two cards face up. The dealer will have one card face up and the other one face down.
If a player's first two cards are an Ace and another 10-card, then he's first-time lucky – this amounts exactly to 21 and the player wins. If both dealer and player have 21, then this is called a tie and the player takes back the amount wagered.
Blackjack Rules and Bets – How to Play: For Beginners
The goal is to get closer to 21 than the dealer without going over this magic figure. You're given two cards first of all and need to decide whether to ask for more or stick with those two.
During your turn, you'll make decisions such as doubling your bet, splitting out your cards into two separate hands or taking insurance against a dealer blackjack hand of 21.
Once you are finished, it is the turn of the dealer to turn over his cards.
They need to follow set rules that determine whether they ask for another card or not.
The best hand in this card game is when you get a total of 21 on the first two cards, which will normally give you a higher payout and can't be beaten.
Otherwise, any hand that betters the dealer's total without going over 21 will give you a win.
Blackjack options
Below are the options normally available to players before the dealer reveals his hole card: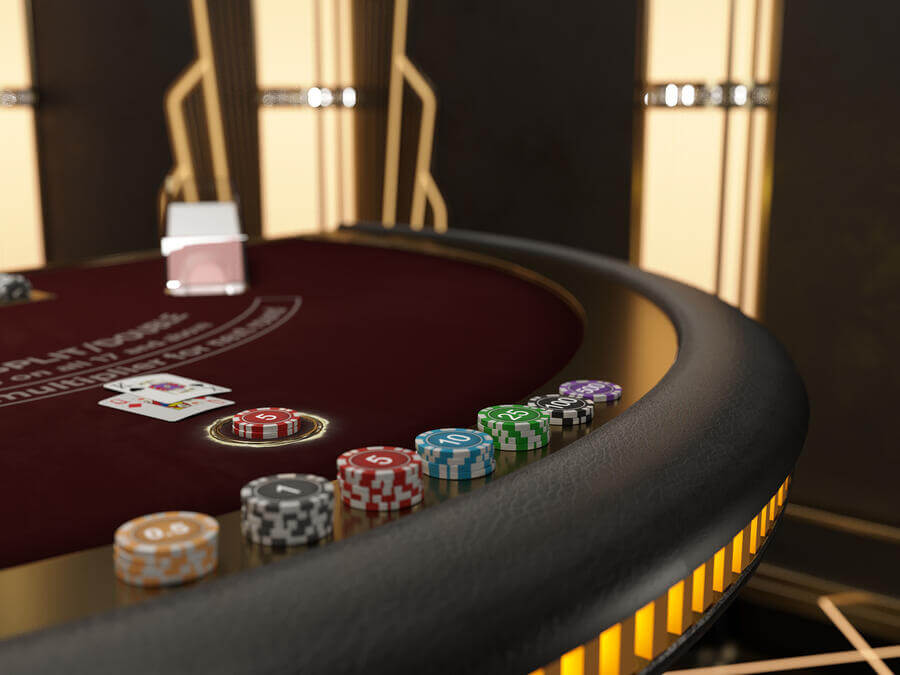 Stand (also known as stick or stay): the player decides not to take any more cards.
Hit: the player draws another card. If this results in the player's total points exceeding 21 (known as "bust"), then he loses the game.
Double: the player doubles his bet and gets only one more card.
Split: If a player's first 2 cards are of the same value, then he may separate his cards into two individual hands and double the bet. The dealer will deal a second card to pair up with each card. Then, the player has to decide whether to hit, stand, or double normally, and can win or lose his bet separately for each one of these hands.
Surrender: if the game offers this option, the player can forfeit half his bet to the house and not play out his hand.
Blackjack Side Bets
Sideb bets are additional bets a player can place during a Blackjack game. These bets generally have a lower RTP than the main game, meaning that it's more difficult to make money from them.
Yet, the extra excitement that they add and the prospect of big returns if they come up mean that a lot of players are tempted to give them a go.
Blackjack Insurance
Commonly offered on most online blackjack games, this side bet pays out if the dealer gets a blackjack hand of 21 on their first two cards.
You'll still lose the hand if this happens but you'll also get a payout to soften the blow.
21+3
This blackjack side bet is based on your first two cards and the dealer's face-up card making a strong poker hand.
The better this hand is the more you win, with a suited three of a kind usually the top prize.
Inspired from Poker, the 21+3 side bet involves betting on a number of scenarios involving the players' and the dealer's cards. These are:
Flush – this involves betting on having 3 cards of the same suit (for instance 3 hearts), and has odds of 5/1, but also the lowest payout
Straight – betting on a 3-card combination of the same sequence, for example 5, 6 and 7 (irrespective of the suit). This bet comes with odds of 10/1
Three of a Kind – a bet that your first 2 cards and the dealer's upcard will be of the same rank (for example, 3 Jacks or 3 fours). The odds of this happening are 30/1
Straight Flush – this involves betting on having 3 cards in numerical order of identical suits, for example, 1 of diamonds, 2 of diamonds and 3 of diamonds. The odds for this are 40/1.
Suited Three of a Kind – betting on getting 3 cards that are of the same suit and value, for example, 3 Queen of Hearts. This is the best paying Blackjack side bet, which comes with odds of 100/1.
Pair Bets
There are a few different possibilities here, as you could get different types of pair on your first couple of cards.
Mixed pairs and coloured pairs are good but it is a perfect pair of the same suit and value that pays out best of all.
This bet is placed before the round starts, and may consist of 3 bets, each of which involves getting a kind of pair:
Perfect Pair – betting on getting the two same cards of the same suit (for example 2 of hearts and 2 of hearts). This is the highest paying perfect pairs bet, with odds of 30/1
Coloured Pair – Betting on getting two cards of the same colour and value but a different suit (for example 2 of hearts and 2 of diamonds). The odds for this bet are 15/1.
Mixed Pair – betting on getting a pair of different colours (for example 2 of hearts and 2 of spades). This bet comes with odds of 7/1 and is the lowest-paying Pairs side bet.
Bet Behind
With this type of blackjack bet, you are wagering on another player's hand rather than your own.
This means that you have no control over the decisions that are taken on it, but can profit if he wins!
The Number of Decks and the House Edge (Advantage)
The number of decks used in online blackjack games plays a big part in your chances of winning.
This is because there is more chance of getting a blackjack hand of 21 on your first two cards if fewer decks are used.
The reason for this is that more blackjack hands should be dealt, giving you a better chance of landing the higher payout it provides.
Most of the best blackjack online versions use eight decks, but some use fewer than this. You might even see a single deck that is shuffled after every hand.
We can see in the table below the effect that the number of decks has on the house edge, which is the advantage the casino has.
A low house advantage means that you'll be in with a better chance of picking up some winnings.
The house edge changes slightly depending on the number of decks used, the table's specific blackjack rules and side bets.

Blackjack Strategy
If you'd like to take full advantage of Blackjack's low house-edge, you've got to play Blackjack by sticking to the basic strategy.
This strategy will dictate whether you should hit, stand, split, surrender, or double down, depending on the total of your 2 cards and the dealer's face-up card.
Basic Blackjack Strategy was created by a computer simulation based on combinations of millions of hands. In this way, people were able to conclude what are the best decisions to make with each hand, and this gave rise to the Blackjack chart above.
There are additional Blackjack rules which will tell you when to surrender, double down and when to split pairs in Blackjack, should the game you're playing allow for these moves.
It can be difficult to remember what you should decide in each situation as you play Blackjack, which is why a Blackjack chart can be so helpful for beginners. This chart will show you what you should do depending on your hand and the dealer's card.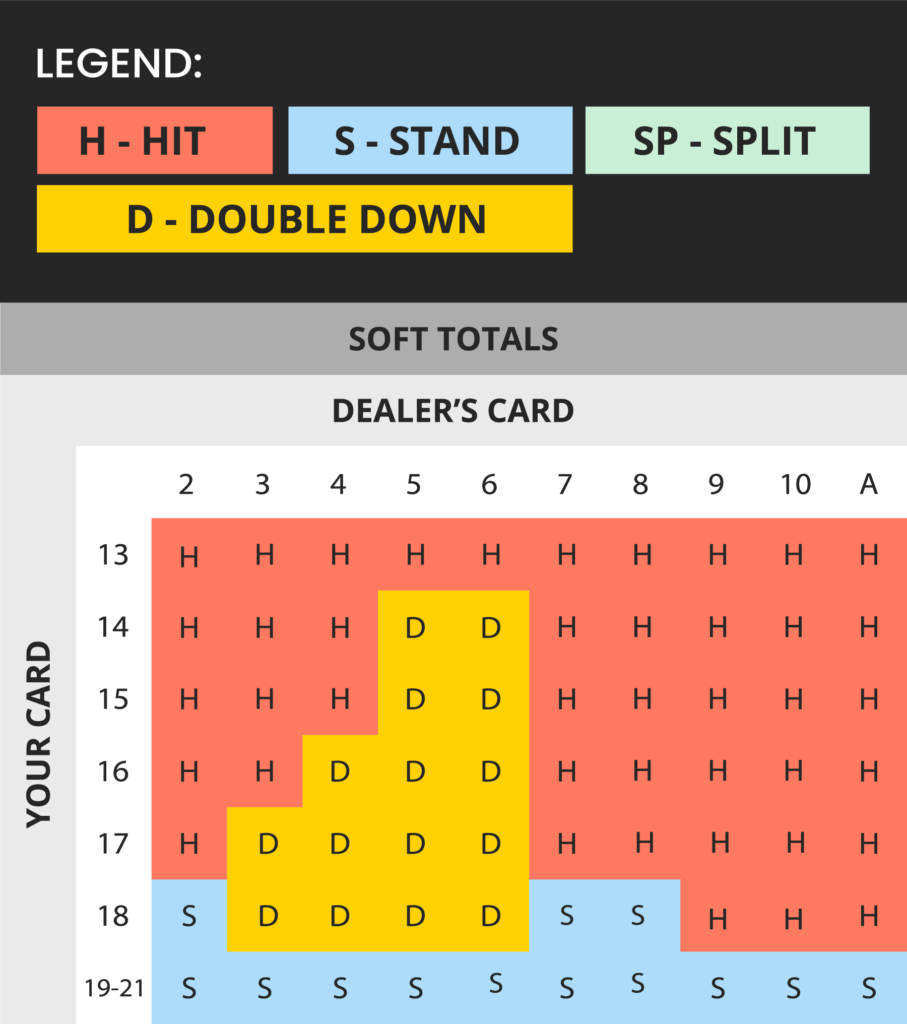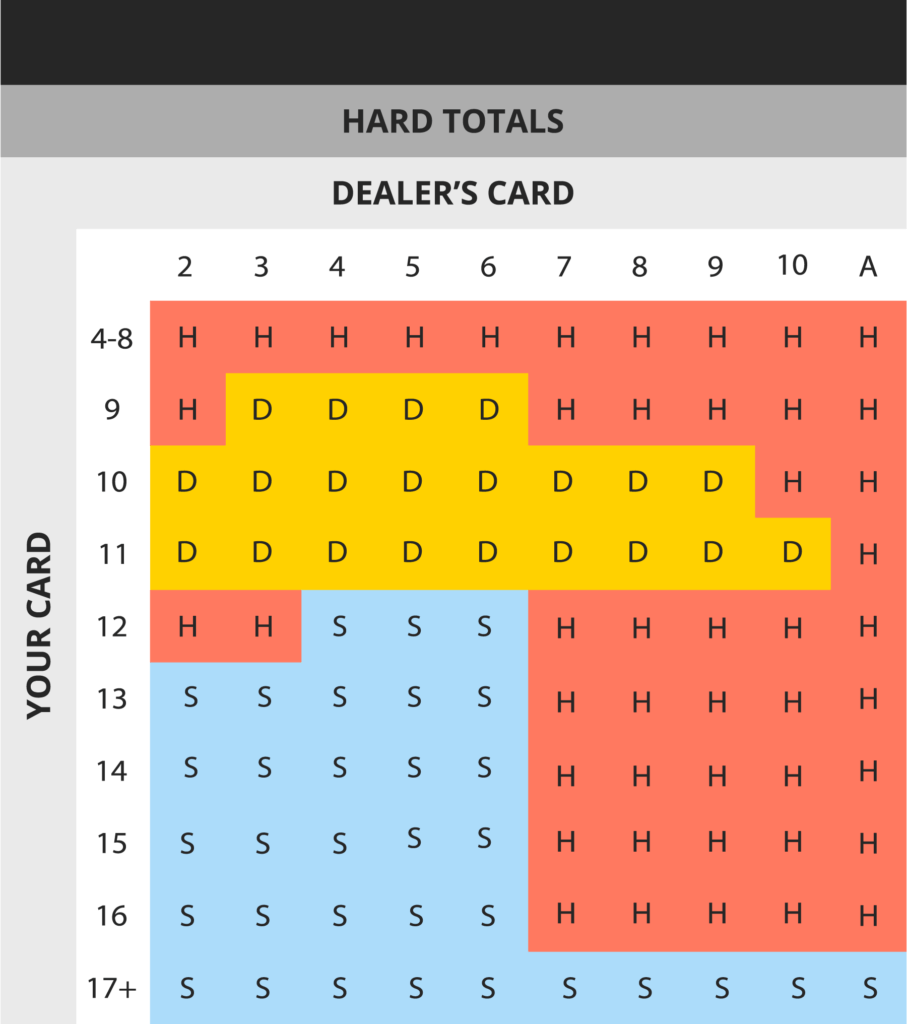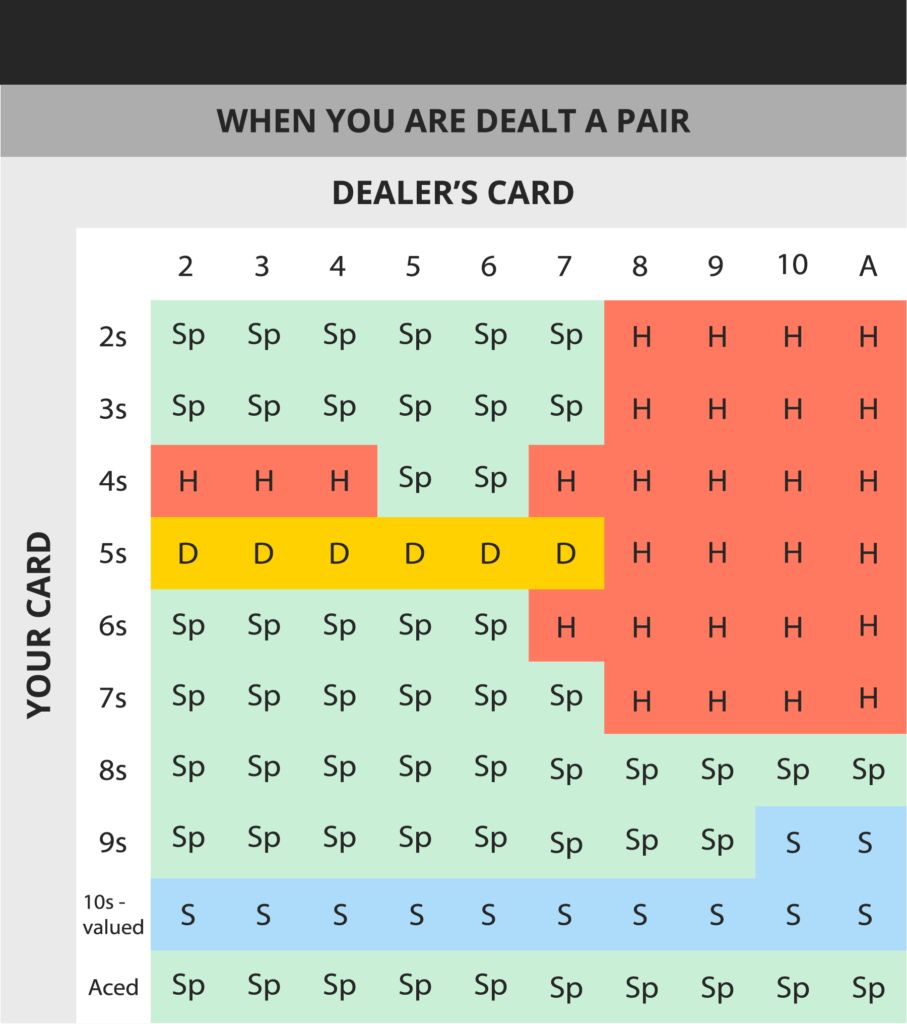 H = Hit; S = Stand; D-H = Double if possible, otherwise Hit; D-S = Double if possible, otherwise Stand
When to Surrender
The option to surrender is sometimes offered when you play blackjack online.
It is typically seen in versions that have "surrender" in the name. These games allow you to quit early and get part of your stake back.
This is often worth doing when the dealer has an ace or 10 and you have a poor hand such as a hard 12 to 17 with no ace in it.
You might win in this situation, but it is more likely that you lose.
When to Consider Pair Splitting
Splitting out a pair of identical cards doubles your bet and will give you two chances of winning.
It is generally recommended that you split aces to get two strong hands, while splitting a pair of 8s breaks up one of the poorest blackjack hands.
In other cases, it comes down to what card the dealer has showing. The only cards that you will probably always want to avoid splitting are 10s, 4s and 5s.
When to Double Down
Doubling down is one of the most interesting and aggressive moves you'll make when you play blackjack online.
You're doubling your bet in exchange for getting just one more card. You'll want to do this when you have better cards than the dealer's face-up card and can't go bust with any other card you might get.
Among the hands where this strategy makes sense are a hard 9, 10 or 11, as well as a soft 16, 17 or 18.
Generally, you want to see a card valued between 2 and 6 in the dealer's hand too.
Online Blackjack Card Counting
Card counting is a strategy that may be employed at brick and mortar casinos while playing Blackjack. This involves keeping track of cards to determine whether the next hand is likely to favour you not.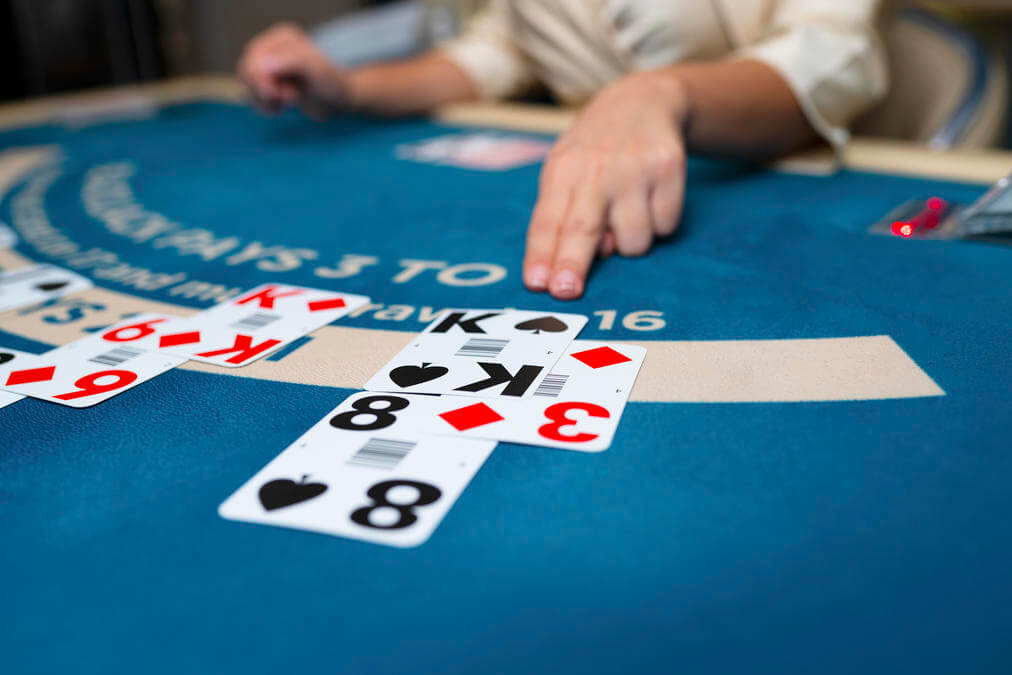 In Blackjack, the player is more likely to win if there are more Aces, 10s, Jacks, Kings and Queens left in the shoe, and therefore card counting is used to try and determine this. To employ this strategy, the card counter assigns a positive, negative or zero value to each possible card.
Then, whenever a card of that value is dealt, the count is adjusted accordingly to try and keep track.
Casinos will do their best to prevent you from Blackjack card counting, and may even force you to stop playing if you're caught!
What's more, Online Blackjack Card Counting is next to impossible, as decks are automatically shuffled after every round or cut down the middle.
Online Blackjack: Did you know?
A 10-card Charlie is so rare, it may occur only once every 100,000,000 times!
3 important tips to know before playing Online Blackjack
When you are playing live blackjack for real money, it is important to be as well-informed and prepared as possible before you start playing. Our guides are here to help you and teach you the most important aspects of the game.
1. Know Basic Blackjack Rules, Side Bets and Payouts
The basic rules are quite simple but learning about side bets and payouts can pose some challenges. Use our guides and videos to help you learn it all.
2. Learn Blackjack Strategy
The right blackjack strategy is crucial to your success in blackjack, as it boosts your chances of winning in different situations.
Stick to basic strategy or else try something a bit more complex once you learn the ropes.
3. Plan your budget and your time
The trick to success is planning and gambling responsibly. It is important to be prepared to win or lose. Plan your budget ahead of time so you know when to quit and give yourself sufficient time to get used to the game.
*Did you know?
Playtech's Quantum Blackjack has the highest RTP of all Live Blackjack games, at 99.54%!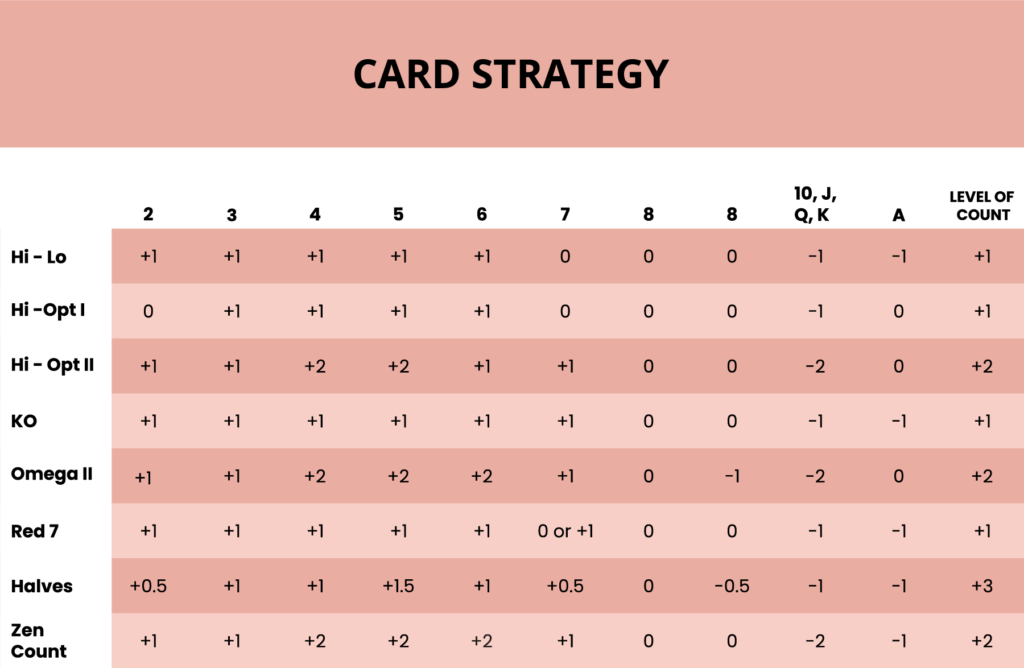 How to improve your game
Being a game of both luck and skill, there are several ways to improve your chances of winning at Blackjack besides sticking to basic Blackjack Strategy. The casinos and tables that you play at may give you added value, while following pro players can give you more insider tips and help you become sharper at your game.
1. Read our game & casino reviews
First and foremost, it is important to choose the right online casino where you can play live Blackjack. Choosing a casino who runs special or regular promotions on this game will give you added value.
For example, certain casinos will give you cashback on losses incurred on Blackjack, which will help you win more overall, while others will reward you with reload bonuses that you can use to play the game with some extra bonus cash.
What's more, you should have a number of Blackjack tables and different variants to choose from, so you can pick one which suits your budget and playing style.
In our casino reviews, we always let you know if a casino runs any special Blackjack offers, and also give you an idea of the types of Blackjack tables available.
2. Practice for free
Many casinos offer virtual blackjack that can be played for free, in demo mode.
This is a terrific way of getting to grips with the rules and gameplay without having to stake any of your money. Just play as normal but with dummy cash instead of your own money at stake!
Live dealer games of blackjack don't tend to offer the demo option, but by picking up a nice live casino bonus you can play with some extra funds.
3. Watch streamers to discover new tips
Watching the pros at their game can teach you the best strategy and tactics. Nowadays, you can watch Twitch streamers for Blackjack play the game at various online casinos.
Among the most popular online Blackjack streamers, you can follow CasinoSheriff, TheMillionDollarMan and Blackjacknjill.
Blackjack Variants
There are plenty of virtual Blackjack games to try online, as providers have tried to cater for different player preferences and come up with different additional side bets.
You can find Classic Blackjack games designed by different game providers, as well as a number of exciting variants. Some of the best online Blackjack games include:
American Blackjack – in this variant, the dealer is dealt the second card face down (a hole card) and is allowed to peek at it if his face card is an Ace, which gives him an advantage! This game uses between 6 to 8 card decks
European Blackjack – this classic Blackjack variant uses just 2 decks of cards, and the dealer is not allowed to have a look at his second card before the player completes his hand.
MultiHand Blackjack – a variant that allows you to play 5 multiple hands at a time
Buster Blackjack – a variant with an extra side bet that allows players to win something extra when the dealer goes bust.
Perfect Pairs Blackjack – a game with an optional side bet, allowing players to bet on the first set of cards being a pair of the same value.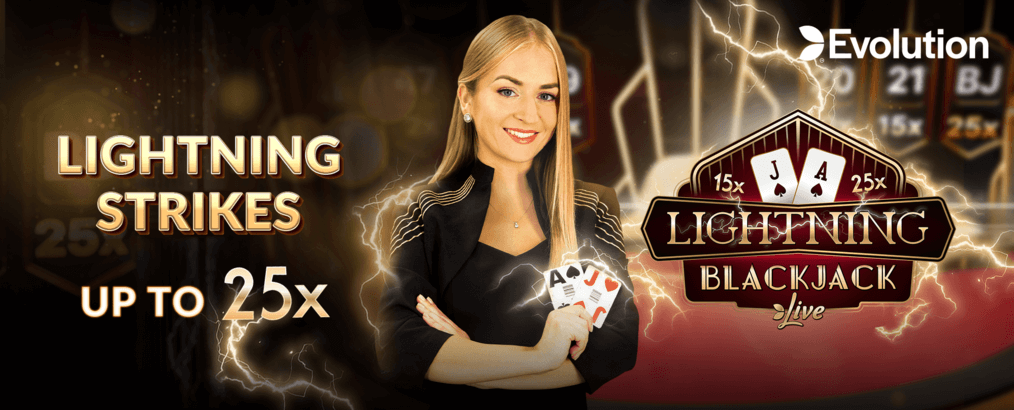 Play Blackjack on Mobile
Like any other online casino game, Blackjack can easily be played on mobile if you join a casino with an optimized mobile site or dedicated app.
Playing Blackjack on a mobile app will give you access to special features, such as push notifications, as well as a more intuitive user-experience overall. Not to mention the fact that you'd be able to play the game from anywhere without having to sign in to your casino account from a mobile browser!
The best mobile casino apps for Blackjack include:
Popular Blackjack Game Providers
There are still relatively few providers that offer Live Casino games, and the market is so far dominated by a couple of leading live casino studios.
If you're looking for a varied choice of Live Blackjack tables, then it's hard to beat Evolution. Evolution offers the widest range of live Blackjack variants, which include its standard 7-seat Live Blackjack (various VIP tables also available), Infinite Blackjack, Speed Blackjack, Power Blackjack and Free Bet Blackjack.
Playtech is another great alternative, thanks to its Classic Live Blackjack, Quantum Blackjack and Ultimate Blackjack tables.
Finally, Vivo Gaming also offers Seven Seat Blackjack and an Infinite Blackjack variant that are worth a try!

Frequently asked questions
To play Blackjack online, you need to join a secure online casino that offers the game and accepts players from the UK. You can then choose a Blackjack game from the Table Games section or play Live Blackjack at the Live Casino.
The best way to win at online Blackjack is to apply basic Blackjack strategy, which will allow you to make decisions based on your hand and the dealer's up card. A Blackjack Strategy Chart can help you learn this strategy.
You can play Blackjack for real money at any licensed online casino that accepts players from Great Britain, such as the ones recommended by CasinoHawks. Most online casinos offer multiple Blackjack games these days, with different betting limits to suit all budgets.
The only way to ensure steady wins while playing Live Blackjack is by sticking to Blackjack strategy. Card counting is not possible due to the technology used to stream and run live Blackjack games.