Most popular Blackjack variants
If you're late to the Blackjack train, we'll keep you in the know about all the wonderful variants of the number one most played card game at both online and Brick and Mortar casinos all around the world.
1. American (Classic) Blackjack
You'll find the most played and the most popular Blackjack variant, American Blackjack, also known as Classic Blackjack, at most online and Brick and Mortar casinos.
In a game of American Blackjack, between 6 and 8 card decks are utilised (although this number varies from casino to casino) and the goal of the player is to get to 21 or as close to 21 as possible before the dealer.
During a game of American Blackjack, players are given the option to "Stand", "Hit", "Split", or "Double Down", and the outcome of the game is heavily dependent on either of these actions, as well as yours and the dealer's hand, of course.
The dealer usually gets a "leg up" in this Blackjack variant, as they are able to check their face-down card (hole card) if their face card (the exposed card/card facing up) happens to be an Ace.
American Blackjack is considered very easy to play and, not to mention fun!
2. European Blackjack
European Blackjack is often compared to its big brother American Blackjack, however, there are a couple of notable differences between the two.
Unlike American Blackjack, during a game of European Blackjack, a dealer is not permitted to glance at their cards until the player has completed their hand.
Also, the "Double Down" and "Split" actions are not very common in this game, as players are only able to Double Down on hands with card values 9, 10, or 11, and only Split card pairs with a value of 10. In this case a Queen may be split but not 10 or Jack.
When playing the second most popular Blackjack variant at UK online casinos, it is a good idea to bear in mind that the rules won't be the same at every online casino.
3. Vegas Strip Blackjack
Vegas Strip Blackjack got its name due to its major popularity on the Vegas strip, especially.
While the rules of getting to 21 without going bust are the exact same in Vegas Strip Blackjack as with American and European Blackjack, the rules for playing are, again, slightly different.
In this Blackjack variant, the dealer usually stands at soft 17, and is allowed to look for Blackjack (21).
The player also has more options in a game of Vegas Strip Blackjack in comparison to the two previously mentioned variants, as they can Split a total of four hands or Double Down on any hand after splitting.
4. Progressive Blackjack
If you're a fan of progressive slots, you'll most likely love playing Progressive Blackjack as it's fairly similar to the popular progressive Jackpot slots genre.
Progressive Blackjack games are currently only available online, and are played much like Classic Blackjack games, except for the fact that they, like progressive slots, are linked to a progressive jackpot that is made up of a percentage of players' bets.
Playing Profressive Blackjack means you get to look forward to a thrilling Blackjack experience with a potential big win at the end of it!
5. Atlantic City Blackjack
You'll find that this particular Blackjack variant is mostly played in Atlantic City. In fact, a majority of American Blackjack games are played following the Atlantic City Blackjack rules.
What makes this variant differ from American Blackjack or European Blackjack, is that Aces can only be split once and you can only do so if one card has been dealt.
On the other hand, players can split different cards with 10 as their value, unlike what you'll find in European Blackjack for example.
An advantage for players in this Blackjack variant is that they are able to surrender late, which may lead to getting back some of the money wagered earlier on in the game.
6. Multi-Hand Blackjack
A game of Multi-Hand is exactly what its name suggests. In such a game, players get to play up to an impressive 5 hands at the same time.
This advantage increases a player's chances to beat the dealer significantly in comparison to a classic game of Blackjack and, at the same time, win a generous amount of money!
7. Double Exposure Blackjack
In a Double Exposure Blackjack game, where the House Edge is higher than in a Classic Blackjack card game, the dealer is dealt two face-up cards to start off the game.
In this Blackjack variant, a dealer will win during any tie except if the outcome is a natural Blackjack.
Both NetEnt and Microgaming are two game providers who each have their own adapted versions of Double Exposure Blackjack, so you will likely find it at a UK online casino that offers their games.
8. Single Deck Blackjack
Single Deck Blackjack, as the name of the Blackjack variant suiggests, is only played with a single deck of 52 cards.
This is great news for players looking for a Blackjack game with a low House Edge and a higher chance of winning against the dealer, especially if they're experienced.
Most online casinos in the UK offer Single Deck Blackjack, including online casinos liike 21.co.uk that currently offers new players £10 + 100 Bonus Spins upon sign up. Get your game on in Single Deck Blackjack over at the online casino today.
9. Blackjack Switch
In a game of Blackjack Switch, between 6 or 8 decks of cards are used and they are dealt facing up.
In Blackjack Switch, players expected to make two bets of equal sizes, however, they are given a sweet advantage by being offered a chance to trade cards between two hands; a classic "cheating" method.
What makes this method even more wonderful for any player participating in thet game is that a switch that equates to a value of 21 counts as a "Blackjack".
Blackjack Switch is, for the most part, similar to a classic game of Blackjack, but as with other "modified" versions of the popular card game, you stand a bit of a higher chance at reaching 21.
10. Super Fun 21
While the Super Fun 21 has a lot in common with its originator, American Blackjack, it's a much more entertaining version of the game.
You'll win against the dealer's hand if the value of your hand on six or more cards equals 20, regardless of the dealer's hand.
The Super Fun 21 Blackjack variant does have a high House Edge, standing at 0.94 %, so it may not be experienced players' top choice, however, it is a fun Blackjack variant to try for both new and experienced players.
11. Pontoon
In a game of Pantoon, which is much more similar to Spanish 21 than a classic game of Blackjack, there are usually between 2 and 8 participants.
Each player will be dealt two face-down cards and is required to make a bet. Once they are dealt yet another card, they are free to look at their hands.
The best hand to have is 21, a Pontoon, which needs to be made up of an Ace and a card with the value 10.
The Five Card Trick, which consists of five cards with the value 21 or less, is the second best hand to have. Both Pontoon and the Five Card Trick knock hands made up of three cards out of the water.
In a game of Pontoon, hands are ranked by value, and the higher the value of your hand, the higher your ranking.
12. Perfect Pairs Blackjack
In a game of Perfect Pairs Blackjack, a highly revered Blackjack variant, the opportunity to win is dependent on a player's first two cards and amount of side bets placed.
There are three different pairs that lead to payouts, and these are Mixed Pairs, Coloured Pairs, and lastly, Perfect Pairs.
If the first two cards you are dealt in a Perfect Pairs Blackjack game turn out to be a pair, you win the game.
13. Spanish 21
Spanish 21 tends to be played with around 6 or 8 card decks, and players are allowed to Double Down on the first two cards they are dealt, regardless of the value and suit of the cards.
Another thing to note, is that all 10 cards are drawn out of the card pile, which makes it more difficult to get a Blackjack (21).
You may find it more fun to play Spanish 21 as it offers players more options than many other Blackjack variants.
Which Blackjack Variation should you choose?
Some of the deciding factors that should play into what Blackjack variation you eventually gravitate towards are many, but one of the first and most obvious factor is what you like.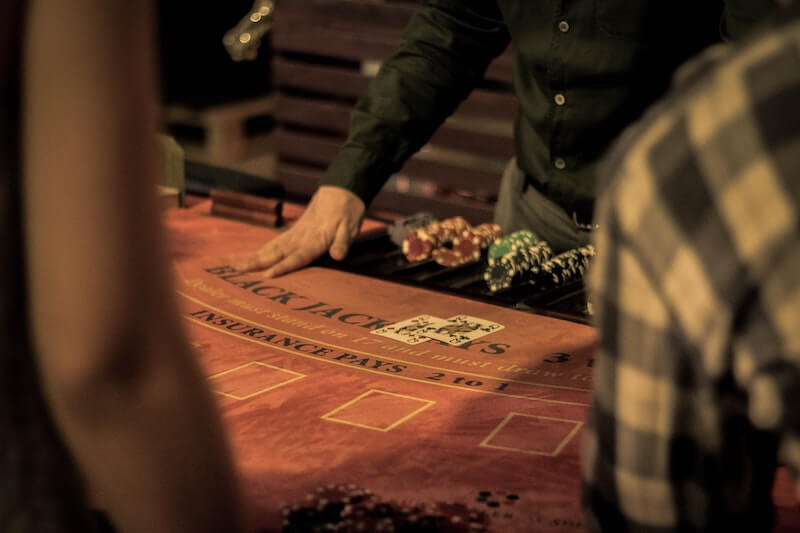 A second factor is what Blackjack variant will give you the best advantage in terms of rules, odds, bets and payouts. In other words, which Blackjack game do you stand to gain more from playing, and what Blackjack game is essentially the least complicated to learn/follow?
Whether to play Blackjack online versus at a brick and mortar casino is also another important fator to look at, although playing online may prove to be more advantageous as some of the rules at online casinos are in favour of players.
Having a look into our Blackjack Strategy page may help make your decision of which Blackjack variant to choose slightly easier.
Blackjack variants with the lowest house edge
When playing Blackjack at any online casino, you would want to look for a Blackjack variant that you will be able to profit the most from. In other words, a Blackjack game with the lowest House Edge possible.
Don't know where to find this information? Have a look at the table example below.
Example: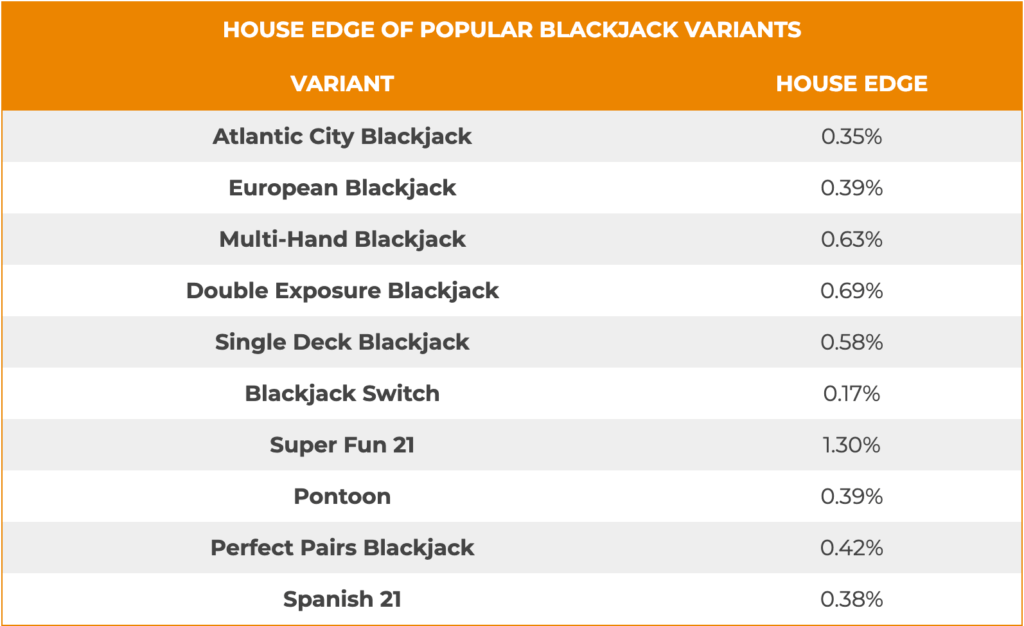 Blackjack variations that payout the most
It is almost a given that most players will flock to Blackjack variants with a low House Edge, however, it may be a difficult task to seek out such variants, so we intend to make this task a bit easier by pointing them out.
Blackjack Switch
Blackjack Switch has the lowest House Edge and the highest RTP out of the Blackjack variants listed above. The RTP in Blackjack Switch is an impressive…wait for it… 99.92 %, so expect winnings to be big once they first hit!
Atlantic City Blackjack
Next up is our beloved Atlantic City Blackjack by Microgaming with an RTP of 99.65 %. This variant can be found a variety of UK online casinos that offer games by the popular game provider.
Pontoon
The multiple-opportunity Blackjack variant Pontoon has an RTP of 99.60 %.
Spanish 21
The RTP rate in the fun and rewarding Blackjack variant Spanish 21 is a wonderful 99.58 %.
The best variants to try when you're new to casino
Being new to Blackjack doesn't have to be confusing. In fact, it may prove more fun and rewarding than complicated.
American Blackjack/Classic
The variant we recommend that you start off with if you're new to Blackjack is the original Blackjack variant, American Blackjack, so that you can become well versed with the rules as well as the game.
Once you're feeling confiden enough, it wouldn't be a bad idea to move on to a different variant.
European Blackjack
As European Blackjack shares some similarities with its big brother American Blackjack, you may also find that playing it is particularly easy once you've learned all the rules.
Both Blackjack variants, European Blackjack and American Blackjack, are good ways to build your confidence in Blackjack.
Types of Blackjack to play if you're a pro
Once you're experienced enough to venture into greener pastures, the world is your oyster, really.
From a game of Pontoon to Spanish 21, the possibilities are almost endless. Just watch out for any Blackjack variants that seem out of the ordinary.
Blackjack variations you should avoid
You should avoid Blackjack variants where the rules are too complex, especially if you're a beginner.
A rule of thumb is to stick to what's familiar, as you're less likely to land yourself in trouble, or to end up disappointed, by doing so.
Also keep in mind that the saying, "If it's too good to be true, it most likely is" also applies to a game of Blackjack.
If you're unsure, you can always turn to a customer service representative at the best online casinos.
Frequently asked questions
The Blackjack variant that we recommend starting off with if you're new to Blackjack is American Blackjack, also known as Classic Blackjack. Once you are well-acquainted with the rules of the game, you are good to go.
The highest paying Blackjack variant, as mentioned in this article, is Blackjack Switch with its impressive 99.92 % RTP.
Whether you choose to play any of the Blackjack variants at an online casino or a Brick and Mortar casino is entirely up to you, however, bear in mind that there are advantages and disadvantages that come with playing at either one. You just have to decide which suits you best.
The most important thing to look for when you are searching for an online casino at which to play Blackjack is a licensed online casino. Once you are sure that the online casino is licensed, you can rest assured that the Blackjack game you decide to play will not only be safe, but also fair.