Immersive money wheel game
AR-powered 3D Bonus Round
Discover all there is to know about this game – including features and strategies
Monopoly Live has been a wonderful addition to Evolution Gaming's growing suite of game shows. Using the same mechanics as Dream Catcher, in Monopoly Live the excitement is amped up with innovative bonus games that may lead to payouts of up to £500,000!
| | |
| --- | --- |
| Game Name | Monopoly Live! |
| Provider | Evolution Gaming |
| Volatility | Ranging from low to high (based on the numbers you bet on) |
| RTP | 96.23% |
| Features | Money Wheel Game, 3D Bonus Round |
| Min Bet (all lines covered) | 0.10 credits |
| Max Bet | 2,500 credits |
| Top Win | 500,000 credits |
Where can you play Monopoly Live?
Wondering where you can log in and give Monopoly Live a spin? Check out our selection of the best online casinos to discover dozens of safe and rewarding online casinos, or join one of our specifically recommended casinos for Monopoly Live below: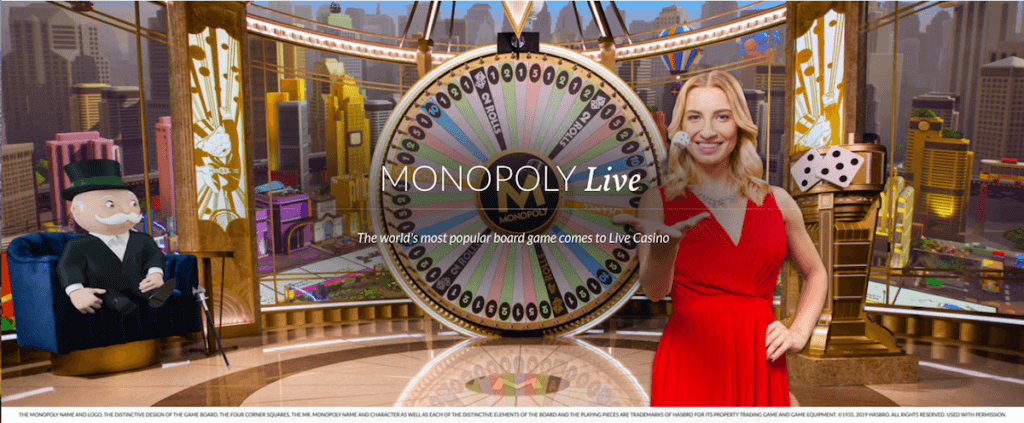 Monopoly Live Mechanics
Monopoly Live is the only live casino game based on the world's most iconic family board game. The gameplay centers around the Monopoly wheel, which is a spin-off of Evolution Gaming's equally popular Dream Catcher live casino game.
Players can bet on the wheel landing on certain segments within the Monopoly Wheel – many of which have been given a Monopoly-themed twist thanks to Evolution's formal licensing arrangement with Hasbro.
The 'CHANCE' segment gives all winning players instant cash payouts, while the '2 ROLLS' and '4 ROLLS' segments are the golden ticket to the 3D Bonus Round, with the chance to get two or four rolls in the virtual Monopoly world.
In addition to these segments, there are numbered segments – 1, 2, 5, and 10. Segment numbers 1 and 2 are more frequently dotted around the wheel, with the 5 and 10 segments being rarer. This means the size of payouts for segments 1 and 2 is significantly smaller than landing a winner on segments 5 or 10.
Exciting gameplay inspired by Dream Catcher
The excitement is two-fold on the Monopoly Live game wheel. First and foremost, you can attempt to land one of the numbered segments for an instant win. Secondly, you can win two or four rolls in the 3D Bonus Round game where you can accrue prizes, multipliers, and more.
This type of gameplay really adds to the fun. What's more, these different ways to win are clear and easy-to-understand so that you don't have to spend too long reading the rules.
Monopoly Live Symbols & Payouts
Let's familiarise you with the Monopoly game wheel. It contains the following segments:
The symbols/wheel
In Monopoly Live, you can choose to place your bet on any of the below segments:
1
2
5
10
CHANCE
2 ROLLS
4 ROLLS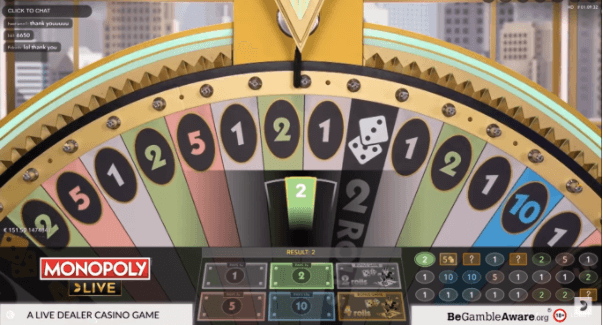 Paytable
| | |
| --- | --- |
| Symbol | Multiplier |
| 1 | 1x |
| 2 | 2x |
| 5 | 5x |
| 10 | 10x |
| CHANCE | n/a |
| 2 ROLLS | n/a |
| 4 ROLLS | n/a |
Min/Max Bet & Autoplay
The minimum bet on the Monopoly Live wheel starts from just 0.10 credits per spin, up to a maximum of 2,500 credits per spin. An autoplay function exists, allowing players to repeat their previous bets for a predetermined number of spins.
RTP, Volatility & Hit Frequency
The return to player (RTP) percentage for Monopoly Live has been set at 96.23%. It's also a game of varying volatility, depending on which segments you choose as part of your betting strategy. Segments 1 and 2 offer relatively low volatility compared with the 2 ROLLS and 4 ROLLS high volatility segments.
Jackpot and/or maximum payout
The maximum possible win during a single spin and bonus feature in Monopoly Live is set at 500,000 credits.
Monopoly Live has a low barrier to entry but watch out for volatile bonus segments
With minimum bets starting from just 0.10 credits per spin, Monopoly Live appeals to a broad spectrum of live casino players. However, it can be all too easy to get lured into betting on the '2 ROLLS' and '4 ROLLS' segments that trigger the bonus round but carry the biggest volatility.
The appeal of betting on these particular segments depends on the player and their personal preference, of course. There are other options, as you will read about below, to suit all kinds of players.
Special Features and Bonus Games
Mr. Monopoly sits casually in the real-life game studio waiting for the Monopoly Wheel to unlock the 3D Bonus Game. He's quick to get off his haunches when it's triggered, transforming players to an immersive, virtual world of the Monopoly bonus board.
To enter the 3D virtual Bonus Game, players must place bets on the '2 ROLLS' or '4 ROLLS' segments. Providing the wheel lands on the segment, the bonus game begins and Mr. Monopoly himself sets off on his merry way into the virtual Monopoly world.
If it's the '2 ROLLS' bonus, Mr. Monopoly will roll the dice twice around the virtual Monopoly board, accruing multipliers and prizes along the way. Similarly, the '4 ROLLS' segment will trigger four rolls of the dice around the board. At the end of the bonus, Mr. Monopoly will calculate your total winnings from the bonus before returning to the game studio.
3D Bonus Game transformed with the use of augmented reality
The bonus feature really does make it stand out above the rest in that it takes a recognizable, traditional game and harnesses technology to elevate the gameplay. Mixing new and old, augmented reality has given the game a real boost.
Monopoly Live Graphics & Sound
The Monopoly Live gameshow is set within a slick, state-of-the-art live casino studio, with the backdrop of the Monopoly Wheel and virtual 3D board. The game show host manages each spin and wishes all players good luck upon entering the 3D Bonus Game.
| | |
| --- | --- |
| Graphics | 3D |
| Optimised for Mobile | 👍 |
| Music | Vibrant game music played within the studio and during the 3D Bonus Round |
| Special features | Augmented reality with Mr. Monopoly before the start of the 3D Bonus Round |
A hugely engaging experience on all platforms
As you can expect from Evolution Gaming, which is the world's market leader for live casino games, Monopoly Live is available to play on desktop, laptop, and mobile devices. This fully responsive game showcases the important features, regardless of screen size.
These multiple options are not only convenient, but it allows much more accessibility. While one player would prefer to play on a desktop, others prefer to use their phones, but both are equally catered for.
Our Verdict
Having been exclusively showcased at ICE 2019, Monopoly Live has taken the live casino scene by storm ever since. With an immersive 3D bonus round that enchants fans of the classic Monopoly board game, and its real-time interaction with fun and vibrant hosts, Monopoly Live guarantees a sociable live casino experience.
Another game you could play if you like this one include Evolution's own Crazy Time, which also uses the same wheel mechanics, but can give you access to 4 highly entertaining bonus games
Frequently asked questions
Absolutely not. Evolution Gaming is one of, if not the most, respected live casino game developers on the planet. It's periodically tested and certified to have fair, transparent gaming by Gaming Laboratories International.
To play Evolution Gaming's Monopoly Live, you need to join an online casino in the UK that features the game. Luckily, there are plenty such casinos, as you'll discover in this review.
There are ways to prolong and maximize your Monopoly Live bankroll whilst reducing the overall volatility of the game. Although the 'CHANCE', '2 ROLLS' and '4 ROLLS' segments are the main targets to land, it's also important to give weighting to other segments that spread your risk.