Deal or No Deal Live is a live casino game show developed by the industry leader Evolution Gaming in cooperation with Endemol Shine.
This is a highly entertaining game that recreates the thrill associated with the popular Deal or No Deal TV show, with the involvement of RNG elements and multiplier prizes that allow players to win big!
Our Deal or No Deal Live Review below will take a closer look at this game's features, payouts and gameplay, and will also let you know where you can play Deal or No Deal Live from the UK. So hang on in there, because things are going to get exciting!
Where to play Deal or No Deal Live from the UK
You can try Deal or No Deal Live across a number of online casinos in the UK that have partnered up with Evolution. You can find the game by going to the 'Live Casino' or 'Game Shows' section of the casino platform.
Above, we've recommended some of the best live casinos in the UK which are offering this game.
What is Deal or No Deal Live?
Deal or No Deal live is a new live game show that's open 24/7, and was, in fact, the first game show that could be played around the clock.
While it is presented by an entertaining live host, all the outcomes in Deal or No Deal live are produced by a Random Number Generator, which randomly 'chooses' which briefcases are discarded and which multipliers are activated.
How to Play Deal or No Deal Live
Deal or No Deal Live is a game that consists of various 'levels', enabling players to qualify for different rounds in order to get to the juiciest prizes.
It all starts with the qualifying round, which takes place digitally on the player's screens, without the interaction of the live host.
Qualifying Round
After placing their bets, players will get to spin a three-reel bank vault with the aim of lining up gold segments that will qualify you for the next round.
Players will also be asked to select one of 16 briefcases as the one to contain the biggest prize. Before spinning the vault, players can also set the wheel to increase their chances of qualifying by staking a little extra:
Normal mode – all three reels have to be lined up (this will cost you your bet at face value)
Easy mode – one reel will be locked in, so you will only have to line up 2 other reels, increasing your chances of qualifying 3 times
Very easy mode – this locks 2 of the reels, giving you the best chance of qualifying, and costs 9x your stake.
The money that will be found in the briefcase will correspond to the player's initial bet (if he or she qualifies) from the round, plus the multiplier that will correspond to each briefcase.
The cash prize in the high-value briefcase can range between 75x and 500x this initial bet.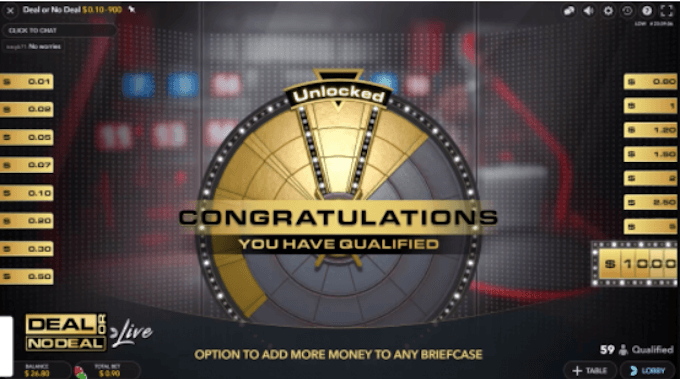 The Top-Up Round
Once they qualify, the prize top-up round begins. In this round, players will choose which briefcase they wish to put more cash in and spin a wheel.
They may also top up this amount by 5x to 50x their bet in any one of the briefcases.
Deal or No Deal Bonus Game
The Deal or No Deal Live bonus game involves opening 16 sealed identical briefcases which contain different amounts of cash.
Players will be prompted to pick one briefcase to keep until its contents are revealed at the end of the game.
Then, the player opens the remaining 15 cases one at a time, and takes decisions on whether to settle for a specific cash amount offered by the banker or whether it's worth taking a risk for a chance to win a higher cash prize which may be contained in the briefcase.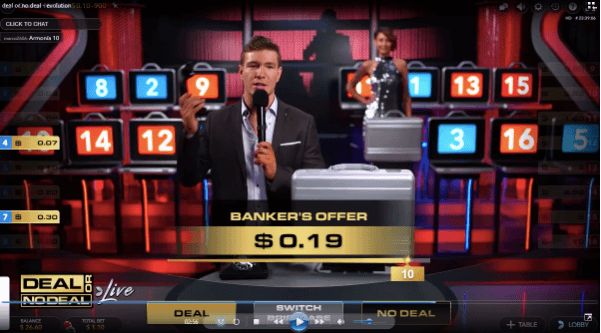 Deal or No Deal Live Odds and Payouts
Deal or No Deal pays out a top prize of 500x your initial bet. However, one has to keep in mind that this is a high-risk game, and the odds of getting the top prize are slim.
That said, will get guaranteed payouts if you accept the Banker's offer, which is why you should consider accepting it if it's more than 2x your bet.
The overall RTP of Deal or No Deal live is 95.42%.
Other Game Shows to play if you like Deal or No Deal Live
If you enjoy live game shows by Evolution, we really suggest you try out a couple of other games that the studio has come up with.
We highly recommend the following ones for their level of entertainment and payout potential:
Deal or No deal Live – our Conclusion
Deal or No Deal is not Evolution's best live game show, for several reasons. For one, the qualifying round looks like a slot bonus game, and doesn't involve any interaction with the host.
Secondly, the rounds are so quick that there is no time to build that level of suspense and excitement that you may have been familiar with during the TV show.
And the last thing to consider is that the RTP is low compared to other live casino games, such as Live Blackjack and Roulette.
So if you do play Deal or No Deal Live, we recommend playing for the fun of it, and being very aware of the level of risk you'd like to take. Indeed, the high-value box can pay you a whopping 500x your stake, but you've got to get lucky for this!
Frequently asked questions
Deal or Deal Live is a game show by Evolution Gaming, which you can play at several online casinos in the UK. It involves a game of chance that imitates the style of the original Deal or No Deal TV Show, but at a much faster pace. The game is streamed in real-time and managed by a professional host located in Evolution's studios.
To play Deal or No Deal Live, you need to join a live casino that accepts players from the UK, such as the ones we suggest in this review. Then, you need to bet real money and go through the qualifying round, before being given access to the bonus game where you can win cash prizes contained within several briefcases.
The maximum payout in Deal or Deal Live amounts to 500x your bet.
Deal or No Deal Live comes with an overall RTP of 95.42%