Are Live Casinos Legal in the UK?
Live Casino games are perfectly legal. These games are streamed live by a licensed provider, who has everything in place to comply with current regulations that promote fair practices.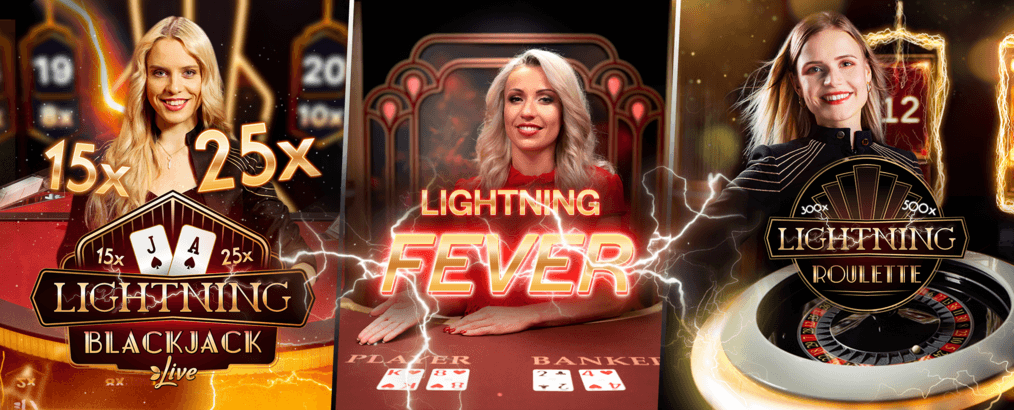 Naturally, here at CasinoHawks we only recommend casinos that offer games by providers that are licensed to cater to the UK market and which themselves comply with current operating conditions.
Are Live Casinos fair?
No. Live casino games are not only fair, but they're 100% legal.
As long as you're playing at a site that is licenced and regulated by the UK Gambling Commission, for example, you can be confident that the games are legit and you're getting the best experience possible.
What is Live Casino ?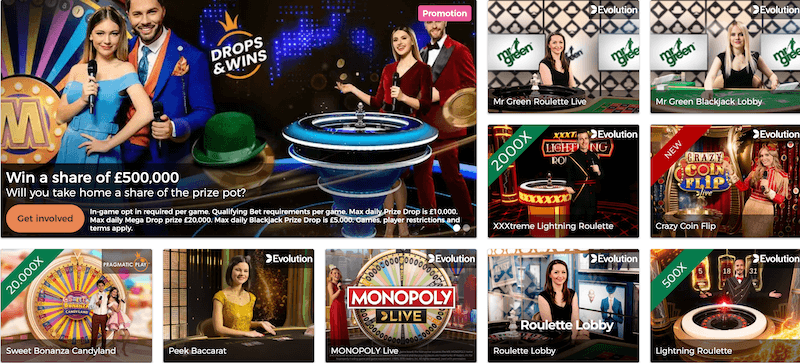 A live dealer casino is a section at an online casino where you can play table games operated by a real croupier or dealer in real-time.
Most online casinos feature their own live casino category these days, with some of the most popular ones being LeoVegas, Mr Green, William Hill Live Casino, and Coral Live Casino.
Why play Live Dealer Games Online?
Live Casino Games vs RNG (Virtual) Games
| | Live Casino Games | RNG (Virtual) Games |
| --- | --- | --- |
| Immersion | ✔ | ✖ |
| Entertainment | ✔ | ✖ |
| Feeling of Fairness & Safety | ✔ | ✔ |
| Constant Evolution | ✔ | ✖ |
The Pros of Playing Live Dealer Casino Games
What makes live casino games so different from their RNG counterparts? The answer is that there is a huge difference.

Live dealer tables are meant to provide an experience that's as similar as possible to playing at a real brick-and-mortar casino!
1. They're Immersive
Digital animations are impressive, particularly in today's gaming world.
However, there's nothing quite like a real setting. Live games don't look and feel realistic, they are real.
The cards, the table, the chips, and the dealer are all real. You can see them and, while they can't see you, they can talk to you.
2. They're Entertaining
Blackjack and other table games are entertaining in their own right, but live casinos take things a step further.
Dealers are trained to engage with players, narrate over the action and create a positive atmosphere.
Beyond that, creative backdrops, disco lights, and animations all enhance the gaming experience.
3. They're Fair and Safe
Digital casino games are safe. RNGs are complex programmes that are checked by third-party authorities.
Because you can't see the RNG technology in action, it's natural to have feelings of uncertainty.
With the combination of RNG and strict regulations and equipment that's constantly being tested, you get games that are demonstrably and visibly fair.
4. They're Constantly Evolving
Perhaps the best reason to play live casino games is the fact that developers have only scratched the surface of what's possible.
Although the technology has been in place for over a decade, live games are still younger than their digital counterparts.
This means there's a lot more room for growth. There's a lot more focus on live games right now, which has led to recent innovations such as Crazy Time and Deal or No Deal.
Live Casino – Did You Know?

The most popular live casino provider is Evolution Gaming. This company, which has dozens of tables as well as interactive game shows, has grown dramatically in the past year. Between January and June 2020, its profit increased by 98% to €124.6m, with profit margin increasing by 13% to 51%,
Most Popular Casino Games
Live casino games are no longer a novelty.
When they first appeared online, they were a novel alternative to digital games.
However, as technology has improved and games have become more immersive, the genre has taken on a life of its own.
In practice, live casino games feature a combination of webcams, RFID sensors and physical gaming equipment.
This set-up removes the need for digital animations and random number generators (RNGs).
Take Roulette, for example. Traditional online roulette requires a team of software developers to create a table, roulette wheel, and everything else associated with the game.
These graphics are linked to an RNG that uses complex algorithms to generate random results.
But when you play live roulette, live baccarat, or any other live game, there aren't any RNGs, since you can see the action play out in real-time.
As long as the equipment has been checked and certified as fair, everything runs as it would in a brick-and-mortar casino.
Live Poker
Casino poker is different from what we'd call traditional poker in the sense that you're playing against the house and not other people.
In a live online setting, you'll find different variants of poker games, such as – Casino Hold'em, Unlimited Hold'em, and Caribbean Stud Poker.
Evolution Gaming has the most varied selection of live poker variants to choose from. One place where you can try them all is Unibet Casino.
Live Blackjack
Blackjack is one of the most popular casino games in any setting.
Inside a UK live casino, the game has evolved significantly over the years.
Traditional variants such as Vegas and Atlantic City are common.
However, when you visit our recommended live casinos, you'll find a variety of modern innovations such as Blitz Blackjack, Blackjack Party, Free Bet Blackjack, and Power Blackjack. LeoVegas Casino, for instance, has also got its own VIP Blackjack lobby and exclusive Chambre Separee tables.
Live Roulette
Roulette is another game that's benefitted from the emergence of live online casinos.
European, American and French roulette tables are all still a mainstay of any live gaming lobby.
However, like blackjack, developers have found ways to enhance their products.
For example, Double Ball Live Roulette adds a second ball to the mix.
Live Rapid Roulette speeds things up so that the action is almost as fast as a digital roulette table.
Finally, a game like Live Lightning Roulette will attach multipliers to certain numbers at random.
In short, if you're looking for different ways to play roulette online, head to a live casino like Novibet, where you can also find regular promotions on the game.
Live Baccarat

Live Baccarat may not be as popular with the masses as other card games like Blackjack, but it's still a staple offering at every top-rated casino.
In fact, baccarat is often favoured by experienced gamers because the house edge is so low.
To cater to these players, developers like Evolution and Playtech have added extra wrinkles to the basic format.
Speed tables provide instant results while variants such as Dragon Tiger add extra betting options in the mix.
Live Craps
Away from cards, live casinos also offer dice games.
Live craps is becoming popular because the dealers are able to replicate the adrenaline-charged dynamics you find in brick-and-mortar casinos.
Super Sic Bo Live is also popular because the rules are simple: bet on the outcome of dice being rolled. Play both of these games at 21.co.uk.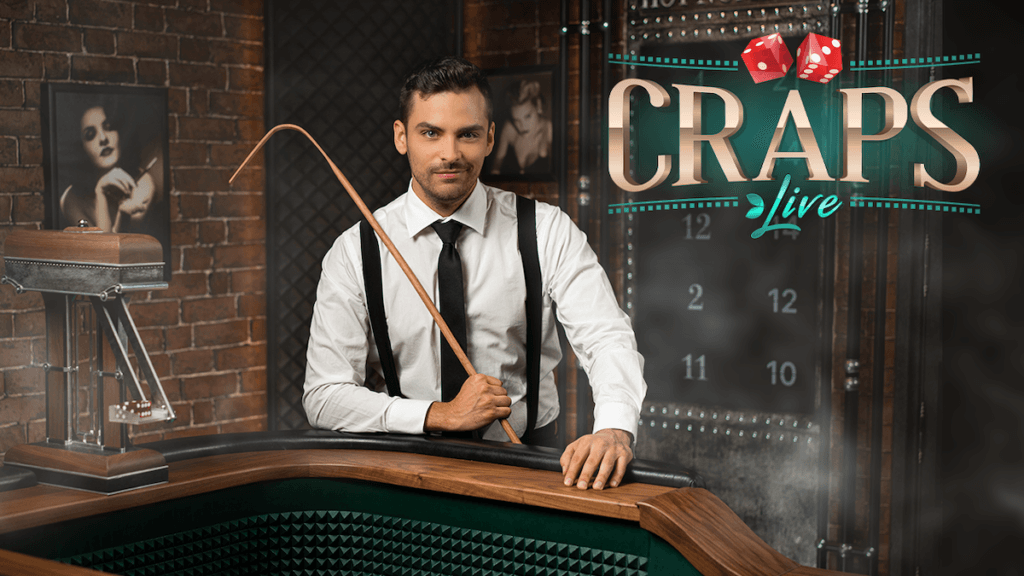 Game Shows
Game shows are the latest innovations to hit the live casino industry.
The games are powered using the same technology as other live dealer tables. However, they look and work very differently.
Indeed, for most players, live game shows are a welcome break from the norm.
Whether it's Live Dream Catcher, Monopoly Live, or Deal or No Deal Live, these games are highly entertaining.
Live Casino – Did you know?
In 2019, Playtech launched the industry-first live slots, by releasing Buffalo Blitz. Live Slots are a cross-vertical concept that turns slot gaming into a collective experience, featuring things like "community spins" whereby all players will be playing a game at the same time.
Types of Live Dealer Tables
Live dealer casino games fall into two main categories: studio-based and land-based. The difference is fairly self-explanatory.
However, before we explain what they are, it's worth knowing that the mechanics are virtually identical in both settings.
This means that webcams, RFID sensors, and backend verification software work in unison to create a great gaming experience in either setting.
Studio Tables
Studio-based games take place in an isolated venue that's dedicated to live gaming. The studio is owned by a company, such as Evolution Gaming, and will be set up to provide live casino games to a network of casino partners.
Every studio is subject to strict rules and regulations, so you don't have to worry about security or fairness. What's more, the dealers are trained specifically to host live online games.
In contrast, dealers inside a brick-and-mortar venue aren't necessarily versed in the nuances of online live casino games.
Land-Based Tables (Authentic Gaming)
In line with a demand for more live games, developers such as Authentic Gaming found a way to capture the hustle and bustle of land-based casinos. They've done this by setting up live streams inside working casinos. For example, you can play live roulette from inside London's Hippodrome Casino or Aspers Westfield via online casinos like LeoVegas.
The set-up is the same. There are webcams and sensors on the table. However, what's unique about land-based live casino games is that you're playing alongside those in the venue. Therefore, you feel a much greater sense of authenticity and, in turn, engagement because it feels like you're inside the casino.
*Did you know?
Live Roulette is the most popular game streamed from land-based casinos at the moment. Authentic Gaming has got deals with casinos around the world to stream its European Roulette, Auto Roulette, and Blaze Roulette tables.
How to Play Live Dealer Casino Games
Live game shows and casino games are easy to play. In fact, they're no different from any other type of casino game.
It pays to know the rules of the game you're playing, to have a sufficient bankroll, and bet an amount you can afford.
The one advantage live casino games have over their digital counterparts is the fact you can communicate with the dealer.
If you're not sure about a certain aspect of the game, ask. Their job is to explain and entertain in equal measure.
Did you know?

Live games and studios are checked on a regular basis. The equipment is certified as fair and the dealers are all vetted before they start.
How to Find the Best Live Casino Sites in the UK
We can tell you which are the top-rated live casinos online. In fact, we do so in our online casino reviews.
However, we also believe you need to think for yourself. Indeed, your tastes might be different to ours.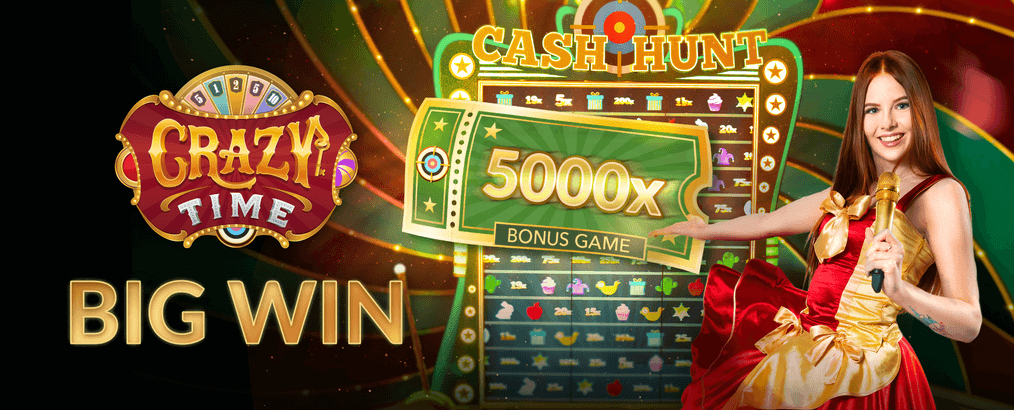 We're here to outline the facts and critique what we see based on industry experience. From that, you need to compare and make your own judgments based on your preferences.
So, with that in mind, here's a quick checklist of 9 tips you can use when assessing a live online casino.
9 Tips on How to find the best Live Casino sites
Read our reviews
Our casino reviews will let you know which live dealer tables by which providers you can expect to find at each online platform.
In this way, you can choose your casino based on your favourite provider and live games!
What's more, we also tell you whether a casino offers a live casino bonus and if it runs regular promotions on its live tables. These types of casinos are definitely the best if you're looking to play live casino primarily.
Look at the product offering
Live casino technology is impressive, so you want a site's software to match.
If the site takes a long time to load or the aesthetics aren't to your liking, it's not worth joining.
See if they offer a live casino welcome bonus or promotions
Every online gaming experience should start with a casino bonus.
All live casinos wanting to compete in today's industry have to have at least one welcome bonus.
Ideally, you want a site that has a selection of ongoing offers, like Mr Green Casino.
As well as looking at how many free credits/bets you can get, look at the wagering conditions.
If you have to jump through too many hoops to unlock a live casino bonus, it's not worth it.
Check Wagering recuirements
Always make sure that you are aware about the wagering requirements at any licenced UK casino site you are choosing to play at.
5. Does the VIP programme include live casino players?
Some online casinos will have a loyalty scheme, others won't. Those that do will value live gamers differently.
When you're sizing up a new site, look at the bonus contribution weightings.
Slots almost always have a 100% weighting but live games will typically come with a lesser weighting. In general, between 5% and 20% of every bet you make will go towards clearing bonuses and earning loyalty points.
This means that it will take longer to clear a bonus on live casino games than it would to clear the same bonus on slots.
Naturally, the better the weighting, the more attractive the site will be.
6. Presence of branded Live dealer tables
An operator that takes live casino games seriously will often have branded games. For example, LeoVegas Casino has its own selection of live tables dedicated to its players only.
These are housed in the same studio as games available across a network of sites. However, they're completely separate and only open to LeoVegas customers.
Branded tables not only provide a more intimate, preferential experience, but they're also a sign of quality.
7. Studio Appearance and Design
Live games are great but they all look different. Evolution's studios will have a different feel to NetEnt's and Playtech's.
Some developers lean more towards traditional aesthetics, while others prefer to be more innovative.
7. Technology and Functionality
How easy is it to play?
All the best live poker, blackjack, roulette and other games should be available on desktop and mobile devices.
Alongside basic functionality, you should also look for added extras such as one-touch betting, statistics and side bets that can trigger progressive jackpots.
Watch Streamers
You can follow live streamers on Twitch or other channels in order to learn the best strategy. Live casino streams will typically comment on how the game plays out, and you can get a pretty good idea if it will be worth your while!
Wagering Requirements
Are there any betting restrictions when you play live games with a live casino bonus?
Are the weightings in favour of live games or not?
These are the questions you need to ask if you're going to play live game shows and anything else online with a casino bonus.
Live Casino – Did you know?
In 2020, Evolution Gaming won the Live Casino Supplier of the Year at the EGR B2B Awards 2020, after having released a record of 12 new live games in 12 months!
Play Live Casino Games on Mobile
Live casino games are compatible with almost all mobile devices.
Operators will either have an optimised website that works with iOS, Android, Windows or any other smart mobile device.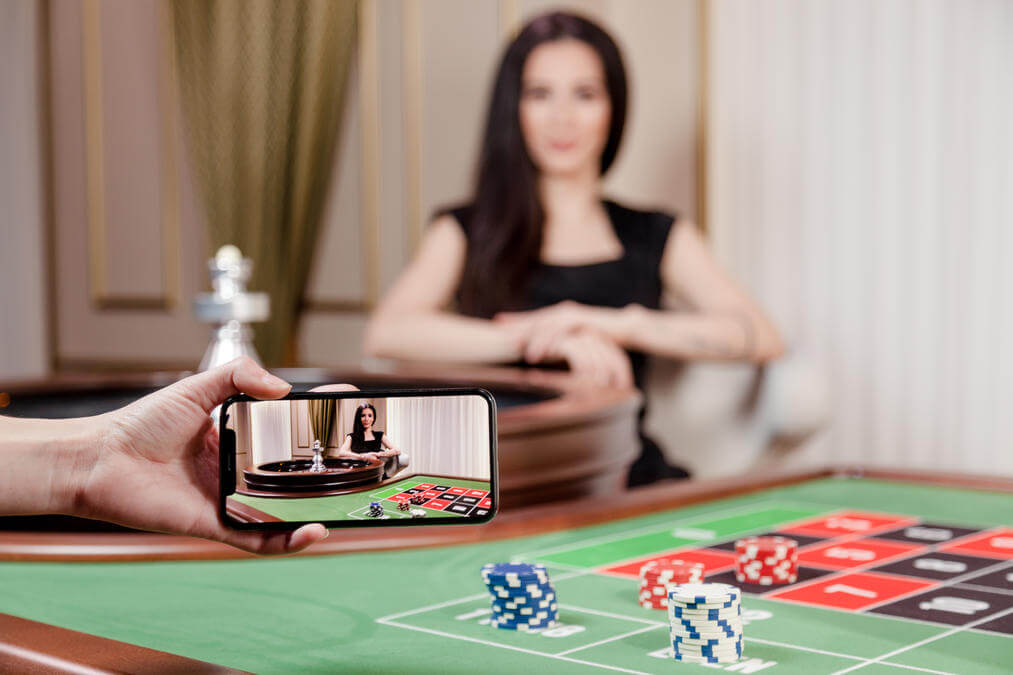 Alternatively, you'll be able to download an iOS or Android app and get instant access to live mobile casino games from your home screen.
This means you can play at a time and location of your choosing.
But what about data consumption?
It's true that live casino games consume more data than their digital counterparts.
It's typically the case that mobile slots will use 1KB of data per spin. Live games do consume more.
However, the technology has been refined over the years to the point it's now low enough to not be a huge concern.
Still, if you are low on mobile data, we'd suggest playing via a stable WiFi connection.
Some online casinos have their own dedicated mobile app these days, allowing you to play live casino games on the go without resorting to a mobile browser. Among the best live casino apps, you've got LeoVegas, Unibet and Mr Green.
How Do Live Casinos Work?
Live casino games are extremely slick in their delivery but they work in a fairly simple way.
To host a live game, studios such as Evolution Gaming use the following:
A live gaming studio or a land-based casino.
A gaming table/gaming equipment.
A dealer/croupier.
HD webcams.
RFID sensors.
A virtual interface and online database.
When you piece all of the above together, you get a casino game that plays out inside a studio as if it was in a real casino setting.
From there, the action is broadcast to a network of casino sites via the webcam/s.
Every move is visible to players and recorded by RFID sensors that transmit the data to an online database.
Finally, players can use the virtual interface to place their bets.
This information is also stored in the database and, once the results are in, everything is cross-referenced to determine who wins.
Best Live Casino Providers and Software
Some of the top live casino developers you should check out are:
Evolution Gaming: The leader in this field, Evolution not only creates high-quality live roulette, blackjack and other table games, but innovative offerings such as Dream Catcher, Monopoly and Crazy Time. You can find Evolution's live dealer game at most online casinos, including 21.co.uk, Rizk and Novibet.
Authentic Gaming: The top supplier of land-based live casino games, Authentic focuses mainly on roulette. It does offer studio-based games. However, its partnership with international land-based casinos like Foxwoods, the Hippodrome and Grand Casino Bucharest means it offers uniquely authentic experiences. You can play live casino games by Authentic Gaming at LeoVegas Casino.
Playtech – Playtech offers a wide range of tables in multiple languages and some unique variants of Roulette, Blackjack and Baccarat (such as Prestige Roulette, 7 Seat Baccarat and Ultimate Blackjack). It's also the creator of Community Live Slots, such as the latest Age of the Gods: God of Storms. A good place for British players to try out Playtech's live casino is Betfred Casino.
NetEnt Live: NetEnt is probably best known for its slots and digital table games. However, in recent years, it's moved into the live arena. NetEnt Live creates branded games, roulette and a variety of blackjack variants, including Blitz, in 12 different languages.

Studio tables
At the moment, studio-based tables are by far the most popular. In order to stream land-based tables, the provider has to resort to additional resources and make deals with a real land-based casino. For this reason, the choice of land-based tables is not huge.
In fact, most land-based tables right now are the Roulette games streamed by Authentic Gaming.
On the other hand, you'll find dozens of studio tables by Evolution Gaming, NetEnt, Pragmatic Play and others. Studio tables give you more flexibility and normally come with different betting limits to suit different budgets. You'll find VIP tables, and multiple variants of Roulette, Blackjack and Baccarat.
How to register at a Live Casino?
Registering at a Live Casino is similar to registering at any online casino.
Head to the casino homepage.
Click on the sign-up or register button
Enter the required details (name, email address, phone, etc)
Validate your account.
Claim your live casino bonus (if available)
Head over to the Live Casino section of the platform (you will typically find this in the main menu)
Choose a table that suits your budget and join (some tables run 24/7 while others are open only at certain times of the day).
Solutions to common issues when playing Live Dealer Casino Games
Thanks to advancements in technology, playing at a live dealer casino is usually a smooth and hassle-free experience.
Everything is in place to ensure fairness and transparency, while the software has improved immensely so that game loading and streaming quality are usually top-notch.
However, if you're a live casino newbie, you may still have a few common issues or questions.
What happens if I lose connection while playing a live casino game?
You need a steady internet connection in order to be able to take part in a live game. If your connection goes down, the game will go on, and the casino will pay you if you had already placed a bet and your bet wins. This means that once you regain connection, you'll see the money in your account?
If the casino loses connection and a live game is interrupted, then all bets are refunded.
I cannot use my welcome bonus on live games
Some casinos offer a separate live casino bonus for use on Live dealer tables. Others will offer a match bonus that you can use on both slots and some live games. However, some casinos limit their bonus for use on slots only, or on a handful of selected Live dealer tables. It's important to consult the terms and conditions of each bonus to check whether you can use it on live tables, and if yes, which live tables you can play at with that bonus.
I want to play a live casino game for free first. How can I do this?
Unfortunately, you cannot play any live casino game in demo mode. Unlike slots, live games require human resources and therefore you should place at least the minimum bet required in each game. Luckily, the minimum bet can be as low as £0.10, so you can still join in the fun on a very low budget!
Frequently asked questions
To play live casino games from the UK, you need to register for an account with an operator which is licensed by the UK Gambling Commission. Then, you need to make a deposit and visit the live casino section. From there, you will be able to choose your preferred live table and place your bets.
We consider the best live dealer casino to be one that offers a large selection of tables with different betting limits, and which also runs rewarding live casino promotions and awards players with regular bonuses. Some of the best live casinos online include LeoVegas, William Hill live casino and Ladbrokes live casino.
It is not possible to play live casino games for free, but if you join a live casino you may be able to claim a live casino free bonus and play live games using bonus funds. You can play live casino games as long as you bet the minimum per round (which may be as little as £0.10).
Some operators will give you a live casino bonus on deposit, whereas others will run regular or special offers on their live tables. Check out our reviews on CasinoHawks to discover which casinos offer live casino bonuses in the UK.