Live Casino provider Evolution Gaming have come up with a new take on Live Roulette by launching their original, captivating and stunning Lightning Roulette in 2018.
This live casino version of Roulette adds a couple of rewarding features to the classic Roulette we may be familiar with, among them exciting multipliers that are applied to the usual Roulette wins!
Our Lightning Roulette Review will look into its rules, features and payouts, to let British players what to expect before they step into the electrified game studio!

Where to play Lightning Roulette from the UK
If you'd like to try out Lightning Roulette from the UK, we can recommend the following online casinos which offer the game, and which may also treat you to a couple of great bonuses for you to use on live casino games.
Lightning Roulette rules and features
Lightning Roulette may be considered to be an enhanced version of European Roulette.
The dealer in Lightning Roulette doesn't spin the wheel himself, instead it spins automatically when the game starts. Players can place their bets on individual numbers, groups of numbers or colours.
Once betting stops, the number board will be struck by lightning, and between 1 and 5 'lucky numbers' are chosen at random.
If you win a straight up bet on these numbers, Lightning Roulette will not pay out the usual 35:1; instead, a multiplier is applied to the win, which can range from 50x to 500x!
For this reason, the payouts awarded by Lightning Roulette are different from other Roulette variants:
Straight up bets: between 29:1 and 499:1 (depending on the multiplier applied)
Split bets: 17:1,
Street bets 11:1
Corner bets: 8:1
Line bets: 5:1
Lightning Roulette dealers
Dealers in Lightning Roulette are friendly, talkative and very entertaining, even though they are not all native English speakers.
As usual, Evolution Gaming has employed professional and well-trained staff to oversee this exciting game!
You can also chat to the dealers via the integrated live chat window and they will readily answer all your questions.
Where to play Lightning Roulette
You can now play Lightning Roulette at any of the below casinos by browsing for this game in their Live Casino category.
These casinos are also famous for running special promotions on live casino, so make sure you also visit their Promotions page from time to time.
Alternatively, you could check our offers section regularly, where we'll notify you about current offers on live casino.
Lightning Roulette UI and design
Lightning Roulette looks strikingly different from other Live Roulette variants. The studio set up reminded me of TV game shows like the Wheel of Fortune, and in fact, the dealer acts very much like a presenter.
There are black red and green panels adorned with a golden framing, and the most popular numbers start to shake so that players can see what others are betting on.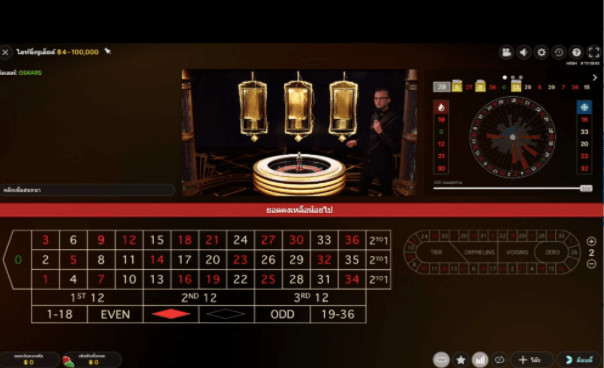 Once the wheel is spun, the dealer pulls a lever which causes the lightning to strike the panels, thus choosing the lucky numbers.
The broadcast is of top-notch quality, like any other live games by Evolution gaming, while the interface is user-friendly and attractive.
Lightning Roulette minimum stake, RTP & hit frequency
You can play Lightning Roulette by staking as little as £2 a spin. The RTP is set to 97.3%, but it's worth noting that straight up bets have a reduced payout of 29:1 when the lightning multipliers aren't applied to the win.
According to player experiences, it seems that you can expect to benefit from multipliers at quite decent intervals, which gives a good boost to your bankroll.
However, it seems that the maximum multiplier of 500x is quite hard to come by. With regard to Lightning Numbers, getting 2 or 3 is the norm while having 5 lucky numbers is very rare.
Lightning Roulette Review – Our Conclusion
Lightning Roulette may be ideal for those who are aiming to win big, given the 500x multiplier which you don't find on any other Roulette variant.
However, one should expect a number of spins without any multiplier being applied, and when you take into consideration the lower payouts for straight up bets without the multiplier, what you get back after a number of rounds isn't that different to the standard Roulette.
Nevertheless, Evolution Gaming's excellent dealers, the attractive studio and the stunning visual and sound effects that you experience while playing Lightning Roulette make for a highly entertaining time, and if you're feeling lucky, we certainly recommend giving this game a try.
Click on the links to our recommended casinos in order to get a new player bonus on Lightning Roulette and other live games!
Watch our interview with Todd Haushalter from Evolution Gaming about Lightning Roulette!