| | |
| --- | --- |
| Pros | Cons |
| Great RTP value | Number of bonuses is pretty random |
| Same look and feel of Gonzo's Quest | You cannot play the game forfree |
| Multiple exciting prizes | |
| Top-quality graphics | |
Gonzo's Treasure Hunt is none other than a live treasure hunt that combines slots mechanics with a live game show atmosphere. The player – led by a professional live host from Evolution Gaming – will participate in this unique hunt in search for multipliers and thrilling prizes!
In our Gonzo's Treasure Hunt Review, we'll give you an overview of the game and where you can play it from the UK. We'll also take a good look at the game's bonus features and visuals to assess the overall gaming experience.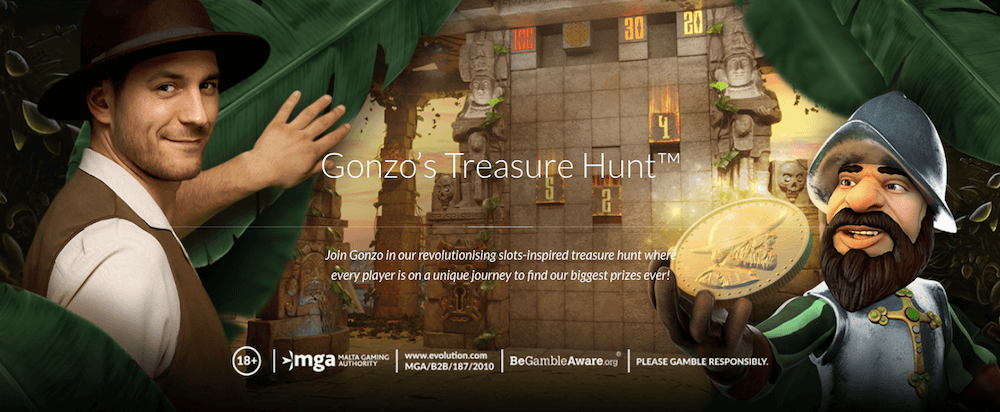 | | |
| --- | --- |
| Game Name: | Gonzo's Treasure Hunt Game Show |
| Provider: | Evolution Gaming |
| Volatility: | Medium |
| RTP: | 96.56% |
| Features: | Bonus prizes, re-drops, multipliers |
| Paylines: | 7×10 Grid |
| Min Bet (all lines covered): | £0.10 |
| Max Bet: | £1,000 |
| Top Win: | 20,000X |
Where You Can Play Gonzo's Treasure Hunt
Below, you'll find several casinos that currently offer Gonzo's Treasure Hunt. For your convenience, we've also listed out the welcome bonus for each casino.
Genesis Casino: At Genesis, you can get started with a live casino bonus of up to £100
Mr Green Casino: Enjoy a 100% match bonus of up to £100 when you deposit for the first time. T&Cs apply.
PlayOJO Casino: PlayOJO Casino has an exciting offer for players: 50 free spins with no wagering requirements.
With Gonzo's Treasure Hunt being a new game, we certainly expect to see the number of casinos where you can play to keep increasing. To find the game, you'll need to go to the casino's live casino or game show section.
Gonzo's Treasure Hunt Mechanics
If you've never played this Gonzo's Quest slot before, don't worry. We'll go over the mechanics in detail and explain exactly how things work. If you played Gonzo's Quest slot, you'll notice a familiar feel and atmosphere.
First, you'll see a large stone tablet that's split into a 7×10 grid. There's a total of six symbols that can appear on the grid. The lower paying symbols occur more often, with the highest paying symbol being much rarer.
Each symbol also has a specified payout (we'll discuss these more later on). The basic idea is that you place a bet on certain symbols and then try to guess where they'll appear on the grid. If you pick correctly, you get a payout according to the symbol's value.
The total value of the bet you place depends on two main factors. It includes the number of symbols you choose and the number of spots on the grid you choose to select. Players can mark up to 20 locations on the large stone grid (called Picks). Every player will enjoy a unique experience, based on the stones he or she chooses, and how many picks are bought.
To add to the excitement, Gonzo will turn a big golden key to activate some of the bonus features. These include multipliers, re-drops and other bonuses prizes. We describe each of these in detail in the special features section.
Gonzo's Treasure Hunt Has Exciting Gameplay
We really enjoyed the gameplay and found it to be fairly straightforward. After a few rounds, you should be familiar with the process and how it works.
Waiting for the big reveal is one of the most exciting parts. It's also interesting to see where each of the multipliers and other bonuses will land. Overall, it's enjoyable and will keep you on the edge of your seat.
Gonzo's Treasure Hunt Symbols & Payouts
Below, we've offered a detailed analysis of the game's values. Is the RTP value high? How about the volatility? All your questions will be answered.
The Symbols
Naturally, the live game show version borrows from the original Gonzo's Quest slot. The symbols are no exception. If you remember those carved faces on the stone tablets, then you'll be very familiar with what you see here.
In total, there are six symbols you can choose from. In terms of colour, there's a brown stone, an orange stone, a purple stone, the green stone, the blue stone and a red stone. Each stone has its own value, with the red one having the highest payout.
Expect to see many of the brown stones (which offer the lowest payout). The red stone, on the other hand, is rare.
Paytable
Here's a quick rundown of each symbol and the amount you can win based on your wager.
| | |
| --- | --- |
| Brown Stone | 1x |
| Orange Stone | 2x |
| Purple Stone | 4x |
| Green Stone | 8x |
| Blue Stone | 20x |
| Red Stone | 65x |
Min/Max Bet, Autoplay Option?
Gonzo's Treasure Hunt has a huge betting range. You can start with a bet as low as £0.10. The highest bet, though, is a whopping £1,000 (this may vary according to the casino where you play it). This means even high rollers can get great enjoyment from this game.
There's something important to note about how the total bet works. Here, you're making two kinds of bets. One is on the symbols themselves, and the other is on where they'll appear. The number of locations you select on the stone grid will multiply your bet by that much. In this way, what seems like a small bet of €1 can quickly increase to larger amounts.
The game also comes with an autoplay function. You can choose to have the same bets on certain locations for several rounds. This certainly saves you the trouble of having to select these things each time.
Gonzo's Treasure Hunt RTP, Volatility, Hit Frequency
The RTP value is respectable at 96.56%. This is above the average of 96%. The volatility of the game is medium, which should make for a more consistent and balanced experience.
In terms of hit frequency, it's a bit difficult to talk about this in the same way you would with a slot game. For one, it's directly tied to how many locations you decide to choose. The more you choose, the more likely you are to select a winning spot. To use an extreme example, if you only pick one, your hit frequency might be pretty low.
Gonzo's Treasure Hunt Maximum Win
The highest possible win in the game is 20,000X your bet. To achieve this, you'll need the help of the multipliers and other bonuses available in the game.
Gonzo's Treasure Hunt Offers the Player a Range of Options

The betting decisions you chose to make in the game can greatly affect your odds of winning. Of course, to have the best chances, you'd want to select the maximum of 20 blocks on the grid that the game allows. At the same time, though, this option is the most expensive.
It's decisions like this that make the game exciting. You need to properly balance your budget and how many opportunities you want for winning. With a solid RTP value of 96.56%, the game becomes much more appealing.
Special Features in Gonzo's Treasure Hunt
Now it's finally time to explain those special features we've mentioned earlier before. We'll talk about exactly how they work and what you can look forward to.
Multipliers
In Gonzo's Treasure Hunt, there's a potential for multipliers at the beginning of every round. Once the bets are placed, and the locations are selected, Gonzo activates the multiplier feature. Multipliers of varying amounts will fall from the top of the grid and land on a block below. Where they stop is entirely random.
Of course, you want a multiplier to land on the sections of the grid you selected. If you get a win and that same block has a multiplier on it, your win will be multiplied by that amount.
Re-Drops
You can think of re-drops like re-spins in slot games. While not exactly the same, it's a similar idea. Here, the re-drop causes the prizes to drop down again. This means, for example, that you can get multiple drops of multipliers. It's possible for multipliers to land on the same block twice for massive wins. You can get up to 10 re-drops in a single round.
Gonzo's Treasure Hunt Offers Some Great Bonuses, but things are completely random.

The bonuses offered in the game are pretty exciting, and we quickly saw how it's possible to rack up the wins. The idea to have Gonzo turn a gold key to activate the bonus is an amusing addition.
The main thing to watch out for here is the re-drops. If you're lucky to get a few of those, there's a real possibility of getting some big wins. Of course, with most casino games, things are very much luck-based. For example, you might only have two multipliers drop down in a given round and leave you disappointed.
Gonzo's Treasure Hunt Graphics & Sound
Gonzo's Treasure Hunt has a similar look and feel to Gonzo's Quest. Most fans will probably be happy to see a very familiar setting.
Now, however, we get to see everything in 3D, which makes it all the more exciting. The music is a jungle theme, similar to something you might have heard from the SNES era. There are many fitting sound effects, such as when Gonzo turns the key and when the stones move around. Everything fits together perfectly.
The game is fully optimized for mobile play. There was something quite satisfying about being able to pick the locations on the grid directly on a touch screen.
| | |
| --- | --- |
| Studio set | Ancient ruins background |
| Optimized for Mobile | 👍 |
| Music | Jungle theme, with various sound effects |
| Special features | Animations, option to play in VR mode! |
Gonzo's Treasure Hunt Offers Amazing Graphics
We were quite impressed by what we saw here. Casino games have certainly come a very long way, and Gonzo's Treasure Hunt is one of the best-looking ones.
The game has several little touches you have to appreciate. First, you'll see flickering flames on the torches. There are running waterfalls in the background, moving fog and flying birds. Gonzo himself is the most exciting of all, and you'll even see him break out in dance from time to time.
Last but not least, the option to play the game in VR (virtual reality) mode makes things even more immersive and thrilling!
Verdict
We weren't quite sure what a live game show version of Gonzo's Quest would look like. We can say Evolution Gaming has done a great job of capturing the overall atmosphere players love and putting it into a live game.
There are many things you can praise about the game. The gameplay, mechanics and graphics are all excellent. The only major criticism is the bonus features can be inconsistent. Overall, the game is quite fun and gets a final score of 90/100 from us.
Similar Games to Enjoy
Live game shows are still evolving and are not as numerous as slots. Gonzo's Treasure Hunt is pretty unique now as far as the overall theme is concerned.
Several other popular live game shows include Crazy Time, Deal or No Deal Live and Monopoly Live. Although if you simply love Gonzo, nothing beats the original slot and the latest remake, Gonzo's Quest Megaways.
Frequently asked questions
The RTP value is above average at 96.56%.
Sadly, no. You have to make a minimum bet of £0.10 in order to participate in the game.
To play Gonzo's Treasure Hung, you need to join a licensed online casino and browse for the game under the Live Casino or Game Shows section. Before playing, you need to have some balance in your casino account, as each game round will cost you a minimum of £0.10.