The first Live Craps game from one of the best live casino providers
Two bet types and a Number feature make things even more exciting
An immersive 1920s style speakeasy-themed studio!
Our Craps Live Review takes a detailed look at Evolution Gaming's new live version, which is the first game of craps to land at a live casino.
So keep reading to find out what Craps Live offers players, and to learn which special features make it particularly worthwhile.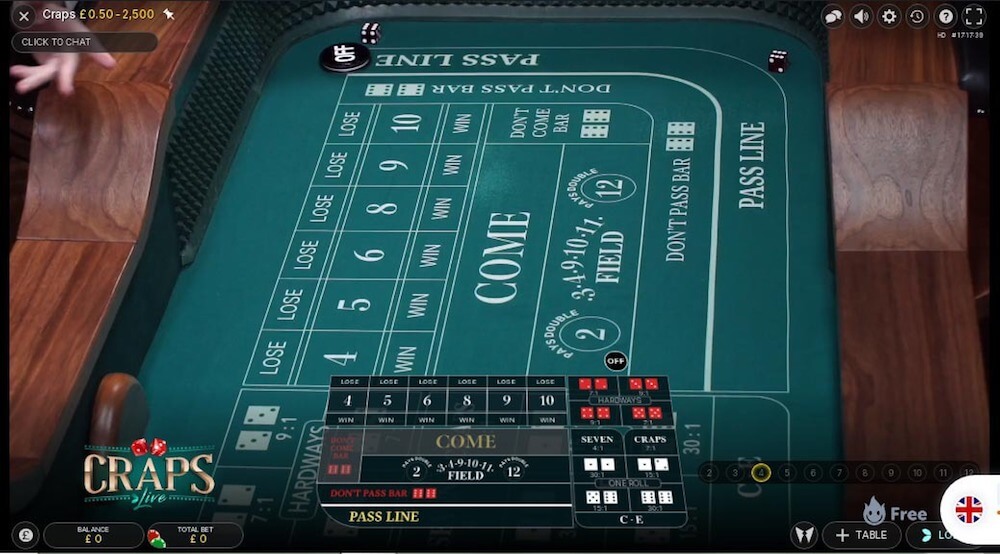 Craps Live Game Overview
| | |
| --- | --- |
| Game Name | Craps Live |
| Provider | Evolution Gaming |
| RTP | 83.33% – 99.17% |
| Features | My Numbers, Easy Mode, Tutorial and Dynamic Statistics |
| Min Bet | £0.50 |
| Max Bet | £1,500 |
| Max Win | ? |
Where to play Craps Live from the UK?
If you visit any online gambling site that features a live casino, there's a good chance Evolution Gaming provides most, if not all, of the titles in this category. Craps Live is the latest addition to its already impressive portfolio. Evolution Gaming is particularly common in European online casinos, so if you check out a UK-based site, you're practically guaranteed to find Craps Live.
What is Craps Live?
Craps Live is a live casino version of the popular gambling dice game, craps. It features all the same bets, but with the added convenience of being able to play it from the comfort of your home. Craps Live also incorporates a raft of features that take full advantage of the online setting.
When you join a game of Craps Live, you'll get access to a live studio feed. The room is decorated to resemble a 1920s speakeasy, complete with dark wood panelling, bare brick walls and a dynamic statistics board.
In a brick-and-mortar casino, the person who rolls the dice is known as the shooter. Craps Live has a live dealer in this role, who doesn't roll the dice but instead triggers a mechanical arm. Evolution Gaming figured this would negate the possibility of players blaming the dealer for a bad throw.
Semi-automating the rolling process is just the first small but important change you'll find in Craps Live. Since the game incorporates a multitude of complex bets (see below), Evolution Gaming has incorporated a tutorial into Craps Live. So if you're either new to the game or feel a little rusty with the rules, you can ease into proceedings.
Craps Live Features
Speaking of which, there's also an easy mode feature. This changes the live interface to only highlight the easiest to understand bets. The downside is this also makes the betting area on the Craps Live table a lot smaller. However, once you feel confident enough, you can switch to the normal mode and unlock the full range of wagers.
Undoubtedly the best feature of Craps Live is My Numbers. You're shown all possible number totals together with corresponding payouts, and you can place bets either on the table or via the My Numbers interface.
For example, say you bet on both dice totalling 10. You can click on this number, and My Numbers will calculate the win based on your stake. You can also click on a number to highlight all the relevant bet spots on the table, to make a more complex wager.
Cool your jets. It's not very 1920s, but it sure is handy. You'll be able to see Popular Bets and Top Numbers as a game progresses and all players place their bets. All of this adds to the excitement of playing Craps Live.
How to Play Craps Live
A round in Craps Live works the same way as regular craps: you have a set amount of time to place a bet, then the dice are rolled, and you either win or lose. Of course, it's more involved than that, which is what we'll now look at.
Craps Live has two roll phases in a round: Come Out and Point. You can place bets during each step. When the dice are rolled, an icon on-screen displays either 'OFF' (Come Out) or 'ON' (Point), with available bets affected by whichever roll it is.
1. You place a bet (or multiple bets) first by selecting a chip value (displayed across the bottom of the screen) and then by clicking the relevant part of the on-screen table, with available wagers dependent on whether you're in Normal or Easy Mode. You can also click the My Numbers display in the bottom right corner to make a bet.
2. The first phase is always the Come Out roll. The main bets for this phase are called Don't Pass (win on 2 or 3) and Pass Line (win on 7 or 11). If the total is 12 and you've bet on Don't Pass, it's a push (effectively a draw) and your stake's returned to you.
3. If the dice total 4 to 6, or 8 to 10, you'll enter the Point phase. The game stays in this phase until either a 7 or the initial Point total (e.g. 6) is rolled. The round then ends, bets are settled, and a new Come Out roll is made.
If you're struggling to wrap your head around whether to place a hardways wager, go for 'lay' or 'take' odds, make a field bet or something else, don't worry. You'll have around 10 – 17 seconds to place bets as the dealer scoops up the dice and resets the throwing arm.
Plus, you can always double-check the interactive tutorial to brush up on bets and the respective win conditions.
Craps Live Payouts
Since there are so many possible combinations in Craps Live, the payout odds vary wildly from bet to bet, as shown below:
For one roll wagers, the payout odds are as shown: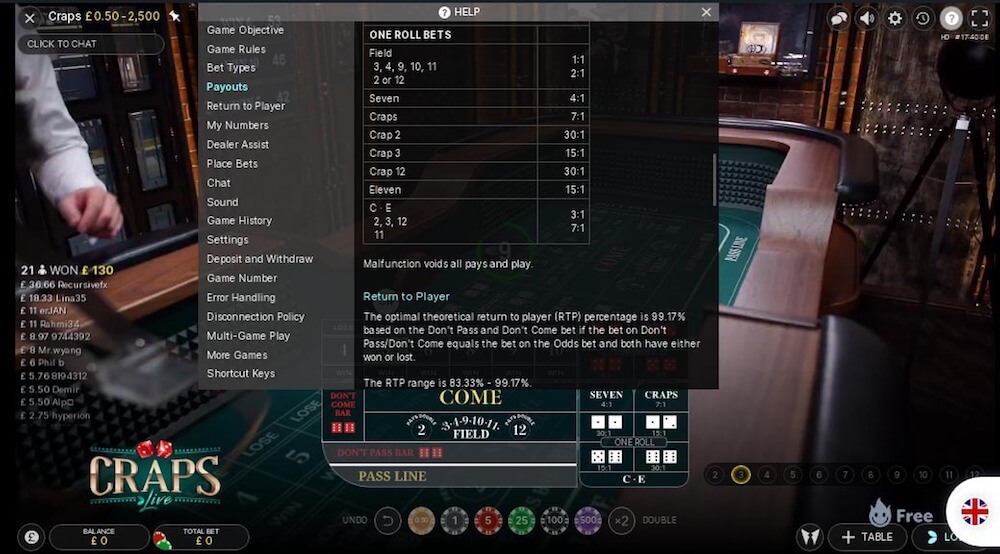 Craps Live Strategy
It's difficult to say what the best betting strategy is for Craps Live since luck plays such an essential role in the game. This is reflected in the return to player percentage, which varies from 83.33% – 99.17%. The highest amount is linked to the Pass Line/Don't Pass bets, assuming the wager on either of these equals the Odds bet.
If you're a new player to Craps Live, the best strategy is to pick the bets that afford a win with a range of numbers (for instance, Field, which pays on a roll of 2, 3, 4, 9, 10, 11 or 12).
Most importantly, only wager what you can afford to lose, and quit when you're ahead.
Graphics & Sounds
Craps Live from Evolution Gaming looks and sounds great. Cool jazz plays during every game, accompanied by subtle crowd ambience, which sets the tone and makes it feel like you're truly part of the action. The studio is suitably swanky with period-appropriate decor and a sharply dressed dealer.
Minimum and maximum wager limits are displayed in the top left corner, with other buttons scattered around the edges for setting a stake amount, your account balance, and so on. You can also chat live with other players, with the dealer often striking up a conversation based on what people are typing.
Other game shows to play if you like Craps Live
Evolution Gaming also offers a First-Person Craps option, that's played between you versus the computer. As such, it uses an RNG (Random Number Generator) to ensure no two games are the same. It also incorporates the tutorial and My Numbers features from the live version. When you're ready to, you can click a 'Go Live' button and join in a Craps Live game.
If you're a fan of live gaming, and have either no game preference or want to try something different, Evolution Gaming has got you covered. From Live Roulette and Blackjack to wheel of fortune-style game shows such as Crazy Time, there's no shortage of live dealer titles to try your luck on.
Craps Live – our Conclusion
The special features definitely make Craps Live a great online craps variation to try. The betting rules are lengthy and complicated, but a built-in help panel neatly explains everything. Easy Mode is a boon for new and inexperienced players, and the dynamic statistics could help those with a head for numbers work out favourable betting odds.
The hosts are all professional and lively, the music and ambience are spot-on, and the screen layout avoids feeling cluttered despite the array of buttons. This makes Craps Live another excellent live dealer title from Evolution Gaming.