A Dark Matter review
Microgaming's Slingshot Studios have outdone themselves this Halloween with their latest Halloween slot: A Dark Matter.
Usually a term used by scientists to describe an undetectable matter in space that generates extra gravity holding galaxies together, this mysterious particle is what pulls the story of this slot together, lending it mystery and intrigue.
A Dark Matter is not only an interesting slot with potential high payouts, but Slingshot studios have developed a whole story around this slot, including a website dedicated entirely to the A Dark Matter slot.
A Dark Matter slot – The Story
Small town Stonehurst is in a bind. Halloween was just around the corner, but the dread was real. Who was behind the mysterious disappearances around town?
There was only one place to look: Wraith Manor. Owned by the last of the Wraiths, the cold Lady Eleonor Wraith, she sits on a vast fortune, amassed by her deceased husband long ago, a shipping magnate and unusual artefact dealer.
Speculation has always suggested a shadier side of the business.
To get to the bottom of all this intrigue, the town hires investigator Nathan Highmore, a man with a checkered past and a reputation that precedes him.
Chief of Police Bertram Lynch, ex-military in search of a quiet lifestyle, has an uncanny six sense that warns him of sinister under goings. He's far from thrilled at the prospect of an outsider joining his investigation.
Molly Perkins, Wraith Manor's newest employee, may have gotten in over her head. Dread is a tangible thing at Wraith Manor, and her curiosity might be her undoing.
And what's with Silas Brewer, Lady Wraith's right-hand man? Having served and protected the Wraiths all his life could he be the key to unravel the mystery?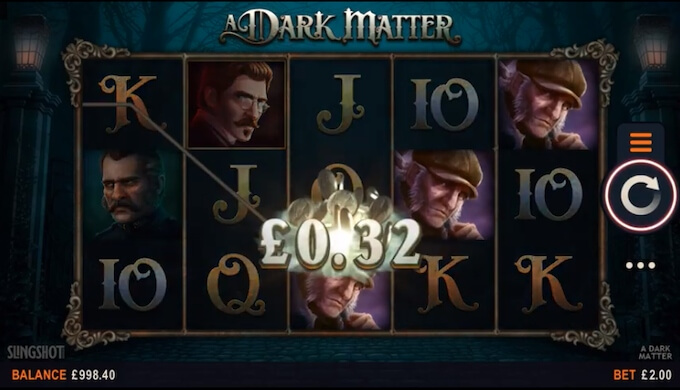 A Dark Matter Slot Features
The nail-biting story is not the only thing that this slot packs, but a number of features that are sure to keep slot players entertained.
The slot is set up with a 5×3 reel and it has 5 pay lines that work both ways. The reels are made up of the card suit A, J, K, Q and 10 together with the characters of our story: Lady Eleonor Wraith, Nathan Highmore, Silas Brewer, Molly Perkins and Bertram Lynch.
The game has rather high payouts: the card suit 10 to A pay from X0.6 to X14, while the highest paying symbols are the protagonists of our story:
Nathan Highmore – x600 your bet
Lady Eleonor Wraith – x160 your bet
Bertram Lynch – x120 your bet
Molly Perkins – x80 your bet
Silas Brewer – x60 your bet
A Dark Matter slot boasts an intriguing wild feature. This feature mainly consists of three types of wilds:
Standard Wild – this appears only on the three central reels
Stacked Wilds – these wilds land only on the second and fourth reels, from top to bottom
Invading wilds – when stacked wilds appear on the second and fourth reel, claws come out to take over the adjacent reel. What is also interesting is that, should stacked wilds appear on reel 2 and 4 simultaneously, they would both take over reel 3 and pay twice your bet.
A Dark Matter slot free spins
The scatter of the game is an intricate door striker that unlocks 12 free spins should you land 3,4 or 5 scatters.
Once the free spins are underway, the game will award an additional free spin for every scatter that lands on the reels.
At this point in the game, wilds become super stacked making them more frequent, increasing your chances to win.
A Dark Matter Slot Bonus
Many of the best online casinos offer interesting welcome bonuses to get you started, however, with Halloween just a few days away, many would haves special Halloween promotions.
A Dark Matter slot min/max bets, RTP, volatility & maximum win
With a backstory so full of suspense, expectations for this slot veers towards high volatility. With an RTP of 96.18%, wins don't happen so often even though payouts are rather high.
Taking a spin at Wraith manor can be as cheap as £0.05, while the largest bet you can place is of £50.
The maximum win you can score is of X2400 your stake, which against the bet of £50, reaches the amount of £120,000.
A Dark Matter slot graphics and sounds
A lot of work went into A Dark Matter, from the slot to the website dedicated to the game.
Graphics are exceptional and they immerse you into the Victorian era Wraith Manor by placing the reels in the manor's expansive hallway, complete with sweeping staircases and red carpet.
Characters are done in great detail, and we loved the comic-like sketches on the website that gives dimension to the story.
The atmosphere is dark and menacing and the music adds to the suspense and the mystery.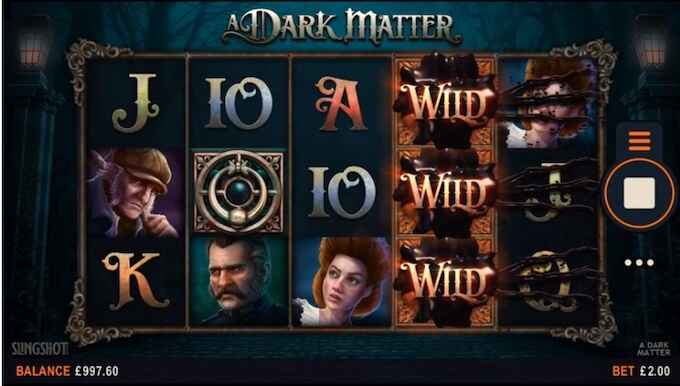 A Dark Matter slot – Our Conclusion
While other game designers are keeping to the traditional Halloween characteristics, Slingshot Studios were not afraid to create something unique that veers from the usual Halloween stories.
The features in Dark Matter slots are relatively simple, with the story behind the game making up for the simplicity.
All in all, this game is worth a few spins, especially if you'd like to set the right mood for a spooky Halloween!