Facts about Join Games
Join Games is a relatively new casino software provider founded by two experienced igaming professionals in 2014 with a vision to create an innovative slot game experience. As its name implies, Join Games is the product of two creative minds with an ambition to offer an original portfolio of online casino games developed entirely in-house. This game provider is just about to launch its first VR game, the Kleopatra VR slot, which is expected to be all the rage in December 2017!
Join Games portfolio
Join Games offers online slot machines that can be played on desktop and mobile platforms. Their selection of slots includes a unique section of 'cineslots', where the main characters of the slot come alive; these are none other than real actors that have been filmed and incorporated into the games to perform all kinds of moves! Up until now they have two cineslots, Kleopatra and The Legend of Emerald. While playing The Legend of Emerald for example, you'll get to watch the real actors spinning the wheels themselves during the bonus game!
This innovative slot provider also has a good collection of 'premium slots', which are all 3D action slots that are beautifully designed, with big surprises in store! There are also 6 simple slots which are also of high quality and inspired by different themes.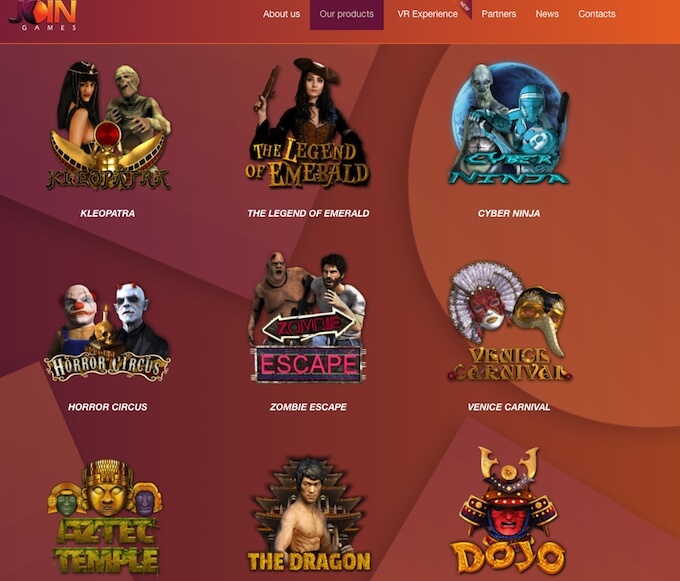 But perhaps the most exciting Join Game invention that will set it apart from other game manufacturers will be the new Kleopatra VR slot, which shall provide an interactive virtual reality experience. The game will be played using a gadget that immerses the user in the game environment in such a way that he or she can interact with it. Kleopatra VR will be released in December 2017, and sounds as promising as its NetEnt competitor Gonzo Quest VR!
Join Games bonuses and free spins
If you're tempted to try out Join Games's innovative slots, we highly recommend playing them with one of our trusted online casinos that offer great welcome bonuses as well as free spins as part of their welcome package. These bonuses are ideal if you're trying a slot for the first time, to avoid making any major losses as you familiarize yourself with the game. Have a look at our list of casinos below that are offering generous welcome bonuses while providing a good selection of Join Games slots.
Join Games – our conclusion
Despite their recent launch, Join Games have certainly come up with a promising vision that may help pave the way for the future of slot games!  Not only are their cineslots unique and entertaining, but their VR games will introduce players to a new slot game experience that is sure to involve a number of possibilities which so far haven't been fully explored in the world of slots. If you're adventurous and would like to try out something beyond the ordinary, then playing Join Games slots is bound to be a rewarding experience for you. Try some of their games today and get a great welcome bonus once you make your first deposit with one of our recommended casinos!