Facts about Edict
Edict Egaming GmbH is a German casino manufacturer that has been producing high-quality slots, casino games and online casino solutions since 1998. Edict is a full subsidiary of the Gauselmann Group. The company concentrates on the production of the popular exclusive Merkur slot games and complete integration of these games for the biggest casino operators in the industry.
Edict is known for being a trustworthy and innovative manufacturer, constantly trying to develop the business solutions that they offer to customers. The company promises to adapt its product to a constantly changing and fast-paced casinos world. Edict Egaming offers two types of services: the turnkey online casino solutions and Merkur slots.
Edict online casino turnkey solutions
By Turnkey Solutions Edict means ready-made online casinos for the B2B market. Edict Turnkey offers a comprehensive package that includes all the necessary modules and services for running and marketing the online casino. The company promises to deliver tailor-made solutions that meet customer specific requirements and needs. Sounds promising indeed!
Edict's Merkur Game Solutions
Edict Egaming GmbH is the exclusive provider of Merkur land-based slot machines from the Gauselmann Group that have been around for over 60 years and proven to be highly popular among the brick and mortar casino players due to their high quality and unique gaming logic. From 2014, the land-based games have been moved to the online world and nowadays can be played in Flash and HTML5 on any device.
Edict Gaming game selection
At the moment we are writing this review Edict has 14 slots games in their portfolio including such titles as Jollys Cap, Blazing Star, 221 B Baker Street, Spacemen II, Double Triple Chance, Amazonia, Brilliant Sparkle, Cash Fruits Plus, Coin of Gods, Dragons Treasure, Honey Bee, Magic Mirror, Odyssee and The Final Frontier.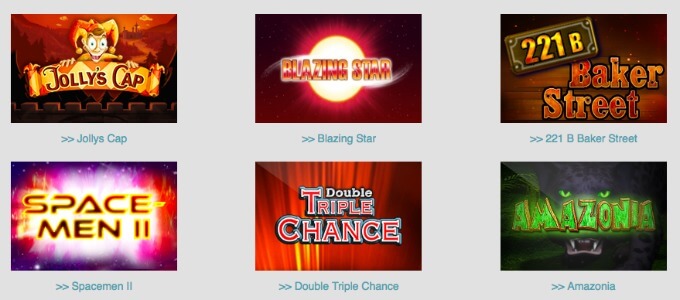 In addition to the previously mentioned slot games Edict also produces classic table games and card games. These include French Roulette, American Roulette, Sic Bo, Craps, Baccarat, Tropical Stud Poker and a few variations of Blackjack: Lucky Pair, Lucky Seven, Surrender 2 against 1 and Blackjack Twins.
Edict casino bonus and free spins
Edict games have unique mathematical models and many special bonuses features that are included in the gameplay itself by default. But if you want something even more extra special then you can take advantage of the casinos that we mention in this article. When you sign up and deposit with one of these three casinos brands, you will not only be able to try out Edicts slots and games but will also receive an exclusive casino bonus and free spins as a part of the welcome package. Click on the links in this review and enjoy.