Twisted Circus review
The Twisted Circus is a creative game from the Microgaming team. Try to match symbols including the fire eater, a contortionist and a bearded lady. Mix all that with great bonuses, scatter symbols and hidden symbols. There are 243 ways to win, so roll up, roll up and get your tickets for this creepy show.
How I tested The Twisted Circus
I was looking forward to reviewing this circus-themed slot game from Microgaming. Here are some notes on why you can trust my review and things I have considered in my review:
Looking at the RTP and the volatility is a good starting point. You can get a sense of the type of wins you will get and how often they will occur.
You can trust I have actually played the game, so the review is coming from a place of experience instead of just reviewing based on technical data and potential features.
If the graphics are engaging it can have an effect on how likely a player is to be drawn into the game and remain engaged. I will be evaluating the appearance and the design of my game in the review and how it fits into the overall theme of the game.
I look at the minimum and maximum bets, because I think an online slot machine should be accessible to all players, no matter what their budget is.
I will give you an outline of the symbols involved in the game. You could try to work out their purpose as you play, but it is better to know beforehand.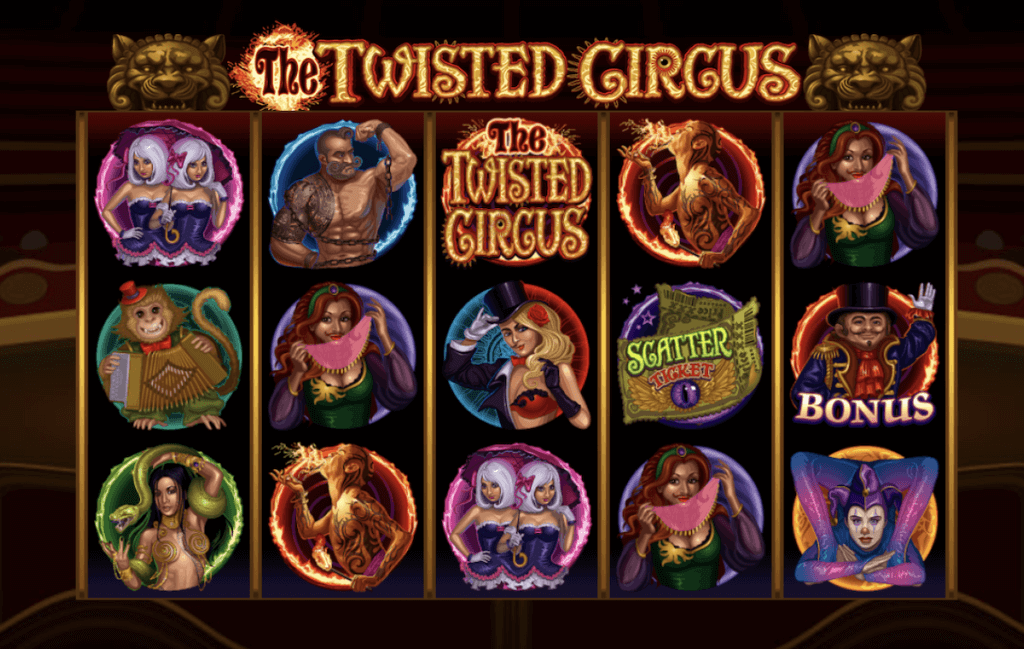 Play The Twisted Circus with the best bonus
Play The Twisted Circus with bonus funds and free spins at Novibet
Novibet is running a promotion for new UK customers, giving a chance to enjoy The Twisted Circus with bonus funds. Microgaming's games can be found in many game libraries, but to benefit fully, take advantage of a casino's sign-up offer. Novibet will match your first deposit up to £100 and give you 15 free spins worth £0.10 each.
The Twisted Circus Symbols & Payouts
The symbols
Paytable


Min/max bet
The minimum bet on The Twisted Circus is £0.30 and the maximum bet is £120. The minimum bet could be a little lower to include smaller budgets, but the maximum bet will surely please high rollers.
Autoplay
There is an autoplay feature that allows for between 10 and 100 auto spins. However, it does not have more advanced features offered in other slots such as "stop auto spins after certain amount won".
RTP
Online slot machines with an RTP of less than 96% are barely worth playing. This one clocks in at 96.36%, so enjoy!
Volatility
Volatility statistics can give a player an indication of how likely they are to lose a bet on a slot. This game has medium volatility, which makes it a good choice if you want to play for fun but still attract some medium wins at a regular frequency.
Hit frequency
The hit frequency of a slot tells you how often a slot will give any kind of payout, whether it is £0.01 or £10,000. It is typically between 20% and 30%, and this slot falls in the middle of this average at around 23%.
Maximum win
The maximum win is 416,000x your stake. Learn how you can achieve this later in the review.
The Twisted Circus has very average technical data so the selling point comes in the enjoyment of playing.
Although the technical data is a good place to start, this slot game does not have the most enticing statistics. The hit frequency is average, the volatility is medium and the RTP is bang on what you would expect from an online slot machine.
Game Features
Special Symbols, Free Spins and other features
Wild Symbols
The wild symbol in this game is The Twisted Circus icon, which means it can substitute for any of the other symbols (except the scatter and bonus ones). If you can land five of them they return a reward of 15,000. The appearance of wilds did help to provide a majority of the wins completed during normal gameplay.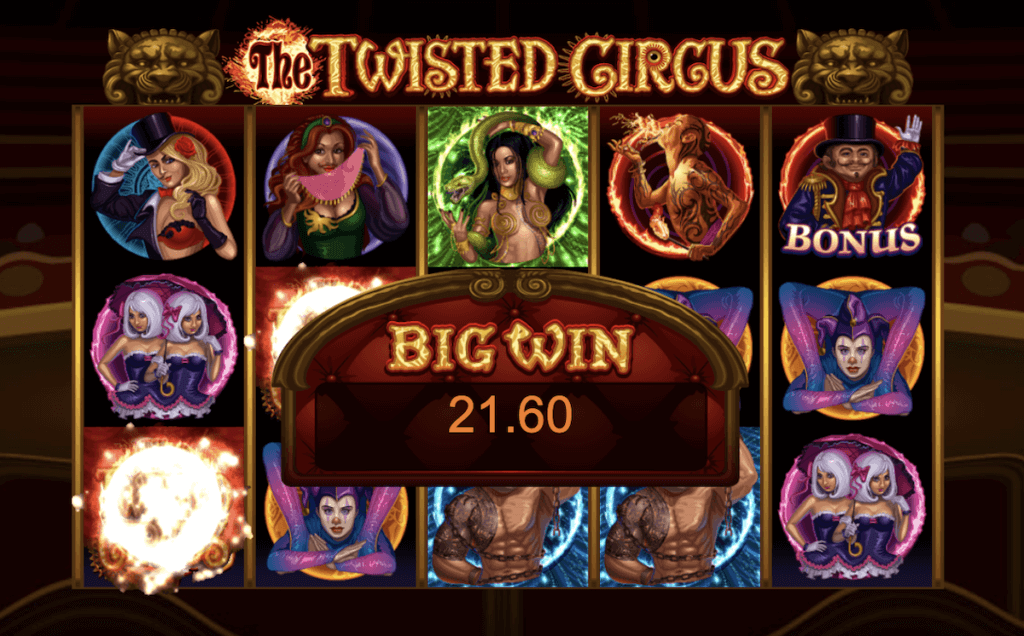 Scatter Symbols
The scatter symbol is the pair of tickets (to what I would assume is the circus itself), although you may be wishing they are your ticket out of this scary circus. They reward 600, 1200, 6,000 and 60,000 coins depending on whether you match two, three, four and five symbols respectively.
Free Spins Feature
If you successfully land three or more scatter symbols on the grid, you will be entering the free spins mode. It starts off with 13 free spins, a deliberately spooky number, and every win is multiplied by three. This is when the maximum win is possible, as there are 416,000 coins to be won.
Bonus Symbol and Circus Match Bonus Round
There is a bonus symbol – the deviant ringmaster. He only appears on reels three, four and five, and you're in for a treat when he does. If you land three bonus symbols in one spin, you are granted access to the Circus match bonus round. In the event of this happening, you are taken to a new screen which serves as the inner circle of the circus tent. This screen shows 16 hidden symbols. Overturn the cards and turn over three of a kind to win a certain amount of coins and be treated to a little sideshow related to the members of the circus. Four of these symbols are wild and can be used to contribute to multiple wins, as the substitute for all other symbols.
The Twisted Circus mostly relies on wilds and scatters, but there is a special bonus round.
This game is more appropriate for players who prefer a simple to follow, easy to play slot machine, as this one is not very feature heavy. There are some big prizes to be won from even the simple scatter symbols, and it is nice to have that extra incentive and be constantly on the lookout for the ringmaster. Ultimately, in my experience, the bonus round does not occur often enough to really keep players interested.
The Twisted Circus Graphics & Sound
| | |
| --- | --- |
| Graphics | 2D |
| Optimized for Mobile | 👍 |
| Music | Yes |
| Special features | Yes |
The Twisted Circus has used its theme well but could do with that little extra effort.
The design of this game is fine. The background to the game grid puts the player in the audience of this macabre cabaret. It looks deserted, however, and it wouldn't have hurt to render an audience. The symbols are fine, but they could do with just a little bit more to make them come alive. They are comparable to the packaging of a basic range at a supermarket. It is clear what they are, but nothing about how they look excites you. The sound design is strange too – and not in the way you'd hope. There is no soundtrack while idling, but as soon as you press to spin a weird monotonous tone plays. If you successfully generate a win, a tune vaguely resembling a circus march plays. I think a slower, more creepy and unsettling variation on a circus theme would be a great base soundtrack for this slot game.
Solutions if you have some issues with a game
Microgaming is a big name in the gambling software industry and has comprehensive customer support. If you experience any issues, getting in touch with them is simple. If an issue interrupts your gameplay, you will find you can replay the same round and all bets or payouts will have been designated void and refunded.
Verdict
This game is not saturated with features, but the Circus Match bonus round does add a little something to each spin as you hope to see the three ringmaster symbols. Microgaming could have done a lot more with them, though. The fun of this game comes from looking for wilds and scatter symbols. The free spins mode has good returns, but it is not the most exciting I have experienced.
Other slots to play if you like The Twisted Circus slot
If you enjoy The Twisted Circus, be sure to check out similar spooky and horror-themed games on our Halloween Promotions page. We keep this page updated all throughout the month of October, so check back often for the latest updates.