Pumpkin Smash review
Inspired by the famous Day of the Dead fiesta in Mexico, Yggdrasil's Pumpkin Smash will have you longing to get your hands on a couple of cheery pumpkins this Halloween, for a chance of claiming some smashing treats! Yet again, Yggdrasil Gaming certainly lives up to its name when it comes to this slot's appealing visuals, as the game has a creative and entertaining take on the Day of the Dead theme. In this review, we'll have a look at all the features of this slot and check out which online casinos are already offering it as part of their portfolio. 
Pumpkin Smash slot features
Pumpkin smash is a 5-reel, 20 payline video slot, set against a spooky cemetery background. Players spin the reels for a chance of landing on carved pumpkin symbols, 4 differently coloured high-return skull symbols and 4 low-return card suits. The slot also features a golden-crowned wild symbol which can replace any other symbol to form winning combinations.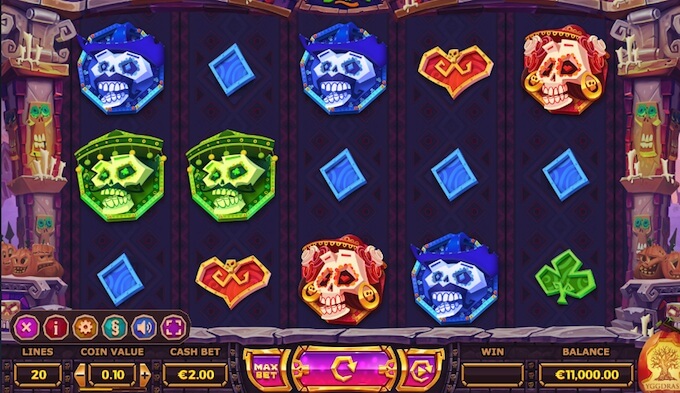 Pumpkin Smash bonus game
The pumpkins shall definitely be your desired symbol when it comes to playing this slot, since landing on 2 or more of these will activate the Pumpkin Smash bonus game! For each pumpkin symbol you land on, you will indulge in one pumpkin smash in order to claim a treat consisting of multiple prizes! Each pumpkin you smash shall award 2-10 prizes, and the bigger the pumpkin, the higher the prize!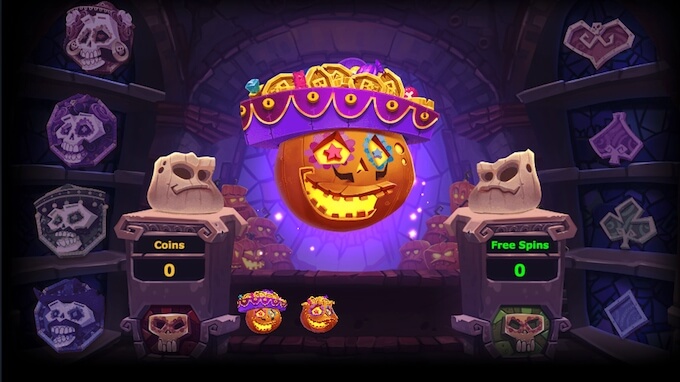 Pumpkin Smash slot free spins
The slot awards players between 7 and 32 free spins when they land on 3 or more pumpkin symbols, or when the bonus game triggers a free spins prize. During the free spins session, the slot can award between 2-20 prizes and a x2 to x7 symbol multiplier on one of up to 8 different symbols.
The free spins bonus round can also trigger up to 16 additional free spins each time, as well as a prize of up to 17,500 coins if you land on 5 pumpkin symbols!
Pumpkin Smash slot bonus
A lot of online casinos operating in the UK are already offering this game as part of their portfolio, just in time for Halloween! Try playing Pumpkin Smash slot with one of our trusted casino partners listed below, all of whom are renowned for their reliability and for offering some of the most rewarding welcome bonuses on the market.
Where to play Pumpkin Smash slot
Pumpkin Smash slot min/max bets, jackpot and volatility
On Pumpkin Smash, players can set their bets from as low as 20p up to a maximum cash bet of £100. Ranked as one of medium volatility, and with an RTP of 96.2%, the slot has the potential of awarding decent rewards in both the base and free spins bonus round, with a maximum payout of 36,000 coins.
Pumpkin Smash Slot graphics and sound
The game starts with a short but entertaining intro, as a couple of wild Mexican pumpkins wearing sombreros shoot out of a graveyard and get smashed in the sky, to the sound of Day of the Dead-themed music. The game is bound to attract your attention with its vibrant cartoonish symbols, which are enclosed within an adorned stone gate. The previously extinguished candles and pumpkins that decorate this gate light up during the free spins round, as the excitement intensifies!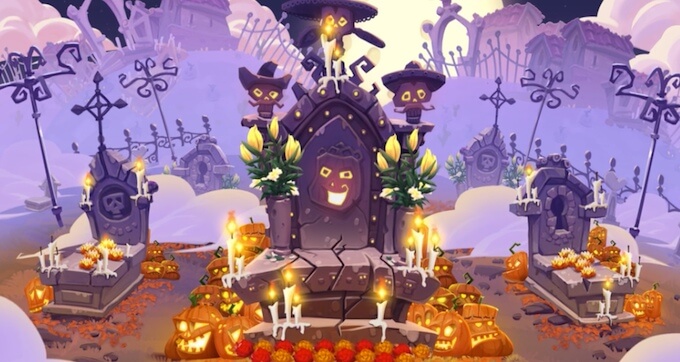 Pumpkin Smash slot  – Our conclusion
With its wide range of prizes waiting to be smashed open and its generous share of free spins, the game gives players a decent possibility of making some significant wins. The slot is certainly meant to evoke a cheery Halloween feel, but ultimately, the slot's intriguing features make Pumpkin Smash a game worth playing at any time of the year. Play Pumpkin Smash with one of our trusted casinos in time for Halloween and don't miss out on their promotions on this new game!
Watch Pumpkin Smash slot exclusive video preview below