Incinerator review
Love Sci-Fi? Then why don't you try to clean out some space garbage in the new Yggdrasil Gaming Incinerator slot? The official description gets you excited from the very beginning.
"Welcome to the world of junk and space debris, where you control the biggest incinerator in the known universe! With Incinerator, you will always be close to your next super big win thanks to the wild pattern feature that occurs after three consecutive drops."
This deep space slot was released in January 2016 and got us hooked since then. Read our full review to get the bonuses and Free Spins that you can use to play this new slot from Yggdrasil.
Incinerator Slot features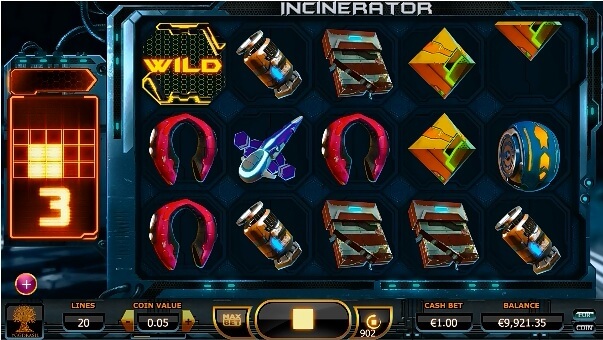 How does this slot work? You onboard the biggest kick-ass space incinerator and get ready to destroy the rubbish and spacecraft debris of different kinds, that can create a winning combination. Winning patterns will then burn leftover parts of the spacecraft and you get your rewards.
The space trash consists of 6 different types such as a yellow triangle, purple part, blue booster, red box and orange diamond. The most valuable symbol in the Incinerator universe is the blue ball, which gives you at least 200 coins per full combination. The least prized type of garbage is the orange cylinder because it only provides 60 coins per full pay line.
Incinerator slot has 5 reels, 3 rows and 20 pay lines. The reels in the Incinerator game don't spin, instead, they fall down.
To get the most benefit from this game, there is an additional feature Wild Pattern. When you get 3 drop downs in a row, a group of symbols will turn into wilds according to the pattern on your screen.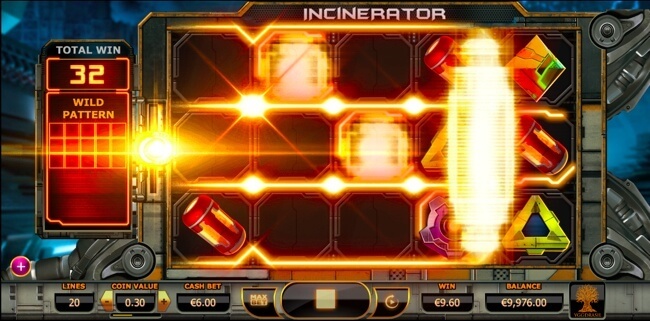 Incinerator Slot bonus and free spins
Check out our carefully selected casinos that allow you to play Incinerator slot and give the juiciest bonuses on the market and some Free spins thrown in there. The free spins are sometimes meant for different slots but if you sign up for our newsletter, we will keep you updated on any promotions related to this particular Yggdrasil slot and other games.
Incinerator Slot – Where to play
Incinerator Slot – min/max bets and volatility
The cool feature of the incinerator slot is the fact that you can set your coin value before you start playing. Just click on "Coin Value +/-" you can set coins size from 0.01 to 10.
The minimum bet in this game is 0,20 and the maximum is 200, with low to average volatility and 96% payout percentage.
Incinerator Slot jackpots
The maximum you can win in their games is 200 times your bet, which is a quite a nice size jackpot for this type of game.
Incinerator Slot graphics and sounds
Incinerator slot is very futuristic, sci-fi looking, fast paced and action-packed. It feels like a blockbuster with all the multi-coloured exploding symbols and crashing sounds and will definitely appeal to many players around the world.
Incinerator Slot – our conclusion
It is a pretty cool game, as you would expect from Yggdrasil Gaming, who failed to disappoint us yet. The style might not be for everyone, but if you like anything space and high-tech-related, and don't mind a lot of crashing and burning, this is a slot for you. And once you activate the 'Wild Patterns' you start liking this slot more and more. Try your luck on one of our recommended casinos and you might win big while helping to clean the universe. Just click on the few casino links above and get your bonus as well. You can also watch the Incinerator play video, which will give you an overall feeling of this exciting slot.