Divine Fortune Megaways review
In this Divine Fortune Megaways review, we will be looking into NetEnt's video slot game, Divine Fortune Megaways.
We'll be assessing bonus features, RTP, volatility, and more, so stay tuned because it may be worth your while.
How I Tested Divine Fortune Megaways
Every review structures itself around criteria that get used to test an online slot game. With this Divine Fortune Megaways review, we used the following steps to find a final verdict on our quest to find the fortune behind Divine Fortune Megaways.
Responsible gaming: These days, online casinos make an effort to support responsible gaming by either requesting all players confirm they are above 18 years of age or allowing players to adjust their bet lines.
Graphics and layout: Here, we check the quality used on the game's graphics and assess if the layout is clear and not too busy in confusing the player on where important details are.
Bonus features: We look at the various options that the online casino game provides to add a fun factor to the experience and reward players even when their chances are slim of scoring the jackpot.
Volatility and RTP: Here, we assess how volatile the game is and look into the RTP to understand how often the player can make returns and the percentage return.
Mobile compatibility: These days, most online casino games allow players to access their games through a desktop or a mobile device for convenience.
Free play and demo versions: Does the game allow players to test the game before playing real money?
Play Divine Fortune Megaways With the Best Bonus
Get the best bonus offers and enjoy your gaming experience with some of the best online casinos around. Players can find Divine Fortune Megaways on these operators:
Pick your best bet with online casinos that host Divine Fortune Megaways.
Bonus offers are exciting when you can imagine receiving an instant reward for joining. You already feel like the experience is worthwhile before setting your eyes on the game itself. But you are always encouraged to find an online casino bonus that best suits your personal plan.
Divine Fortune Megaways Symbols & Payouts
Here we will look into the character symbols of Divine Fortune Megaways as well as details concerning payouts such as volatility rates, RTP, bets, and jackpots.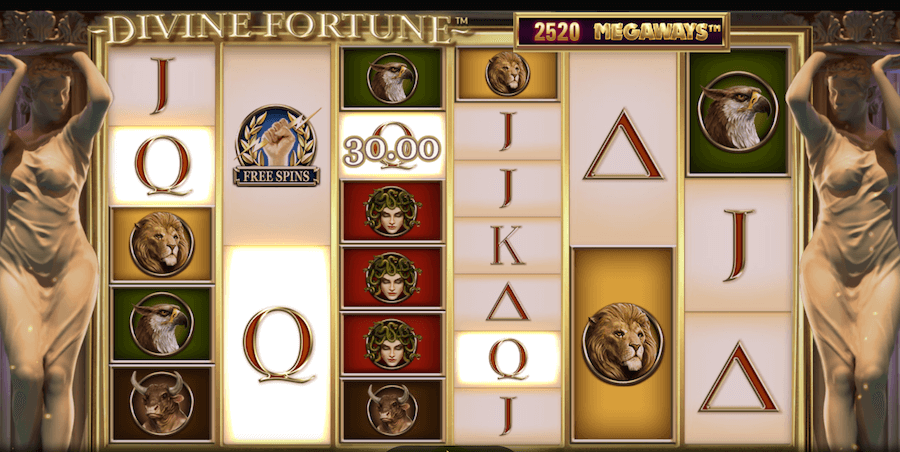 The Symbols
The set of deck cards from 10 to A represent the lowest-paying symbols.
The special symbols that are more rewarding include the Nemean lion, a Minotaur, a Medusa, and a Griffin.
The snake-haired Gorgon is the highest-paying symbol.
The wild symbol is the stunning Pegasus. It can replace other game symbols to increase winning combinations.
The scatter symbol is Zeus' thunder.
Paytable
| Symbol | Landing | Payout (X your stake) |
| --- | --- | --- |
| 10 and J | 3, 4, 5, 6 | 1, 2, 3, 5 |
| Q and K | 3, 4, 5, 6 | 2, 3, 4, 6 |
| A | 3, 4, 5, 6 | 3, 4, 5, 7 |
| Griffin (eagle) | 3, 4, 5, 6 | 5, 7, 9, 12 |
| Minotaur (bull) | 3, 4, 5, 6 | 6, 8, 10, 15 |
| Nemean lion (lion) | 3, 4, 5, 6 | 7, 9, 11, 20 |
| Snake-haired Gorgon/ Medusa | 2, 3, 4, 5, 6 | 10, 15, 20, 30, 50 |
Min/max Bet and Autoplay Function
The minimum bet to Divine Fortune Megaways is £0.10, while the maximum bet is £100.
As with any other online slot game, the question of whether or not Divine Fortune Megaways offers an autoplay function does surface. Unfortunately, it does not provide an autoplay function.
RTP
Divine Fortune Megaways has an RTP score of 96.09%. The score may not be so exciting compared to other online slots such as Mega-Joker, which scores 99%, and BloodSuckers, which scores 98%.
Many slots have scores above this one, which rates the Divine Fortune Megaways score as slightly below average.
Volatility
Divine Fortune Megaways has a medium to high variance. This means that even though wins may be far apart, when they do happen they are worthwhile.
This can be rewarding for those who choose to be patient enough as they await big wins.
Jackpot And/or Maximum Win
The maximum jackpot to Divine Fortune Megaways that players can win is 25,000X your bet.
Divine Fortune Megaways payouts can be worthwhile.
Despite the below-average RTP and average payout to the highest symbol in the game, the game does offer worthwhile items that players can work with, as well as an affordable minimum bet size that many players can work around.
The RTP may be low, but the medium-to-high volatility means you can make big wins during the game's peaks. The jackpot is pretty rewarding, too.
This makes Divine Fortune Megaways a worthwhile experience for those who can be patient with the game.
Game Features
Game features make the game fun, exciting, and rewarding. Aside from the paylines available, game features can be a fantastic way to increase the winnings.
Free Spins
If you score 4, 5, or 6 scatter symbols, you receive 10, 15, or 20 free spins, respectively. If you score any more scatter symbols during your free spins, you will get an additional five spins.
Wilds found will reward you with your Wild on Wild Feature.
Wild on Wild Feature
During a Falling Wild, if you score another Pegasus, it will form a Stacked Wild, which expands. For every respin, the Stacked Wild will keep moving down one position.
The more wilds you get, the more rewards you'll get in respins.
Falling Wild Respins
With this feature, Pegasus lands and you receive your winnings, and your wild symbols will keep moving down a position. Each will award another respin until they have all disappeared from the screen.
Bonus Wins
Players can find symbols in the form of bronze, silver, and gold during free spins. If you score 5 of these bronze, silver, or gold symbols, you will win either 10X, 25X, or 500X your stake.
Divine Fortune Megaways Graphics & Sound
Apart from online casino games luring players through their jackpots and prizes, effort needs to go into the design, layout, and graphics of a game.
These elements give players the chance to be part of the game and envision their experience.
| | |
| --- | --- |
| Graphics: | Greek mythology with 3D graphics |
| Optimised for mobile: | Yes |
| Music: | Ancient Greek mythology soundtrack |
| Special features: | – |
This online casino game is stunning at first glance. Apart from their use of colours such as gold and olive textures to give an energy of royalty and elegance, you can't help but also find an attraction to the Greek goddess standing on both sides of the game.
The layout is incredible with the use of ancient symbols and stunning fonts.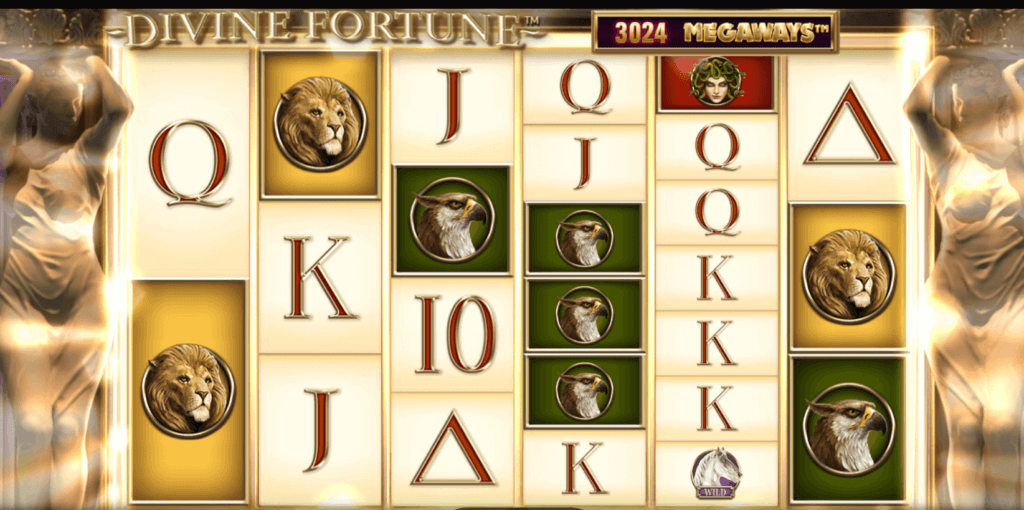 The game is easy to work around and understand, even if the icons and buttons don't have lettered labels. The paytable and informative section explain payouts per character symbol and also go in-depth on game features.
The elegant and well-organized structure complements the style and theme of the game.
The soundtrack immediately transports you to Ancient Greece. It's calm but offers intense moments to create different emotions throughout the game.
Players can adjust the sound by turning it on or off if they find it too disturbing during the game.
Solutions If You Have Some Issues With a Game
In some cases, an online casino game may offer some issues either while trying to access it or when playing it. It's essential to be aware of some pointers in case you need some assistance.
Be sure to ensure the following before reporting any issues:
Players are encouraged to use WiFi connectivity during gaming, as this increases the chances of a smoother experience.
Always make sure that you have an excellent connection. This will help you avoid delays or slowed moments during the game.
When it comes to gaming, you always have to have the latest upgrade to your Java and Flash.
Ensure that your mobile device supports HTML5 technology.
If you have disappeared for a while and left your game unattended, you can return to find that your game has timed out. In such a case, simply refresh the page, and it will restart the game.
If all else fails and you have tried the above, you can head over to the NetEnt customer support section to get assistance regarding your issue.
Verdict
We are going to use our criteria to give a final verdict on Divine Fortune Megaways. First, we begin by addressing responsible gaming.
Divine Fortune Megaways does make it known that all their players must be over 18 to play and to encourage responsible gaming, they allow players to adjust their coin values and bet levels.
Secondly, they have used high-quality graphics and sound to give players the whole package in their gaming experience.
They have stunning character symbols, have added elegant elements to enhance their Greek mythology theme, and still manage to keep the game straightforward and easy to navigate around.
There's nothing to fault there aside from wishing that they had an autoplay function.
The Divine Fortune Megaways welcome offer and Divine Fortune Megaways bonuses are fantastic and attractive. They offer variety and invite all types of players who have different tastes and preferences in their ideal bonuses.
The RTP score may not be as exciting, but the game does make up for that with their medium-to-high volatility, which helps players find their experience worthwhile during winning moments.
They offer mobile compatibility that doesn't require the player to download or install anything. They can simply head over to their browser to access the game and enjoy the convenience of having fun on the go from there.
Divine Fortune Megaways does offer free play on sites such as Slot Catalog and does also provide a demo version on Slots Temple.
If you would like to test the waters first before putting all your money in Divine Fortune Megaways, you can do so with these.
Divine Fortune Megaways has proven to be fantastic in all its efforts, and players can find their fortune with this online casino game.
Other Slots to Play If You Like Divine Fortune Megaways Slot
If you've found your fortune in-game, then you'll enjoy these, too:
Reel King Megaways
Money Train
Golden Goddess