Power Plant review
Power Plant uses the old-school arcade style graphics, sounds and gameplay and will please not only the casino players but any hard-core video gamers as well.
Learn more about the new exciting 82 payline Power Plant slot and which UK casino sites will let you play it once it's released in our full review below.
Power Plant slot features
One of the most unusual features of the new Yggdrasil game is the fact that it can transform from being a 5 reels and 4 rows game into the absolutely unique 5 reels and 8 rows slot, which means that it can be played in a portrait mode on desktop, tablet and of course modem. This is possible thanks to the iSENSE 2.0 technology.
To activate the 8 rows, players will have to opt for the Golden Bet which increases the number of rows from 4 to 8 and gives you an amazing 82 paylines.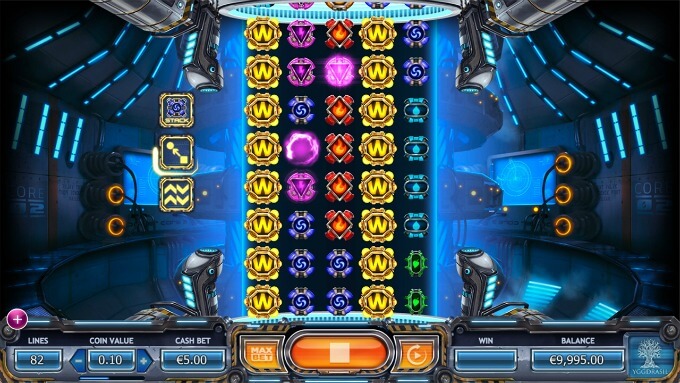 There are six regular symbols that form the winning combination from left to right starting from any 3 matching symbols. There is also a wild symbol that substitutes the other symbols and comes in a stacked version.
The whole gameplay here is centred around the stacked symbols.
When you manage to land any full 8-stack wild, it will become sticky, and you will activate the Feature Respin that give you anywhere from two to four extra randomly chosen features.
What the Feature Respin does is rewarding you with a free re-spin when the 8-stack wild or wilds stay sticky on the reels and additional 2, 3 or 4 features are applied.
The number of extra features or modifiers that you can benefit from during the re-spin depends on how many 8-stacks you got on the reels to activate the re-spin.
One full wild 8-stack gives two features
Two full wild 8-stacks give three features
Three full wild 8-stacks give four features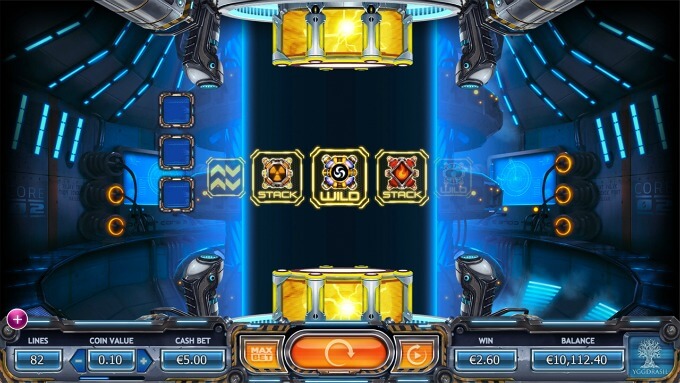 Super Stacked Symbol feature
One symbol will be randomly chosen tp show up in a stacked formation on the reels.
Reel Nudge feature
Reels are going to nudge on the second to fourth positions, creating the best possible combos and outcomes with full-stack wilds remaining sticky.
Random Winning Symbols feature
Anywhere from three to eight random symbols will be replaced by one type of symbol massively increasing your chances of winning a guaranteed prize. Please note that wild symbols cannot act as a random winning symbol and cannot be replaced either.
Extra Wild Symbol feature
One of the regular symbols will be randomly chosen to act as a second additional wild during the re-spin.
Plus 1 combo feature
This option simply gives you one extra modifier from the available four options. This feature is not used if you already landed all four possible extra modifier features.
Power Plant slot bonus and free spins
While the Power Plant slot doesn't seem to have any free spins as such within the game structure itself, you can still enjoy playing the new slot at the best UK online casinos as soon as it's released and receive casino bonuses and a lot of free spins for the different slot games from various game developers.
Click on the links in this review to receive your exclusive bonus from one the most reliable UK Casino operators.
Power Plant slot min/max bets, RTP and volatility and jackpot
You can play the medium volatility Power Plant slot starting from a minimum bet of 25p and up to the maximum bet of £125. The return to player percentage here is set to 96.4%.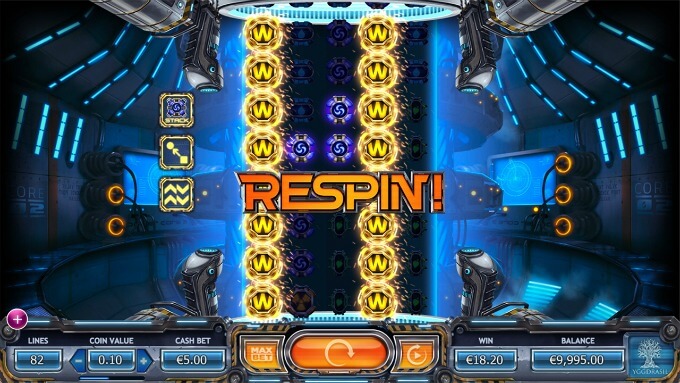 Power Plant slot jackpot
Yggdrasil hasn't shared the information about the maximum possible win or jackpot for the Power Plant slot, but as soon as we have this info available, we will update our review. Watch this space!
Power Plant slot graphics and sounds
Yggdrasil promises to give the casino players an experience close to that of the classic arcade games popular in the 90-s.
So we are expecting the futuristic, industrial versions of the vintage shoot'em up games with the highest quality graphics and sounds.
But for now we haven't seen the game preview, so we will report back when we see it and give it a good old spin ourselves as soon as it's available.
We are also excited to finally try out the slot that has a full potential for the landscape gameplay on any device.
Power Plant slot – our conclusion
Since we haven't tried to play the Power Plant slot with the real money bets yet, it's hard to draw any conclusions, but with so many unique features, such as 5*8 reel set-up, 82 paylines as well as the Feature Re-Spin with 4 different modifiers, the game seems very promising indeed.
Come back to this review to get an updated info in a few days.