Holmes and the Stolen Stones review
Welcome to the mysterious and dangerous world of Victorian London and the company of the greatest detective of all times, Sherlock Holmes. Holmes and the Stolen Stones slot from Yggdrasil Gaming is one of the highly anticipated slots released on September 2015.
Follow the most respected detective and his right hand Dr. Watson (both looking like they were hitting the gym for at least a year!) as they try to find the stolen diamonds in this well-done atmospheric slot. The game is extremely attractive with 5 jackpots and bonus games. Read our full review to find out where to play this slot to win big money while getting a lovely additional bonus and some free spins.
Holmes and the Stolen Stones slot features
Sherlock Holmes seems to be a constant inspiration for the creators of multiple versions of films and TV series, and now, thanks to Yggdrasil Gaming, we have a slot game based on this Sir Arthur Conan Doyle character as well.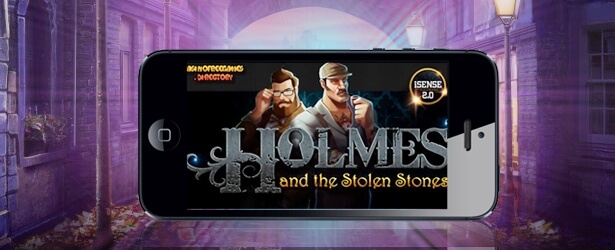 Yggdrasil, as always, did a very good quality job and the game is impressive in design, gameplay and bonus features. And of course, as can be expected from this game developer, you can play the slot on your computer, smartphone or tablet and be sure that you will get the best gaming experience on any platform.
Holmes and the Stolen Stones is a classic 5 reel, 3 row, 20 paylines slot featuring symbol representing Holmes and Watson, magnifying glass, a book of secrets, spades, hearts, clubs and, of course, diamonds.
Another symbol that we suggest you look for carefully in this slot is the golden keyhole, which is a symbol that unlocks the Bonus Warehouse game. If three or more keyholes appear on the screen, you will be taken to the old warehouse, where you can open the boxes to get you bonuses. Click on the boxes and try to get as many diamond shards as possible in a limited time. When the ticking time bomb symbol explodes from one of the boxes, it's time to leave the warehouse and get back to the main game with your collected jewels.
Diamonds can be collected in both main and bonus games, and once you collect five gems of the same kind, you will activate the free spins.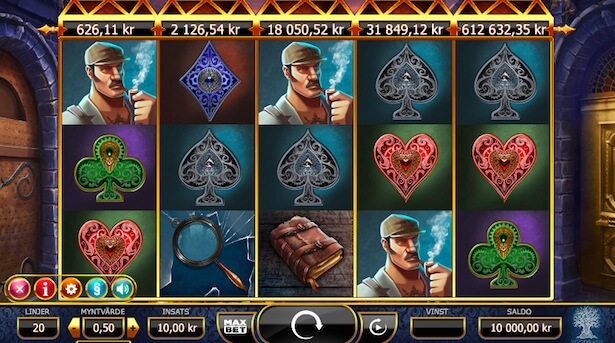 Holmes and the Stolen Stones Free spins
We can't get enough Free spins when playing online casino, and with the slots like Holmes and the Stolen Stones we are happy to get them in abundance.
There are 2 different ways to activate the free spins rounds by either landing 3 or more Free Spins Scatter symbols or collecting 5 identical gems.
Five free spin symbols will give you 10 free spins + 10 000 coins
Four free spin symbols will give you 10 free spins +1 000 coins
Three free spin symbols will give you 10 free spins
Holmes and the Stolen Stones bonus
If you are on a hunt for a Holmes and the Stolen Stones bonus, you can find it easily, thanks to the carefully selected lavish bonuses that our partner casinos offer to the casinohawks.com readers. We only work with the most progressive and reliable online casino and you will not be disappointed trying them out and getting welcome bonuses and extra free spins here.
Where to play Holmes and the Stolen Stones slot
While not all casinos are offering the new cool Yggdrasil slots, we at casinohawks.com always make sure to give our readers the choice of best trustworthy and generous online casinos. Just click on one of the links below and enjoy!
Holmes and the Stolen Stones slot min/max bets, jackpot and volatility
You can play this awesome detective slot with a minimum bet of just 20p per spin and a maximum bet of £40. We suggest you setting up your bets and coin value in the settings section before you start playing.
There are 5 (wow!) progressive jackpots in this game, which are coloured in yellow, red, green, blue and purple. The more people play and bet in the Holmes and the Stolen Stones slot, the higher the jackpots. The return to player in this slot is 96.8% with medium volatility and risk and the maximum win of £30,000. A lot to get excited about!
Holmes and the Stolen Stones slot graphics and sounds
The game overall has a slightly dark and mysterious feeling, which is quite suitable for the story. The graphics are very detailed and convincing. You will follow Sherlock as he explores the dark London alleys with the tense and dramatic Victorian music on the background. As always Yggdrasil design is impressive and we cannot wait for more games coming out from this developer.
Holmes and the Stolen Stones slot – our conclusion
We are thoroughly impressed! This slot is great and will be highly appreciated by anyone who loves Sherlock Holmes stories or some generous jackpots. With such stung designs and music theme, this is the ultimately enjoyable slot game that gives players of any budget a chance to get nice size winnings. The bonus game and free spinsprovide even more interest and appeal.
We highly recommend trying this slot or any other slots created by Yggdrasil by clicking on one of the links provided in our review. They will not only give you a good time and a chance to win, but some extra welcome bonuses and free spins on other slots as well. Let's see if finding those stolen diamonds is elementary, Watson!
Watch the preview of Holmes and the Stolen Stones from Yggdrasil Gaming below