Football Gladiators review
Enter the world of gladiators and coliseum battles combined with modern football games in a new exclusive Unibet slot Football Gladiators created by Stake Logic Game developer, a subsidiary of Novomatic.
It's a nice addition to the other two football themed slots released in time for EURO 2016 – Football: Champions Cup and Bicicleta.
And now we have one more football slot to enjoy – the game is exclusively available on Unibet casino, and you have the opportunity to fight monsters in the Coliseum, race in the chariots, and have some proper football action with 4 football players in this unique slot game.
Football Gladiators slot features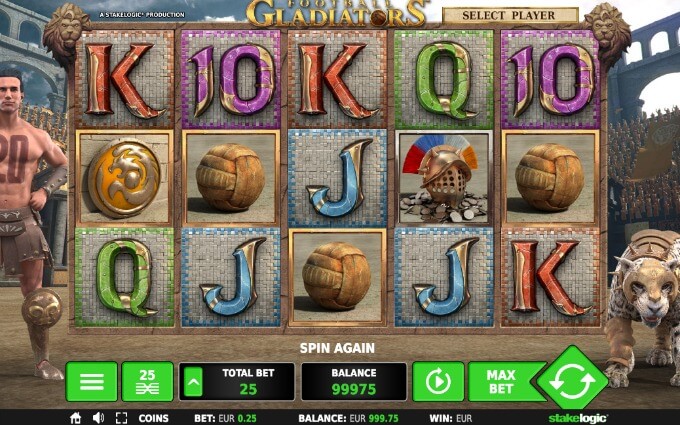 Join the football stars Andrea Pirlo, Robin van Persie, Rio Ferdinand and Toni Kroos in the gladiator ring and help them to play and win.
Football Gladiator slot has 3 rows, 5 reels and 25 paylines. The symbols on the reels include football players, gladiators, animals and monsters and of course, the card symbols as well.
Highest Wild symbol represented by the face of the player that you've chosen at the beginning of the game, appears on all 5 reels and substitutes for all the regular symbols apart from bonus symbols, of course.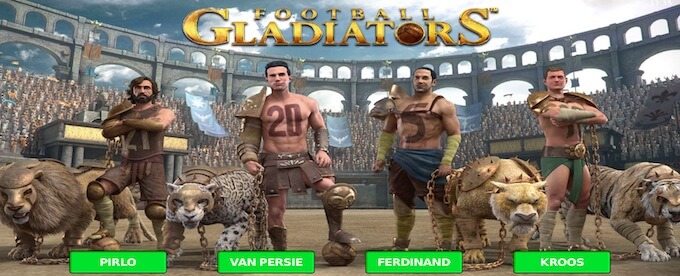 Look out for the special Arena Bonus symbols on the second and fourth reels – this symbol gives you the opportunity to choose between 2 bonus features, that we're going to have a closer look now.
There is a special Battle Bonus Feature, where you as one of the football players end up on the arena face to face with one of the monsters and have to hit them hard in the face. It's a slightly violent, but super-fun interactive feature that makes this slot game stand out even more.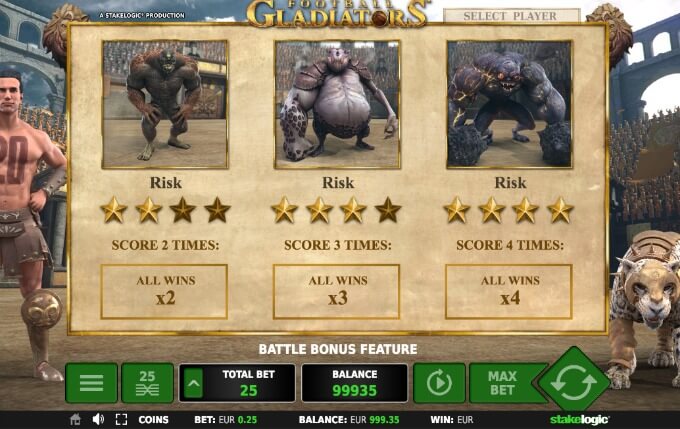 You can select which beast you'd like to fight against, and each football player will get once chance to hit the monster once.
If you hit the monster hard, then you get rewarded Credits and Bonus Multiplier. The more challenging the hits, the higher credits you receive. With the lower difficulty fight, 2 successful hits will get you a nice multiplier. On a higher risk level, you will need 4 proper hits to get the multiplier. Once all four football players have had a go at the beast, the Bonus Battle will end.
Another feature is the Chariot Race Bonus where football players race on the chariot racetracks against dark knights. In this feature, you receive Free Spins and Multipliers.
You need to choose if you wish to race on a small, medium or large track.
The rewards range from 7 free spins and x5 multiplier for the small track and 15 Free Spins and x2 multiplier for the large track.
If you win the race, you'll get winnings equal 10 times you bet.
Football Gladiators slot Free spins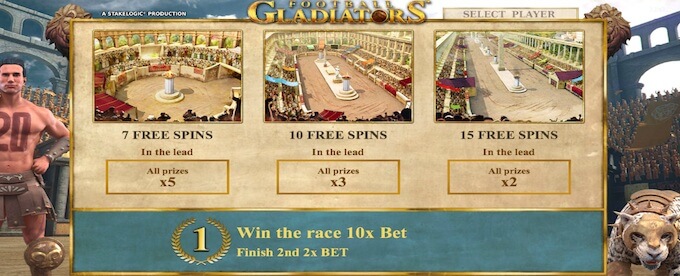 As we mentioned before in this game, you will be able to choose and receive free spins. When you get to play Chariot Race Bonus game, you will have to make a choice to either get 7, 10 or 15 Free Spins.
The trick here is the higher the free spins number, the lower the multiplier, and of course, the higher the multiplier that you choose, the fewer free spins you receive.
Time to make some tough decisions, isn't it? We probably would recommend going for the middle option and choosing 10 free spins with triple multiplier options.
It's probably the most balanced option allowing for the biggest winnings.
Football Gladiators slot bonus
Apart from all the bonus features and free spins that you get from the game itself, if you haven't signed up on Unibet casino yet, you can also get an excellent welcome package.
Click on the link above and you will be able to play Football Gladiators now and get a welcome bonus of £200 and 50 free spins.
Where to play Football Gladiators slot
The Football Gladiators slot is exclusive to Unibet Casino, and we are sure that this game will get a lot of popularity especially considering all the craze surrounding the EURO 2016.
Try it out on Unibet casino by clicking on the link above.
Football Gladiators slot min/max bets, jackpot and volatility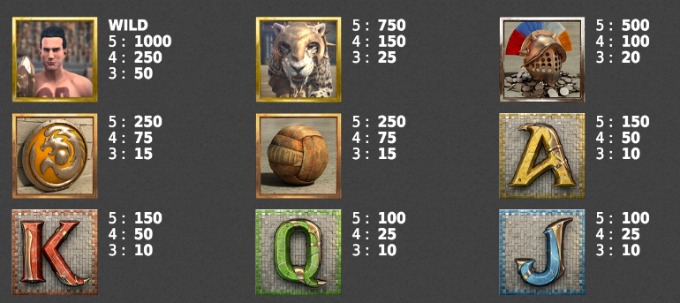 You can play Football Gladiators slot with a minimum bet of 25p and a maximum bet of £50.
The game has an average return to player of 96.1% and the maximum win for this game is 100,000 coins.
Football Gladiators slot graphics and sounds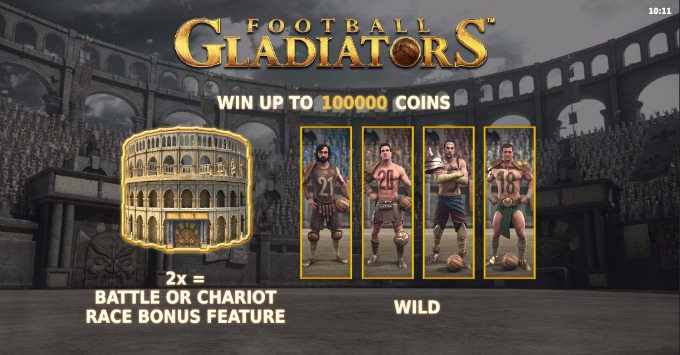 The game starts with the coolest preview video, which we highly recommend watching as it shows the massive coliseum arena, 4 football players, and the monsters you need to fight.
The game style is a nice mix of old and new and the quality of graphics and music is simply superb, so we're quite impressed by this Stake Logic slot.
We've haven't heard much about this developer before, but their new creation is truly amazing.
Football Gladiators slot – our conclusion
First of all, let us tell you how much we are impressed with the job done by Game developer Stake Logic.
This exclusive Unibet game proves that smaller and less well-known manufacturers can, in fact, come up with not only decent but actually extremely impressive games.
It's visually stunning, and there are so many unique and interesting features and extra bonus games, that you will never get bored here. The winning possibilities are quite high, and the entertainment level is even higher.