Football: Champions Cup review
The Football European Championship 2016 is upon us, and it is no surprise that one of the big shots in the slot development NetEnt just released a timely slot game called "Football: Champions Cup" on May 23rd, 2016.
If you're excited about watching and betting on EURO 2016 and love slot games as well, then it just can't get any better for you.
The football themed slot will put you in the appropriate mood and hopefully will help you to win some good money for your sports bets.
Let's have a closer look at the game's features, design, free spins and see where you can play this slot right now and get the best casino bonus as well.
Football: Champions Cup slot features
When you start playing Football Champions Cup Slot, you get a chance to pick a flag of the country that you would normally support in a football game.
If you don't have a favourite team or country as such, you can always go for the surprise button that will make a choice for you.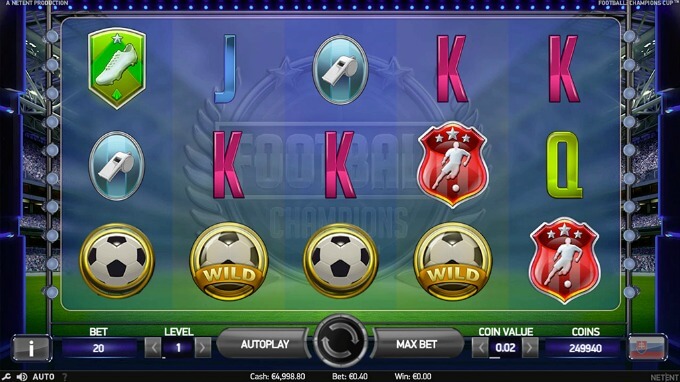 The slot features 3 Rows, 5 Reels and 20 paylines with adjustable bet level from 1 to 10. Coin sizes value varies from 1p to 50p per coin.
The design and symbols of the game are very suitable for the theme with football gloves, t-shirts, boots, whistle and cups.
There is also the football itself as well as you would have expected.
The slot includes a typical Wild symbol, as well as Scoring Wilds and Overlay Wilds and all of them represented by the Football. The Scatter symbol in Football: Champions Cup slot is the Cup symbol.
Penalty Shootout game
One of the main attractions of this slot is a Penalty Shootout Game which you can trigger by scoring 3 or more bonus symbols during the main game.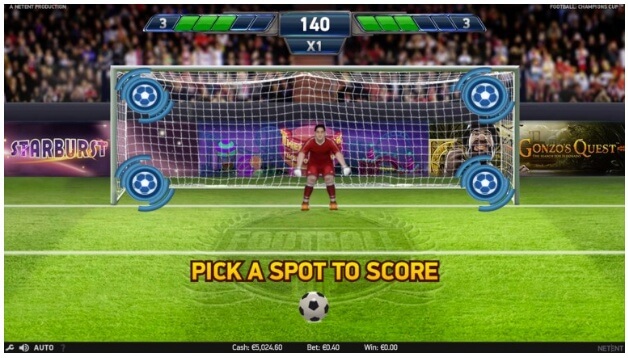 It is a "pick and click" feature that comes with 5 rounds and each round contains 2 parts. First of all, you will need to pick 1 of the 4 positions to try and score a goal.
If you manage to score then you get a point, and a cash prize will be awarded.
In the second part of the round, you become a goalkeeper and need to protect the gates from your opponent team shot. If you save the gate, then you get a multiplier and if you lose, the opponent gets 1 point.
The five rounds will keep going until one of the teams win on the overall score.
The multiplier in the Penalty Shootout game varies from x1 to x16, and the number depends on how many Bonus symbols you had before triggering the feature.
3 bonus symbols = multiplier between 1x and 12x
4 Bonus symbols = multiplier between 3x and 14x
5 Bonus symbols = multiplier between 5x and 16x
Football: Champions Cup slot free spins
If you manage to score three scatter symbols you are in for a treat – Free Spins Bonus Tournament.
The separate tournament will take you through the classic knockout stages of the football Championship and each spin in the Free Spins feature acts as a separate football game in itself.
If you win, you go to the next match (free spins round). Your target here is to win the tournament and be placed 3rd, 2nd or 1st.
There are 4 free spin rounds in total with 16 different teams going through the Quarter Finals, Semi-Finals and a Final game.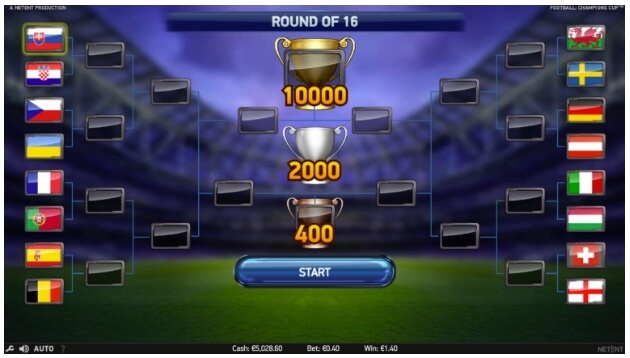 The feature is done in a very football-like way with blue and red wilds indicating which team receives a goal.
Blue wilds appearing on reels 1 and 2 give you a goal and Red wilds on reels 4 and 5 give a goal to your rival team.
Placing in the top 3 will give you a multiplier for your wins:
3rd Place gives you x20 Bet Multiplier
2nd Place gives you x100 Bet Multiplier
1st Place gives you x500 Bet Multiplier
Football: Champions Cup slot bonus
If you're already can't wait for the championship to start and would like to play the new slot as soon as possible, just wait one second.
Even though most of the best online casinos are already offering this new slot, we suggest choosing the online casino that gives you the biggest and best welcome bonus.
Here we have collected the juiciest online bonuses with some free spins thrown in there for good measure. Use the links above and you don't have to search around yourself and waste your precious time.
You are very welcome!
Football: Champions Cup slot min/max bets, jackpot and volatility
The new slot allows you to place a minimum bet of 20p and a maximum bet of £100 per spin.
It is a non-progressive jackpot with the maximum win of £105,175 based on your stake. The Football: Champions Cup slot has quite an impressive 96.82% return to player, and is of medium volatility.
Football: Champions Cup slot graphics and sounds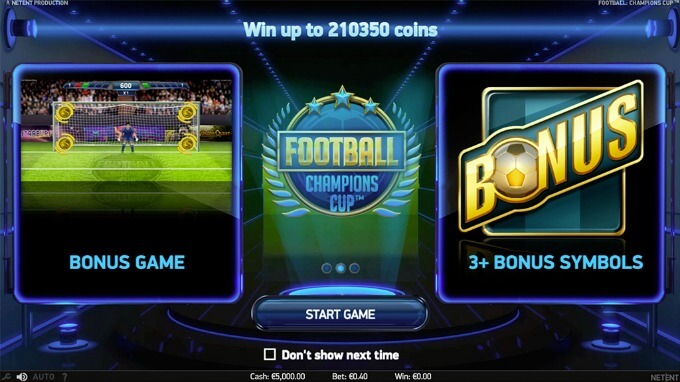 The game is full of sounds that create an atmosphere of a real football match on a big stadium, which is a backdrop for the slot.
You will hear cheers of the fans, whistles and jolly football tunes. The overall graphics and design are very nice even though the card symbols could be a bit more interesting.
But that's a minor detail, especially considering the perfect timing at which the game was released.
Football: Champions Cup slot – our conclusion
It is certainly a fine, high-quality release by NetEnt but probably the most impressive here is the timing.
You just have to appreciate that the game was released just when the excitement about the European Championship has grown to an unbearable level, and all the fans are extremely eager and want to try everything related to the football games.
But even if you're not the biggest football fan, this game is still worth trying if only because of the unusual and fun features that are very different from any other slot.
We really enjoyed playing the Penalty Shootout game and will highly recommend trying this lost to anyone.
Watch the Football: Champions Cup slot game preview below to fully appreciate the new slot by NetEnt.