Chicken Drop review
Chicken Drop is will be a light-hearted addition to the Pragmatic Play suite of games, due to be released at online casinos on July 29th, 2021.
Featuring a tumble mechanism, free spins and a progressive multiplier, Chicken Drop is very similar to other Pragmatic Play games in terms of layout and gameplay, but its light-hearted theme couldn't fail to attract our attention!
How I tested Chicken Drop slot
To provide a fair and informative review of Chicken Drop, I conducted extensive research and ran a battery of hands-on tests:
Researching the game provider
The first step is to take a long look at Chicken Drop's provider, including their trajectory, reputation, and industry standing.
Reading the game documentation
Next up, I carefully combed through Chicken Drop's in-game documentation, to get a sense for the rules of the game.
Playing through 1,000+ spins
The most important part of the testing process is, of course, hands-on experience—in this case, over 1,000 spins' worth.
Testing every special feature
Chicken Drop has a number of unique features and game dynamics, and I tested every single one of them myself.
Trying the Autoplay & other interface details
The user experience in Chicken Drop largely relies on the quality of its interface, which I thoroughly made use of.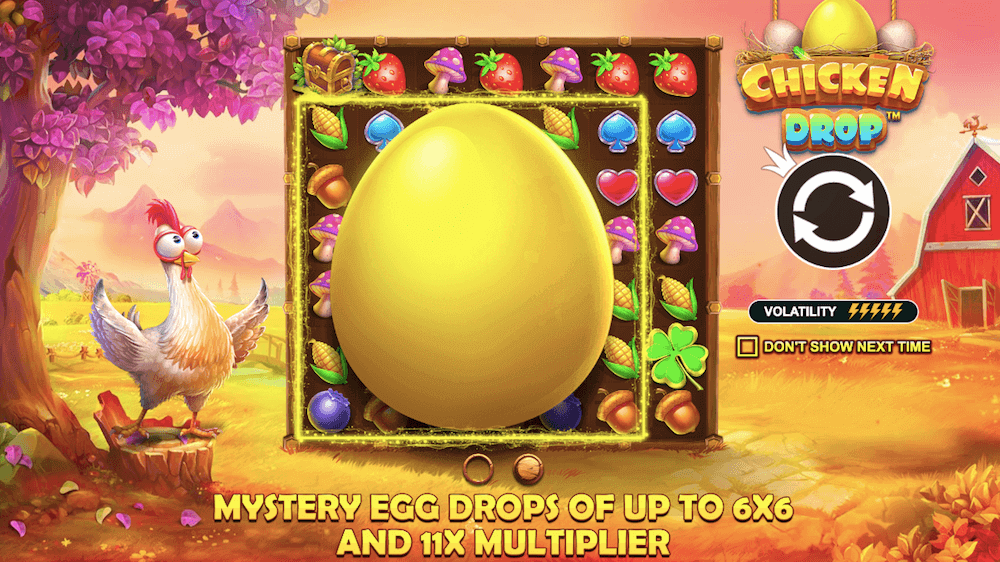 Play Chicken Drop With the Best Bonus
Chicken Drop is hot off the presses. It's hard to tell which operator will offer the best bonus to play. There are many online casinos that host Pragmatic Play games and you might find this game at one of the below casinos soon:
Chicken Drop Symbols & Payouts
There are many brightly-coloured symbols, buttons and options in the Chicken Drop interface. We'll walk you through each of them below.
The symbols
Symbols in Chicken Drop correspond largely to staples of farm life, like strawberries, blueberries, corn, acorns, and mushrooms. The lower tier symbols are a spade and a heart. The game doesn't have a wild symbol.
Chicken Drop incorporates a treasure chest, which serves as the game's bonus symbol. You'll also find a watering can, which is the upgrade symbol, and a clover as the multiplier symbol. We'll explain below how those work.
Paytable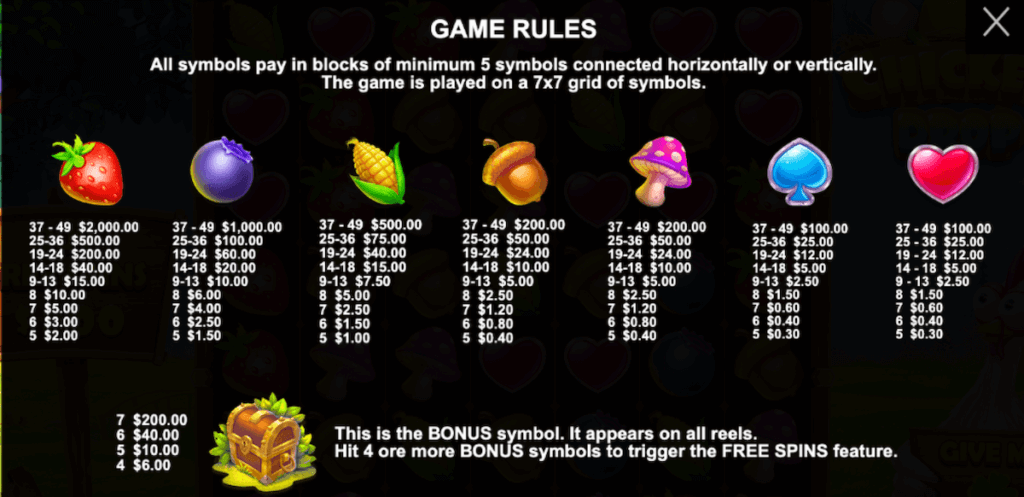 Min/max bet & autoplay option
The minimum bet on Chicken Drop is £0.20, while the maximum bet per round is £100. Players can make use of the AutoPlay feature for a hands-off gambling experience.
The AutoPlay settings menu is available directly below the Spin button. You can set the number of spins from 10 to 100, and customize various auto-stop limits. You can stop on any win, on wins exceeding a certain amount, and on specific cash increases or decreases.
Chicken Drop Slot RTP
Pragmatic Play's Chicken Drop has a Return to Player (RTP) value of 96.50%. This is very slightly above the industry average of 96%, and thus nothing to write home about.
Volatility
Chicken Drop features high volatility. This means you can expect dry spells, as big wins will be less frequent. The upshot is that those big wins will be even more sizable. This game is for the patient player with a little more time to spend at the slot.
Hit frequency
As a grid-based slot, Chicken Drop doesn't have a traditional hit frequency value. Grid slots with tumbling tiles don't stop on winning combinations, as they trigger new tiles coming down. Therefore, there is no way to calculate a meaningful hit frequency.
Jackpot and/or maximum win
Chicken Drop doesn't have a jackpot system. However, the maximum possible win is 5,000 times your stake.
Chicken Drop offers an unexciting RTP, but very high volatility
Pragmatic Play put together a lovely game with Chicken Drop. Its lively, animated symbols will keep you engaged for hours. With a broad betting range, players of any bankroll size can enjoy a few spins in Chicken Drop. Make sure you can stomach that volatility, though.
Game Features
Chicken Drop has a number of special features and unique game mechanics. We'll explain them in detail below.
Wilds, Re-Spins and Other Features
The game doesn't have a wild symbol but the other features make up for this lack significantly!
Tumble
Chicken Drop combines a generous 7×7 grid with the Tumble feature. This means that every spin, winning combinations are paid out and then disappear. The rest of the symbols fall down the reels to fill in the empty spaces. New symbols top off the reels from above.
If this reshuffle results in any new winning combinations, they're all triggered and paid out. Afterward, the Tumble feature repeats itself until there are no winning combinations on the reels. Any bonuses or multipliers during the base spin apply to all subsequent Tumble wins.
Free spins
This is the most straightforward of Chicken Drop's features. The bonus symbol can trigger the Free Spins feature. Bonus symbols can appear on all seven reels. Free spins carry over all multipliers and bonuses from the triggering spin. They can also trigger the Tumble feature.
Four, five or six bonus symbols will trigger 10, 15 or 20 free spins. During free spins, upgrade and multiplier symbols effects will remain in effect until the last spin. Each spin, after the Tumble feature stops activating, there is a guaranteed egg drop. Free spins can be re-triggered during free spins with no limits.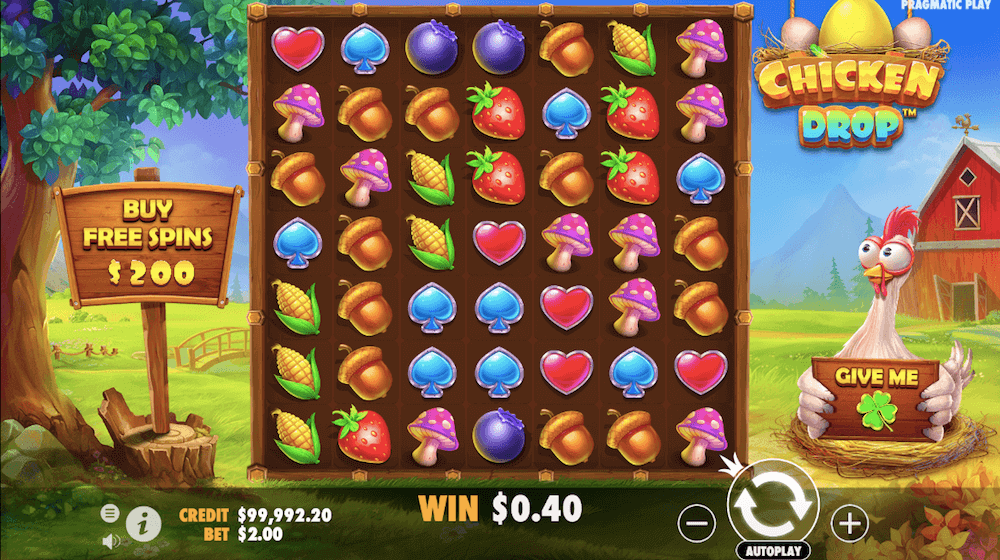 Progressive Multiplier
The progressive multiplier feature involves the titular "chicken drop," a massive egg that drops on the screen. Here's how it works.
During any normal spin, if you land a multiplier or upgrade symbol (and after all Tumbling), an egg appears. The egg will land on a number of symbols, changing them all to the same random symbol. This will trigger the Tumble feature. If any upgrade or multiplier symbol hits, the egg will drop again. The process repeats itself until no upgrade symbols hit after the Tumble.
The watering can is the size upgrade symbol. Each time it hits, the egg drop will grow from 2×2 to 3×3, 4×4 and so on, all the way to 6×6. Meanwhile, the four-leaf clover is the multiplier upgrade. Each hit increases the egg drop multiplier from x2 all the way to x11.
Bonus Buy
If you don't want to wait for your luck to turn, you have to option of paying for the free spins bonus with the "Bonus Buy" feature. It cost 100 times your bet and you get 10, 15 or 20 free spins. However, if you reside in the UK, this feature won't be available to you due to current gambling regulations.
Chicken Drop's eggs are full of surprises
The most interesting part about Chicken Drop are its many game features. It's not your average 3-reel Vegas-style slot machine. In fact, the standard gameplay feels a lot more like video games such as Bejeweled or Candy Crush. That makes it great for mixing things up.
The egg drop progressive feature is a tad complicated, but a lot of fun to trigger. You can easily get a number of chained wins, as the egg grows larger and larger. Combined with a high multiplier, it's a recipe for potentially huge wins.
Chicken Drop Graphics & Sound
The sights and sounds of the game blend together well with the farm theme. There is a lot going on especially with the music and sound effects. Luckily the game settings allow you to mute the music or sounds effects individually or simply mute all of it for your convenience.
The whole game is vibrant and busy. The symbols fall onto the board in a cascading style instead of spinning reels. The most convenient animation is the chicken to the right of the board, which keeps track of your multipliers and eggs.
Facts:
| | |
| --- | --- |
| Graphics | 3D |
| Optimized for Mobile | 👍 |
| Music | Yes |
| Special features | Animated symbols & background |
Chicken Drop offers charming farmland aesthetics in lush 3D
Chicken Drop features an animated background, animated 3D symbols and a well-rendered farmland theme. The game has a charming cartoonish-rural aesthetic and lush visual design. Colours are bright and lively, and very easy on the eyes.
The soundtrack fits the scenery quite well, but the music gets tiresome fast. Sound effects are generally adequate, with some effects, like the egg drop, being rather satisfying.
Solutions If You Have Some Issues With a Game
If you're experiencing issues during gameplay, there are a few things you can try. If you had no money in play at the time of the malfunction, you can simply reload the page. After all, you have nothing to lose.
However, if you have winnings to protect, you should reach out to customer support. Do keep in mind that any operator-side malfunction will void all bets and payouts. If you'd been winning for some time, your previous winnings should be unaffected. Any bets active at the time of the glitch or error would still be voided.
Verdict
Overall, we found Chicken Drop to be one of Pragmatic Play's most entertaining new releases. There are a couple of things missing, like wild symbols. That said, the game more than makes up for it with a bonanza of enticing special features.
The egg drop progressive multiplier feature is the definitive standout of the bunch. It's capable of delivering infinite streaks of wins with huge multipliers tacked on for good measure. The free spins mechanic (with possible retriggering) isn't too far behind, either.
What makes Chicken Drop truly different from most other slots out there is the grid system, though. Sure, Chicken Drop may not be the only game out there using a grid. However, when you combine that with the Tumble mechanic, it adds a whole new layer of fun.
Other Slots to Play If You Like Chicken Drop Slot
If you're into Chicken Drop, you'll probably love the following titles as well:
Fruit Party 2 (Pragmatic Play)
Jammin' Jars 2 (Push Gaming)
The Magic Cauldron: Enchanted Brew (Pragmatic Play)
Booty Bay (Push Gaming)
Stack 'Em (Hacksaw Gaming)
Odin Protector of Realms (Play'n GO)
Reef Raider (NetEnt)