Most popular Dice games in the UK
To give you an idea of the most played and adored Dice games among UK players, we have compiled a list in the hopes that you'll be able to find just the right Dice game for you.
1. Craps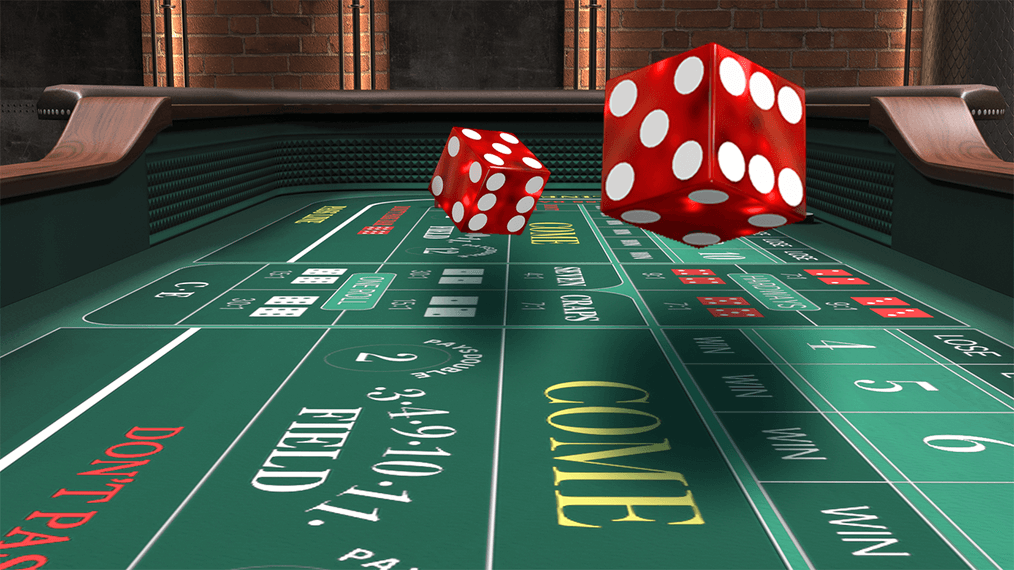 Craps is by far the most popular Dice game, even among UK players, and you'll find it at quite a few online casinos in the UK.
It involves placing your bet on the total number of two dice, and winning your bet in a game of Craps depends on the outcome. If the total consists of the numbers you bet on, well, it's your lucky day!
Craps, including the version by Playtech, can be found at a number of UK online casinos, although there's usually only one version of it being offered. Nevertheless, PartyCasino is one of the few online casinos that offers two versions of Craps.
2. Sic Bo
The name Sic Bo is derived from Chinese and means "dice pair". It's an ancient Dice game and was played on wooden blocks (much like Mahjong) in its early days.
While it may not be the most coveted game in the western world, it has been a massive hit in Asian countries, especially Macau.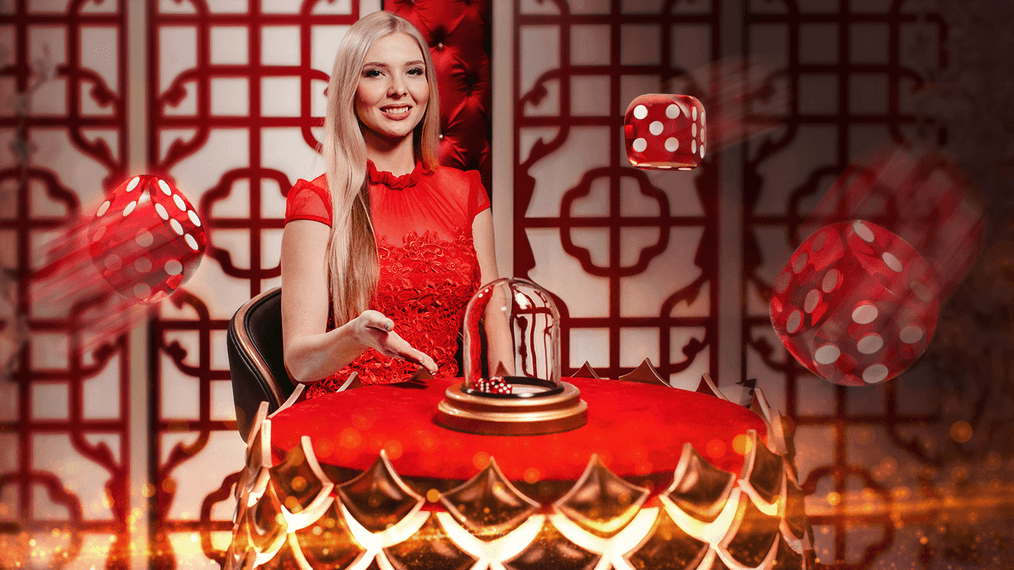 In Sic Bo, three dice are used, a little ironic seeing as the name of the game means dice pair, while the table consists of several different odds and payouts.
The objective of Sic Bo is placing bets on which numbers you believe will appear on the dice once they are rolled.
In a game of Sic Bo, there are plenty of options for you to place bets on, from numbers, exact combinations, sequences etc.
The game provider Microgaming has a version of Sic Bo that you might appreciate playing, and you can find it at any of the online casinos in our casino lobby that offers games by Microgaming.
3. Hazard
Hazard is an old English dice game that dates all the way back to the 13th Century.
The game is played with two dice and can be played by any number of players, whereby any player may begin the game as a "caster" (also known as a shooter).
If two or more players desire to start the game, they will all have to roll the dice, and the player with the highest outcome will get to start the game.
The caster then chooses what number they want their "main" to be, or rolls the dice until they land on a number between 5 and 9.
Ideally, 7 is a number that increases your chances of winning, and it's advised for a player to choose this number if they're appointed as caster.
The caster must roll the dice after their "main" has been chosen, and if they win (a nick/throw in), they get to keep rolling the dice until they lose at least 3 times.
In the case of a caster losing, it is referred to as a "throw in".
4. Bitcoin Dice
Bitcoin games are a recent phenomenon, most especially Bitcoin Dice. However popular Bitcoin Dice games are, they may appear to have more intricacies than a simple dice game like Craps, for example.
Unlike some of its predecessors, Bitcoin Dice does not use digital dice, but instead features random number generators.
Bitcoin Dice requires players to bet on various numbers between 1 to 10 000, or even more.
Although Bitcoin Dice offers a greater sense of mystery to players, the excitement can't be compared to traditional dice games where the players are able to see the dice as they are being rolled.
If you feel like you would like to try your hand at Bitcoin Dice, it is extremely important that you know all the rules of the game first.
5. Lightning Dice
As one of the leading game providers in the online casino industry, Evolution Gaming has produced quite a lot of loved and popular games, including Lightning Dice, which you can find at a number of our best online casinos.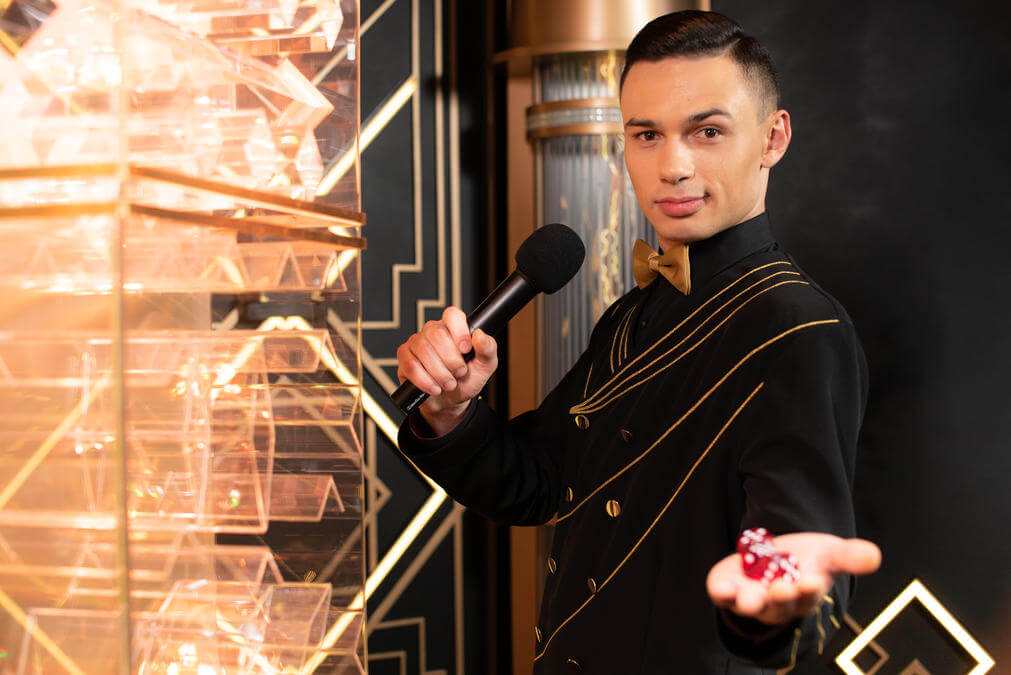 In this Dice game, you'll have the option between betting on a selected number or to simply click on the "Bet all"-button available in the game.
The game has its name due to its interface where lightning strikes between one or several lightning numbers after the betting timer in a game round has stopped.
A multiplier of up to 1000x is then allocated to each of the numbers that have been hit, which makes your chances of winning the game even higher!
Is it safe to play Dice games?
You need not to worry about your safety when playing Dice games in the UK, as they are among some of the safest games to play.
Do make sure, however, that when you venture out into the online casino world to try out Dice games, that you do so at a licensed online UK Casino.
Playing at a licensed online casino will ensure that you can play games in a safe atmosphere where both your personal data and transactions aren't at risk of being compromised.
Are Dice games legal to play in the UK?
Most online casinos in the UK are licensed by the UK's gambling regulatory body UK Gambling Commission which makes them safe for you to play at.
Always remember to check the validity of an online casino before you begin to play any games there, and be sure to read all of the terms and conditions presented at any online casino you decide to play at to make sure you aren't getting yourself into trouble.
What are Dice games?
As you may have guessed, Dice games are games where a dice is a primary focus within a game.
While Dice games aren't particularly popular among online casino players, as many tend to shy away from them, they are offered by a variety of online casinos and are fun games to try if you're looking for something new and refreshing to try out.
Why play Dice games Online?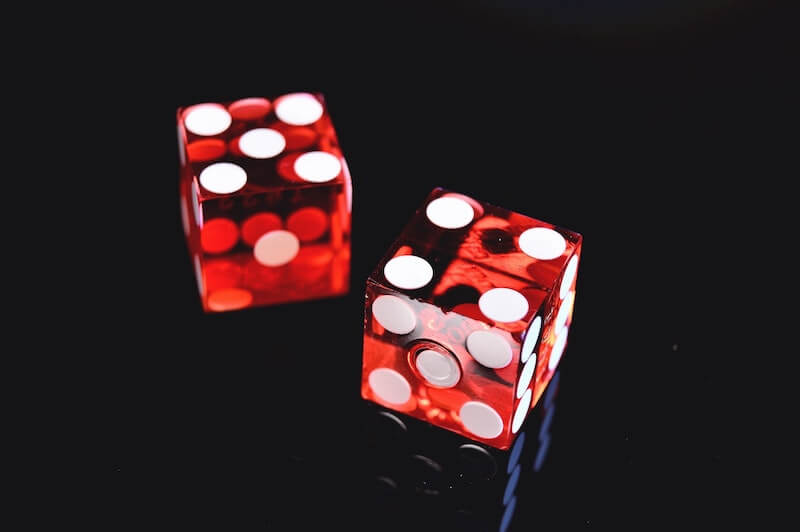 Playing Dice games online allows you to play from the comfort of your home, for example, or on the go, without limiting you to having to visit a particular Brick and Mortar casino.
You can be exactly where you are and still be exposed to a number of different Dice games, all in one place.
Also, HTML5-technology allows you to have almost the same experience playing Dice games online as what you would have at a Brick and Mortar casino.
Online Dice games vs Dice games at Brick and Mortar casinos
Below is a table that illustrates some of the most important differences between Online Dice games and Dice games available at Brick and Mortar casinos across the UK:
| | | |
| --- | --- | --- |
| | Online Dice games | Dice games at Brick and Mortar casinos |
| Play from your home | ✔ | ✖ |
| Bonuses | ✔ | ✖ |
| Promotions | ✔ | ✖ |
From the table above, you may already be able to tell that there are many more benefits to playing Dice games at trusted UK online casinos as opposed to playing them at Brick and Mortar casinos.
For one, if you love perks and treats, online casinos are just the places to be nowadays, as many of them offer some form of bonus once you register with them.
You also get to participate in promotions with some of your favourite Dice games from time to time, which isn't the case at Brick and Mortar casinos.
*Did you know?
Craps is the leading Dice game in the online gambling world, and more money is gambled in Craps than any other game in the world – making it the biggest gambling game in history.
3 important tips to know before playing Dice games Online
It isn't always easy to know what to look for when you're looking for a Dice game to invest your money and time on, especially when it's particularly new to you. However, we're here to guide you through the process of finding and playing one of the most fun games in the world.
1. Know basic rules, side bets and payouts
When it comes to any online game, the most important rule of all is not to immediately launch yourself into the deep end of it, as that will almost certainly spell disaster.
Take your time reading up on the different terms and conditions surrounding the game of your choice, and learn about its bets and payouts.
Doing so will put you in a position where you aren't suddenly caught off guard by either the rules or the outcome of a Dice game.
2. Learn all dice games betting strategies
In table games, there are usually betting strategies that could potentially lead you closer to some sweet winnings involved.
Betting strategies are in place to make playing table games even more fun and challenging at the same time, and knowing your way around a couple of them could be your ticket towards some amazing payouts.
3. Plan your budget and your time
There is nothing worse than continuously subjecting yourself to losing or burning through your bankroll because you didn't take the necessary precautions.
Having said that, we would like to advise you to make sure you've already set a limit for how much time and money you would like to spend playing a Dice game and to do your best to stick to it.

Most online casinos have tools in place to help you manage your spending limits as well as how much time you spend playing different games.

If you need a little further guidance on how to manage your time at online casinos in the safest possible ways, you could stop by our Responsible Gaming page for more information.
*Did you know?
Bitcoin games are becoming increasingly popular across the world, and among these are games like Bitcoin Dice.
All the other games with dice
The world of Dice games is vast, and there are plenty more dice games available other than the ones which have already been mentioned at the top of the page. Below are some of them.
1. Chuck A Luck
In Chuck A Luck, known as Sweat Cloth in England, among many other names, players can place a bet on any number between 1 and 6.
The operator will roll the dice and payouts will be made according to the outcome. While this game is quite simple, the odds are a bit complicated.
The operator has the odds in its favour, and will consistently make money in such a Dice game.
2. Klonedike
The Dice game Klonedike is also known as Casino Klonedike at casinos, is a game played with 5 dice.
In this game, a Banker rolls the dice first and players get to roll the dice in turn in an attempt to beat the combination that was first thrown.
Only one roll is permitted, and numbers rank from high to low as numbers 1,6,5, 4,3, and 2.
if the player happens to roll a combination similar to the banker, then the banker wins.
If a player bets on a "win", then they have to roll a combination that's higher than the Banker's.
3. Banka Francesca
The meaning of "Banca Francesca" is French Bank in English. It's a Dice game commonly found at Portuguese online casinos and can be compared to a game of Baccarat.
There are three betting spaces in such a game, "Big", "Small", or "Aces". Big has a dice total of between 14 and 16, whereas Small has a dice total of between 5 and 7.
"Aces" is when all three dice are rolled and each one of them shows 1.
Payouts tend to be larger with Big and Small bets in a game of Banka Francesca.
4. Ricochet
This Dice game version is played with three dice around a small table with chairs.
Several bets are available in such a game, and while some bets may win rather quickly, others may take a bit more time.
The objective is to roll the dice to get a combination of 111, 666, 126, 136, 146, or 156. If either combination is achieved, the bet wins.
5. Under And Over Seven
In the Under and Over Seven Dice game, the odds are on the operator's side, meaning the House Edge tends to be on the higher side.
In a game of Under and Over Seven, the players bet on one of three possible outcomes of the total of the two dice used in the game and roll the dice.
Play Dice games on mobile
A number of UK online casinos that offer mobile gameplay experiences, and you can find most of them under one roof right here.
Popular Dice games providers
Some of the leading Dice game providers, that were mentioned a little earlier, are providers such as Microgaming, Playtech, and of course Evolution Gaming.
By browsing our list of providers, you should be able to find even more game providers who supply Dice games.
Frequently asked questions
Some of the game providers who supply Dice games are Evolution Gaming, Playtech, and Microgaming, to name a few.
Dice game is just like any other game based on chance and luck, there is no guaranteed win. Just remember to have fun and to watch your bankroll.
Simply read up on all the rules involved in the dice game that you would most like to play, and make sure to try out a game before playing with real money, if possible. Trial and error is the best way to learn.