What Are the Best Online Craps Casinos in 2023?
Find your favourite Craps Online Casinos in the UK my taking a quick browse through our top 5 list below.
Is Online Craps legal in the UK?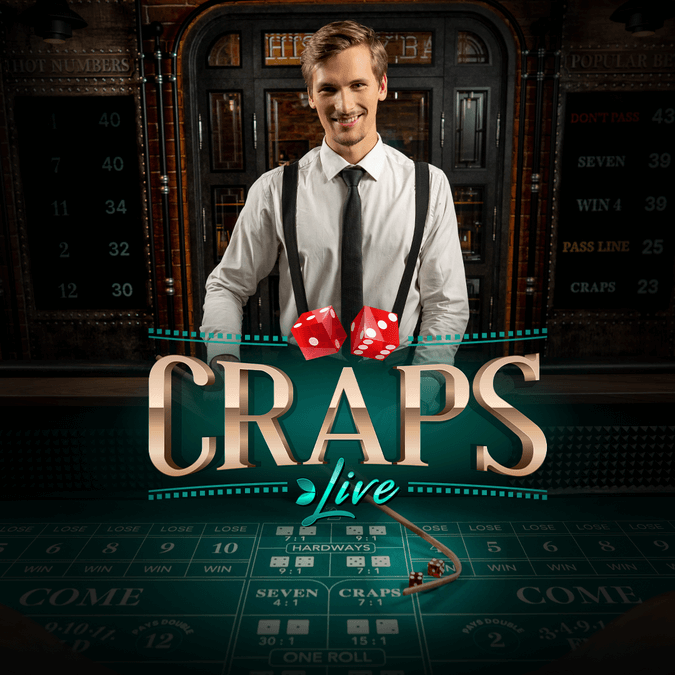 The UK casino market is legal and thriving, and thanks to the stringent regulation of the UK Gambling Commission, standards are kept exceptionally high.
We thoroughly recommend only playing craps at online casinos that have secured a licence from the Commission.
That way you are assured that the operator is delivering the best possible user experience.
Is Craps Online rigged?
As we've already mentioned earlier in this online craps guide, there is no way that your game will be rigged as long as you play at a casino that has the necessary licensing and certification.
If you play at a gaming site licensed by the UK Gambling Commission and/or the Malta Gaming Authority, you will know already that a random number generator has been applied to their craps games.
And this RNG, which is essentially an algorithm that ensures complete randomness with every roll of the dice, will be certified by eCOGRA or iTech Labs where the appropriate logo is displayed somewhere on the casino's website.
What is Online Craps?
The origins of craps as we know it today can be traced to the streets of New Orleans in the late 1700s, where playing dice became a popular pastime.
More than a century later, craps made its way into casinos in Las Vegas, before promptly being brought into gaming houses across Europe and beyond.
The explosion of online poker, and subsequently web-based casinos, saw more and more games being created for this new audience.
Craps was among the first to be given an online makeover, with the rules remaining the same and the gameplay capturing the excitement and unpredictability of craps
Online Craps: Did you know?
If played with optimal strategy, Evolution Gaming's Craps Live has an overall RTP of 99.17%! Playtech's RNG Craps game, on the other hand, comes with an RTP of 99.53%. However, you do need to place your bets strategically in order to benefit from such a low house edge!

Why Play Craps Online?
You may be wondering why specifically you should be playing craps online, and the reality is that there are three major perks to registering online play your favourite craps games.
| | Craps Online | Craps in Land-based Casino |
| --- | --- | --- |
| Safety | ✔ | ✔ |
| Bonuses | ✔ | ✖ |
| Promotions | ✔ | ✖ |
| Play anywhere | ✔ | ✖ |
Craps Bonuses
Everyone loves a little something for nothing in life, right?
The absolute vast majority of online casinos offer a welcome bonus to their new customers, and those reviewed by the team here at CasinoHawks are no different.
Of course, not all casino bonuses are as generous as others when you consider all of the factors – wagering requirements, terms of use, expiry date etc.
So consult the online casino reviews we have created in order to find the best bonus for your needs.
That way, you can hopefully build a nice bankroll to take into your craps gaming.
Convenience
Online casino gaming offers all of the excitement and anticipation of traditional table-top action, but with the added convenience of not even having to get up off the sofa.
Craps online is particularly satisfying.
Just hit that roll button and the dice will be set forth on your behalf – all that you have to do is wager accordingly.
Promotions
If you thought your welcome bonus was a nice touch, wait until you see the wealth of ongoing promotions and offers available to existing casino customers.
These range from further deposit bonuses and free spins to reload bonuses and cashback deals, and these are really nice perks that ultimately reward you for your loyalty.
Online Craps: Did you know?
The word "craps" comes from the French term 'crapaud', which means Toad. This is because people used to play the game squatting down on the floor, in a toad-like position!
Craps Online
It should be noted that, while the rules remain the same, there are distinct differences between standard craps online and the dealer versions of the game.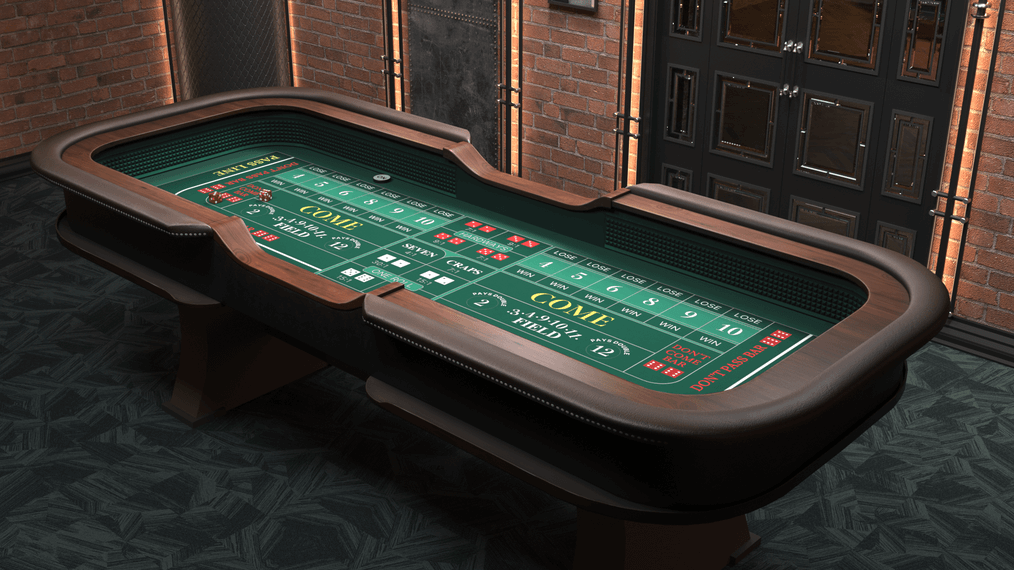 Difference Between Craps and RNG (Virtual) Craps
With craps, the drama unfolds in a real working casino, with the action streamed directly to your computer or mobile device. In online craps, the action is determined by a random number generator.
Dealer Craps
Dealer craps is arguably the most immersive form of the game you can enjoy online.
And players seeking an authentic, dynamic craps experience are recommended to give this style of gaming a try.
Once you move to a dealer game, a professional dealer will oversee the action, taking bets and rolling the dice before – hopefully – shunting some chips in your direction after a winning round.
Online Craps Games
This RNG determines the numbers which appear on the dice, and as we have discussed elsewhere on our site you should only play online craps at sites that have confirmed certification from eCOGRA or iTech Labs. That way, you know that their RNG for craps games is provably fair and random.
If you are just learning the ropes with regards to craps bets and the rules of this unique game, the virtual version is recommended. That is because it takes place in a quieter, low-key environment.
In many cases, the best online casinos will actually allow you to enjoy online craps for free, so you can become accustomed to playing without risking your bankroll.
How to Play Craps Online
The objective of craps is rather simple – you need to guess what the value of the outcome of the two dice that are being rolled out.
The rules of craps might seem slightly confusing but it is one of the best bets you can make at the casino with the house age being super-small at 1.41%, which is more than 3 times better than roulette and several times better than the common slot machines.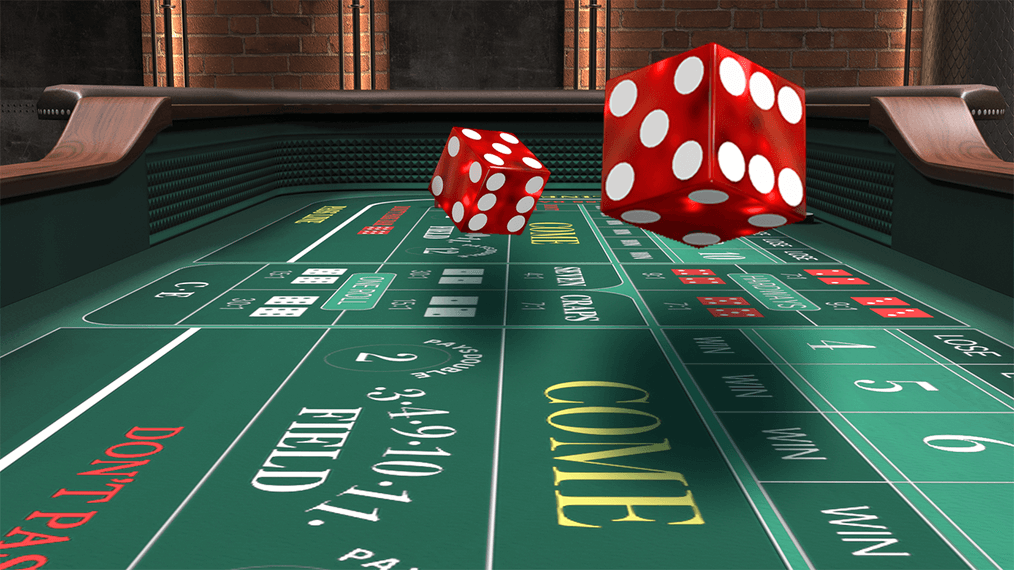 It's also quite unusual in the way that players roll their own dice, so in a way you are determining your fate and chances of winning yourself.
With craps online the gaming environment is slightly different than in a land-based casino but, in essence, the rules remain the same. So too does your suite of available actions.
You can read more about these in the sections below.
Online Craps Rules
In theory, a group of people rolling two dice and betting on the outcome doesn't sound all that complicated or sophisticated.
But craps is a lot more complex than that basic overview suggests.
First things first, we need to get you in the game – and that begins with the 'come out' roll of the dice.
This established your position in the round.
Add the two numbers on the dice together and you will have one of three outcomes:
Natural – if you roll a seven or eleven combination you are an automatic winner!

Craps – if the total of your roll is two (known as 'Snake Eyes'), three or twelve you have lost, unfortunately.

Point – if you score any other combination it's known as 'Point', you will get to continue rolling the dice. Match the same number as your first turn before hitting a seven and you will win.
Note that every time you win you retain the dice – you are the 'shooter' – and it remains your turn.
If you lose, you pass the dice on to the next player.
Of course, in most online craps games you will be the only player and thus will act as the shooter at all times.
Hopefully, that's nice and straightforward, because now we will discuss in more depth the craps bets that are available to you, the odds for each and how you can use strategy to maximise your chances of winning.
Types of Bets and Odds – How to Play Craps
When you load up the best craps online games, you will notice that the betting board features a whole array of options.
Pass/Don't Pass bet
The most basic of these is the Pass/Don't Pass bet.
This is essentially wagering on whether you think the shooter will 'pass', i.e. win, either by rolling a natural or by covering their point before 'crapping out' (yes, that is the genuine technical term for a losing turn!).
Naturally, the Don't Pass bet means that you think the shooter will not prove victorious.
Come/Don't Come
Then we have the Come/Don't Come options.
These bets are placed after the establishing come out roll and once the Point has been confirmed.
The Come bet wins if the shooter rolls the point before he/she rolls a 7.
As you might have guessed, the Don't Come bet option dictates that you think the shooter will lose.
Prop bets
On the gameboard you will see a selection of 'prop bets' and their associated odds. These are as follows:
A Score of Seven – 4 to 1
Any Craps – 7 to 1
Pair of 2s or 5s – 7 to 1
Pair of 3s or 4s – 9 to 1
1 & 2 or 6 & 5 – 15 to 1
Pair of 1s or 6s – 30 to 1
Of course, some of these rolls have nicknames, so it's worth knowing these so that you don't get confused at the table!
Snake Eyes (sometimes known as 'aces') is a pair of 1s and Boxcar is the pair of 6s.
Other common bets
And finally, we have three bet types that pay out at a rate of even money.
The Place bet requires you to pick a designated number you think will be rolled before a seven.

The Field bet wins if any combination other than five, six, seven or eight is delivered, and finally,

Big 6 and Big 8 bets are as the name suggests – land this number before a seven is rolled.
Craps Strategy – How to Play Craps
As you may have learned on your journey through casino gaming, there has to be an incentive for an operator to take your bet.
If there wasn't, why would they bother!?
That's why all casino games have a house edge, and online craps is no different.
Here's a quick look at the house edge per craps bet type: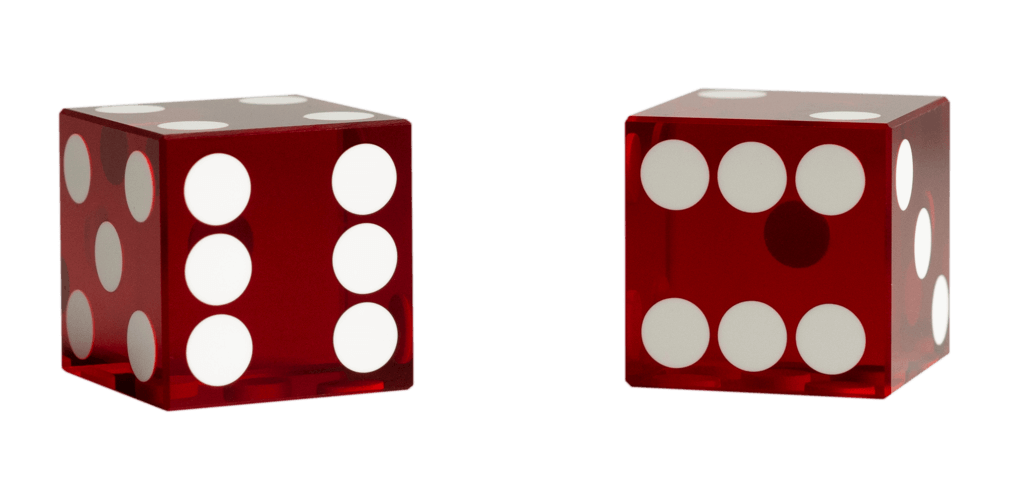 Don't Pass/Don't Come – 1.36%
Pass/Come – 1.41%
Field – 5.56%
Big 6 or 8 – 9.09%
As you can see, the house edge is prohibitive when it comes to the prop bets.
And you will have to decide whether or not you want to take a chance per session on landing a few long odds winners.
For those who want to take a chance on a Place bet with an individual number or two, it's worth noting that other than seven it is six and eight that are the most frequently rolled numbers.
Use that information to help squeeze the house's edge.
For low risk bettors, the Come bet is the way to go.
Think about the combinations that can lose your stake here – two, three and twelve.
Of course, only a pair of 1s and 6s can deliver the numbers at the extreme ends of the scale, whereas a natural is easier to achieve due to the number of combos that can result in a seven.
For that reason, players who seek consistent wins at lower odds should seek out the Come bet.
Statistically speaking, the Don't Pass bet is another option that can yield steady, consistent wins.
Remember, only a natural can end your hopes of victory in the first instance, and there are more combinations that will at least take you to the Point line.
Then, you have a greater chance of winning, because seven is the most frequently appearing number in the game.
A house edge of 1.36% is pretty much as low as it gets in craps too.
Finally, you may have read a little alone about the Iron Cross system.
This is an online craps' version of the 'cover the board' technique in roulette, and can lower the house edge to just 1.14% – albeit, you will need to invest more per round.
The premise of the Iron Cross system is simple: if a seven is rolled, you lose. If any other number comes out, you win!
A combination of Field and Place bets are made that cover the whole gamut of possibilities apart from seven, and should any other number land then you will turn a profit on that roll.
It's not rocket science, but it can certainly shift the balance slightly in your favour and away from the house.
Online Craps: Did you know?
On any given roll in Craps, the most likely total is 7. This has a 16.7% chance of appearing, thanks to 6 different combinations. Conversely, 2 and 12 are the most unlikely totals.
Tips for playing Craps Online
Learn how the game works first – craps rules may seem complicated initially. It's a good idea to play an RNG craps game in demo mode first, to get the hang of it. You can also follow Evolution Gaming's interactive Craps Tutorial if you intend to play Craps!
Stick with the Pass Line bet at first – this is the most popular craps bet, which has a low house edge of 1.40%
It's fine to place Don't Pass and Don't Come Bets – these are good bet types to make, with a house edge of 1.40%, and which still come with high odds of winning.
Make use of the odds bets – The odds bet, which you can place after a certain point in the game, has no house edge at all! This can be combined with other bet types to reduce the overall house edge!
Sound bankroll management – unlike other table games, in craps you are likely to place additional bets during the game. This can eat away at your bankroll considerably, so we suggest you stick to low bets, at least initially
Online Craps: Did you know?
Evolution Gaming's Craps Live Game comes with a special 'My Numbers' feature, which makes it so much easier to play. The feature helps you keep track of the bets you have placed, tells you which numbers haven't been bet on, and also shows you the potential payouts.
Solutions for Common Issues when Playing Craps Online
Craps is a fairly straightforward game to play once you learn the rules. If you join a licensed online casino, you will rarely ever run into issues. Below are just a couple of issues you may encounter:
The craps game I am trying to play is not loading.
The problem is likely coming from the provider or the operators' end. We suggest you contact Live Chat to check whether the variant you are trying to access is still on offer.
I lost my internet connection while playing craps. What will happen?
If you're playing Craps, the bet you placed before your connection was interrupted will still count. For RNG games, you'll benefit from Disconnect Protection – once you reconnect, you can continue playing the game from where you left off.
Why can't I play Craps for free?
You may be trying the dealer version of craps. You cannot play Craps for free because of the resources needed to run this game. However, you can try out First Person Craps for free, or choose an RNG version of craps.
Craps: Did you know?
There are usually less craps tables at land-based casinos compared to other table games. This is partly due to the fact that the game requires more resources, as there are typically 4 people managing a table. The box person keeps track of the outcome of each roll, while the bets are placed by two dealers, who also move the chips on the table. A person known as the stick man hands the dice to the players and returns the dice to the shooter.
Luckily, online casinos don't face these problems as technology manages most of the action!
Variants of the game
Different variants of craps have emerged over the years, as the game gained in popularity in different parts of the world. These variants are different from each other due to the different side bets and slightly differing rules.
Bank Craps
This is the variant you'll typically play at a casino. It is played by one or several players, each of whom wager against the casino (the bank), and not against each other.
Crapless Craps
You won't typically find these variants at online or land-based casinos, because the house edge is greatly reduced. In Crapless Craps, it' s not possible to lose on a Pass Line bet by rolling a craps (2, 3 or 12) on the Come Out roll.
High Point Craps
High Point Craps comes with some interesting rules: an initial roll of 2 or 3 is ignored until you get a different total. A roll of 11 or 12 makes will pay out even money (1:1), and if you roll any other number, this will be considered as the Point. After that, you need to roll a number higher than the established Point to win, otherwise you lose!
Simplified Craps
As the name implies, this is a very simplified version of craps, with no side bets involved. In Simplified Craps, there are no Pass Line or Don't Pass Line bets, Craps or Naturals. Players win or lose depending on the outcome of one dice roll.
Die Rich Craps
This variant of craps is played with just one die. The Point can be only one of 4 numbers in this game (2, 3, 4 or 5). If a 6 is rolled on the come out roll, all pass line bets win, and pay out even money. 1 is the craps number in this game; all pass line bets are lost if a 1 is rolled on the come out roll.
New York craps
A variant that's mostly played in New York, this game comes with a rather high house edge of 5%. It has a slightly different table layout, and all players must play on box numbers 4, 5, 6, 8, 9 or 10
Low limit craps
This refer to any online craps game that allows you to place very low wagers – ideal if you're just starting out with craps or if you're on a low budget!
Craps: Did you know?
Another interesting craps 'variant' that was popular in the late 1900's is called Street Craps or Ghetto Craps. As the name implies, this game was played out on the city streets and sidewalks.

How to improve your game
It's really easy to find craps casinos, but then it's really easy to find plumbers, mechanics and the like advertising their services online as well.
But how do you know that they are up to the job? And what other ways are there to improve your chances of winning at craps? We'll take a look at this in the below sections.
Find the Best Craps Online Casinos in the UK
The good news is that thanks to Casino Hawks you don't need to run the risk of playing craps online at a dodgy site that does not offer the security and protection you would expect.
We have compiled stacks of online casino reviews, where you can compare those which offer a wide range of craps games, for starters, but also those which are licensed and offer the level of service that YOU expect.
Use our casino ratings to find the sites with:
The best selection of casino games – including craps, of course
The most lucrative bonuses for new and existing players, with the most agreeable terms and conditions
The widest range of safe payment methods
The most efficient customer support – brands with actual human beings rather than robots or algorithms answering your questions!
Once you have become a customer of the best craps online sites, that's when your journey into this fascinating game really begins…
Practice for free
While you won't be able to play dealer craps for free, there are plenty of standard 'virtual' online craps games where you can practice using play money.
Indeed, this comes highly recommended.
You can get a feel for craps online, learn more about the various craps bets and strategies, and basically become more accustomed to the action prior to risking your own bankroll.
Watch streamers to discover new tips
Watching a streamed game of craps can help you familiarize yourself with the game and learn the ins and outs. Since Evolution Gaming launched its Craps Live game, there have been some streamers on Twitch and YouTube featuring the game.
That said, there aren't a lot of streamers for craps as yet, since the game made it to live casinos only very recently. Casino Streamer LetsGiveItASpin has put up a great video on YouTube of a big win session of Craps Live being played at LeoVegas Casino – this one should really get you excited and give you an idea what the game is about!
Play Online Craps on Mobile
Like any other online casino game, craps can now be played on mobile! In fact, online games are being played more and more on mobile devices, and both providers and casinos are catering their products to this!
The best way to experience craps on mobile at the moment is by going for a craps variant: you can choose between Evolution's Craps Live or Vivo Gaming's Live Craps, which have been optimized for mobile.
For an intuitive mobile experience, we recommend playing craps with a mobile casino that has a dedicated app. LeoVegas and Rizk are two such casinos with stellar apps.
Frequently asked questions
You can play online craps by joining a casino that offers the game. You can play RNG craps against the computer, or try out Craps at the live casino in order to play the game with other players and a real croupier! All you need to do to get started is create a player account with one of our recommended online casinos.
The types of bets you choose in craps affect your chances of winnings. Our suggestion is to make use of the odds bets when possible and to choose lower-risk bets. Check out our Craps guide for more tips and strategies.
You can play craps for free by choosing an RNG craps game, which is a game that can be played against the computer. You can look for these games in the table games section at an online casino.
Our expert team has all the answers you need in our complete guide to the game of craps. Learn Craps Rules, Craps Strategy, Shooting Craps, Play Craps, and more at CasinoHawks.com!