Craps
What is Craps?
Craps is one of the most exciting, fun and – how shall we put it mildly – loudest casinos games out there.
Groups of people playing craps in land-based casinos are usually easily located because they scream and shout and overall look very excited about the outcomes of the game.
The game's origins are not 100% clear. There are many theories about where it came from, but the dice games have been around for all history.
So let's have a better look at what craps game is like nowadays.
Craps Basic Rules
The objective of craps is rather simple – you need to guess what the value of the outcome of the two dice that are being rolled out.
The rules of craps might seem slightly confusing but it is one of the best bets you can make at the casino with the house age being super-small at 1.41%, which is more than 3 times better than roulette and several times better than the common slot machines.
It's also quite unusual in the way that players roll their own dice, so in a way you are determining your fate and chances of winning yourself.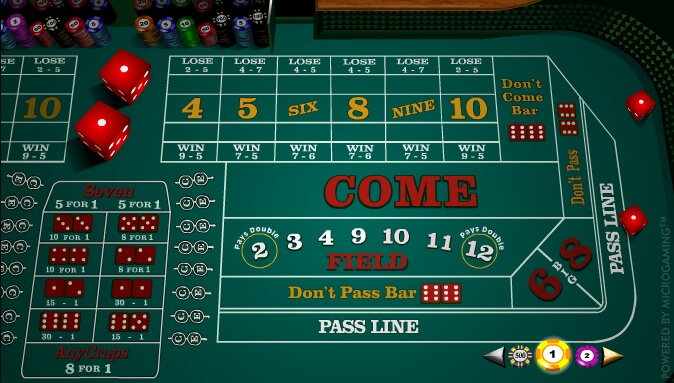 Craps gameplay
In Craps, every player takes turns to roll the dice. The player who's currently rolling is called the shooter.
All the players have to bet on the same roll of the dice, whether they are rolling or not. In this game of rounds, the first roll is commonly referred as Come-Out Roll.
Pass Line Bet
There are different types of bets in craps but let's start out with the most basic one called the Pass Line bet which pays the amount you bet.
To make this wait for the Come-Out Roll, and then put your bets/chips on the area of the table called Pass Line. After all the bets have been placed the shooter rolls the Come-Out Roll.
If the number combination of the rolled dice is 7 or 11, you will win. 2, 3, or 12 you lose and any other numbers such as 4, 5, 6, 8, 9, 10 will get you to another round.
The number that was rolled out causing the next round is called the point, let's imagine it was 8. Then the marker will be placed on the point and the game will change, offering you another chance to win or lose.
If the point number rolls out again, you win, if 7 rolls out you lose and any other number just takes you again to another round.

7 is one of the most important number in this game that you need to pay special attention to, since it changes the meaning of the outcome completely throughout the game. In the come-out roll 7 makes you win, but in the next round, seven makes you lose.
When a seven comes up before the point and makes you lose, it's called sevening out and the dice is being passed to the next player, who becomes a shooter.
Don't Pass line Bet
The "don't pass line" bet can be considered the exact opposite of pass line bet, meaning you are betting against the dice, so many players refer to it as "betting wrong".
When you make a don't pass line bet, you are betting that 2, 3, or 12 will be rolled out. If you win on the come out roll this kind of bet will double your wager.
If any other number is rolled, it will serve as the point just like in the previous case but this time, you will hope that the point won't be rolled out again in order for you to win.
Other Craps Bets
There is a huge number of different types of Craps bets but they are mostly used by very experienced players and we recommend you to start out with only pass line and don't pass line bets when you are a beginner.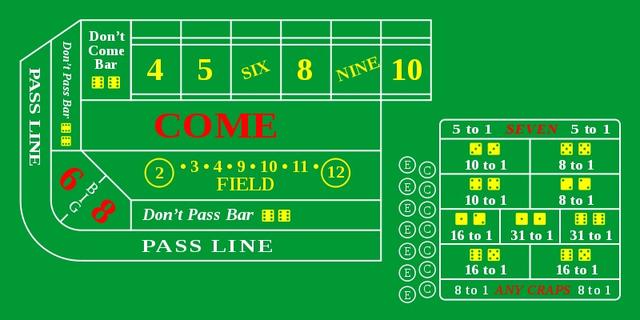 Craps Fun facts
Craps players are widely known for being extremely superstitious. If you ever find yourself at the physical Craps table in the offline casino remember a few no-no's to save yourself from being frowned upon and blamed by everybody for loosing their money.
Never say the word "seven" after the Point was made. Crappers prefer to call 7 "it" as they believe if they name it out loud then it will increase the chances of 7 being rolled.
A man should never mention that he never played Craps before – new male players are believed to be unlucky.
A woman can and should brag that she never played before as female craps "virgins" considered to bring good luck to the table.
Never hit other player's money when you roll the dice – that's a total "luck ruiner" in every craps player book.
Get bonus to play craps
None of the silly things mentioned below of course mean anything when you're playing craps online in the comfort of your home or on your mobile in one of the well-respected UK online casinos.
It's so much easier and safer to start out with craps online. First of all, you'll have your own time and pace to get to know the game and understand the rules and the gameplay.
Another nice thing about playing online is that you can practice the game of Craps for free and play without betting any real money. Once you feel confident enough, you can start real money play in your own time and on your own terms.
You can play not only at home on the desktop version of online casinos but also from your mobile – so Craps is available to you anytime, anywhere you go.
And the most important thing is to remember that most good-quality online casino will give you a bonus when you sign up and deposit with them so you can use your bonus money to play and practice Craps.
Most casinos also throw in some free spins for the slot games, so you can always try a variety of different casino games for free. Check out our carefully selected, most generous offers from the UK online casinos.