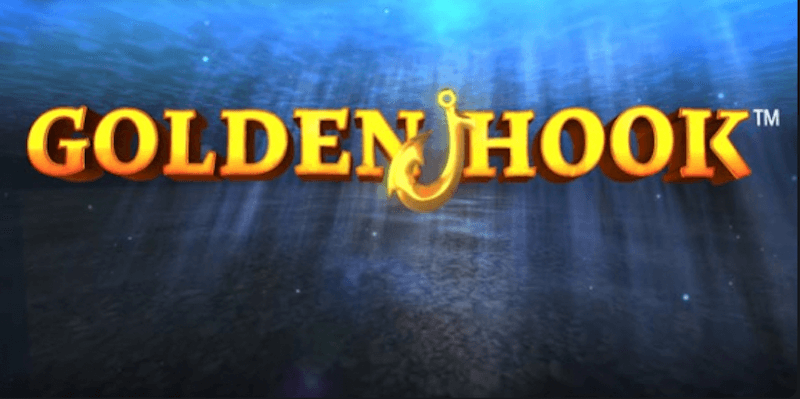 Fishing adventures on the grid get even better in this crash game release from Crazy Tooth Studio. Cast your line into the deep blue waters and pull out colourful fish. Hold the line longer and you'll increase your rewards. This review will discuss the exciting Golden Hook fishing adventure crash game and how you can join the fun.
What you will find in this The Golden Hook Crash Game Review
The minimum/maximum bet: Information about the minimum and maximum bet.
RTP: The game's RTP rate. As you will already know, the higher the RTP rate, the better.
Autoplay option: The game's autoplay option and how many automatic spins/rounds it offers.
Game Features: The types of features the game has and what rewards they're likely to give you.
Graphics & sound: What the graphics and sounds are like.
Golden Hook Statistics
| Golden Hook Stats | |
| --- | --- |
| Min bet | £0.20 |
| Max bet | £40 |
| Max win | 3,082x |
| RTP | 96.75% |
| Autoplay | 👍 |
| Free Play | 👍 |
| Features | WiNCREASE, Golden Hook Bonus |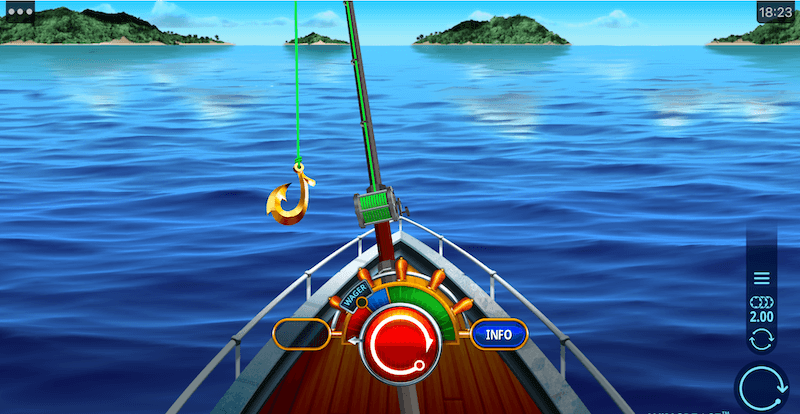 Min/max bet, max win
You can join this fishing expedition in your favourite online casino for only £0.20. The maximum amount you can bet is £40. If Lady Luck is on your side, you can win 3,082x your bet.
RTP
The RTP of the Golden Hook crash game is 96.75%. This is well within the average range compared to similar online casino games.
Autoplay Option
The smaller spin button to the right of the game screen is the autoplay button. You can use it to cast your line 10, 25, 50, or 100 times. To activate the autoplay, you also have to choose the wager value that will be applied in all attempts. Unfortunately, it doesn't have the option to set the loss and win limits.
Flexible betting limits
The minimum and maximum betting limits in Golden Hook are fair to all players. You can access all game features even with the lowest bet values. The maximum win is also decent for a crash game.
Game Features
There are few bonus round features in most crash games. Typically the game rounds are bare bones, and rewards only come from gaining multipliers. Golden Hook is a tad different and has a few bonus features:
The WiNCREASE multiplier feature
The Golden Hook bonus
Golden Hook Graphics & Sound
This crash game is set on the deck of a fishing boat deep in crystal blue ocean water. On the horizon, you can spot two islands. You'll spot more islands if you stay in the water longer.
As you cast your line, a smooth jingle plays in the background. It's often interrupted by the sounds of an extending line when you hit the spin button and fanfare when you make a catch.
| | |
| --- | --- |
| Graphics | Eye-catching 2D and 3D graphics |
| Optimised for Mobile | 👍 |
| Music | Mellow acoustic folk |
| Special features | WiNCREASE, Golden Hook bonus |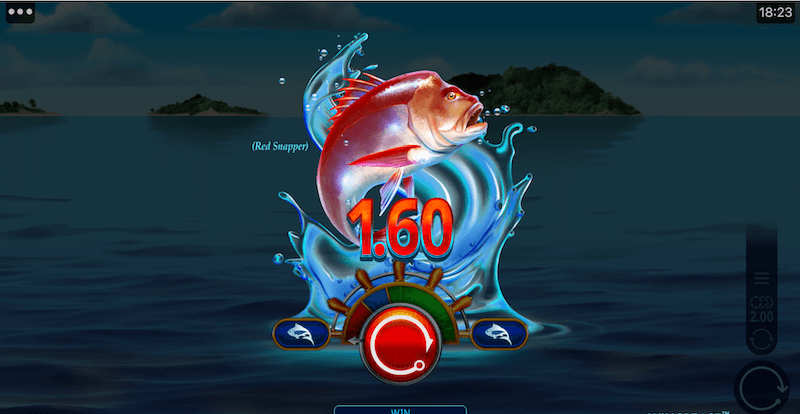 A calm day at sea
Golden Hook is set on a beautiful sunny day that makes a fishing trip feel good. The 3D graphics and attention to detail in adding islands as you stay in the sea make the game feel more immersive. The soft background music is relaxing and makes this crash game more enjoyable.
How To Play Golden Hook
In your favourite crash game casino, launch this title from the lobby. Choose your desired bet value using the plus/minus button to the right of the play area. Hold the spin button to cast your line in the water to begin catching fish. Keep holding it to risk a bigger catch (higher multiplier).
When your hook catches a fish, multipliers will pop up on the game screen and continue to increase. You must use the green collect button to reel out your catch. Unfortunately, if the line snaps, you'll lose your catch/multiplier.
On a lucky cast, you can also trigger either of the bonus features earning you more rewards.
Cast Your Line
If you've played a crash game before, you'll appreciate Crazy Tooth Studio's efforts in the graphics and soundtrack of this game. They pair well to create an immersive play atmosphere. The betting limits in this title are quite flexible, and the two bonus round features are a good touch.
On the other hand, holding down the spin button to increase your multipliers can get at you pretty fast. It can also be very tempting to keep holding down the line, which makes it snap, leaving you empty-handed.
All in all, Golden Hook is an easy but risky fishing adventure perfect for casual play. We rate this game 7/10.
Crash Games Similar To Golden Hook
Frequently asked questions
No. Crazy Tooth Studio is a bonafide software provider with a reputation for making provably fair games.
The maximum amount you can win by playing this crash game is 3,082x your stake value.
Yes. This game has two bonus features: the WiNCREASE multiplier and the Golden Hook bonus. When you hold your line long enough in the water, you can trigger WiNCREASE, and buoys will appear with between 2x - 10x multipliers. If you are lucky enough to catch a golden tuna, the Golden Hook activates and will catch fish of all sizes, each with a bonus prize.