Wild Seas review
Elk Studios will be releasing a pirate-themed slot with a twist this January, for all those who dare set sail onto the high seas! In Wild Seas, players will be thrilled to discover an innovative free spins feature, which will help them move forward on their adventure to loot a treasure from three rogue captains! Learn more about this exciting new slot by reading our detailed review below, and find out which UK casino sites will be offering it for UK players as from the 11th of January 2018.
Wild Seas slot features
Wild seas is a 5 reel slot with 178 ways to win with a story behind it, where players can progress up two levels to unlock bonus rewards. It is based on the story of Anne Bonny, a pirate whose father was betrayed by 3 captains, and who is now determined to avenge her father by attacking the pirates' merchant convoys. Players spin the reels to land low-paying gold skeleton coins, silver coins and bronze octopus coins, higher-paying captains in green, blue and red hats and the figure of Anne Bonny herself, who is the ship's captain. There is also a wild seas flag symbol, which appears on reels 2 and 4 and leads to the slot's exciting free spin feature.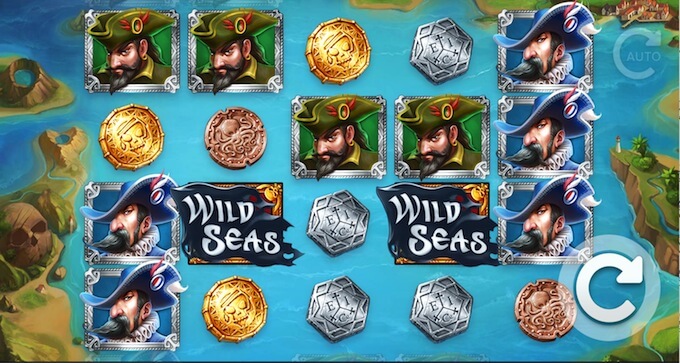 Wild Seas slot free spins
Once you land on the wild symbols and trigger this slot's free spins feature, one of the captain symbols is selected at random and replaces all the other captains for the duration of this feature. Now, your mission is to break the convoys, which will start moving one reel to the left from the fifth towards the first reel with each free spin. If you land a cannon symbol on the fifth reel, you'll see this firing at the ship on that row to stop it from moving forward for the duration of one spin. Hitting a ship 3 times will sink it, and this results in a treasure chest which shall be collected for part 2 of the game. This free spins round comes to an end when all the ships sail past the first reel, and players will be able to progress to the second level if they've been able to hit a ship three times.
Wild Seas slot Loot the Treasures bonus feature
During this feature, which follows on from the free spins round, all collected treasure chests will turn into sticky wilds, and extra treasure chests fill up the 3 middle reels to also give you more sticky wilds. More sailing ship wilds are also added to the fifth reel during this feature, to ensure even more wins. Hitting the bomb barrel on the first reel then triggers an explosion and causes this feature to come to an end.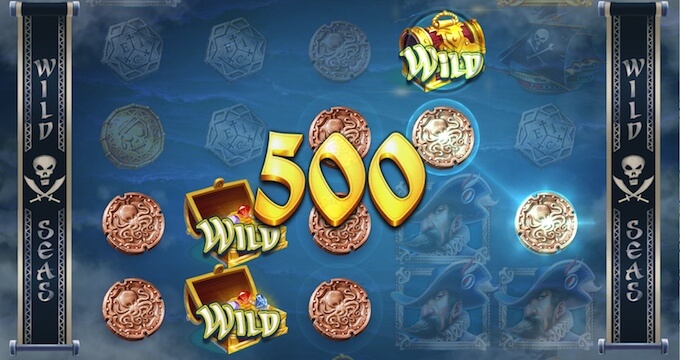 Wild Seas slot bonus
Apart from the bonus features you can unlock as you play Wild Seas slot, you may also benefit from additional casino bonuses by signing up with any of our reputable best online casinos. Give your bankroll a boost by taking advantage of their welcome packages and improve your chances of winning on slots like Wild Seas!
Where to play Wild Seas slot
Wild Seas slot min/max bets, RTP, volatility and maximum win
As you play Wild Seas slot, you have the option change the coin value, which ranges from £0.01 to £5, while betting is fixed at 20 coins per spin. Therefore, the minimum one can bet is 20p, and the maximum possible stake per spin can amount to £100. The game has an RTP of 96.3% and can lead to a maximum payout of 178,000 coins, which can be secured via the bonus features. We're still waiting for its release to be able to give you more details about its hit frequency and volatility, but from the information we have so far, it looks like it will be a rather volatile slot.
Wild seas slot graphics and sound
To complement the game's innovative and thrilling gameplay, Elk Studios have come up with excellent graphics for their Wild Seas slot. The reels are set against a map of the Caribbean sea, and the symbols comprise of vibrantly coloured animations that foretell the fun that's in store! The symbols aren't always static: instead, you'll get to see the pirate ship shooting at other symbols, and the merchant ships moving across the reels, which serves to convey that sense of adventure, and makes Wild Seas an action-packed slot that must have been very well-thought out. The soundtrack adds to the excitement, and all in all, both graphics and sound will appeal to all of those who've always been fascinated by the pirate-theme.
Wild Seas slot – our conclusion
Wild Seas is a beautifully designed slot that will plunge you into Anne Bonny's quest and make you determined to help her out with her revenge, for a chance to claim your own share of the looted treasure! The slot shall certainly satisfy your appetite for adventure, and both graphics and gameplay shall ensure that there will never be a dull moment as you play this slot. Perhaps the only thing we need to caution against is not to get too carried away by all the action, so you don't risk incurring any huge losses. You can avoid this by setting a budget and by playing with one of our recommended online casinos to claim a deposit bonus, for a chance to start playing Wild Seas slot with some extra bonus money. Set sail onto the wild seas yourself as from the 11th of January 2018: CasinoHawks wishes you the best of luck!