Who Wants To Be A Millionaire Megaways review
We have amazing news for all of those who dare to dream big: The British TV game show Who Wants to Be a Millionaire will be having its online slot version, after Big Time Gaming signed a licensing deal to release a Megaways slot based on this popular show! As you may rightly expect, there's one thing that the show and the slot will have in common: the potential to make you a millionaire! If this prospect excites you, have a look at our review of Who wants to be a Millionaire Megaways slots to learn what it involves and to find out at which UK casino sites you'll be able to play this game!
Who Wants to Be a Millionaire Megaways Slot features
Who Wants to Be a Millionaire is a 6-reel slot where up to 7 symbols may land on each reel on every spin. Since the number of symbols per reel changes each time you spin, the ways to win will also change and can increase up to 117,649 ways if all reels are expanded (the ways to win will be displayed at the top of the reels during each round). There are also 4 additional reels beneath the 2nd, 3rd, 4th and 5th reels, which will spin independently. Symbols on the reels include low-paying 9 to Ace card symbols, medium-paying green, red and blue gems and a high-paying diamond. There's also a wild symbol, which can only land at the bottom reel set, as well as scatters, which display the game logo.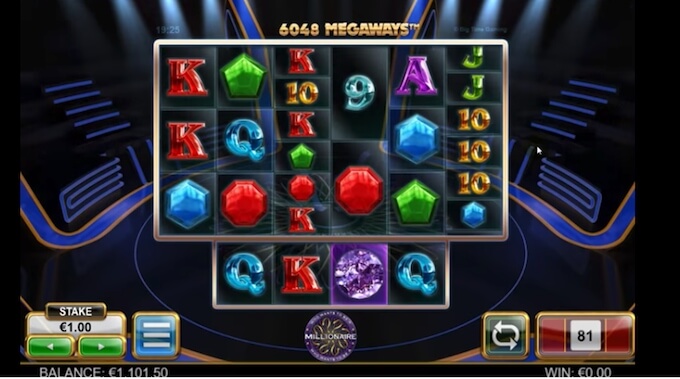 The setup and mechanics of Who Wants to Be a Millionaire slot are similar to other Megaways TM games by Big Time Gaming; symbols will drop from the top on each spin, while the extra reel at the bottom will spin to display four symbols that add an extra symbol position on the reels above. Wins are formed by landing on adjacent symbols from left to right, and will be enhanced if there are multiple symbols on one or more reels. Symbols that form part of a winning combo will explode to make way for new symbols that will keep on dropping into place until no new combinations are formed.
Who Wants to Be a Millionaire Megaways free spins
If you manage to land at least 3 scatters on any of the reels as you play Who Wants to Be a Millionaire Megaways, you will trigger the Hot Seat Free Spins bonus game, which starts from 8 free spins. If you land on more than 3 scatters, you will start the gamble feature one level up for each scatter, so that four scatters will give you 10 free spins instead of 8. You can now choose whether to keep your free spins or gamble them for a chance to win more. If you choose to gamble them, you will be taken to the Hot Seat Free Spins gamble feature.
The Hot Seat Free Spins Gamble is a bonus game that's highly reminiscent of the original TV show. A second screen displays a free spins ladder with 8 to 50 free spins on the right and three lifelines: call a friend, 50:50, and ask the audience – on the left. Only the first gamble from 8 to 10 free spins can result in losing the free spins round, whereas once you reach rungs 2 and 7 on the free spins ladder you will find 'safety nets' which will guarantee that you will keep 10 and 20 free spins respectively. At the bottom, players can choose from 4 answers: A, B, C and D. The game will randomly select one of the lifelines and will display which answer has the highest probability of being correct. The 50:50 lifeline will also remove two of the answers. Players can then choose an answer and lock it in by clicking the "final answer" button. A correct answer will help you move up the free spins level, whereas if the answer is incorrect, the player will drop to zero if the gamble was between 8 or 10 free spins, and to between 10 and 20 free spins if the first gamble has already been won. This bonus game ends once a wrong answer is selected, and will be followed by the free spins round, which will feature a multiplier that starts at 1x and increases by 1x after each winning reaction. Players may also win more free spins during this feature if the scatter lands on the bottom reel.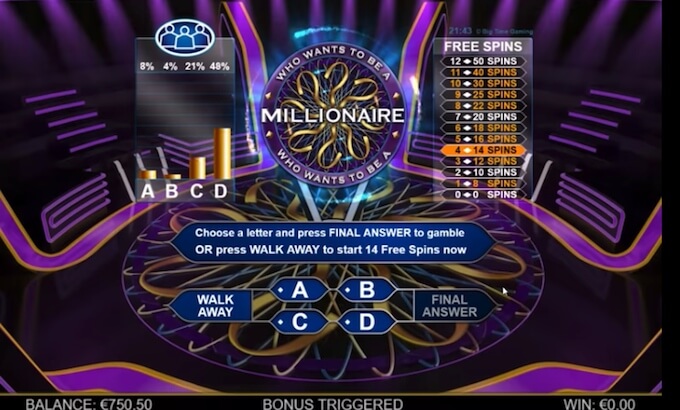 Who Wants to Be a Millionaire Megaways slot bonus
Sounds complicated? No worries, you'll get the hang of it once you start spinning. However, we don't blame you for wishing to try out the slot for free first. You can choose to play it for fun at most online casinos who offer games by Big Time Gaming, and some of them will also offer new players a match bonus which can be used on slots. Keep an eye out for Who Wants to Be a Millionnaire Megaways slot at any of the below casinos following its release on the 14th of November 2018.
Who Wants to Be a Millionaire Megaways slot min/max bets, RTP, volatility and jackpot
You will soon be able to play WWTBMM slot by staking from 20p up to £20 per spin. The game has a decent RTP of 96.24% and a win potential of 50,000x the stake, making it one of the best payout slots out there!. This means that the maximum win possible will be £1 million if you bet the maximum, which makes it the only non-progressive slot with the potential to pay out this amount! Just like any other megaways slot, volatility is very high, and it will take a while to trigger the bonus game (which might also slip right through your fingers if you gamble the free spins!). Patience and a good bankroll management strategy is needed here, so maybe the slot is not for everyone.
Who Wants to Be a Millionaire Megaways slot graphics and soundtrack
From what we've seen, Who Wants to Be a Millionaire slot looks amazing, and both graphics and sound convey all the glamour and suspense that's associated with its game show counterpart. The transparent reels are set in the middle of a podium, and spotlights will constantly flash around to create that added thrill. Even the bonus game is perfectly designed to mimic the actual game show, so fans of the show will love its overall visual and sound effects for sure!
Who Wants to Be a Millionaire Megaways – our Conclusion
We think BTG have done a good job with adapting a very popular game show into a fun-packed slot with an extremely thrilling bonus game and huge win potential. Fans of the show will love it, although it's worth emphasizing that the game is mostly suited to a category of gamblers that are ready to gamble and take risks rather than those who are looking for an easy-to-trigger bonus game. That said, this game can be a lot of fun, and low-rollers may also enjoy it by staking just 20p on each spin. So if you've been too shy to step under the spotlight, browse for the Who Wants to Be a Millionaire at our recommended online casinos once it's out for your chance to make a small fortune!