South Park review
South Park online slot is no longer in circulation at UK online casinos. Please find all our newest online casino reviews and play another fantastic online slot game.
It's hard to find anyone in the UK who never watched an episode of South Park – funny, brutal, cartoon comedy has been going on since 1997 and got popular thanks to its political and social satire and hilarious jokes.
But there are not only 19 whole seasons to go through but also a NetEnt South Park slot, which a lot of players and casino review experts consider to be one of the best slots ever created.
Ever. Created. In the history. Of slots.
One of the aspects that made the name for South Park slot is the fact that it doesn't just use the characters from the show, it completely and totally recreates the atmosphere and goings-on of the cartoon with so many bonus features that it's hard to even count them.
No wonder practically all decent UK casino sites are offering this slot in their portfolios while giving casinohawks.com readers juicy exclusive welcome bonuses on top of that.
South Park slot features
Let's get the boring facts out of the way – South Park is a 5-reel, 25-payline slot with 8 symbols. On the reels, we see 4 main characters of the show – Kenny, Cartman, Stan and Kyle as well as card symbols of J, Q, K and A.
When you just see the main symbols on the reels at first it doesn't look like much, but wait for those multiple bonus features to kick in.
There are 4 bonus features and 3 mini-games in total, so believe us when we say that a lot of fun and many different winning opportunities will be coming your way in all shapes and forms.
The 3 mini-feature games are all based on wild symbols and can be triggered at random at any point.
Terrance and Phillip's mini-feature gives you 3 wild symbols anywhere on the three middle reels.
Mr Hankey mini-feature can trigger 3 to 5 wilds randomly on the first, third and fifth reels.
Cartman Beefcake mini-feature forms a block of wilds on the 3 middle reels taking up anywhere from 1 to 3 rows. If you're lucky enough to get it on all 3 rows, the winning amount will be massive
But the main attraction of the slot are the 4 bonus games assigned to each of the funny boys' characters. Watch out for the character bonus symbols to trigger one bonus game at a time.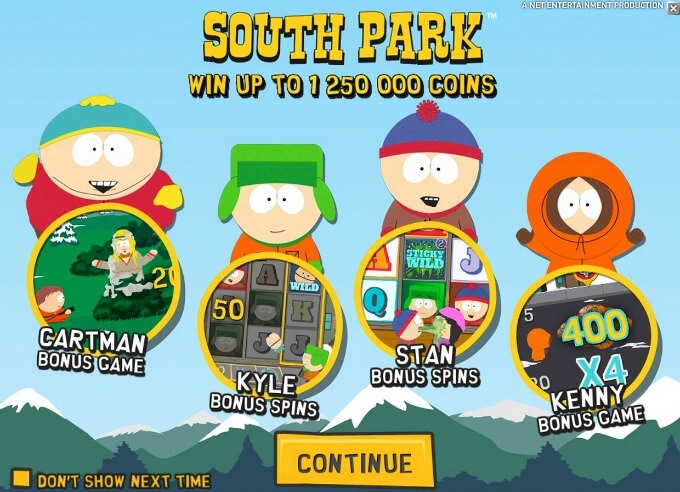 Kenny's Bonus Feature
Ok, let's start with everyone's favourite poor Kenny. Even the game preview starts with Kenny being killed by the slot machine falling down and squashing him.
But in the bonus game, you need to help and guide Kenny while he is – smartly – walking in the middle of the road.
You have 3 choices for each step: Win, Multiplier and Danger that can either give you cash rewards, multipliers, or traps that take away one of the 3 Kenny's lives.
If you manage to save Kenny and walk him all the way through you'll get the win of 2,500 coins. Otherwise, Kenny gets hit by the passing cars, and the feature ends.
Cartman's Bonus feature
Cartman is being his usual unpleasant self and decides to bully some hippies hiding in the bushes.
Choose from different bushes and uncover hippies to spray them with the fire extinguisher.
Beware though, as some bushes hide the police officer instead – if you spray him twice, Cartman ends up jailed.
There is also a metal fan in the bushes that will reset the feature. Otherwise, it's absolutely awesome, and you can win 5,000 times your stake for spraying hippies. We're in!
South Park Slot Free Spins
If you were worried that you might be missing out on the free spins here, fear not. Kyle and Stan are here to bring you some.
Stan's bonus feature
Stan's game might sound like fun as he gets nervous and starts throwing up on the girls. But in reality, this bonus feature is one of the least interesting ones.
Yes, it gives you 10 free spins and sticky wilds. The further you throw up the more extra free spins you might get, but the maximum overall win here is limited to 30 times your stake, which is not much.
Kyle's bonus feature
The Kyle's feature is brutal but hilarious. First, you receive another 10 free spins, but the main action starts when Kyle has to "Kick the baby" called Ike.
There are 5 areas below the reels on which the baby can land after the kick; each area represents x2 multiplier, 50 coins, x10 multiplier, 500 coins or 3 additional free spins.
The maximum win in Kyle's game is 300 times your stake.
South Park slot min/max bets, jackpot and volatility
You can play jolly South Park slot with a minimum bet of 25p and a maximum bet of £125.
With the average return to player of 96,7% and a maximum jackpot of 1,250,000 coins, the game is promising and endlessly entertaining.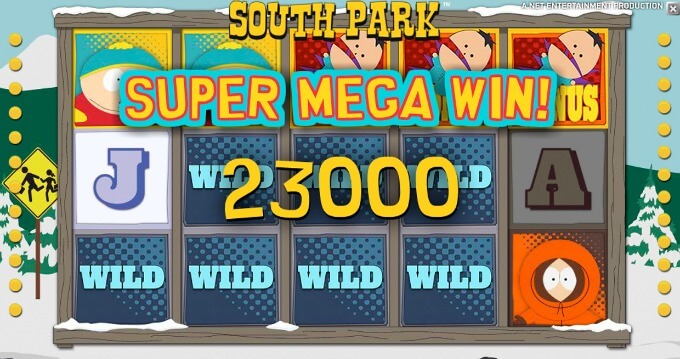 South Park slot bonus
South Park slot has a cult following among casino players for many reasons. If you feel like joining the club, just take a moment to choose the right casino to give it a spin at.
Here at casinohawks.com we hunt around for the biggest casino bonus packages on the market. Below you will find the juiciest exclusive offers.
Just click on the links above and enjoy your bonuses and free spins.
South Park slot graphics and sounds
The South Park slot is a perfect representation of the TV-show with the images, sounds and short video clips from the original.
Of course, you need to like the particular type of humour to fully appreciate the game, but we can promise you 100% that it's way too much fun.
There are a lot of animation bits that were made specifically for the slot and crafted in its unique choppy cartoon style. We just hope that you don't mind a bit of violence and throwing up because that's what it's all about.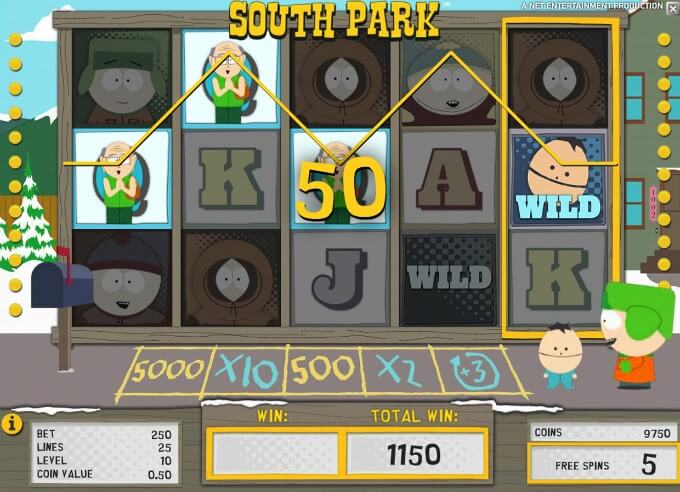 South Park slot – our conclusion
Just don't miss it out! We won't be super-original by saying that South Park is one of the best slots made from any film or TV-show.
The design, quality, animations, gameplay, bonus features, and humour all together create a game that has no rivals. The winning options are also quite decent and even if this slot does not turn you into a millionaire, it will most definitely provide a lot of entertainment and good laughs.