Ozzy Osbourne review
Everyone has heard of Ozzy Osbourne, the Prince of Darkness, who carried his success right through four decades and never slowed down for a second. Dubbed as the father of Heavy Metal, Ozzy has been involved in the casino business for a number of years after he became the face of Metal Casino. Thus, it is to be expected that he would eventually have a slot of his own. And who's better than NetEnt to complete the fete? With three branded rock titles under their belt already: Guns n Roses, MetalHead, and Jimi Hendrix, NetEnt has just added another one to their extensive repertoire. But let's see what the Prince of Darkness is promising us in this Ozzy Osbourne slot review.
Ozzy Osbourne slot features
The slot comes with the timeless set up of 5×3 reels and 20 pay lines, with the reels inhabited by 4 symbols portrayed by Ozzy Osbourne himself. The most rewarding of these portrays Ozzy as he bites the bat and pays 50 times your bet. On the reels, Ozzy is surrounded by skulls, ravens, black roses and crucifixes, together with card suit symbols, which have the lowest value. The wild is represented by a deviled bat and, as is customary with most slots, it substitutes all symbols with the exception of the scatter. 
A feature of this slot that is worth nothing before starting to play is the Bonus Bet button on the right-hand side of the screen. Choosing to switch on this feature allows you to spin with additional benefits, even though it will cost you twice as much to spin. Some benefits that can be enjoyed while playing with the Bonus Bet button on include an extra free spin when the free spins feature come into play, increased multiplier values of x5 and x7 during the free spins feature, increases in hit and bonus frequencies.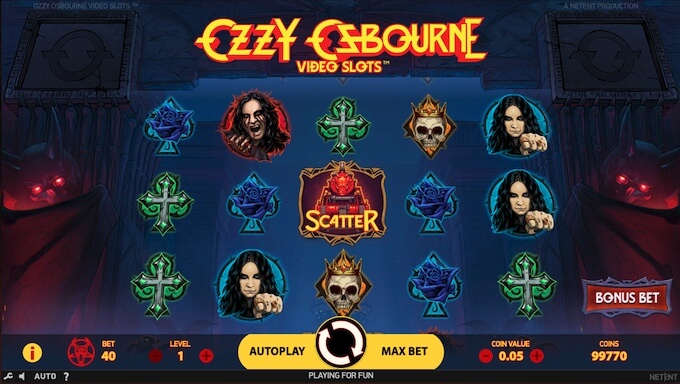 Ozzy Osbourne slot free spins
We can't really expect a game about Ozzy Osbourne to be simple now, can we? This slot game is packed with features and there is definitely nothing simple about it. The scatter is the key to everything. It lands on reels 1, 3 and 5, and if you manage to land 2 or more, two features will activate: the re-spins feature and the charge up feature. The latter is what makes things interesting. At the top of the demon bats, two boxes will be activated on the left and on the right. The right-hand screen is the Feature Spinner and defines the bonus feature that will be applied to one particular symbol on the reels that is chosen on the left-hand screen, which is known as the Symbol spinner. Should the scatter be the symbol that comes up on the symbol spinner, the Feature spinner will display a bat head and this will activate the free spins feature after the re-spin feature has been completed. 
Ozzy has in store a number of interesting features in the Feature Spinner: 
Coin win – for every symbol chosen on the Symbol spinner that appears, Ozzy will award a coin win equivalent to a 3 symbol win
Upgrade – every chosen symbol that makes an appearance on the reel is upgraded to the next higher paying symbol
Symbol multiplier – all winning combinations of the Symbol spinner choice will receive an additional multiplier of x2 and x3 or x5 and x7 if the gameplay includes the Bonus Bet button. 
Wild – every symbol selected on the Symbol spinner will be changed into a wild. 
One thing players might want to keep in mind is that in the Ozzy Osbourne slot there are two ways in which to activate the free spins feature. These can be activated either with the traditional way of landing 3 or more scatters or else by landing a scatter on the Symbol Spinner and a Bat Head on the Feature Spinner. Players can land a maximum of 4 free spins, with an additional spin if the Bonus Bet is on.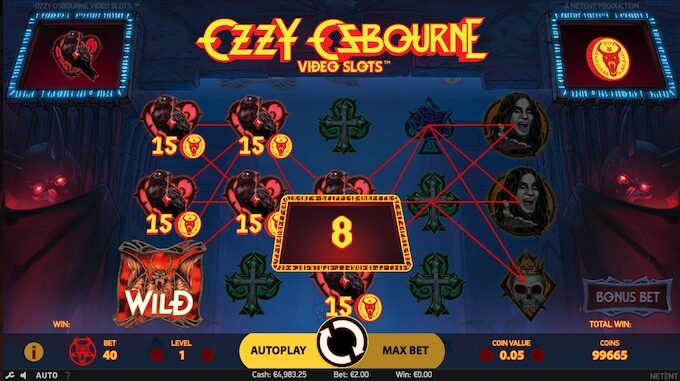 Ozzy Osbourne slot bonus
The Ozzy Osbourne slot is bound to be a success just like Ozzy himself, thus fans can rest assured that a number of casinos may include it in special promotions. Visitors to CasinoHawks might want to check out our article Best Casino Bonus Guide to learn where they can find the best casino bonuses online. Online casinos offer a number of welcome bonuses and reload bonuses which players can claim and use to play the Ozzy Osbourne slot. 
Where to play Ozzy Osbourne slot 
Ozzy Osbourne slot min/max bet, RTP, volatility and maximum win
Just like Ozzy Osbourne himself, you never know what to expect from this slot. With medium variance, and an RTP of 96.30-96.67%, this game has a hit frequency of 24.2% to 25.5%. Payers can play Ozzy Osbourne slot by betting between £0.20 to £100, while the maximum win is of x2,500, giving you the possibility of winning £250,000. 
Ozzy Osbourne slot graphics and sounds 
Ozzy Osbourne fans will love the overall theme of this slot as it keeps in style with the Prince of Darkness himself. Designed in the comic style of the 1980s, all the action takes place inside a dark and sinister temple, flanked by two devil bats, where players have the opportunity to meet Ozzy himself in various acts. The most popular of these acts depicts his most infamous stunt of 1982, when he bit the head of a bat. The design and animations of the slot are first class, bringing Ozzy to life in an exceptional manner. 
A great deal of thought has been given to the soundtrack of this slot. After all, Ozzy Osbourne is most famous for his music, so it is to be expected that the slot would include a few hit songs to complete the overall Ozzy Osbourne experience. While spinning away players will enjoy soundtracks like Diary of a Madman and Bark at the Moon amongst a few others that will come on to complete the action taking place on the reels.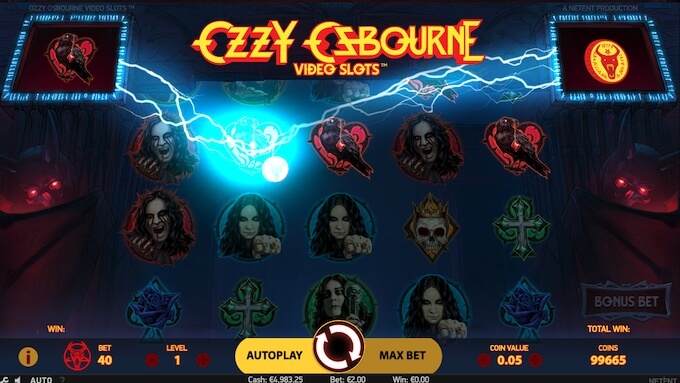 Ozzy Osbourne slot review – What we think
The Ozzy Osbourne slot promises a lot of interesting features that will keep players entertained for hours on end, especially if they are heavy metal fans. Add to this the engaging graphics and a number of record-breaking singles by Ozzy and fans will enjoy a first-class metal slot! Although it comes with a great maximum win, the medium volatility of this slot makes it rather hard to land, thus it is advisable to aim for smaller and more frequent wins. In the meantime, why don't you check it out yourself at one of the below-recommended casinos?