Jumbo Joker review
If the brightly coloured fruit symbols, classic sevens and liberty bells that are so reminiscent of those old pub-style slot machines help spark off that nostalgic feeling you may be coveting, then Betsoft's latest release may be just your thing. With its two 3-reel sets and user-friendly layout, Jumbo Joker slot has kept things fairly simple without coming up short of betting options and rewards! Read our full review below to get an idea of what to expect out of this beautifully-designed slot, and to find out which of the best online casinos are already offering this brand new game!
Jumbo Joker slot features and free spins
Jumbo Joker is a double 3-reeled slot with 5 paylines featuring traditional slot machine symbols. These include bright red berries, watermelons, lemons, grapes, liberty bells, treasure chests filled to the brim, jolly jokers and 7s. The game is initially played on the bottom set, and the aim is to activate the top set of reels, where the payouts for each symbol are much higher. On this set, the joker pays out the maximum, followed by the 7s and liberty bells.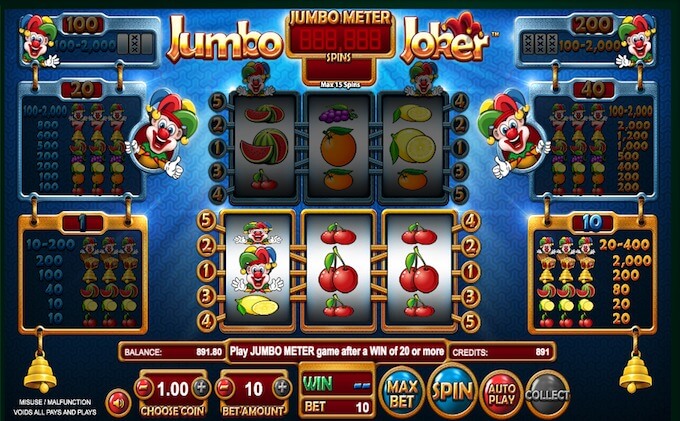 Each time you land on a winning combination, your winning will be added to the jumbo meter, and the more coins you have, the more times you'll be able to spin that top reel! These top reels can only be spun up to a maximum of 15 times, and a spins box beneath the Jumbo meter indicates the number of spins completed.
The slot also features a maximum bet button for those willing to bet the highest amount of 10 coins, as well as an Autoplay feature that gets the reels spinning for up to 100 times. Unfortunately, Jumbo Joker doesn't offer a free spins feature.
Jumbo Joker slot bonus mode
This online slot only features one bonus feature, in the form its Jumbo Meter. If you land a winning combination of 20 coins or higher on the bottom set of reels, you may choose to either collect your winnings or transfer them to the top reel, where winning combinations will pay out much more! The treasure chest symbol is replaced by the 7s, and you'll be allowed to place higher bets of up to 40 coins. This is your chance to secure the slot's biggest win, as well as to unlock the Jumbo Joker spins feature!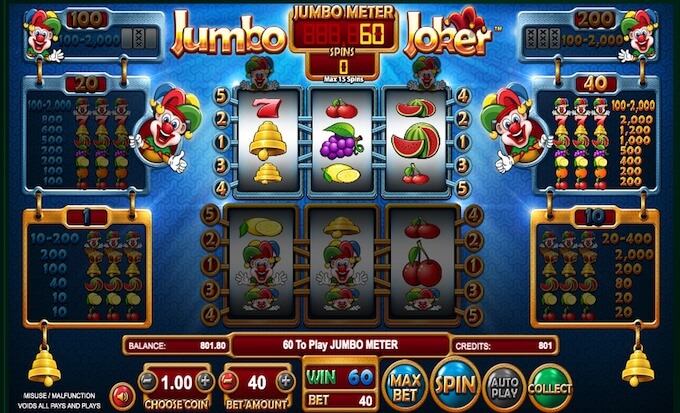 What we love about Jumbo Joker is that you may devise a game strategy, as it's up to you to decide whether to collect your winnings or whether to play on the top reel. We do recommend accumulating some cash on the lower reels first, before trying your luck on the top ones.
Jumbo Joker slot bonus
This slot has now been released at Betsoft-powered casinos. Try it with one of our reliable online casinos, all of whom offer excellent welcome bonuses on slots for UK players!
Where to play Jumbo Joker slot
Jumbo Joker slot min/max bets, maximum win and volatility
This slot is ideal for players with a relatively low betting limit; you may bet a minimum valueof £0.02 and a maximum of £1.00, which is then multiplied by the bet amount of 1or 10 on the bottom tier, and 20 or 40 on the top one. This translates into a maximum bet of £10.00 per spin (1 x 10) during the base game. Your aim is to land on 3 jokers on the top reel, a lucky combination that will award the slot's maximum win of £2,000!
Jumbo Joker's RTP is set at a reasonable 95.3%, and the volatility varies depending on the level of risk players take. If you decide to play on the top reels instead of collecting our winnings, then volatility increases, but so do the potential rewards!
Jumbo Joker slot graphics and sound
The slot features timeless fruit machine symbols, beautifully designed in vivid colours, with the reels set in the middle of the screen. All paytables are visible to the two sides of the reels, and you'll see them light up once they become applicable, allowing for an easy access to the essential payout information. The game has no accompanying soundtrack; Betsoft have kept things fairly simple with the sounds of other slots and players in the background, evoking a classic land-based casino atmosphere.
Jumbo Joker slot – our conclusion
At a time when the trend is for slot developers to create increasingly complex games, Jumbo Joker will offer a welcome sense of relief for lovers of classic old-sytle slot machines. We love the slot's flawless design and the fact that players are given a certain degree of control over the game's volatility, but it does lack a free spins feature, which is so much sought-after nowadays. If you'd like to play similar classic slots, we also recommend Microgaming's Super Joker and Nextgen Gaming's Jackpot Jester, which can yield a maximum win of £5000! Why not check out these slots for yourself? Play Jumbo Joker and other classic slots today with one of our trusted online casinos!