Judge Dredd review
Judge Dredd slot by NextGen is a true blockbuster based on a British Comic book from the 1970s and a film with Sylvester Stallone released in 1995. In this action packed slot you are transported to dystopian futuristic American citiy where you become Judge Dredd himself who is watching over the street and can arrest, convict, sentence and execute people all at the same time, because according to his own words "I am the Law."
This 2015 slot packs a punch with loads of free spins and bonus features that we will look closely in this review. Keep reading if you want to find out more about the game, where to play it and how to get the best possible casino bonus to enjoy Judge Dredd for less money.
Judge Dredd slot features
Let's be honest here for one second. If you are into fluffy kitties and cute flowers, then Judge Dredd slot will probably be too manly and maybe even intimidating to your taste. If not, keep reading as this is one gem of a slot for comic book fans and anyone who appreciates a bit of sci-fi and violent futuristic action.
Judge Dredd is high-quality video slot with 5 reels and 25 paylines. The game symbols will be familiar if you read the books and watched the film, so on the reels that are set against the Mega City One dramatic skyline, you will see Dredd's glove and the Lawgiver gun, motorbike and villain with red eyes. There are also the predictable card symbols of lower values, which are done in a colourful graffiti style.
The Wild symbol of the game is the image of Judge Dredd himself – it can substitute any other symbols apart from the scatter. 5 wild Judge Dredd symbols pay out 2,000 coins.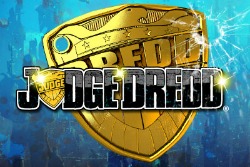 The scatter symbol is a Golden Badge of Judge Dredd and if you land 3 scatters you will be able to enter Free spins game which we'll discuss a bit later. Five scatter symbols will pay out 2,500 coins, and scatter wins are multiplied by the bet, so the more you bet, the higher your wins.
Let's also have a look at the bonus features. First of all, there is "I Am The Law" feature where the judge can randomly appear after a winning spin and give you a lovely cash prize anywhere between 5 to 10 times your stake.
The slot also has a Gamble Feature, in which you can gamble your latest win in order to try and double or even quadruple it. All you need to do is click the Gamble button at the bottom of the screen and start guessing the colour of next card drawn randomly. Maximum number you can guess correctly is 5. But if you guess wrong, you will lose everything and go back to the base game, so we only recommend this feature for the proper risk takers.
Judge Dredd slot Free spins
As we mentioned before, if you manage to score at least three or more Judge's Golden Badge scatter symbols, it will trigger the 10 free spins bonus round. Once the free spins round begins, Judge Dredd will throw more wilds on the reels. All prizes that you win throughout the free spins rounds are doubled, and the winning potential here is higher. You also have the possibility to retrigger the feature.
Judge Dredd slot min/max bets, jackpot and volatility
One of the unique qualities of Judge Dredd slot is the SuperBet Feature, which helps you decide on how many reels the wilds can appear therefore determining your winning potential for the game. In the SuperBet bar at the right side of the screen, you will be able to choose the colour that indicates how many reels will receive the wilds.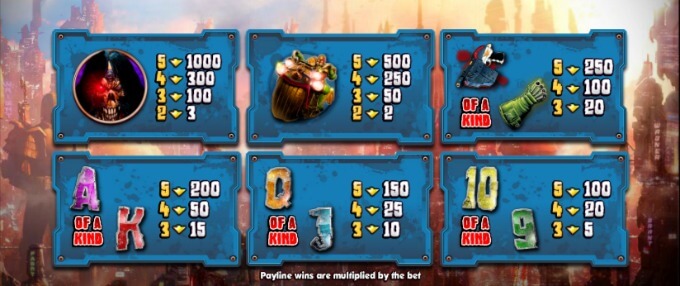 Yellow SuperBet level will make the wilds appear only on the 3rd reel, and your stake for this level is minimum 25 coins. The yellow level provides return to player of 95.22%.
Orange SuperBet level will give you wilds on the 2nd, 3rd, and 4th reels and the minimum stake will go up to 35 coins (maximum bet £70). Return to player goes slightly up and reaches 95.33%.
Red SuperBet level activates all 5 reels to receive the wild symbols and your minimum bet increases to 50 coins and maximum being £100. The maximum average return to player is the highest for this level at 95.60%.
The game offers non-progressive Jackpot 2,500 times your stake and is low to medium volatility. Saying that, the Judge Dredd slot is still good for risk takers with the ability to choose SuperBet level and use the Gamble option.
Judge Dredd slot bonus
When you decide that you want to give Judge Dredd slot a good spin, choose well. What we mean is that you are better off selecting the best online casinos that not only list this slot game on their website but also give you a nicely sized welcome offer. Check the links below to see which casinos offer the biggest bonus on the UK market right now.
Where to play Judge Dredd slot
Judge Dredd slot graphics and sounds
We need to get real here and admit that this slot is not to everyone taste, even though the quality of graphics and sounds is top notch. But it is definitely a rough one with hard-core music, futuristic, weapon centred and slightly violent feel to it. So if you like sci-fi, action and a bit of good old fighting, then you'll be pleased and impressed.
Judge Dredd slot – our conclusion
Judge Dredd is an excellent quality, very decent slot with free spins and cool features like SuperBet and Gamble option that allow players to decide how much risk to take in this game. If you are a comic book and action movies fan, then just head over to one of the casinos that we listed above and give Judge Dredd a try. NextGen has really done a fantastic job, and while the theme is not for everyone, the overall quality and features are very impressive, indeed.
Watch Judge Dredd video preview below to get the feeling of this "tough guy" slot now. Are you the Law?