Cosmic Eclipse review
With its latest release, Cosmic Eclipse slot, NetEnt is aiming to whisk slot lovers off on a journey out of this world, and all the way to outer space. Thanks to its unique bonus feature, while playing Cosmic Eclipse players may get the chance of seeing their winnings rocket to truly cosmic proportions! Learn more about this medium variance slot by reading our full review below, and discover which UK Casino Sites are already offering it to play for fun or for real money.
Cosmic Eclipse slot features
In Cosmic Eclipse, NetEnt has kept things relatively simple; the slot has just 5-reels and 10 paylines, just like the popular Starburst slot. Symbols on the reels include differently-coloured planets, with the highest-paying one being the orange Saturn-like planet, as well as lower-paying meteors shaped into spades, diamonds and blue-green flowers. The slot also includes a wild symbol to substitute for all symbols excluding the bonus symbol on the fifth reel.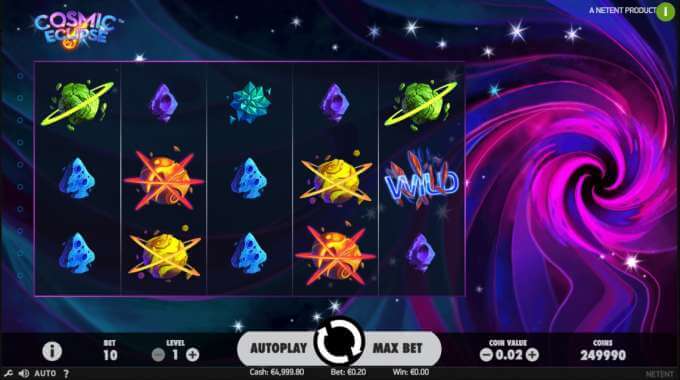 Cosmic Eclipse slot Black Hole feature
Cosmic Eclipse is a relatively simple slot, with the only bonus feature being its Black Hole feature that leads to guaranteed, and possibly cosmic wins! In order to activate this innovative feature, players need to land on the bonus black hole symbol which appears exclusively on the fifth reel. When this happens, one of the symbols on the reels will be chosen and sucked into the black hole, to trigger re-spins. Re-spins will continue to be triggered as long as this same symbol appears on the reels, and players are awarded any winnings that are earned after each re-spin, before the active symbols are collected once again for another re-spin.
These bonus re-spins come to an end once players have either collected the maximum of 15 symbols, or when no more instances of the chosen symbol appear on the reels. Once this happens, the reels are cleared of all symbols, and the collected symbols are placed back onto the reels, to guarantee at least one winning combination. Lucky players can end up with a full screen of identical symbols, which results in wins of up to 600x their stake! Coupled with the winnings you collect from the re-spins, this bonus feature can result in an exceptional win.
Cosmic Eclipse slot bonus
We wouldn't be surprised to see this slot becoming a favourite across many casinos online, which would mean that you'll find it included in several promotions and bonuses. If you're new to playing online slots, click on the links to our recommended casinos on this page to benefit from awesome bonuses that include deposit matches as well as free spins bonuses on NetEnt slots like Cosmic Eclipse. With so many casinos competing for the best offers, the sky's the limit – or should we say the universe?
Where to play Cosmic Eclipse slot
Cosmic Eclipse slot min/max bet, RTP, volatility and maximum win
Players can have a go on Cosmic Eclipse slot by betting as little as 10p up to a maximum of £100 per spin, which makes this slot particularly suitable for those on a tight budget. Cosmic Eclipse has a good RTP of 96.52% and is of medium volatility. The game shall definitely award the highest payouts at the end of the black hole bonus feature, once the identical symbols return to fill up the reels; in this case players may win up to 60,000 coins if the highest-paying symbol is chosen as the active symbol.
Cosmic Eclipse slot graphics and sound
Cosmic Eclipse slot features brightly coloured symbols that contrast against a starlit background. The graphics are sharp but not particularly striking, and perhaps the most impressive visual effect is triggered when you land on the bonus symbol, as you get to watch the symbols being sucked into the fuschia-coloured swirl on the right-hand side. The soundtrack does its job of immersing you within a surreal setting in outer space, and the music gets more intense during the bonus feature. All in all, even in terms of graphics and sound, NetEnt have kept things fairly simple in this slot, which makes it perfect for those looking to sit back and relax whilst trying their luck with a few spins.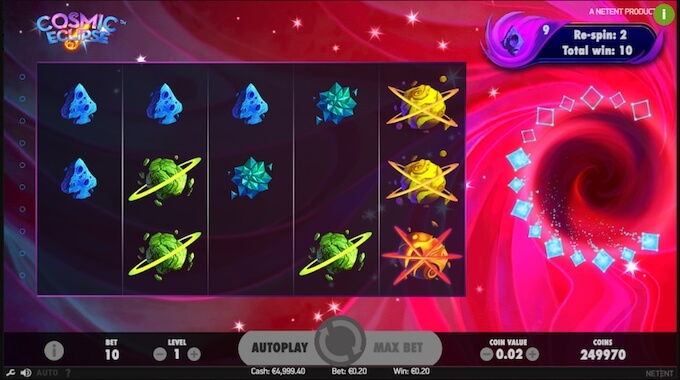 Cosmic Eclipse slot – our conclusion
Players may find that when compared to other NetEnt slots, Cosmic Eclipse is rather lacking in extra features, especially given the fact that there's no free spins feature. However, we've discovered that its one and only bonus feature can result in very rewarding wins, and consider the gameplay to be smooth and entertaining enough if you're simply after a classic slot game. Why not try Cosmic Eclipse slot yourself by playing with one of our recommended casinos? If you're new to a casino, make sure you remember to take advantage of that welcome bonus in order to start playing with a few extra bucks!