Cloud Quest review
Welcome to the epic and dramatic world of fantasy in the Play'N Go slot game Cloud Quest. It is by far one of the most impressive slots by this game developer and has a huge fan base around the world. The game appeals to those who appreciate video games, fantasy, sci-fi, RPG, and even arcade games.
The Cloud Quest slot is probably not for beginners as it's very complex and maybe even complicated, but it holds more bonus features than most of the slots we've ever tried. The game was released in 2010 and still keeps its place at the top of the most popular slot games in many UK casino sites. In this review, we will have a close look at the multiple features of the game and see how much you can win in this fun and beautiful slot.
Cloud Quest slot features
This slot has a lot of superheroes and monsters flying around the reels and is played on an unusual 5×5 grid, which has been used by Play'N Go before. There are 3 main-super-heroes – male, female, and a weird-looking purple creature as well as many symbols that are commonly associated with fantasy like spell books, swords, potions, shields, and other magical objects.
The Wild Symbol, which substitutes for any other symbols, is a Golden Eagle.
There is also a unique Super Power Stone symbol that activates the Super Powers features.
To win in this game, you need to land at least 3 or more matching symbols, and they count as winning combinations horizontally, vertically, and diagonally. The central symbol of the winning combination in this slot turns into a wild, and new symbols will fall on the reels from the clouds forming new combos.
The true highlight of the Cloud Quest slot game is most definitely the Super Power features that we mentioned before. On the right side of the cloud Quest slot reels, you will find a superpower wheel with ten sections that light up when you're playing the base game. To light them up you need to score winning combinations with the Power Stone symbol.
3 symbols will light up 1 section
4 symbols light up 2 sections
5 symbols light up 3 sections
There is also a possibility to light up the whole 10 of them, but that doesn't happen very often.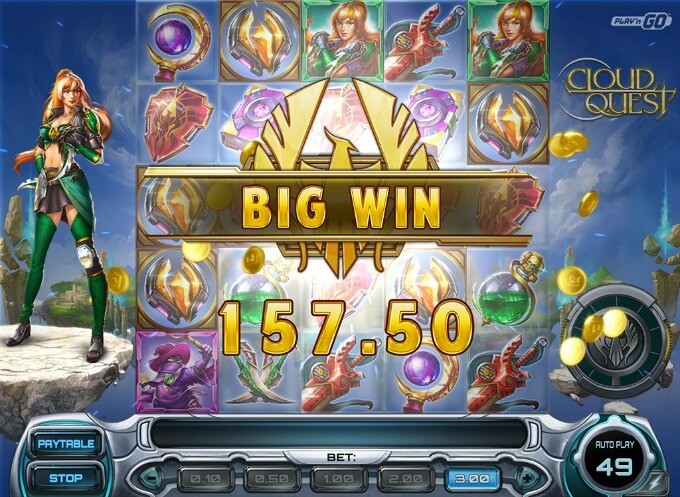 When you get the chance to spin the Super Power wheel, you will be taken to an entirely different setting, where you can trigger one of the four different Super Powers.
Five of Fortune
With this Super Power, you get rewarded one re-spin during which all the winning combinations get multiplied by x5.
Emblem of Endurance
Here you also get one re-spin and 3 sticky wilds on the reels – they will stay there until you form a winning combination full of wilds.
Scatter Success
This Super Power provides you with one re-spin during which all symbols act as scatters, so as long as there are any 3 symbols on the reels, you will keep winning. It is probably one of the best features that give you the highest chance for big winnings.
Mark of Multitude
Here your re-spin will give you a wild symbol for all your winning combos. If you get 3 matching symbols, the middle one will become wild. 4 matching turn 2 middle symbols into wilds and 5 matching symbols will give you 3 alternating wilds.
If that wasn't enough there are also levels or ranks in Cloud Quest slot – you will be able to see your current rank on the left side just underneath your super-hero. The more monsters you fight and defeat in the bonus games, the higher your level, but there are no specific rewards for these achievements and it's mostly for your own satisfaction with your game-playing skills.
Cloud Quest slot free spins
For all of you, free spins lovers including us, of course, there is a bonus game with free spins in the Cloud Quest slot. To trigger free spins, you will need to clear the bonus row, which is placed behind the base game symbols on the reels.
The bonus game is played on a traditional 3 reels small slot-machine screen, and you can get 5, 8, 11, 14, 17, or 20 free spins here, with the number determined at the beginning of the bonus round.
Each free spins bonus round includes 5 stages that you need to go through.
Stage 1 has a monster with 2 lives, and you need to defeat the monster. Each consecutive stage adds another life for the monster, so in stage 2 the beast will have 3 lives, in stage 3 – 4 lives, stage 4 features a monster with 5 lives, and the final 5th stage has a tough one with 6 lives.
To beat the beast you need to get a win on the slot machine or there is another way to defeat it by getting 3 marks on the payline. This will kill the monster straight away taking all the lives in one go. Each stage that you go through awards you with 3 additional free spins as well as increased prizes for winning combos.
When you manage to defeat the monsters and go through all 5 stages, you earn a bonus 100x your bet.
Cloud Quest slot bonus
If you are into the world of fantasy, we highly recommend playing this slot. And if you choose the best online casino to play it on, then you will also be able to get a great casino bonus and some free spins when you register and deposit for the first time. Here at casinohawks.com we search high and low to find the best and most generous offers for our readers – you will find them below. Just click on the links and enjoy the juiciest welcome bonuses at the finest online casinos in the UK.
Where to play Cloud Quest slot
Cloud Quest slot min/max bets, jackpot, and volatility
Cloud Quest is a medium volatility slot game with a jackpot 2,500 times your stake. You can play it with a minimum bet of 10p and a maximum bet of £100. The game offers return to player of 96.52%.
Cloud Quest slot graphics and sounds
Play'N GO designers have really gone out of their way to create this slot. The graphics are superb with impressive-looking superheroes and scary wild beasts flying in the cloudy sky. It is clearly a slot for Fantasy lovers with mythological-looking creatures and attractive assassins going wild on the screen accompanied by a dramatic soundtrack.
The backdrops are constantly changing for different features and bonus games, so you don't get tired of looking at the same screen all the time. It feels like you're watching a fantasy film sometimes or maybe even participating in one. Unique, cinematic, and dramatic – that's what the Cloud Quest slot looks like in our opinion.
Cloud Quest slot – our conclusion
This little gem of a slot game is absolutely impressive. Yes, the features might seem complicated at first glance, but they also give you a lot of winning options and increase your chances of getting some decent money from playing this slot, so once you get the hang of the game, you can truly enjoy it in full. We recommend this slot to anyone who appreciates fantasy as a genre or just likes to try out slots that are unique and different from everything else on the market.
You can watch the game preview below to get a better idea if the Cloud Quest slot is for you.