Alice Cooper and the Tome of Madness review
The cascading reels, default RTP scores, high volatility, and a maximum win of 3000x your total bet makes this video slot worthy of any player's time. Add a bit of rock to your gaming with Alice Cooper and the Tome of Madness by Play'n Go.
How I tested Alice Cooper and the Tome of Madness
To compile a credible and concise review for you, we tested the new slot against the following points. This will help you get a clearer picture of what exactly we are looking for.
Design and Layout: With this step, we look at the game's theme and see if other details like the sound add to the experience to make the game appealing and interesting to look at and play.
RTP and Variance: The RTP in any game is important because it tells us which slots we have a chance of scoring the biggest payouts on in a single gameplay session, and the RTP is fairly decent in comparison to most slots on the market. Combined with the slots high volatility, you'll have to be mighty patient to experience some big and mighty wins.
Bonus Features: The features found on the Alice Cooper and the Tome of Madness slot show just how creative Play'n Go has been with coming up with ways to reward the player in addition to the base game. Additional features like the Avalance feature and Reality Effects features are ones we are very impressed with.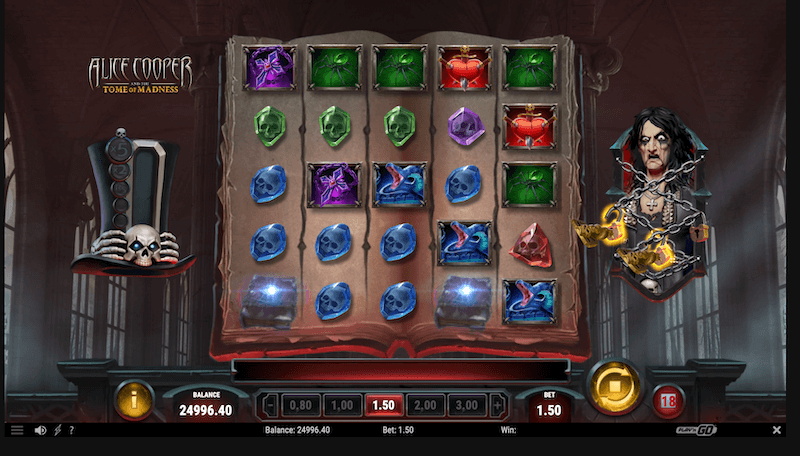 Play Alice Cooper and the Tome of Madness With the Best Bonus
Fortunately, living in the UK means you get to be among some of the first players to try out Alice Cooper and the Tome of Madness. Visit some of the online casinos in our UK casino sites to get started.  
Play Alice Cooper at Casumo casino with a 100 % bonus plus Bonus Spins
At Casumo casino you get to try Alice Cooper and the Tome of Madness with a warm welcome bonus that gives you 100 % up to £25, and if that's not enough, you also get an additional 20 Bonus Spins.
Although your Bonus Spins can't be used on the new horror slot, you can win some awesome payouts with your money bonus.
Alice Cooper and the Tome of Madness Symbols & Payouts
Just because it hasn't reached you yet, it doesn't mean we can't perform a full review. In this section, we will be looking at the game's symbols and see what each one is worth. The slot hosts several symbols and you might want to keep an eye out for the heart, which happens to be the highest paying symbol of the game.
The Symbols
The four skulls that are trapped in a set of gems are the lowest paying symbols in the game.
Symbols with higher payouts include a spider, snake, heart, and a cross, and may possibly have you walking away with 200x your initial bet if you manage to score a cluster of 15 or more of these symbols.
The game also includes a wild symbol which happens to be a tome. With this symbol, you can substitute it with other regular symbols to increase your chances of scoring winning combinations.
Paytable
Below is an overview of what the different symbols in Alice Cooper and the Tome of Madness can potentially reward you with.
High paying symbols: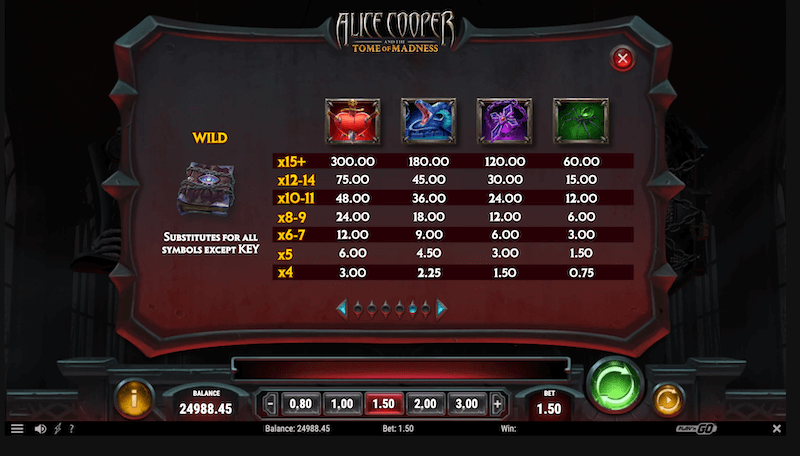 Low paying symbols: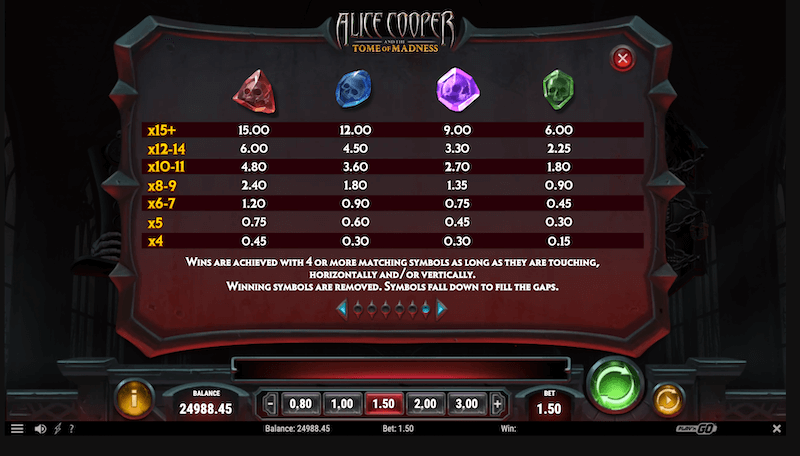 Min/Max bet, Autoplay Option
The minimum and maximum bet to the game is £0.10 and £100, respectively. The game also comes with an autoplay option.
RTP
Alice Cooper and the Tome of Madness has a default RTP score of 96.20%, which is pretty decent. It should, however, be noted that it can differ to a score as low as 84.20% with some sites.
Volatility
The volatility level in this slot is considered high.
Hit Frequency
Information about the hit frequency in Alice Cooper and the Tome of Madness is unknown.
Jackpot and/or Maximum Win
The maximum win that you can expect to take home is 3000x your total bet.
Alice Cooper and the Tome of Madness offers players a decent payout
We appreciate the high volatility of the slot, as this means you can find yourself scoring some impressive wins when the game starts heating up. Also, the jackpot max win seems decent. It's a worthy try.
Game Features
Alice Cooper and the Tome of Madness offers players a variety of noteworthy features, including the Avalanche features and
Wilds, Re-Spins, and Other Features
With wilds, an Avalanche feature, Reality Effects, Key Symbols, Reality Spins, and Hat of Madness, there's a lot to forward to here.
Wilds
Alice Cooper and the Tome of Madness hosts a wild symbol, the tome, that's able to substitute all your regular symbols so your chances of landing those winning combinations are significantly increased.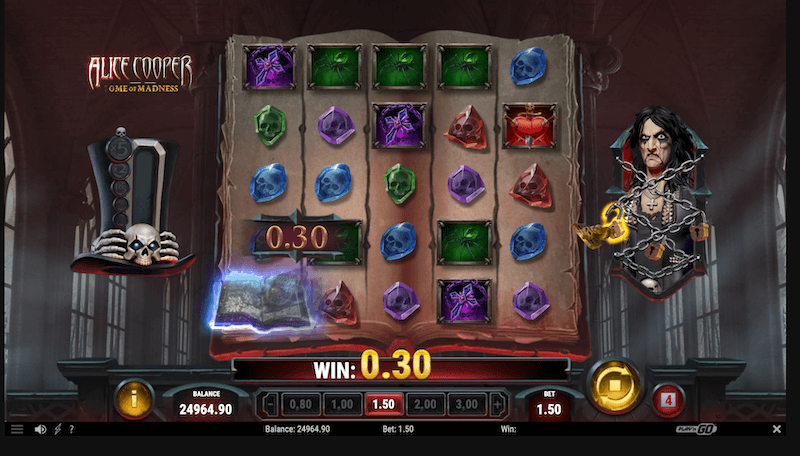 Avalanche
Finding an Avalanche feature in a cluster-paying game is quite common. The purpose of this feature is to increase the chances of you scoring winning combinations by replacing winning symbols with new ones. This feature continues until you've run out of available wins. At this point, a new round will then begin.
Reality Effects
If you find yourself getting a non-winning spin, then a Reality Effect modifier will kick in. Presently, the game has four modifiers which include:
The Dungeon – that can turn symbols with low payouts into high paying ones
The Temptation Room – that can make unidentical symbols identical and top them up with a Tome wild while during gameplay.
The Insane Asylum – that can turn your high-paying symbols into one high payout
The Chamber of Horrors – that can produce symbols and place wilds in their vacant positions.
Key Symbols and Stacked Alice Cooper Mega Wild
The key symbols are the game's special symbols that get collected each time they land on the grid. When this happens, a wild symbol will be left behind. If you get three of these special keys during a single spin, you will automatically unlock the Alice Cooper Mega Wild. This mega wild only appears only on the second, third, and fourth reels.
Hat of Madness
This feature appears with a small meter when you look on the left side of your reels. The symbols from these winning clusters will automatically charge the meter during the avalanche feature.
Scoring 10 symbols will add one or two wilds to the avalanche. Scoring 25 symbols add 3 to 6 wilds to the avalanche.
50 symbols will reward you with 3 Reality Spins.
75 symbols will reward you with 3 Reality Spins plus a 2x win multiplier.
85 symbols will reward you with three Reality Spins and a 5x win multiplier.
Reality Spins
Reality Spins begin the moment you choose between the Reality Effect modifiers.
Bonus Buy
Unfortunately, the game doesn't have a bonus buy feature.
An impressive array of bonus features
Alice Cooper and the Tome of Madness has an impressive array of bonus features. Each bonus is designed to work in favour of the player to increase winning chances each time.
The modifiers work well to create opportunity in the case of non-winning spins. There's also an excellent opportunity of getting one wild after the next, which increases the chances of scoring a winning combination. It's a thumbs-up on our end.
Alice Cooper and the Tome of Madness Graphics & Sound
Play'n Go has certainly outdone itself in making the theme very entertaining and in memory of Alice Cooper.
| | |
| --- | --- |
| Graphics: | High-quality 3D graphics |
| Optimized for mobile: | Yes |
| Music: | Spooky background music |
| Special features: | Moving 3D characters and pop-up symbols… |
An entertaining theme by Play'n Go
For lovers of Alice Cooper, the world of rock, thrill or horror, this game will turn out to be quite entertaining and exciting play. With its impressive use of high-quality 3D graphics, you're bound to feel completely engulfed by the theme.
Solutions if you have issues with a game
Like all online slot games, errors and crashes will void winnings. If these problems persist, consider:
Try a different browser, or disabling browser extensions.
Try closing extra tabs or programs on your device that are not currently in use.
Contacting customer support for assistance with any issue you might experience within the game.
Conclusion
With the design, theme, layout and bonus features available in Alice Cooper and the Tome of Madness, we're pretty sure any player will have the time of their lives playing this new and spooky slot.
You can certainly take advantage of the RTP and volatility. With a decent potential payout, those hot moments canp prove to be very worthwhile. For this reason, we choose to rate the Alice Cooper and the Tome of Madness slot with a 4 out of 5 stars.
Other Slots to Play If You Like Alice Cooper and the Tome of Madness Slot
Your joy doesn't have to end here. If Alice Cooper and the Tome of Madness happens to tickle your fancy, you might want to consider trying other slots by Play'n Go: