Where to play the best French roulette online?
This variant of roulette happens to be a serendipitous discovery by mathematician Blaise Pascal in the 1700s, the result of a failed experiment that laid the ground for the first ever version of this popular casino game. Continue reading to learn more about this incredible roulette variation.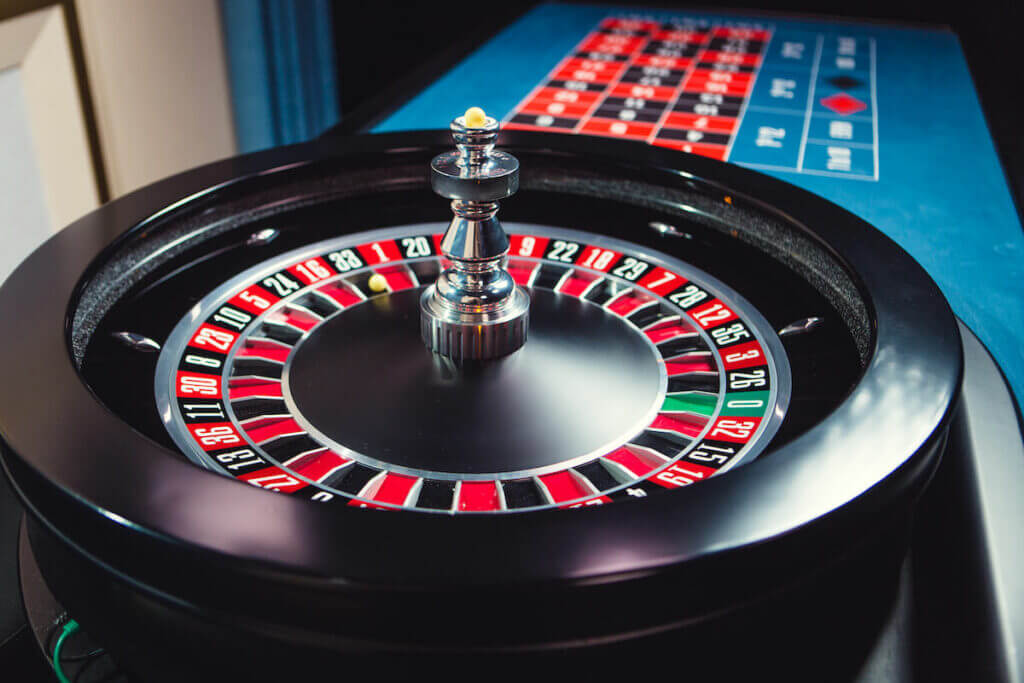 There are different casinos where you can play French roulette online free or for real money. Below are some of the best online casinos that offer this roulette variant, including live dealer casino versions that you can test out:
Master the rules & odds of french roulette
There are different French roulette rules and odds that you should master if you want to play the game for real money.
Most of these rules are the same as American and European roulette. However, French Roulette comes with two proprietary rules: En Prison and La Partage. These rules change the resolution of outside bets whenever zero comes in.
The objective
The two additional rules have different objectives when applied in the game. With En Prison, which translates to "in jail," the objective is that when the ball lands on the zero pocket, your outside bet is kept on the table – in jail. You get an extra spin when this happens, but if zero occurs again, you lose the bet. Otherwise, wins and losses are retained.
On the other hand, La Partage translates to "the share". With this rule, you will lose half of your outside bet whenever zero appears. Additionally, you will get the rest back to place bets on the next spin.
Types of bets in French roulette
Like in any roulette game, French roulette has different bets you can place. These bets also come with different payout and win probabilities. We've covered the major bets, including inside bets and outside bets in this section. Let's dive right in!
Inside bets for French roulette
Simply put, inside bets are different bets you can place on the inner section of the French roulette table. There are different inside bets available for French Roulette, and they are highlighted below.
Straight bet: this is simply picking a single number from the available 36 numbers, and it pays out about 35 to 1.
Split bet: with this bet, you will pick two adjacent numbers on the grid, and it has a payout of 17 to 1.
Street bet: You get to choose a row of three numbers in this bet, and the payout is 11 to 1.
Corner bet: here, you can select a group of four numbers. A typical corner bet has a payout of 8 to 1.
Line bet: this bet allows you to choose two adjacent rows of numbers, and its payout is 5 to 1.
Outside bets for French roulette

With outside bets, you are placing bets on the outer section of the table. Below are the different outside bets for French Roulette.
Red/Black (Rouge/Noir) bet: simply put, you can place bets on either red or black numbers, and its payout is 1 to 1.
Odd/even (Pair/Impair) bet: here, you get to pick either an odd or even number, and it pays 1 to 1.
Low/high (Manque/Pass) bet: in this bet, you are choosing 1-18 (low) or 19-36 (high) with a payout of 1 to 1.
Douzaine (Dozen) bet: here, you select the first/premier, second/moyenne, or third/derniere set of 12, indicated as 12P, 12M, and 12D. Also, this bet pays out 2 to 1.
Column bet: you choose one of the three columns of numbers, and the payout is 2 to 1.
Other types of bets
If the standard regular bets are not enough, you can try out other bets in French Roulette. These are called announced or called bets. Below are some of the advanced bets you can place in French Roulette.
Voisins du Zéro: also known as neighbours of zero bets, involves spreading nine chips between corners, splits, and threesomes of all numbers between 22 and 25 on the wheel.
Le Tiers du Cylindre: here, you place six chips as splits between numbers opposite zero from 27 to 33. It is also known as the thirds of the wheel bets.
Jue Zero: or the zero game is placing three splits and a straight bet on 26, six numbers on both sides of zero, and on zero itself.
Orphelins: this is placing bets on the remaining eight numbers not mentioned in the previously advanced bets. It costs five chips, with one on a straight bet and four splits or eight chips on each number as straight bets.
Finales: this is betting on all numbers that end in a specific number. For instance, 5, 15, 25, and 35. You can place it as a single number or either of two numbers.
RTP, payouts, and House Edge in French roulette
French roulette is very similar to European roulette, and as a result, the bet payout, bet probability, house edge, and RTP are the same. However, this is until the La Partage or En Prison rules are introduced.
| Bet Type | Bet Payout | Bet Probability | House Edge | RTP |
| --- | --- | --- | --- | --- |
| Straight | 35/1 | 2.7% | 2.7% | 97.3% |
| Split | 17/1 | 5.4% | 2.7% | 97.3% |
| Street | 11/1 | 8.1% | 2.7% | 97.3% |
| Corner | 8/1 | 10.8% | 2.7% | 97.3% |
| Six Line | 5/1 | 16.2% | 2.7% | 97.3% |
| Column | 2/1 | 32.4% | 2.7% | 97.3% |
| Dozen | 2/1 | 32.4% | 2.7% | 97.3% |
| Red/Black | 1/1 | 48.6% | 2.7% | 97.3% |
| Odd/Even | 1/1 | 48.6% | 2.7% | 97.3% |
| High/Low | 1/1 | 48.6% | 2.7% | 97.3% |
RTP in French roulette
The standard French roulette RTP is 97.30%, just like with European roulette. However, this can be significantly increased with the introduction of the La Partage and En Prison rules. In this case, the RTP is as high as 98.65%, which is higher than any roulette game variation.
Payouts in French roulette
The payouts depend greatly on the French Roulette bets you decide to place. For instance, if you place a straight bet, the payout is as high as 35/1, meaning that if you win, you will get 35x your bet.
House Edge in French roulette
Like other roulette and casino games, the house edge in French roulette is relative to the RTP. So, with an RTP of 97.30%, the house edge is automatically at 2.70%.
In that case, when the RTP increases, the house edge will reduce as well.
French roulette Vs. Other roulette variants
There are not a lot of differences between French Roulette and the major variations of the game, other than American roulette.
Therefore, we've created a table to highlight the significant differences between French Roulette and other game variants.
| Roulette Game Features | American Roulette | European Roulette | French Roulette | Mini Roulette |
| --- | --- | --- | --- | --- |
| Pockets | 38 | 37 | 37 | 13 |
| Zeros | Double Zeros and Single Zero | Single Zero | Single Zero | Single Zero |
| Lowest Payout | 1/1 | 1/1 | 1/1 | 1/1 |
| Highest Payout | 35/1 | 35/1 | 35/1 | 35/1 |
| House Edge | 5.26% | 2.7% | 2.7% and 1.35% | 3.85% |
| La Partage | Not Available | Sometimes | Available | Not Available |
| En Prison | Not Available | Sometimes | Available | Not Available |
| Free Play | Available | Available | Available | Available |
| Live Dealer | Available | Available | Available | Not Available |
Difference between French and European roulette
French and European roulette are similar in many ways; however, the addition of the La Partage and En Prison rules is a significant difference. These rules reduce the house edge and increased the RTP in the French Roulette variant.
Difference between French and American roulette
Aside from the payouts and basic rules, French and American roulette have many significant differences. For a start, the American variation has double zeros, which the French and other variants do not.
As a result, the French roulette wheel is significantly different from the American version. In addition, the RTP for American Roulette is lower than the French variant, while the house edge is higher, all thanks to the double zeros added.
Difference Between French and Mini roulette
The differences between French and Mini roulette are similar to the differences between French and European. However, the house edge in the Mini roulette variant is higher than the French and European versions. As a result, the RTP is relatively lower than both versions.
How to Play French roulette – Breakdown of a round
If you want to play online roulette or any other roulette variation, you simply need to select your favourite UK online casino, go to the table games section and select French Roulette to get started. Once that is done, below is the breakdown of how to play a typical French Roulette round.
Select the bet you want to place.
Drop the amount you want to bet at the appropriate sections.
Wait for the dealer to spin the roulette wheel to see if you won or lost.
Claim your wins or count your losses.
Proceed to place another bet.
If you are a complete beginner, you can give free French roulette online a try so that you can get a firsthand experience of a typical round.
Note that this is only available with virtual games, not live dealers. You should also keep an eye out for online casino bonuses that some UK casinos may have for different variants of roulette.

Strategies for advanced players
Even though French Roulette is a luck-based game, you can learn some roulette strategies that help professional players to effectively manage their bankroll over time. Let's dive right in!
Martingale strategy
The Martingale Strategy is one of the most famous roulette strategies among players. It requires you to double your bet after each loss, hoping to get a win to recover your previous lost wager. However, if you have a losing streak, it can lead to huge losses.
Reverse Martingale strategy
The Reverse Martingale is simply doubling your initial wager after each win. It's an excellent strategy, especially if you're wagering with a low bankroll.
Fibonacci strategy
If you're familiar with the Fibonacci square mathematical formula, you'll find this strategy easy to grasp. This is because the strategy was developed from the formula, and it involves a sequence created by summing two numbers to create a new one. Additionally, it requires you to move up the sequence one step for each win or loss.
Labouchere system
The Labouchere system is another strategy you can learn. It uses a cancellation system, where you remove numbers on each win by creating a sequence.
With this strategy, you must add the first and last number, then place bets on the number unit. If you win, you can remove the two numbers from the sequence. However, if you lose, you should include the sum of the numbers. After that, you can restart or create another sequence.
Conclusion
French Roulette is undoubtedly one of the top roulette variations you can play online today. This is the game's original version, and the online variant retains all the essential parts.
To get started, you need to pick a top UK casino, register, claim your welcome bonus offer, and start to play for free or real money. Aside from that, you can implement different strategies to help you improve your winning chances in this luck-based game. Go online today to try your luck with French Roulette!
Frequently asked questions
You can play French Roulette at traditional brick-and-mortar casinos or any of the top UK casinos listed in this post.
Yes, you can play French Roulette online for free at many online casinos and different gambling sites.
There are several strategies for roulette players, with one of the most popular being the Martingale French Roulette strategy.