Stereo Miami review
Welcome to Miami – the mecca of clubbing and sunshine! And now, thanks to the new release from Odobo platform and Foxium game developer we can enjoy Miami style clubbing with the new slot called Stereo Miami. If you never heard of Odobo gaming, believe us, they are awesome and you can read our full review on them here.
Stereo Miami is an extremely well-designed DJ theme slot – it gives you the full vibe of a proper nightclub with some groove music and lots of neon shades. The game itself presented by DJ Nova, who stays with you during the whole gameplay. She will even take you to the VIP room for a special bonus treatment!
We highly recommend trying this slot as it is different from everything we've ever seen! And if you're keen on making some clubbing moves in the South Beach, Miami you can get the feeling of it from your couch with this slot. Let's have a closer look at the game features, bonuses and casinos where you can play it.
Stereo Miami features
Games Provider: Odobo
Game developer: Foxium (Estonia)
Number of wheels 3/3
Number of Rows: 2
Number bet lines: 10
Platforms: PC, mobile and tablet
Special Features: Free spins, Power Beats bonus, VIP room bonus
Stereo Miami is a bit different from what we are used to seeing in all the regular slots. The playing screen is divided into two 3×3 reel sets which both have their own pay lines. While you're spinning the wheel, DJ Nova is spinning the vinyl discs, making her cool dance moves and keeps you excited with the club music.
In Stereo Miami, you can expect the full three Bonus Features: Free Spins mode, Power Beats Bonus and VIP Room Bonus. In addition to that, you also have the wild symbol, which is green and pink and can not be missed because it has the word "wild" on it. This symbol substitutes all other symbols except for the scatter and bonus symbols.
The standard symbols of the Stereo Miami slots are multicoloured pixelated cocktail glasses, cherries, bells, diamonds, sevens, hearts, strawberries and a sound equaliser.
Stereo Miami bonus
Stereo Miami is a type of slot with certain generosity to it, as it offers us a lot of extra bonus games that can be activated while you're spinning.
The first type is the Powerbeats bonus game.
When a power icon that looks like a flash of lightning appears on the screen, you will begin a bonus game with the left side of the screen turning into random multiplier numbers and right into speakers.
The second type of bonus game is the VIP room, where DJ Nova literally takes you to the separate room and waits for you on a sofa while you are picking and clicking the reel symbols that look like vinyl disc records. Here you can choose the number of discs based on how many bonus symbols you've got – anywhere from 3 to 6 records in total. With each record, you might win anywhere from 1 to 20 times your bet amount.
Stereo Miami Free spins
If all that wasn't enough Stereo Miami slot also has a fantastic free spins feature that activates when you hit the Flamingo symbol, which takes double space compare to the regular symbols. Each half of the flamingo scatter symbol counts as one scatter, so in order to activate the free spins you need to get at least 6 halves or 3 full flamingos. The number of scatters on your screen corresponds directly with the number of free spins you get and in total you can receive anywhere from 6 to 12 free spins. The free spin feature works on a regular 5 reel arrangement and each consecutive win will increase the multiplier for that win from one to five times.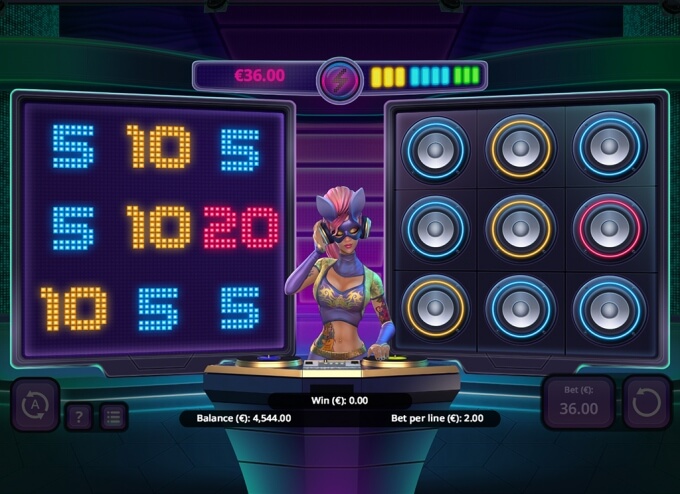 Stereo Miami – where to play
Being somewhat unknown on the market yet, Odobo and their games are not as widely accessible as some other slots, but we have located 2 cool casinos that have already added this slot to their collection and you can start playing it right now. In addition to that, these casinos also offer pretty nice welcome packages and extra free spins for the new UK players. Click on the links below, register, get your bonus and you'll be able to play Stereo Miami slot as soon as you wish.
Stereo Miami min/max bets and jackpot
The minimum bet on Stereo Miami slot is £0.18 and the maximum bet is set to £36. The game has a jackpot of 1000 times your bet and the jackpot is not progressive.
Stereo Miami graphics and sounds
As we already mentioned, Stereo Miami slot looks, sounds and feels very different with unique features being the split playing reels, dancing DJ in the middle, pounding club music soundtrack and a lot of neon disco colours, which puts you in a really good mood. The background changes giving you different option to look at from palm trees and picturesque Miami sunset to the club lounge or VIP room décor. The overall design gives a very professional vibe and the visual effects are extremely pleasing. Let's not forget the DJ Nova herself, with her pink hair, platform sneakers and slightly alien appearance.
Stereo Miami – our conclusion
As we heard from the Foxium CEO, Åke André "we feel Stereo Miami brings something fresh to the gambling market. Stereo Miami is packed with valuable features and unique power beats, together forming what we hope will become one of our top performing games in 2016."
And we believe that this goal can be achieved since this slot is very well produced, unique in style and has a lot of bonus features that will surely attract a lot of players. And if you don't find a bit of night-clubbing every now and again you will certainly love this game.
We only hope that more and more casinos will see the potential of this cool slot and give the Odobo Gaming a chance to present their Stereo Miami slot as well as other games on their casino platforms. We have no doubt that the players will jump on the opportunity to try out this unique game asap.
You can watch the Stereo Miami game preview here: