Mystery Joker 6000 review
We love playing a classic looking slot now and again to remind ourselves of those traditional slot machines from which online slots as we know them today have originated. However, we like it even more when these kinds of slots come with an extra bonus feature which increases the possibility of winning big! Mystery Joker 6000 is one such slot, created by leading game developer Play'n GO and released only this month. Learn more about this game by reading our full review below, and check out which online casinos are already offering it for UK players.
Mystery Joker 6000 slot features
Mystery Joker 6000 is a 3 reel, 5 payline slot machine with a simple yet flawless design. The reels feature traditional slot machine symbols, including cherries, lemons, watermelons, bells, grapes and red 7s. Landing a win during the base game is relatively simple; you just have to get a combination of 3 matching symbols on any payline.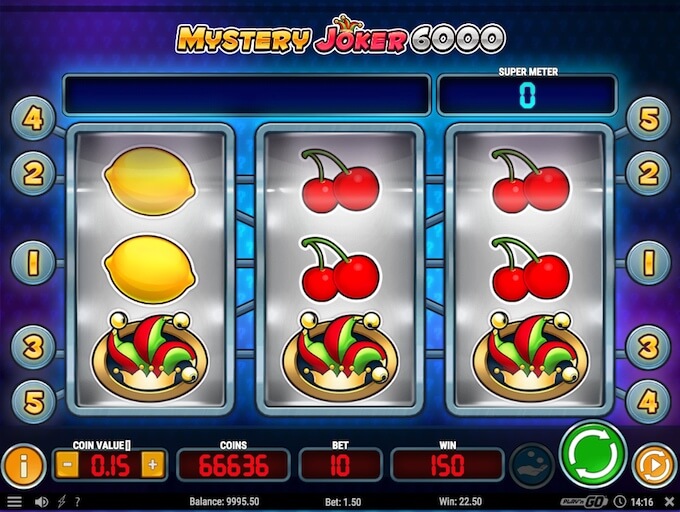 But perhaps the symbol which you'll be looking out for the most would be the Joker symbol which can land on the 1st and 2nd reels – this will trigger the slot's re-spin feature, and the third reel will start spinning automatically for a chance of landing a 3rd joker and accessing the game's Mystery Wheel feature.
During the base game, players can choose to either keep their winnings or to transfer them to the super meter on top of the reels. When you play the game in super mode, you'll have to fork out double the amount for each spin, but this of course comes with increased winning potential. In this mode, the re-spin feature is not active; instead players may trigger the mystery wheel feature by landing on just 2 joker symbols.
Players may choose to exit the super mode at any time by clicking on the collect button to add the remaining coins to their balance and continue with the base game.
Mystery Joker 6000 slot Mystery Wheel feature
This feature will be the one paying out the highest rewards as you play Mystery Joker 6000 slot. Once you land on the 3 joker symbols and activate them, the screen changes, and the reels will be replaced by a wheel of fortune which starts spinning automatically. The highest prize during this feature is 6000x the coin value on each spin. What's more, if you land on 3 joker symbols during Super Meter Mode, you'll get 3 spins on the wheel, which can result in winning triple that amount!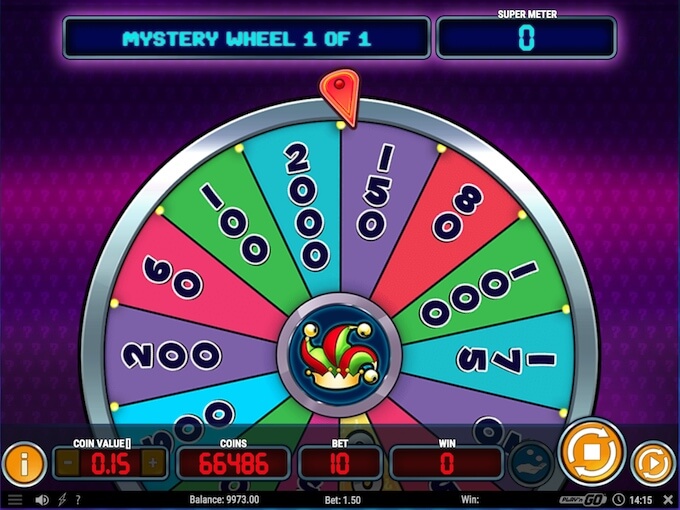 Mystery Joker 6000 slot bonus
It's always reassuring to have some extra cash in your bankroll when you play high volatility slots like Mystery Joker 6000. For this reason it's worth signing up with an online casino that offers an attractive casino bonus as part of its welcome package. By joining one of our recommended casinos in the list below, you can rest assured that you'll get a good deposit match bonus with fair wagering requirements, as well as a handful of free spins!
Where to play Mystery Joker 6000 slot
Mystery Joker 6000 slot min/max bets, RTP, volatility and jackpot
Players may have a go on Mystery Joker 6000 slot by staking anything from 10p to £100 during each spin. The RTP varies according to whether you're playing in the base game or the Super meter mode; In the main game, this is set to 94.21%, whereas in Super Meter mode it goes up to 100.95%! Wow!
It's worth noting however that this slot is still one of high volatility; there are some massive wins to be had but you might have to give it a number of spins to earn them! All together, the maximum possible win will be 6000x the coin value for each wheel spin. After this spin, however, players may decide to play the winnings in Super Mode for a chance of increasing their winnings!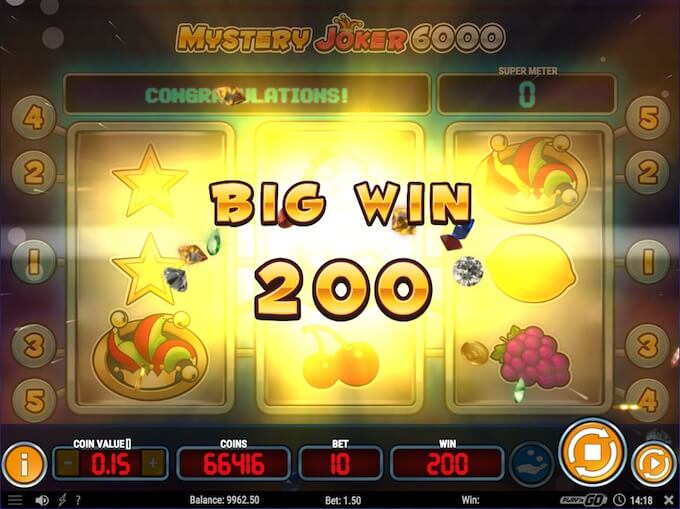 Mystery Joker 6000 graphics and sound
Visually, Mystery Joker 6000 is highly reminiscent of the classic slot machine; the symbols come in bright and visually appealing colours, and the gameplay is accompanied by an upbeat soundtrack. However, don't let its simple design deceive you into spinning blindly; Mystery Joker 6000 also involves an element of strategy, since players get to decide whether to keep their winnings or risk them for a chance of increasing their wins, and this can potentially lead to very big wins!
Mystery Joker 6000 – our Conclusion
For lovers of classic slot machines, Mystery Joker 6000 will be a fun game to play, and high rollers will also love the element of risk involved thanks to its Super Meter mode. The only factor we have to criticize about this slot is the fact that each time we managed to activate the Mystery Wheel feature, we have almost always landed on the lowest wins, so it seems that the probability of landing on that 6000 jackpot is rather slim. That said, the wheel itself is quite easy to activate especially if you play in Super Mode, and with a little bit of strategy and luck, you can make decent wins on Mystery Joker 6000. Try it for yourself today with one of our trusted online casinos. CasinoHawks wishes you the best of luck!