Honey Rush review
Play N Go have set out to wow us before the end of 2019 with their latest slot Honey Rush. It sports the Play N Go signature grid design with cluster mechanics that lends itself to an amazing and fascinating game. This high variance slot game comes with a beautiful design and many interesting features like the Rush Meter. Let's take a look at what this slot has to offer in this Honey Rush review.
Honey Rush slot features
One of the most striking features of this game are the reels which bear the shape of a honeycomb and are set in a formation of 4-5-6-7-6-5-4 with 37 hexagonal cells. Inhabiting the cells one can find various flower species in the shape of sunflowers, roses, cherry blossoms and pansies, which have the lowest value amongst all of the symbols, with the sunflower being the most rewarding with x20 your stake. More rewarding are the coins of bronze, silver and gold which award x50, x100 and x200 your bet. Diamonds are the highest paying symbols amongst all.
To win you need to get 5 identical symbols in a cluster. Forming a cluster means that identical symbols need to be next to each other in any shape and you need to get 5 symbols or more in a similar formation to land a win. An interesting feature that we don't usually see is that once a cluster is formed and the player has been awarded his win, the cluster disappears, and symbols which have been previously on top of the cluster falls into their place and new symbols fall into the void creating the chance for new clusters to form with the remaining symbols.
During dry spells, the Worker Colony feature can randomly be triggered to turn the symbols around the central cell symbol to be identical and form a cluster that could possibly include 15 symbols.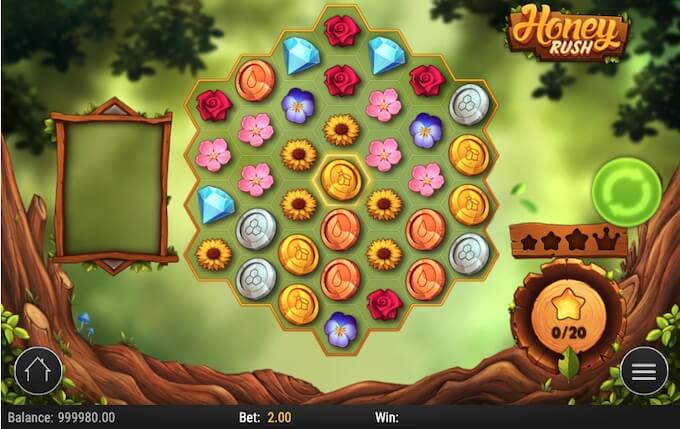 Honey Rush slot the Rush Meter
Honey Rush slot comes equipped with a rush meter. The rush meter comes with four levels which are reached when the rush meter is filled from a single spin. Once filled up to level 1 it will trigger the honey pot symbol on the grid which will help form clusters by moving from one cell to the other to form clusters until there are no more clusters to be formed. Once level 2 is reached a second honey pot is released on the grid and level three will see a third honeypot released as well. The honey pots will bear an x1, x2 and x3 multiplier respectively.
As you reach a new level on the rush meter a Drone Colony feature Is collected to be used when there are no more winnings and it comes into action by changing 5 symbols around the central cell symbol to be identical and create a cluster.
Once you reach level 4 on the rush meter, you will unlock the Queen Colony feature which will change at least 20 symbols to create a cluster. The Queen Colony feature also holds the possibility to transform the whole grid into the same symbol.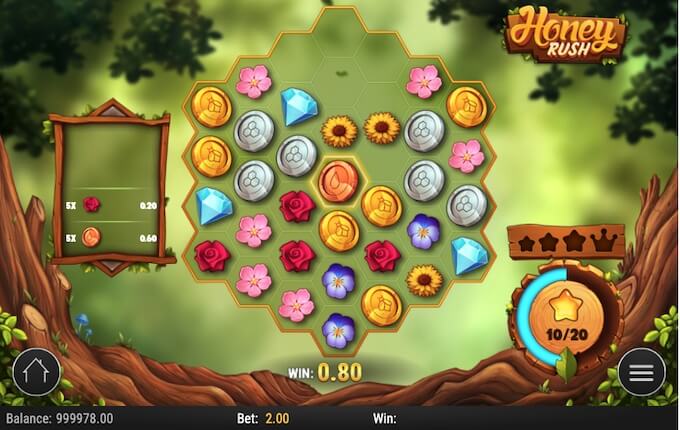 Honey Rush slot Bonus
A number of casinos who will feature this slot game will have a welcome bonus consisting either of free spins or bonus money, which you can use to try out this slot. So, check the below casinos, for any welcome bonuses that you can use on the Honey Rush Slot.
Where to play Honey Rush slot
Honey Rush slot min/max bets, maximum win, RTP and volatility
Honey Rush slot comes with high volatility characterized by dry spells interspersed with winning combinations triggered by the rush meter. It has an RTP of 96.50%, and players can spin for as little as £0.20 or for as much as £100. The maximum win one can land is of x9000 which combined with the maximum bet can land a lucky winner the fantastic prize of £900,000!
Honey Rush slot graphics and sounds
The design of this slot is truly beautiful. The grid where all the action takes place seems to be suspended from the tree branches on either side just like a bee's honeycomb would be. The background is filled by a lush forest and you can see the blurred silhouettes of the bees moving purposefully in the background.
The music that accompanies this slot is relaxing and complements the overall design of the slot. Wins are accompanied by merry music and you'll hear the sound of chips falling into place as the symbols move position.
Honey Rush slot – our conclusion
This new slot by Play N Go has the potential to become another classic. It packs some interesting features and is a fascinating game with plenty to entertain slot enthusiasts. It might be a high variance slot but the potential payout is staggering and combined with the features and design, this game is definitely a must-try this autumn.