There are claims the earliest form of poker appeared in China, Persia, and even France. Wherever it came from, today poker is one of the most popular and well-loved games among casino goers worldwide.

Most Popular Poker Variants You Can Play Online
The goal of most poker variations is to gather the highest-scoring group of cards possible to win the hand. The ranking of hands in a game of poker from strongest to weakest is Royal Flush, Straight Flush, Four of a Kind, Full House, Flush, Straight, Three of a Kind, Two Pair, Pair and High Card. The great news is that poker can be enjoyed both as an online table casino game and even as a live dealer casino game.
You can break poker down into three categories: draw poker, stud poker and community card poker. In draw poker, players are dealt their hand, which is kept secret from their opponents, and they can attempt to strengthen their hand by keeping some cards and replacing others.
In a stud poker game, some of the player's cards are dealt secretly, and some are exposed, giving the other players some idea of what hand they are building. In a community card poker game, players are dealt hidden cards that they use in conjunction with the community cards dealt to build their hands.
There are a number of the best online casinos in the UK that offer several types of online poker games. We'll take a look at the variations of poker, their differences, and how they're played.
Texas Hold'em
Texas Hold'em is a type of community card poker. It's one of the most well-known and loved versions of the game. It's available for online and in-person play and has some of the most straightforward rules, making it ideal for beginners.
Players are dealt two cards privately, and five cards are dealt on the table as the community cards. Players can use the community cards and their own cards to make up the best five-card poker hand they can.
Omaha
Omaha poker is an action-packed game that is also very popular among casino goers. In this community card game, players are dealt four cards, and five community cards are on the table. Players must use a combination of the two hands to form the best poker hand they can. However, they must use two cards from their hand and three cards from the community cards.
Omaha Hi-Lo
Similar to Omaha poker, Omaha Hi-Lo is also known as Omaha/8 or Eight or Better. With this variant, players need to form two full hands using their dealt cards and the community cards, also known as hole cards.
The idea is to form one high-value hand and one low-value hand. The winner is the one with the highest high and the lowest low hand, so it's double the fun in one game.
Seven-Card Stud
Before Texas Hold'em became the poker game of choice, Seven-Card Stud was the go-to variant for professional players. In a game of Seven-Card Stud, there are no community cards, but parts of the players' hands are revealed to their opponents throughout the game.
By the end of the dealing and betting rounds, players will have three private cards and four public cards to build their hands. Players will develop their game strategy based on the information gleaned from the visible opponents' cards.
Five-Card Draw
Five-Card Draw is the simplest form of poker and the easiest to learn. It's the game most of us grew up knowing how to play. Players are dealt five cards and have the option to throw away and redraw between zero and five cards to build their final hand.
This version of the game also requires the least strategy and is great to play when you are just looking for an entertaining time.
Three-Card Poker
Three-Card Poker is a variant created to speed up the game to match other quick playing casino table games.
The game is played by pitting the players' hands against the dealer's hand. The players and the dealer are dealt three cards; after the betting is completed, the hands are revealed, and the winnings are paid out.
Five-Card Stud
Five-Card Stud is seen as the earliest version of the game. Players are dealt one face-down card and one face-up card.
A round of betting ensues, followed by another face-up card being dealt. This process continues until each player has four face-up cards and their face-down card. At this point, the game ends, and the pot is awarded to the player with the winning hand.
This game often doesn't make it to the final round as players will usually fold if they see that someone else's hand looks much stronger.
Caribbean Stud Poker
Also known as Casino Stud Poker, Caribbean Stud is played much like Five-Card Stud, with one crucial difference: the game is played between the players and the dealer.
The players are dealt a five-card hand, and the dealer is dealt a five-card hand. The dealer will reveal one of his cards, at which point players decide whether to continue playing or fold.
Once everyone has decided, the rest of the cards are revealed, and the dealer compares their hand to the players' hands. There is no bluffing in this game, and minimal strategy is required.
Ultimate Texas Hold'em
Ultimate Texas Hold'em is a different take on Texas Hold'em. The game is played in much the same way but with one distinct difference: the player plays against the dealer and not other players.
Razz
The main difference between Razz Poker and other variants is that the goal in Razz Poker is to gather the weakest hand and not the strongest to win. Other than that, the game is played along the same lines as a game of Seven-Card Stud.
Badugi
Badugi is a rather unusual form of poker and falls into the draw poker category. In this game, players are only dealt a four-card hand instead of the traditional five.
The gameplay runs similarly to Texas Hold'em, but Badugi is a lowball game, and players aim to assemble the lowest-scoring hand possible.
Let It Ride Poker
Let It Ride Poker is a blend of blackjack and poker and is played against the dealer. Using three personal and two community cards, the aim of the game is to finish with a five-card hand that includes a pair of tens or higher to get a payout.
H.O.R.S.E
This variant is a mixed poker game format. In this game, players play a hand of each game, making up the acronym H.O.R.S.E. The game starts with a hand of Texas Hold'em, followed by a hand of Omaha Hi-Lo, then Razz, Seven-Card Stud and finally Eight-or-Better. The cycle then begins again with the hand of Texas Hold'em.
Live Poker
The majority of the different poker variants covered in this guide can also be enjoyed on live casino tables. These games are supplied by industry providers such as Evolution, Authentic Gaming and Pragmatic Play, where players can enjoy the excitement of a land-based casino experience from the comfort of their homes.
Here are some of the online casinos in the UK that offer live poker games:
Which Poker Variation Suits You The Best?
Choosing the best poker variant for you will depend on what your goals are in playing the game. Are you simply looking to have a bit of fun playing an old favourite, or are you looking to get serious and become a pro-level player?
If you have a great poker face and like to bluff, variants that pit you against other players will be better suited, but a straight-up game against the dealer would be best if you don't like the deception involved.
Poker variants with the lowest house edge
The house edge refers to the casino's advantage over the players and is usually expressed as a percentage. Mathematically, the house always has a better chance of winning; this advantage assures UK casinos their profits over time. Let's compare the house edge between the different variants of poker.
| Variant | Houde Edge |
| --- | --- |
| Texas Hold'em | 2.16% |
| Omaha | 2.16% to 6.34% |
| Omaha Hi-Lo | 2.16% to 6.34% |
| Five-Card Draw | 2.16% to 6.34% |
| Razz | 2.16% to 6.34% |
| Horse | 2.16% to 6.34% |
| Ultimate Texas Hold'em | 2.19% |
| Badugi | 2.74% |
| Seven-Card Stud | 3.28% |
| Three-Card Poker | 3.49% |
| Let It Ride | 3.51% |
| Five-Card Stud | 4.12% |
| Caribbean Stud | 5.22% |
Poker variations that pay out the most
The payouts in a game of poker can vary depending on the variant you're playing. Some variants have four or five betting rounds that build the pot you can win; others are played against the dealer and payout different odds for different hands.
Five-Card Stud and Seven-Card Stud are two games that build towards a pot which, if the betting rounds go well, can net you a tidy sum.
Ultimate Texas Hold'em is played against the dealer and can pay out substantial amounts for strong hands. Hitting a royal flush, for example, pays out at odds of 500:1.
The best variants to try when you're new to a casino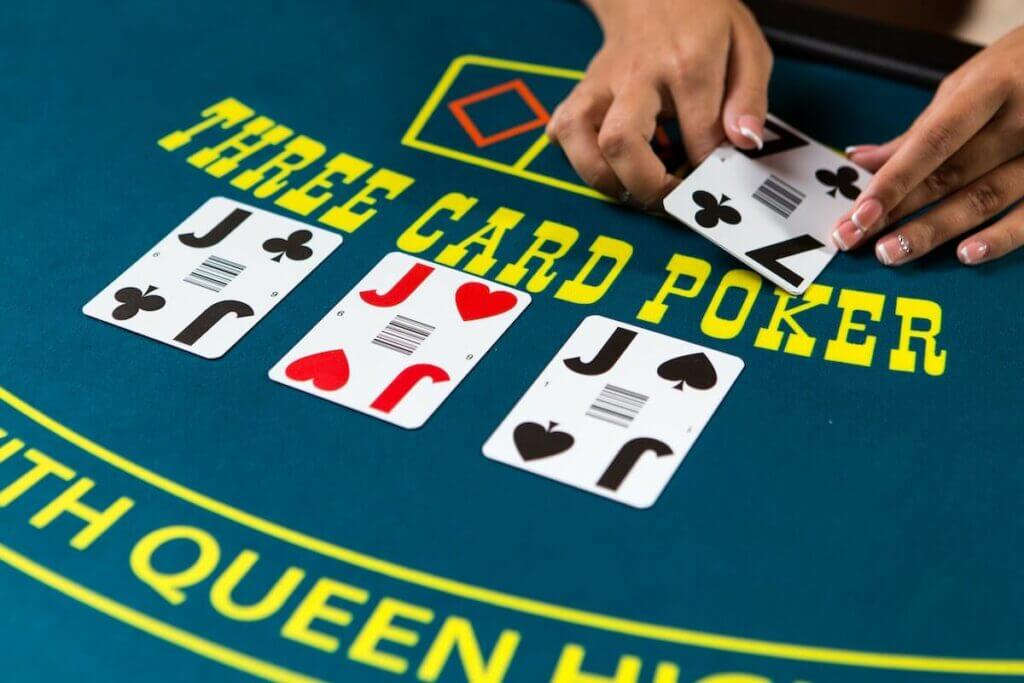 As a newcomer to the casino scene, it's best to start simple to avoid significant losses. We'd suggest beginning with one of the simpler games that are easy to get the hang of and sticking to lower stakes tables until you're more confident with the game. In addition, we also recommend keeping an eye out for welcome bonus offers that are specific to online poker games.
Three card poker is a good option for beginners. It's straightforward to learn as there is only one betting round. The only decision you need to make is whether to play your hand against the dealer's or fold.
Five-Card Draw poker is also an excellent choice for beginners as you only have one drawing round, one betting round, and your hand consists of only five cards. This game will be a good one to learn the poker hand rankings and how to build a good one before moving on to a more complicated game.
Types of poker to play if you're a pro
Poker is a favourite among professional gamblers who make a living off the game. With the right strategy, a good poker face and a little luck, players can climb the rankings and compete in tournaments for huge rewards. A good selection of casino bonuses is also great tools for pro poker players to enrich their game.
If you love poker and are well-versed in the rules, strategies and hand values, you could stick to the popular professional-level games that will lead you down the path towards tournament glory. Or you could challenge yourself to try out one of the more intricate variations of the game.
Texas Hold'em is currently the most popular poker game and is played at the highest tournament levels worldwide. It's the variant to focus on if you want to excel and have a career as a pro player.
H.O.R.S.E is a fun mixed game format and will challenge your mind as you need to know the rules and betting strategies of five different game variations and keep track of which you are playing at all times.
Poker variations you should avoid
Poker is a very popular game in UK casinos and is generally an easy game to get the hang of. There are even variations where you can significantly minimise the house edge, like Three-Card Poker.
One variant that offers a particularly high house edge and puts you at more of a disadvantage is Caribbean Stud. For this reason, we'd recommend you steer clear of the game.
Conclusion
Play the poker variants that best suit your preference. Whether you're Texas Hold'em fan or a Three-Card Poker fan. The more comfortable you are while playing Poker, the more likely it is that the game will flow better. Maybe you might even find yourself winning a fantastic payout.

Make sure to visit our catalogue of online casino reviews to select the right casino site for you.
Frequently asked questions
The most popular form of poker in the UK and, in fact, worldwide, is Texas Hold'em.
Most variations of poker will fall into one of three categories: draw, stud or community card.
There are many poker variations available; we chose to list the 13 most popular ones here.