Jokerizer review
At first when you just glimpse at the game it looks like another fruit machine with cherries and bells, but Yggdrasil Gaming is known to put a unique spin on everything, so it's well worth giving a try.
Let's check this shiny and sparkly slot game's features and winning options and see which online casinos will let you play it now and give you a nice juicy welcome bonus on top.
Jokerizer slot features
The cheeky Jokerizer with a wild and slightly scary grin might be not everyone's cup of tea, but we find this character more amusing than creepy, and quite a few times he let us get some pretty good winnings as well, so we're in.
The Jokerizer slot is set up with 5 reels and 10 paylines – 5 of them pay from left to right and the other 5 from right to left.
The game symbols are as simple as it gets.
There are 6 of them including – shock and horror! – cherries, lemons, grapes, purple stars, bells and lucky sevens. There is no wild symbol in this slot, and the Jokerizer himself is a scatter that appears on the second, third and fourth reels to unlock the bonus features for the players.
Joker Mystery Win Feature
The first bonus feature is the mystery win, which is activated by landing 3 Jokerizer symbols on the reels.
Mystery Win amount ranges from 1,000 to 6,000 coins. 6,000 coins is a maximum jackpot in the game, and it is guaranteed if you manage to score three Jokerizers in a line either horizontally or diagonally.
Jokerizer Mode
The second bonus feature here is a sneaky Jokerizer mode. Not everybody likes it, but without it, you probably won't win that much.
So, once you get any win in the base game, you will have to make a choice to either collect your winnings or switch on the Jokerizer mode in the hope for higher chances to get mystery wins.
Each spin in the Jokerizer mode will cost you 20 coins out of your winnings. You might think it's not worth it and just brings an extra risk but in reality, it does improve your winning possibilities.
First of all, in the Jokerizer mode, you need only 2 and not 3 Jokers to activate the Mystery Win with the prize range from 20 to 6,000 coins.
The Jokerizer mode will end when you either hit any big win over 1,000 coins to use up all your winning balance.
Jokerizer slot min/max bets, jackpot and volatility
The coolest fact about the Jokerizer slot is the average return to player – it's one of the highest on the market with the remarkable 98%.
You can play Jokerizer with a minimum bet of £1 and a maximum bet of £20 per spin. As we already mentioned the maximum jackpot amount is 6,000 coins.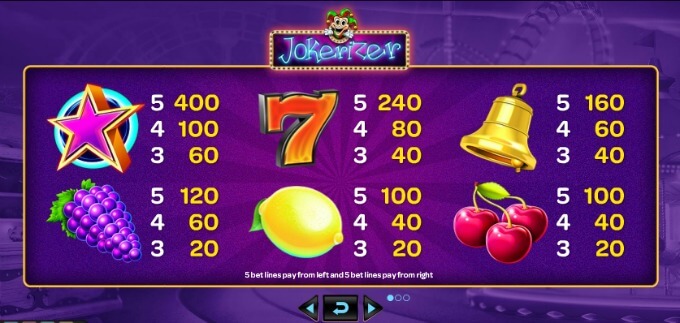 Jokerizer slot bonus and free spins
There are sadly no free spins in the Jokerizer slot. But no worries, we got you covered here.
When you decide to give it a spin, just choose an online casino that is generous enough to provide you with a nice welcome package that includes a decent bonus and extra free spins, be it for Jokerizer or any other popular slots.
Jokerizer slot graphics and sounds
We love Yggdrasil games and believe that their design team can turn any classic, boring or overdone theme into something exciting, unique and visually excellent.
The Jokerizer 3D slot is no exception, and it's glowing, purplish, neon design is simply stunning, so even the good old cherries and lemons look modern and cool.
The background of the reels looks like an abandoned fairground but because it's so colourful and bright it stops it from looking eerie or weird. HD glossy design is combined with a very fast-paced gameplay and high tempo cheerful music.

Jokerizer slot – our conclusion
Ok, let's get real for a second.
Yes, Jokerizer slot is a bit risky, and we probably would recommend paying extra for the Jokerizer mode, but it can, in reality, end up in great winning amounts considering the extremely high RTP of the slot.
The game is simple enough so anyone can understand the gameplay in seconds without trying to get your head around the complicated rules and features.
Just press start, set your betting limits and enjoy the amazing graphics of this fun, beautiful flashy slot.